Although they look somewhat similar, radishes and turnips are two profoundly different root vegetables. While they come from the same plant family, Brassicaceae, they're more like distant cousins. In this article, learn how to distinguish turnip vs radish and discover a few delicious ways to use each of them in the kitchen.
Both turnips and radishes develop a round, edible root that's often red or purple on the outside with white flesh inside. However, there are numerous varieties of these veggies that grow in various colors, shapes, and sizes.
The primary difference between turnip and radish is flavor. Radishes have a sharply spicy aroma. In contrast, turnips have a much milder essence that's sweet, nutty, and earthy. These veggies frequently appear in Asian cuisine, both cooked and raw.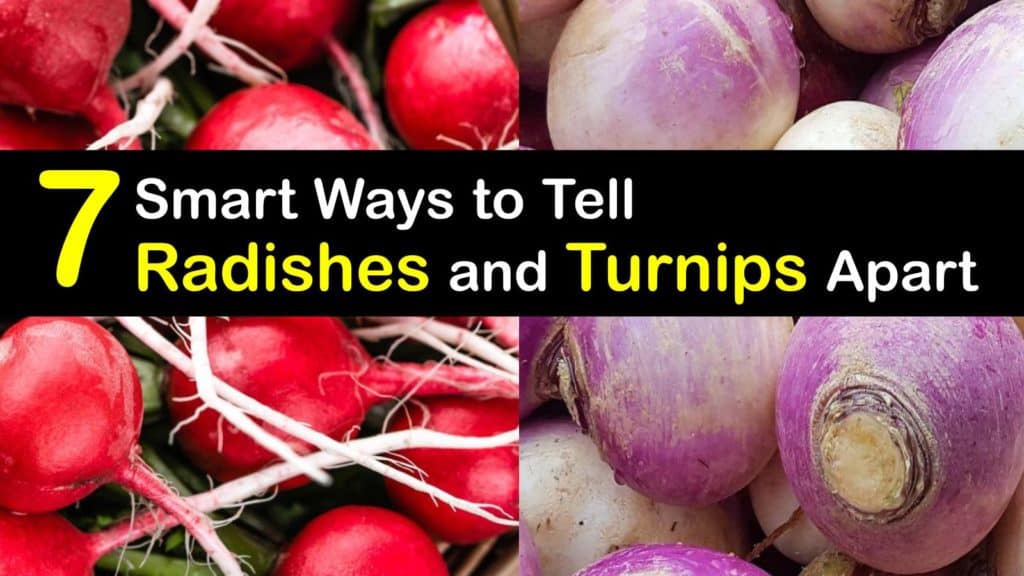 What's the Difference between Turnip and Radish?
Because they look somewhat alike, it's possible to confuse turnips and radishes if you are in a rush at the grocery store. However, their pungency is so different that it's crucial to know how to tell the two apart to achieve the intended results when using them in recipes, like when dealing with turnip vs rutabaga taste.
Turnips are an excellent substitute for radish if you don't enjoy their pungent zest. Read on to discover how to tell turnips and radishes apart at the grocery store and in the garden.
Botanically speaking, the Brassica family includes cruciferous vegetables like broccoli, cabbage, horseradish, kale, mustard, and rutabagas (also called Swede) in addition to turnips and radishes.
This group of plants sometimes gets called the mustard or cabbage family and was first domesticated in temperate regions of Europe and Asia.
Turnips, or Brassica rapa by their botanical name, most often have white or yellow flesh, with purple tops where their shoulders protrude above the soil. Most turnips are round, but some cultivars form an oblong taproot.
Radishes, or Raphanus sativus, typically develop a smaller taproot that's either globe-shaped or elongated. Red radishes are most common, but they also come in purple, white, and yellow. The main difference between daikon and radish is size, as the daikon is more of a turnip size and shape.
Both crops are cultivated for their swollen taproot but they also have edible leaves that are similar to cabbage or collard greens.
Here's where the common names for plants might get a little confusing. Some vegetables have misleading nicknames. For example, jicama also gets called a Mexican radish, but it's actually an edible tuber in the bean family.
From soups and stews to a fresh salad or side dish, the options for cooking with turnips and radishes are endless. If you're craving comfort food, try this fabulous recipe for vegetarian enchiladas.
Peel the raw turnips, then chop them into bite-sized pieces. If desired, add other root veggies like kohlrabi, parsnip, and potato. Pour the quart of vegetable broth into a large saucepan and add the turnips.
Bring it to a boil, then simmer over low heat for 20-25 minutes or until the turnips are fork-tender. Drain the turnips, and conserve the broth for another recipe if desired.
Preheat your conventional oven to 375℉. Fill the bottom of a large baking dish with a thin layer of enchilada sauce.
Heat a heavy-bottomed skillet on medium-high, and pour in the olive oil. Sauté the leeks or green onions until soft. Turn the heat down to medium-low and incorporate the turnips and salsa verde.
Once the mixture heats evenly, scoop a third-cup portion into the center of each corn tortilla. Top with shredded cheese, roll them up and place them seam-side down in the prepared baking dish. If you have extra filling, tuck it into the ends of the rolled tortillas.
Cover with the rest of the enchilada sauce and spread the remaining cheese on top. Bake your enchiladas uncovered for 20-30 minutes or until the edges of the tortillas are brown and the cheese melts.
Garnish with cilantro and chives and serve immediately. Store any leftovers refrigerated inside an airtight container and consume within three to five days.
Turnip vs Radish: Size Matters
One of the most noticeable ways to tell the difference between turnip and radish is their size. Mature turnips are usually two to six inches wide. Most radish varieties are harvested when they're between one and three inches wide.
Keep in mind that there are numerous different varieties of turnips and radishes that grow in a wide range of sizes.
Purple Top turnips are one of the largest cultivars and grow five or six inches wide, while Baby Bunch turnips get picked when they're only an inch or two in diameter.
Radishes vary more in their length than width. Small radish types like Cherry Belle are only an inch long and wide, while a daikon radish may reach up to 18 inches long and three inches wide.
Flavor Difference between Turnip and Radish
There is a pronounced flavor difference between turnip and radish. In general, turnips tend to have a milder taste than radishes, which get spicier the longer they stay in the ground.
When picked young, a raw turnip has a mildly sweet, earthy aroma similar to a carrot, parsnip, or potato. Older turnips take on a starchy quality and are best when cooked.
Radishes have a crisp, zesty bite when eaten raw and a milder taste once cooked. The daikon radish has a sweeter, more delicate essence than red radishes.
Even if you're not the biggest fan of a raw radish's peppery kick, roasting them mellows the spice and brings out a delectable sweetness. Try these amazingly tempting garlic and herb roasted radishes for a side dish that's low in carbs and rich in savor.
Begin by preheating a conventional oven to 425℉. In a large mixing bowl, combine the butter, herbs, salt, pepper, and radishes. Spread them out on a large baking dish.
Bake the radishes for ten minutes, then remove them from the oven and toss in the garlic. Place your baking dish back in the oven for 10-15 more minutes or until the radishes are fork-tender and lightly golden brown.
Garnish your dish with fresh or dried herbs and serve with ranch dressing. Store any leftovers in an airtight container in your fridge for up to five days.
Are Turnips and Radishes the Same Color?
The turnips and radishes from the grocery store are usually purple, red, or white. However, they come in a rainbow of colors ranging from green, pink, purple, red, yellow, and even black.
One of the best aspects of having a vegetable garden at home is trying unusual heirloom and hybrid cultivars.
Differently colored veggies vary slightly in their nutritional content. Yellow and orange varieties contain more beta-carotene, an antioxidant that the body converts to vitamin A. It promotes eye and skin health, improves brain function, and reduces the risk of chronic disease.
Growing Turnip vs Radish in Your Garden
Since turnips and radishes come from the same plant family, they have similar preferences for growing conditions. Growing radishes in pots is just as easy as growing turnips in containers as long as the pots are deep enough.
The best time to plant turnips or radishes is early spring and fall. They're cool-season crops that grow best between 55-75℉ and typically get harvested in the spring and autumn. The plants grow faster in full sun but also tolerate partial shade.
Since turnips grow larger than radishes, they require more growing space so they don't become stunted. Turnip leaves often reach 12-18 inches tall and have a six to eight-inch spread. Depending on the variety, radishes grow between four and 14 inches tall and wide. Radishes can be planted next to turnips as a beneficial companion to repel bugs.
Radishes typically grow faster than turnips. They're ready to pick in as little as three or four weeks. What to plant with radishes includes zucchini, tomatoes, and peas.
After you plant turnip seeds, pick baby turnips around 30 days later, once they're an inch or two in diameter. Depending on the variety, expect mature turnips in 40-50 days.
Nutritional Value of Turnips and Radishes
Like many other veggies in the Brassica family, turnips and radishes are packed full of essential nutrients that provide numerous health benefits. Are turnips healthier than potatoes? They definitely have fewer carbs, which many people are trying to reduce these days.
Both the taproots and the leaves of radishes and turnips are excellent sources of antioxidants, fiber, vitamins, and minerals. In addition, these root vegetables are low in calories and carbohydrates.
Vitamin C boosts the immune system, facilitates iron absorption, and helps regulate cholesterol levels. Fiber improves digestion and maintains healthy blood sugar levels.
Turnips and radishes also provide essential micronutrients like calcium, folate, magnesium, and potassium.
These vitamins and minerals play meaningful roles in regulating blood pressure, supporting heart, muscle, and nerve function, maintaining strong bones, and generating healthy red blood cells.
Harvest radish and turnip greens as needed throughout the growing season and add them to your fresh salads and sandwiches.
Additionally, they're delicious steamed or sautéd as a healthy side dish. Use radish and turnip greens on their own or combined with various other leafy vegetables like collards or mustard greens.
What to Use as a Substitute for Radish
If you're not too keen on the robust and spicy kick of radishes, there are plenty of options for adequate substitutes. White turnips are many chefs' go-to substitute for radish in the kitchen.
Other suitable root veggies include jicama, parsnip, and cabbage hearts. Which alternative you choose depends on the overall taste and texture of the dish you're preparing.
If you're using them raw and need a crispy texture, go for raw turnip or jicama. If you're preparing a cooked dish, choose the veggie that best suits the intended palette.
Best Storage Methods for Turnips and Radishes
Another critical difference between turnip and radish is their shelf life. In general, turnips last longer in the fridge than radishes. For the best results, remove their leaves and stems for storage.
When kept in a perforated plastic bag inside the crisper drawer, turnips stay fresh for up to two weeks. Or, place them in a lidded container wrapped in a damp cloth or paper towel.
Use radishes within a week of picking or purchasing. If you're storing sliced produce, use an airtight container or wrap the pieces up tightly in aluminum foil or plastic wrap.
Canning, freezing, or pickling are all ideal ways to extend the shelf life of your radishes and turnips. For both veggies, it's best to blanch them in boiling water before freezing.
Turnips and radishes are wonderfully delicious and nutritious root vegetables. Although they sometimes have a similar appearance in the produce aisle at the supermarket, the difference between turnip and radish is quite evident in their flavor profile.
Radishes have a peppery zing when eaten raw, while turnips have a sweetly earthy aroma. Turnip, parsnip, or jicama make a suitable substitute for radish in the kitchen.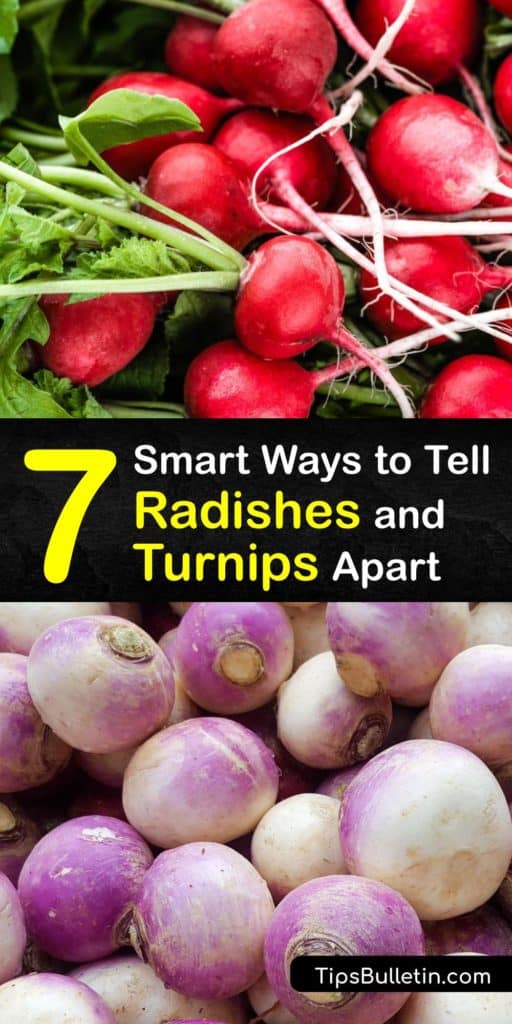 If you enjoyed learning about these yummy root vegetables, please share this article about turnip vs radish with your foodie friends and family on Pinterest and Facebook.