Arugula, sometimes called roquette or rucola, is a leafy green that tastes great in soups and stir-fry and as a garnish for sandwiches and burgers. The tender lobed leaves look striking in a bed of salad greens with horseradish dressing, and there are several varieties to pick from. Learn about the different types of arugula, how to grow your own, and use the green leaves to make a delicious recipe.
This veggie is distinctly different from other leafy greens, and you either love it or hate it. It has a slightly mustard, peppery flavor that some people cannot stand while others find refreshing.
Fortunately, if you're an arugula-lover, it is simple to grow at home, and you don't need a garden bed to produce fresh, tasty leaves.
They are cool-season plants from the brassica family that grow easily from seed and are perfect for growing in early spring and late summer for two times the crop.
They are also fast growers, so you get to enjoy salad greens quicker than many other garden vegetables. However, there are different varieties of this green veggie, and it's a good idea to know their differences before planting it in a container.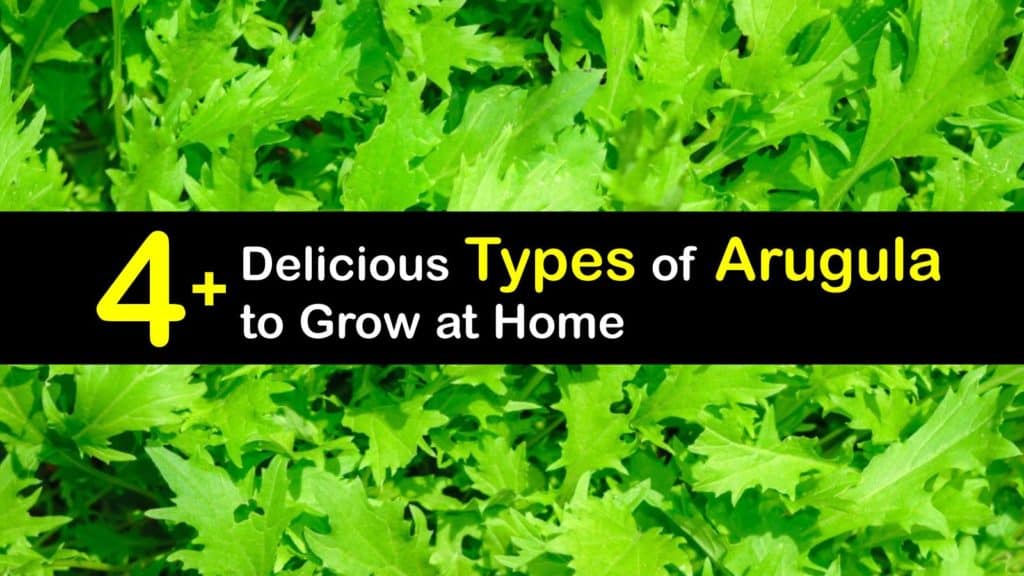 Growing Different Types of Arugula
There are a few types of arugula (Eruca vesicaria) and several varieties. Learn about them to help you choose the ideal greens for your area and taste. Our arugula growing tips include how to grow them from seed, when to plant them for healthy growth, and use their spicy flavor to prepare a recipe.
Four Main Arugula Types
While there are many varieties of arugula, like romaine lettuce plants, there are four main arugula types. Their flavor is similar, but they differ in size, shape, and harvest time. We break down the types to help you choose the right one.
Arugula coltivata is the fastest growing variety and is ready to harvest 30 days after sowing seeds. It has larger leaves than other varieties and the taste changes with the outside temperature.
Cool weather maintains its flavor, and warm weather makes the leaves spicier and deeply scalloped. The Ortolani type is a strain of Coltivata with a uniform appearance.
Arugula selvatica is a wild type of arugula with small, deeply serrated leaves, and wild arugula is the one you commonly see on sandwiches served at popular food chains.
It has a stronger flavor than Coltivata and takes longer to germinate and grow. Olive leaf arugula is similar in taste to Selvatica but with smooth-edged leaves.
Different Varieties of Arugula
We often think of arugula leaves as coming from the same plant, but there are many varieties of arugula. Find several favorites and how they differ to get you started.
While there are many different types of arugula, Astro arugula is a great choice if you do not like the traditional spicy flavor of other arugula leaves. This type produces baby leaves in as little as three weeks, and it has edible white flowers.
Another tasty green is Wasabi which is extra spicy and frost-hardy. This type takes longer to germinate but is tasty for Asian wraps and sushi.
Sylvetta arugula has narrow, spicy leaves and is slow bolting, while Wild Rocket (Diplotaxis tenuifolia) is a weedy-looking plant with a strong flavor that matures in 40 days.
Garden Tangy comes from Italy, has frilly leaf edges and a spicy flavor, and is a wonderful garnish for Italian cooking.
How to Grow All Types of Arugula
Of all the garden vegetables, leafy greens are our top choice for gardening. They are simple to start from seeds and grow so fast that we don't have long to wait to harvest.
Here is how to grow common types of arugula, Eruca sativa, by sowing seeds in an outdoor container or bed.
Prepare to grow arugula in early spring by filling a container or raised bed with potting soil and adding a high nitrogen fertilizer or compost. Follow the heirloom seed pack instructions for your type and sow the seeds a quarter-inch deep with one-inch spacing.
For a continuous harvest, consider planting the seeds a couple of weeks apart. Choose an area with full sun and water the dirt to dampen it without making it soggy to encourage germination.
Growing and Harvesting Arugula
While leafy green veggies are fairly straightforward to grow, they require a bit of attention to flourish. Here is how to care for all arugula types and when to harvest them for the best flavor.
Arugula is a fast-grower, so the single time it requires fertilization is when you sow the seeds. The only care your plants want from you is consistent watering to keep them from bolting too soon. Water the plants at the base in the morning to prevent downy mildew.
These plants enjoy cool weather with temperatures between 45 to 65°F, but a hard frost kills them, so keep row covers handy if you expect overnight temperatures to drop and provide them with shade during warm weather.
Keep an eye out for garden insects like flea beetles and aphids and remove them by hand or use insecticide to kill them.
Start harvesting baby arugula leaves when they are three inches tall. Remove them with the cut-and-come method by clipping away the outer leaves while allowing the rosette to grow. To harvest mature leaves, remove the head just above the soil line.
Learn about storing arugula and garden lettuce if you have more than you can eat in a short time. Fresh greens taste best.
How to Make a Tangy Salad with Arugula Leaves
One of the most popular ways to prepare all varieties of arugula is to make a salad. This recipe is our go-to for something fresh and healthy with a sweet and tangy flavor.
Combine one of your favorite arugula varieties in a large bowl with the carrots and tomatoes and set it to the side. Whisk the olive oil, lemon juice, balsamic vinegar, and salt in a small bowl.
Pour dressing over the veggies, top it with Parmesan cheese, chives, and sunflower seeds and serve it immediately.
There are many health benefits to consuming greens, and arugula has a unique spicy flavor perfect for livening a Mediterranean salad. There are many types to choose from, it's easy to plant, and its fast growth rate keeps your fridge well-stocked with fresh arugula leaves.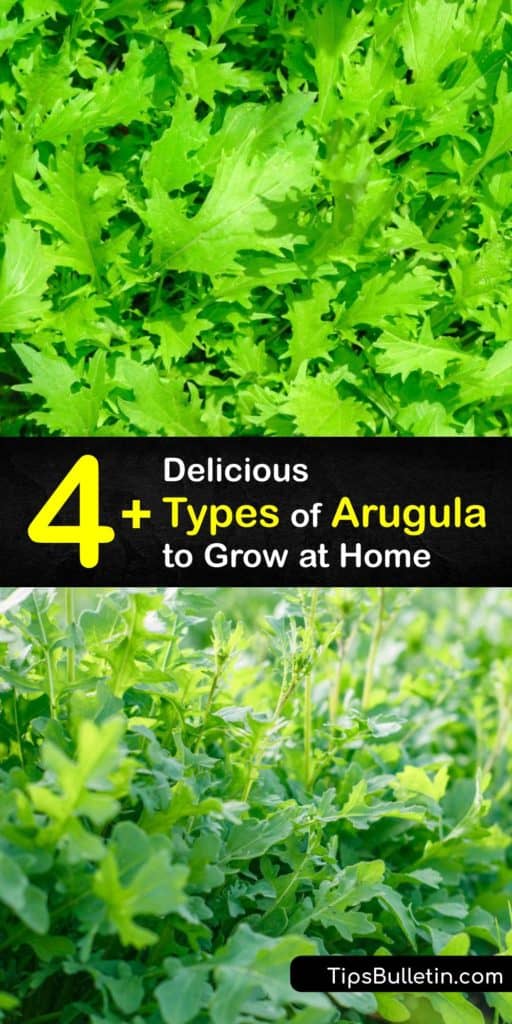 Now that you discovered the different types of arugula to grow at home and ways to use them for cooking, why not share our arugula growing guide with the leafy green-lovers in your life on Facebook and Pinterest?