Asparagus is a nutrient-packed and low-calorie vegetable that tastes great and is simple to add to any lunch or dinner. There is a multitude of types of asparagus available at the grocery store. We explain the most popular asparagus varieties, so you are educated the next time you take a trip to the farmer's market or grocery store.
This superfood is rich in folic acid, potassium, fiber, thiamin, and vitamins A, B6, and C. The different varieties of the veggie provide different tastes and pair well with several dishes. Not only do we provide a long list of different asparagus plants, but we also show you how to care for asparagus that you grow in your garden.
No matter what kind of asparagus you have, you are sure to experience a delicious taste alongside a long list of health benefits. Discover the differences between green asparagus and purple asparagus while also exploring the different processes for correct planting.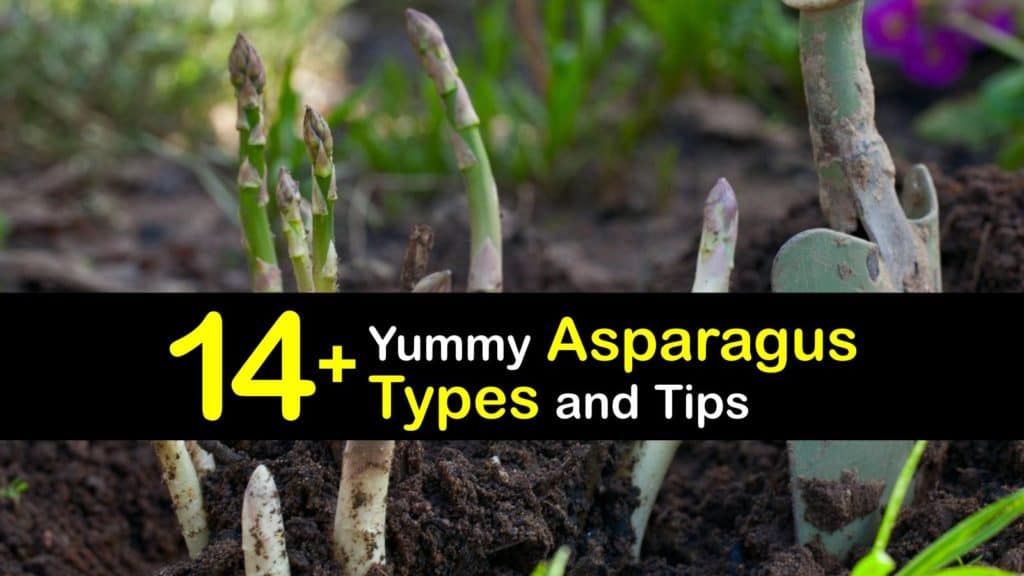 Your Complete Guide to Asparagus Varieties
If you've ever been curious about the distinction between asparagus varieties or even common types of beets, look no further. Growers have developed a wide array of wild asparagus to grow the best-tasting vegetable.
If you are growing your asparagus in your backyard, we also give you step-by-step instructions to fight off pests that attempt to overtake your plant. Additionally, this article describes how to care for your asparagus, so it provides a bountiful harvest.
Male and Female Asparagus Plants
Before diving into the asparagus varieties names, it is essential to understand the noticeable differences between female plants and male plants.
Because female plants produce the seeds, they require a lot of energy for seed production, so the asparagus spears are smaller than male plants.
Growers prefer male plants because they produce much larger yields. The largest spears are formed from a hybrid variety.
Hybrid asparagus is fusarium and disease resistant and cold tolerant, making it a desirable plant to propagate. Male hybrid types of asparagus described here include Jersey Knight, Jersey Giant, and Jersey Supreme.
Mary Washington is One of the Popular Types of Asparagus
Mary Washington, also known as Asparagus officinalis plants, are standard cultivars. What is an asparagus classified as a Mary Washington?
The plant is female and one of the many green varieties that produce large stalks sooner than most asparagus varieties. Not only does Mary Washington asparagus taste delicious, but this heirloom variety is simple to plant.
Mary Washington seeds grow best in the early spring around the last frost. To plant the roots, the best time is six weeks before the first fall frost.
As perennial produce, this plant hibernates in winter and remains ready to grow when the weather becomes warm enough again.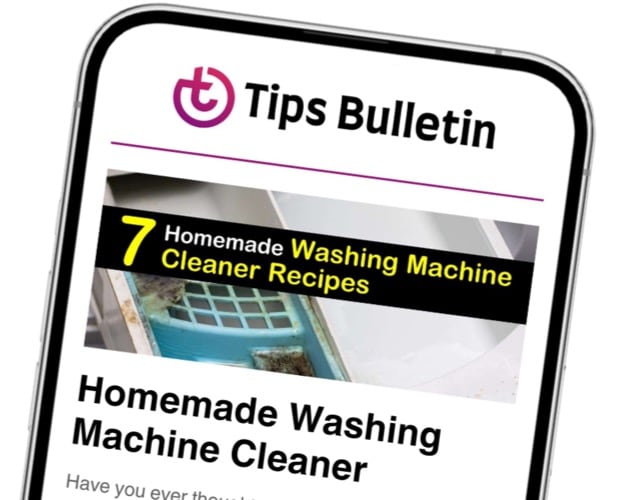 Finally, an email that Transforms Your Home.
Get the latest home and garden tips from our experts, delivered straight to your inbox.
What is an Asparagus Called Jersey Knight?
One of the most common types of asparagus is the Jersey Knight asparagus. It is a hybrid plant that produces large and nutrient-packed spears.
Farmers prefer to grow Jersey Knight because the flavor is strong, and the plant fights off crown rot and rust. As one of the most popular varieties of asparagus, Jersey Knight is always at your local grocery store.
Growing your own Jersey Knight asparagus is easy. This variety of asparagus prefers full sun with well-drained soil. Plant the roots six inches deep and one foot wide.
Ensure you space the rows of asparagus at least two feet apart. Whether you purchase Jersey Knight asparagus at your local grocery store or grow it in your garden, the flavor is sure to satisfy.
Everything You Need to Know about Jersey Supreme
Similar to Jersey Knight, Jersey Supreme is a hybrid asparagus plant. Jersey Supreme is one of the newest asparagus varieties and produces an extremely high yield.
Additionally, a Jersey Supreme asparagus patch makes uniform spear sizes compared to other types. Another significant aspect of this hybrid is that it survives in colder temperatures than most other veggies.
To grow Jersey Supreme asparagus in your garden, use the correct soil. This cold-tolerant plant prefers light to medium sandy soils. Sandy soil is easy to work with and does not compact, making drainage more natural.
Purple Passion Asparagus
An unusual looking asparagus variety is Purple Passion asparagus. Derived from the color of its purple spears, Purple Passion has about 20 percent more sugar than green asparagus.
Because the plant has more sugar, the taste is mildly nutty after being cooked. Purple Passion asparagus tastes great cold or hot as a side dish or on top of a salad.
Like their counterparts with green spears, Purple Passion remains in the same soil for several years, going dormant in the winter and ready to harvest in the early spring.
Purple Passion asparagus prefers fertilizer high in phosphorus with good drainage to protect the roots from acquiring a bacterial infection. If you plant this type of asparagus, make sure it receives full sun and good drainage for the best harvest.
Learning about White Asparagus
White asparagus is basically the same as green asparagus, without the chlorophyll. Growers harvest white asparagus before it has a chance to develop a green exterior.
Compared to green asparagus, white asparagus is more tender and sweeter. White asparagus is more fibrous than other asparagus varieties.
Because the spears tend to be a little thicker than what you may be used to, peel the bottom two-thirds of the plant. White asparagus complements creamed soups and boiled potatoes.
Correct Type of Soil for Asparagus Varieties
All types of asparagus need soil with adequate drainage. Avoid clay soils when planting asparagus because it is difficult for the plants to have good drainage. The best kind of soil for asparagus is sandy loam soil because it does not compact easily.
During the first year of growing, an asparagus bed requires about one to two inches of water each week.
If the plants are not receiving enough natural rainfall, water your asparagus regularly. Additionally, sprinkling a little mulch on the top of the soil helps lock in moisture.
Planting and Spacing Your Asparagus Plants
Before planting asparagus in your garden, we recommend locating the seeds further away from other veggies. Giving asparagus enough space to grow ensures they reach their full potential.
Significant spacing allows ample room away from competing plants. Each asparagus plant requires about four to five feet between each plant. In the first couple of years of growing, your asparagus does not spread very far.
Once the bracts and roots are established, they spread out and take up more room. Plant your asparagus seeds or roots about six inches deep to ensure the roots have plenty of room to develop.
Planting Season for Asparagus
One of the pivotal pieces of information to know before planting asparagus is to grow them at the right time. Plant your asparagus crowns in spring, as early as the soil allows.
If the weather is cooler, start the plant in a pot indoors for a few weeks. Make sure that the asparagus receives tons of direct sunlight.
Although growing asparagus takes a few seasons before the plant fully matures, it pays off in the long run.
Asparagus varieties reap a bountiful harvest for up to 30 years. Because the crop is available for such an extended period, plant your asparagus in a quiet location.
The Numerous Health Benefits of Asparagus
What is an asparagus, and what are the health benefits of eating them? Asparagus are great plants to have in your garden because they produce a harvest for numerous years and are incredibly healthy.
This low-calorie vegetable is considered a good potassium source, contains fiber and thiamin, and is high in folic acid. Asparagus varieties are packed with antioxidants while simultaneously acting as a natural diuretic.
Diuretics help the body release excess salt and fluids, making this superfood excellent for anyone with high blood pressure.
Because asparagus flushes your system, it also helps prevent kidney stones, making it one of the most nutritionally balanced veggies.
Of course, after harvesting, it's important to keep asparagus fresh by storing it properly until you are ready to use it. The fridge and freezer are both viable options.
Identifying and Preventing Crown Rot
No matter what asparagus varieties you choose to plant in your garden, there are potential threats to your asparagus. One of the most prevalent diseases is fusarium crown rot.
Crown rot is a fungus spread by infested soil, transplants, or plants grown from contaminated seeds. Once fusarium crown rot is present, you will know when asparagus is bad, and it is nearly impossible to get rid of. Taking preventative steps is crucial to avoid this destructive fungus.
Treat your seeds with a disinfectant or hot water to promote disease-free seeds. Prevent crown rot by maintaining proper fertilization and weeding to reduce rust and insects.
Certain Plants Harm Asparagus
What is an asparagus enemy? A few vegetables harm and stunt the growth of asparagus if they are planted next to one another. Alliums like garlic, onion, and leeks do not share the soil well with asparagus varieties.
The alliums stunt the asparagus' growth because they can absorb more of the nutrients from the ground. To plant both alliums and asparagus, give both plants plenty of room in the garden and spread them far apart.
Avoid growing potatoes next to asparagus as well. The asparagus plant stunts the growth of your potatoes when they share space.
Companion Planting with Asparagus
Just as there are plants that harm the growth of various types of asparagus, several plants help the asparagus grow and produce a larger yield.
Companion planting allows you to use your garden more efficiently. Additionally, companion planting benefits soil health, wildlife, and pollinators.
Vegetables that pair nicely with asparagus include tomatoes, eggplant, basil, and parsley. Also, flowers like marigolds and nasturtiums are magnificent for boosting growth and repelling unwanted pests from invading your asparagus.
Understanding What Pests are on Your Asparagus
What is an asparagus pest? A pest attacks your asparagus plant to suck out the nutrients to survive. Although asparagus varieties have fewer pests to worry about than other vegetables in your garden, controlling them is still a must.
Some pests that try to overtake your asparagus are asparagus aphids, asparagus beetles, caterpillars, and slugs. Asparagus beetles are the most common pest to know how to treat.
Appearing in early May, asparagus beetles feed on the spears of the plant and leave behind browning and scarring.
Eliminating Asparagus Beetles
It may appear impossible to prevent or get rid of asparagus beetles. However, there are a couple of necessary steps to take that prevent these unwanted critters from attacking your plant.
One way to repel asparagus beetles is to spray your plant with neem or essential oils. Neem oil contains ingredients that beetles hate.
Mix the neem oil and water into your spray bottle and spray the solution on and around the affected asparagus plant to eliminate beetles.
Another natural way to prevent asparagus beetles is to practice companion planting and purchasing ladybugs and lacewings for your garden.
Ladybugs and lacewings are predators of asparagus beetles and eat their larvae and eggs. Protecting asparagus in your garden is necessary to produce a bountiful yield.
There are several types of asparagus available at the grocery store or to grow yourself. Regardless of the asparagus variety, the vegetable is rich in nutrients and antioxidants that promote better health.
Before planting asparagus in your garden, understanding that the plant requires ample room to grow is critical. Within a few years, asparagus plants regularly sprout a bountiful harvest in the spring.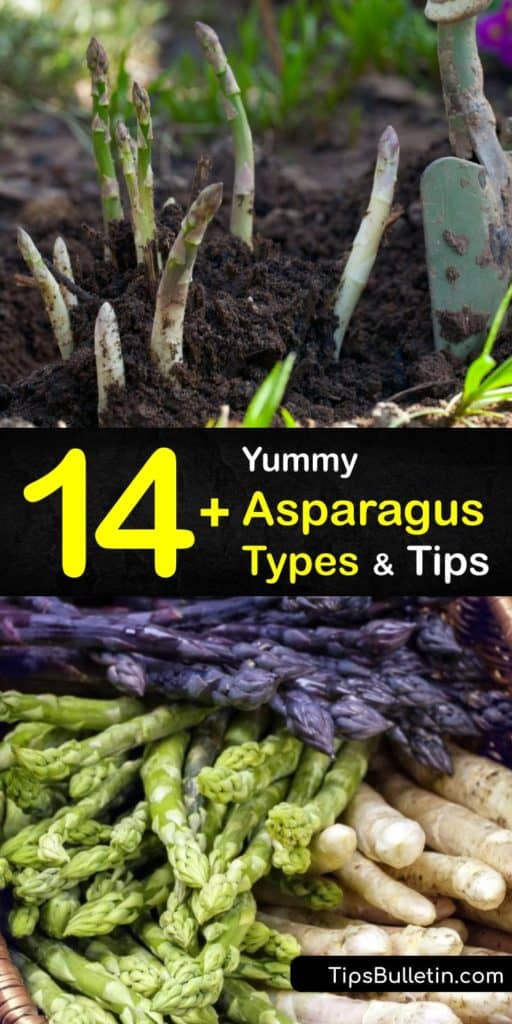 If you discovered new types of asparagus, share this article with tips for growing asparagus with your family and neighbors on Pinterest and Facebook.