Avocado trees (Persea Americana) are a native of Mexico, particularly in the south-central part of the country. However, many other types of avocado trees are available to the home gardener.
Avocado trees come in three main avocado tree types: Guatemalan, Mexican varieties, and West Indian, with the Mexico variant being the most cold-hardy and the West Indian form being the least. The Hass, the most prevalent type in the United States and the one you'll find in the supermarket, is a hybrid between Guatemalan and Mexican varieties of avocado trees.
The nutrient-dense pear-shaped fruits are a tasty snack often used as a condiment, in guacamole, or eaten on toast. Avocados are recognizable by their dark green skin and buttery, nutty flavor, with flesh that softens as it ripens around their large seed. Avocado fruit has a high oil content and is used to make avocado oils like Avo.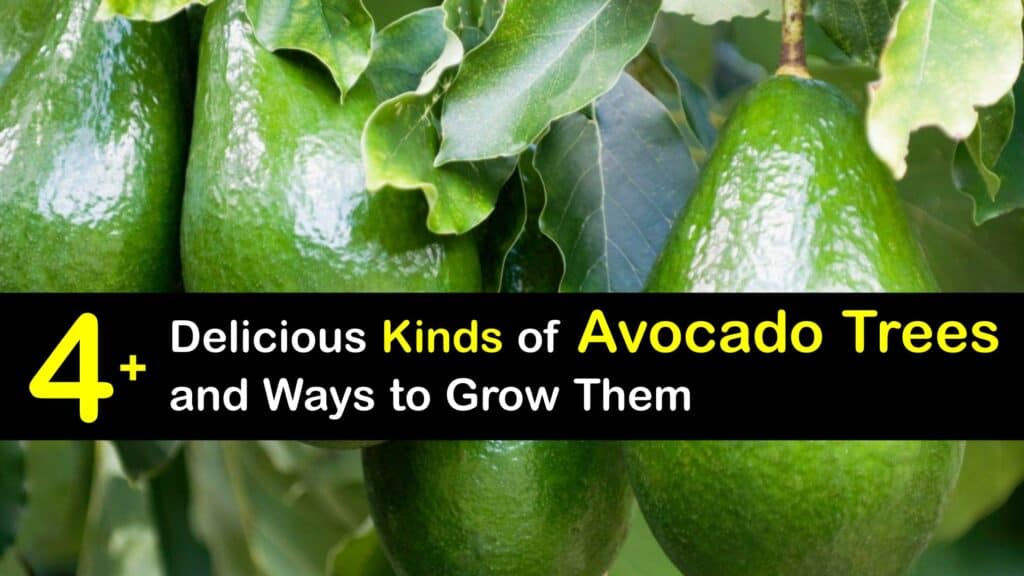 Avocado Tree Types and How to Grow Them at Home
There are many different types of avocado trees for growers to choose from when adding avocado fruit to their homegrown fruits and veggies list. Select avocado tree types based on the cultivars that produce the flavor you prefer and have the highest compatibility with the growing conditions in your garden.
If you're a container or small space gardener, the smaller varieties of avocado trees, such as the Lamb Hass or Gwen, are easier to keep an avocado tree in a container. If you prefer high fruit yield, select the Pinkerton.
These fruits are primarily grown in California, though some grow in the warmer areas of Florida and Texas. The avocado tree is a warm-season tree, easily damaged by frost and cold. When selecting avocado varieties to grow at home, it's essential to consider several factors, from hardiness to the mature trees ability to produce fruit.
If you live in a colder climate, consider growing a miniature potted avocado tree indoors. These plants require less sunlight and will thrive in temperature controlled indoor settings.
Types of Avocado Trees – Gwen
The Gwen avocado is an outstanding backyard cultivar due to its high fruit output, good taste, and smaller tree size. This tree bears fruits similar to the Hass though slightly larger and with a deep buttery, nutty flavor. The fruit's skin is pebbly and straightforward to peel, staying green until it ripens.
Varieties of Avocado Trees – Zutano
The Zutano avocado is a cold-hardy type that yields fruit consistently. It looks similar to the Fuerte, with a milder flavor and more cold resistance. The flesh has a fibrous feel due to its lower oil and water content. The green fruits have waxy obovate lumps on the skin.
Hass Avocado Tree Varieties
The Hass variety is well known for its skin color, transitioning from green to purple-black as it ripens, and is the leading Californian avocado. Thanks to its hardiness and ability to store and transport well, Hass avocados are the kinds often seen at the grocery store and sold commercially.
Pinkerton is One of the Common Types of Avocado Trees
Because of its constant output, quality, and manageable tree size, the Pinkerton avocado is a popular avocado tree choice. This cultivar grows a lot of green pebbly-skinned meaty fruit. The little seeded fruits have a great flavor and are reasonably easy to peel, with high oil content.
Stewart Avocado Trees
The Stewart avocado variety has a yellow-fleshed fruit with a rich, nutty flavor and a hint of green all around the fruit's edge where it meets the darker skin. This Mexican avocado produces pear-shaped fruits with smooth, thin skin and is one of the more cold-hardy types. The plant itself is a vigorous tree known to spread.
Other Important Avocado Varieties
Avocados are divided into Type A and Type B based on when their flowers open for pollination. It's recommended to plant both Type A, and Type B avocados close together to provide the best yield of healthy fruit.
Certain avocado trees, such as Hass and Reed, produce effectively without a companion tree of the opposite type, whereas others never produce at all.
If you grow a Type A avocado, it's worth selecting a Type B to grow alongside it.
Plant a Type B close to your Type A trees to ensure a successful harvest.
Planting Avocado Seedlings
If you sprout your avocado seed in water, it's time to transplant it when your seedling's root system is outgrowing its container. For young trees or rootstock from a nursery, transplanting might not be required.
Choose a pot with drainage holes at least ten inches wide and twice as deep as the roots of your avocado seedling. Fill the pot 3/4 full with potting mix and dig a hole for the avocado roots to sit in. The aim is to bury the roots in the potting mix while the pit lies on top.
Place the avocado roots in the hole and gently cover them with soil until completely covered, keeping the avocado seed and sprouts on top. Water your newly transplanted avocado plant after gently patting down the potting mix to ensure everything stays in place.
If you live in a more temperate locale, your avocado tree may be transplanted again to the garden when it grows into a young tree.
Avocado Tree Care
After successfully transplanting your avocado seedling, the next step is to ensure you meet your new avocado plant's needs. Too much water is a common source of avocado tree difficulties. To keep your plant healthy, don't overwater it.
Discover some common problems with dwarf avocado tree growing to learn more about new growers' mistakes. Avoid the pests and diseases that avocado trees attract before they attack the tree.
Most avocado plants only need to be watered every two weeks, except for a thorough soak occasionally when the water reaches around eight inches below the ground's surface. It's critical to keep the soil moist, not damp. Check if the soil is dry by touching it. Your avocado plant doesn't need to be watered if it's still damp.
Avocado trees need direct sunlight. Keep your plant in a sunny location because it will grow straggly if not given enough sunshine. Remove any new leaves or excessive growth. Pruning the top leaves promotes them to grow back bushier, resulting in a more vigorous plant.
It's unlikely you'll succeed in growing an avocado tree outside unless you live in a moderate region like Florida, Hawaii, California, or South Texas. Avocado trees reach up to 30 feet in height when fully mature and given the proper space, making them a stunning addition to your house landscaping.
If your area has occasional subfreezing temperatures, choose a sheltered location. While Mexican avocado trees resist some frost, they should still be protected.
Avocados are a tasty and healthy fruit. Learning about the different varieties of avocado trees lets growers select the best cultivars for their garden based on pollination type, flavor preferences, and growing conditions.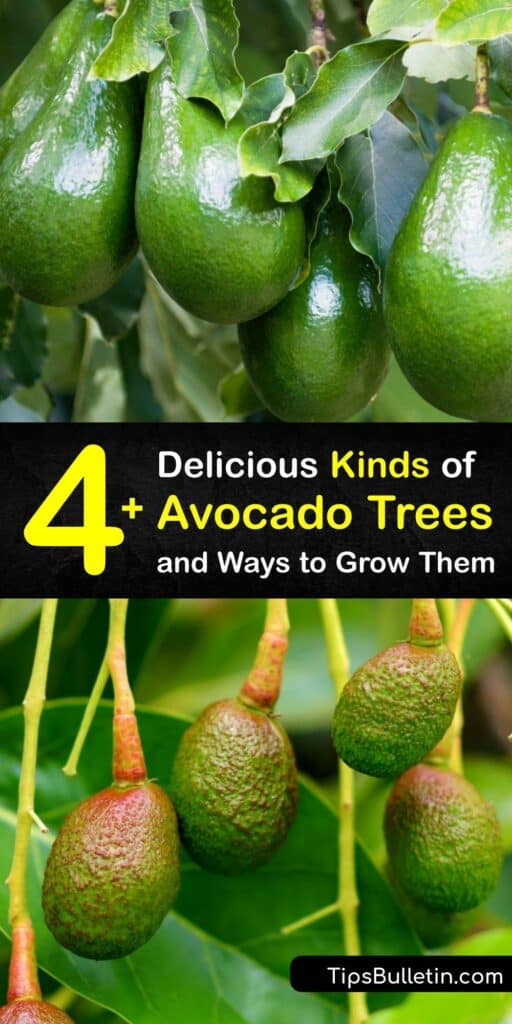 If you loved this article on types of avocado trees, please share this valuable information on avocado tree types with your friends and family on Pinterest and Facebook.