If your experience with avocados is limited to applying their buttery flesh to your toast, it might surprise you that there are over a dozen types of avocados in the world. Hass avocados are beloved for their ability to ship and store well, but there are many avocado varieties to explore. Avocados fall into two categories: Type A or B.
We don't categorize avocados by their flavor; instead, we sort them based on the type of flowers they bloom first. Type A avocados bloom female flowers first in the morning, and the following day they bloom male flowers in the afternoon. Type B avocados follow this pattern in reverse order.
Many Type A avocados are similar to the Hass variety or are descendants bred from Hass avocados, so many Type A avocados have thick green skin with a nutty flavor and are high in oil content. Some refer to Type B avocados as greenskins, known for their thin skins and being more fragile. Compared to Type A, the flesh for these avocados is watery with low oil content. These attributes make Type B the less popular commercial option because they damage easily during transit.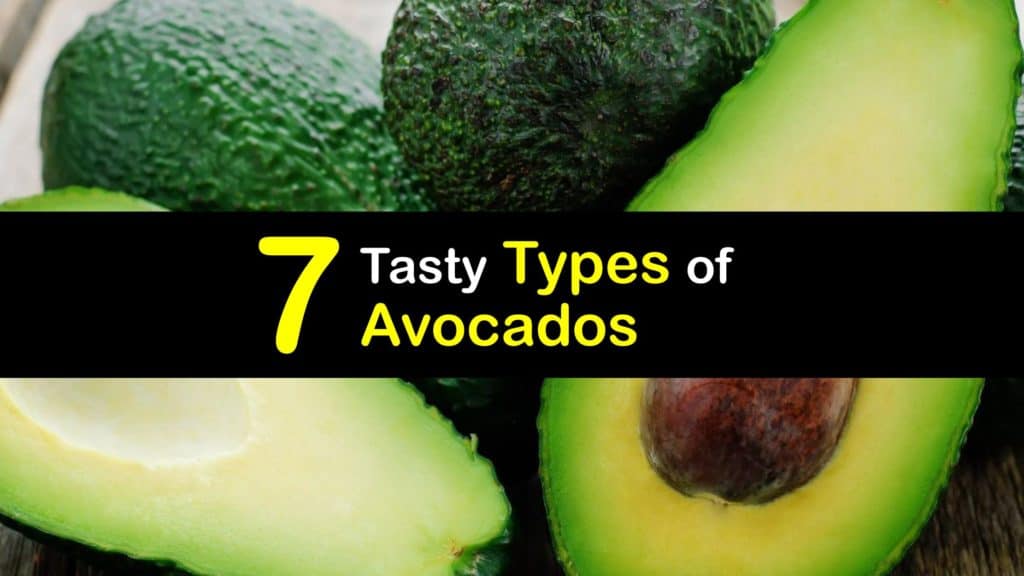 Varieties of Avocados
Avocados are native to Central America and Mexico, where the temperatures are ideal for their growth. Avocados need full sun, making them ideal for growing in this climate. The fruits are essential parts of Mexican and South American cuisine.
In 2019, Mexico produced 32% of the world's total avocados, making them the leading producer. In the United States, California is the top producer of avocados.
Hass
If you buy avocados from the grocery store to make guacamole, you've probably purchased Hass avocados before, as it's one of the most common varieties of avocado trees. This essential variety started in California and became a mass-produced commercial variety in the 1970s.
Hass handles cold temperatures of around 30°F; however, they are less heat resistant than other Type As like Reed and Mexicola. Hass avocados are known for their creamy texture, high-fat flesh, and the medium-large fruit that grows from the tree.
The skin on Hass avocados is thick, making it ideal for shipping across the country. Compared to other avocados with a flavor similar to Hass, or greater size, Hass remains a favorite because of its commercial appeal. The textured skin turns dark green or black once it ripens.
Fuerte
Sometimes referred to as the true California avocado, Fuerte avocados grow large oval-shaped fruit with easy-to-peel skin. Many love Fuerte avocados for their creaminess despite lacking as much oil as Type A varieties.
Because of its popularity and categorization as a Type B avocado, farmers use Fuerte avocados to cross-pollinate with Hass.
Pinkerton
As a Type A, Pinkerton avocado trees depend on growing near a Type B tree to produce a good yield of fruits. Because trees alternate exposing their male and female flowers, it's difficult for avocado trees to self-pollinate. To ensure pollination occurs, commercial operations for growing avocados plant avocado seeds of differing types beside each other.
Pinkerton avocados are known for producing their oblong fruits earlier in the season. The best time to pick avocados from the tree is when they reach the right size. Pluck the largest sample, wait a few days and cut it open to determine ripeness.
These avocados have the same nutty flavor as Hass, with a small seed inside the fruit, making them popular. Pinkerton avocados have pebbly skin that peels away easily.
Reed
Another favorite Type A avocado, Reed avocados, are known for their low maintenance gardening requirements. Pruning these trees makes their branches compact and ideal for growing in small spaces if you live in zones ten or eleven.
Reed avocados are also more resistant to heat than Hass and require less water than the most popular variety. This resistance makes them the perfect California avocado.
The fruit produced by these trees is about the size of softballs with slightly pebbly skin and weighs over a pound. The skin comes away easily to reveal the butter flesh beneath.
Gwen
Gwen avocado trees are among the smaller trees as they reach their max height at around 15 feet. With careful pruning and maintenance, these trees produce fruit at smaller heights. Gwen trees are excellent choices for anyone looking to add an avocado tree into their backyard without it taking up a lot of space. Gwen trees can even grow in suitable containers.
Gwen avocados are similar to Hass in texture and flavor; however, Gwen avocados lack the same creaminess as Hass. Due to their similarity, the Lamb-Hass avocado is a result of crossing Hass and Gwen avocados.
Choquette
Choquette avocados started in Florida and resulted from a cross between West Indian and Guatemalan varieties. Due to the tree producing large fruit and having some disease resistance against various avocado leaf problems, Choquette became a popular cultivar after fruiting in the 1930s.
The fruit produced from these trees is large with an oval shape and glossy smooth skin. Compared to standard varieties of avocados, Choquette has a low oil content of only around 13%.
Sir Prize
This type of avocado is a descendant of Hass and is similar to other Type A avocados in its texture and oil content. Sir Prize avocados have small pits and are known for their creamy and nutty flesh like Hass.
A unique characteristic of Sir Prize avocados is that they don't turn brown after being cut. Most avocados turn brown after being exposed to air. A quick stir gets rid of this change in coloration in your guacamole, but with Sir Prize, this may not be an issue. These avocados are also said to have the most significant flesh to pit size ratio. If you have extras, the best way to preserve avocados is to freeze the flesh.
Bacon
Bacon avocados grow on smaller trees that are good producers of avocados even without a Type A tree nearby. Bacon avocado trees are cold hardy down to 25°F, making them popular for home growers looking to start growing their avocados, especially in cooler climates. Grow your potted avocado tree on the patio and bring it indoors if the weather will stay below freezing for too long.
The large green fruits from this tree have smooth skin that stays green as it ripens. Bacon avocados grow thin skins that are difficult to peel. Compared to other avocado types, Bacon is low in oil and has the signature yellow and creamy flesh.
Different Types of Avocados
There are over 500 varieties of avocado worldwide that differ in their taste, shape, and rate at which they mature. The most popular avocado types tend to be ones with the best tasting flesh and the smallest pits to ensure you get as much from each avocado as possible.
Zutano avocados grow from large trees and produce medium-large fruits similar to Fuerte avocados. Zutano avocados are low in oil while having a high water content. This combination makes them less creamy and flavorful than other avocado types.
Brogdon avocados are somewhat resistant to cold temperatures, capable of growing in zones eight through eleven like the Bacon variety. Brogdon trees grow large fruit with purplish-black skin and flesh ideal for guacamole.
Lula is a type of avocado from Florida, likely a cross between Guatemalan and West Indian avocados. Lula's popularity comes from its eating qualities, cold hardiness, and steady fruit production.
Best Avocado Types for Eating
Although each avocado type has unique characteristics that make it special, what matters is taste and texture when it comes to eating them. Hass avocados reign supreme as the best choice for making guacamole.
While larger avocados might tempt you, they tend to have more water which throws off the taste of the flesh. Some varieties of avocado, such as Brogdon, are perfect for guacamole because of their buttery yellow flesh.
If you want to try other avocados while keeping close to the taste and texture of Hass, try avocados that mimic Hass's flavor with their unique benefits. Pinkerton avocados taste the same as Hass and provide you with more flesh and less pit.
Lamb-Hass and Carmen Hass are two varieties with similar tastes, and the only significant differences are that Lamb-Hass isn't as easy to peel while Carmen Hass fruit is slightly undersized.
Add your peeled avocados and lime juice to a bowl and mash. Mix in onions, cilantro, tomatoes, and garlic until well-combined. Add salt or seasonings like cayenne pepper to taste. Leave your guacamole in the refrigerator for at least an hour until ready to serve.
Because avocados are so specific in their growing conditions and require years to bear fruit, growing avocados is not a task many take on. But, if you learn about less common types of avocados, you'll know what to look for the next time you visit the local market.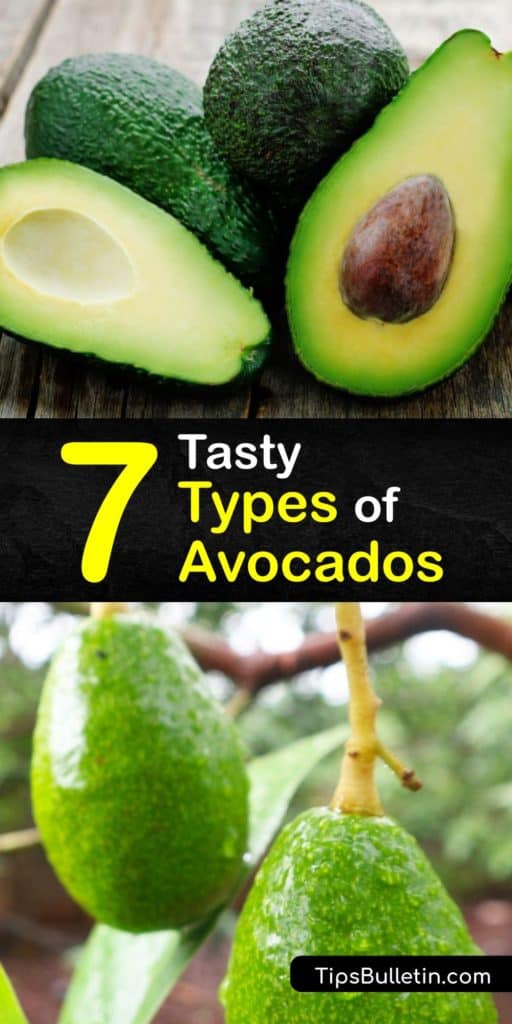 If learning about new types of avocados inspired you to seek out different varieties of avocados for your next dish, please share this article on avocado types on Facebook and Pinterest with your friends.