Beets are a healthy addition to your diet and ideal for pickling or adding to your favorite dishes. We'll explain the different types of beets, their flavor, texture, and color, and how to grow and store them at home.
A stroll through your local farmers' market searching for the perfect beets is a daunting task if you are unfamiliar with the many varieties of beets available.
When we think of beets, the first thing that comes to mind is the pickled beet slices from a can, but they are more versatile than that.
They taste wonderful roasted with balsamic vinegar or raw in salads, and beet greens are an ideal substitute for Swiss chard or spinach. Beets are incredibly healthy and an excellent source of antioxidants, magnesium, potassium, B-vitamins, and iron.
If you're a beet-lover, you're in for a treat since there are so many different types of beets to choose from, and not all of them are red. There are several cultivators, and they range from gold and white to candy stripe varieties.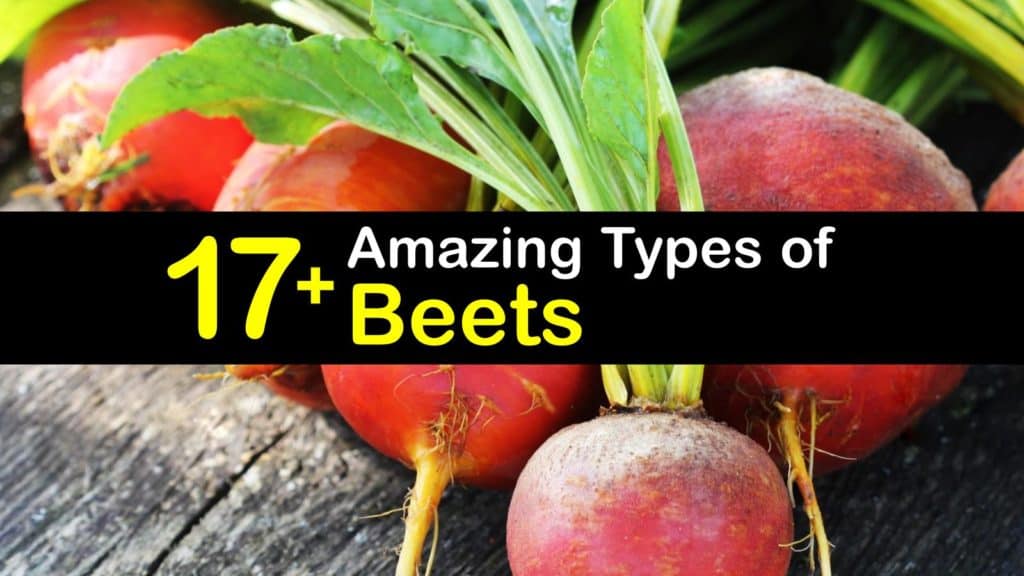 The Best Beet Types to Grow at Home
Store-bought beets are great in a pinch, but home-grown beets are the way to go. Not only do you know exactly where they came from, but organic growing ensures that your veggies give you the nutrition you need without unnecessary chemicals.
Here are some of the best types of beets to grow at home, whether you grow beets indoors or have a dedicated garden plot.
What is a Beet?
Red beets – you either love them or hate them. This is unfortunate since beets are extremely healthy. Not only that, but there are more types than the traditional red, each with its own unique taste. But what is a beet, exactly?
Beets (Beta vulgaris)
Beetroots are a root vegetable known by many names, from table beets and red beets to garden beets. The earthy flavor of these veggies is often an acquired taste and not enjoyed by everyone.
Their shape is similar to a radish or turnip, although they are not botanically related. The root and leaves of this plant are desirable for eating raw or cooked in various ways, from steaming, boiling, and baking to frying or grilling.
The roots are also popular for making detoxification juice. Most types of beets are delicious and useful for many different recipes. However, the fodder beet, or Mangel-Wurzel, is considered a scarcity root or poor root and usually cultivated solely for animal feed.
Are there Different Beet Varieties?
There are many beet varieties, including red, gold, white, and pink, and each falls into a specific category. Knowing the different varieties is helpful when growing your own beets since each one has special characteristics.
There are three main categories of beet types. Heirloom beets are seeds that have been around for several generations, often saved by individuals as personal favorites. These types of seeds are not manipulated in any way and maintain their originality.
Hybrid beets are created after crossing different plant varieties to create a new type of beet. These include beet varieties names such as Avenger, Pacemaker, and Red Ace.
Finally, there are specialty beet varieties, like the di Chioggia, an Italian heirloom. These types are grown for their unique qualities, such as early maturation, miniature size, and mild flavor.
Common Types of Beets
Whether you enjoy an heirloom or specialty beet or prefer a hybrid, there are many beet types within these groups to choose from and you can plant beets from seeds or the tops.
They range in color, size, and taste, and knowing the difference helps you narrow down the list to find your favorite. There are ten main common types of beets, and each type has subtypes.
Baby beets are one of the most popular with their small size and sweet flavor and grow in any color. Red beets are the most familiar and take on flavors of whatever you cook them with.
Striped beets are an heirloom variety with insides that resemble a candy cane. Sugar beets look like a turnip and have a high sucralose level.
Ornamental and Tasty Bull's Blood Beets
What is a beet, and are there different types? Beets are root vegetables, and out of all the types, the Bull's Blood is not only delicious but also looks attractive in the garden with its ornamental growth.
Bull's Blood is an heirloom garden beet developed from the French type, Crapaudine. The roots are deep red and mildly earthy and sweet without bitterness, while the leafy tops are tasty added to a salad.
The foliage of this beet is a beautiful dark, purple-red that looks stunning as a garden border.
This beet has no serious disease or insect problems and is low maintenance, and has leaves that grow one to two feet tall. Bull's Blood beetroots are interchangeable with common red beets and a good choice for roasting.
The Unique Color Pattern of Chioggia Beets
Out of all the beet varieties, the Chioggia beet is the most unique. This beet is also called the Candy Cane or Bull's Eye beet and is not only a fabulous addition to your diet, but it has a visual appeal, unlike other basic beets.
Chioggia beets (Bassano) are a sweet Italian beet. This heirloom variety has a burgundy exterior, and slicing into it offers a surprise since the interior has striking white stripes.
These beets do not bleed when you cut them like other beet types. While they are enjoyable cooked like any other, their pattern fades slightly. To keep the stripes, try eating them raw in a salad or making deep-fried chips.
The Cold Hardy Crosby Egyptian Beet
This heirloom cultivator originated in Germany and was first introduced to the United States in the 1860s. It is easy to grow, cold-hardy, and an optimal choice for container gardens.
Northern gardeners love the hardiness of this beet. It matures in only 45 days and provides an early fall crop. Crosby Egyptian beets are large and flat and grow primarily above the soil.
They are sweet with little to no earthiness and dark red. This type of beet is ideal for pickling, and the green tops with red stems add flavor to salads if you harvest them young.
Disease-Resistant Golden Detroit Beets
This beet is an heirloom cultivator that is one to three inches in size with an oval shape. It is a disease-resistant variety with leaves that grow up to 18 inches tall.
These beets are considered one of the best for eating raw and do not bleed like red beets. Golden Detroit beets are large and orange-yellow and turn deep yellow after cooking while retaining their sweet flavor.
Their young, yellow stems are useful for adding to salads with no hint of bitterness, and their mature greens are good for cooking. The roots mature after 55 days and an excellent choice for roasting.
Cylindra Beets for Slicing
Cylindra beets are an heirloom cultivator and are often called a butter slicer with their uniform, elongated roots. They take up less space and are ideal for growing in small gardens.
These beetroots grow six to eight inches long, up to two inches wide, and have a smooth texture. The roots have a sweet, mild flavor and the reddish-green leaves are slightly bitter if you eat them raw.
Cylindra beets are ideal for canning and pickling due to their even growth, but they are also tasty roasted or added to soups and stews. The tops are ready for harvesting in about 35 days, and the roots mature after 60 days.
The Classic Detroit Dark Red Beet
This classic heirloom was initially called the Detroit Dark Red turnip in 1892. However, it is not a turnip but a deep red beet that grows up to three inches, with bright red stems and dark green leaves.
This popular red and round beet has succulent flesh that is striking in color, and its flavor is deep and sweet. It grows in a wide range of temperature and soil conditions, and both the root and greens are edible.
Detroit Red beetroots are tender and a great choice for roasting, canning, and slicing raw, while the green baby leaves are ideal for salad greens. Enjoy baby beets once roots form or wait until they mature after 50 days.
Lutz Green Leaf Beets for Long Term Storage
Lutz green leaf or Winterkeeper is a very large beet famous for its long storage life. Pick them early for baby beets or wait until they mature after 65 days for a robust beet.
This beet grows up to four pounds at maturity, and if you have space in your root cellar, it is the most suited root to keep long term. The roots are crimson and grow six inches wide, and the foliage is glossy with fuchsia veins.
Lutz green leaf beets begin with a savory flavor that becomes sweeter over time and is useful for roasting or pickling, and in soups and stews and the green leaves are hearty for sauteing.
The Popular Golden Beet
These heirloom cultivars are also known as Burpee's Golden beets and were first introduced in 1970. They are one of the more popular beets for roasting, and cooking them with oil and seasonings enhances their natural flavor.
These beets are golden globes of yellow flesh, and their two-inch size is fully mature in just 55 days. Golden beetroots have the sweet and mild taste beet-lovers crave, and the yellow stems and tender green leaves are delicious sauteed in butter and garlic.
The Sweet Taste of Sugar Beets
Sugar beets look more like a turnip than a beet with their off-white, conical structure. Their roots contain a high level of sucrose and are commonly grown for sugar production.
A fully grown sugar beet is roughly a foot long and weighs up to five pounds. Raw sugar beetroots are crisp and dense with a semi-bitter flavor, but cooking them brings out their intense sweetness.
While they differ in taste from other beets, they work well for boiling or roasting, and sugar beet greens are a good substitute for spinach in stir-fries.
Easy Growing Merlin Beets
Merlin beets are hybrids with uniform round roots and high sugar content. They are one of the most straightforward beets to grow, heat and cold tolerant, and disease resistant, making them an excellent choice for beginners.
These perfectly round beetroots are four-inches in size and ready for picking after 55 days. They are crispy when raw and wonderfully tender roasted, baked, and boiled.
The crimson-stemmed, glossy dark greens are fantastic in cold and hot salads and ready for harvesting after 30 to 40 days.
Non-Bleeding White Detroit Beets
If you love the distinct taste of red beets but hate the bleeding and staining they cause, then these white beets are the ones for you. Harvest these heirloom beets early for baby beets or let them grow to maturity for 55 days.
White Detroit beets are three inches in size and creamy white with light green tops. The roots are hearty yet sweet and retain their flavor after cooking.
Enjoy them grated raw in a salad or prepare them by boiling, roasting, or steaming and add the greens to stir fry or sautees.
The Stain-Free Avalanche Beet
This open-pollinated white cultivator is another white beet that gives you all the flavor without the red stains. Avalanche beets are mature after 50 days, and there are various ways to prepare them for the table.
Avalanche beetroots are creamy-white and do not have the bitterness that many red beets have.
Their crunchy texture makes them wonderful for slicing in salads, and their mild flavor is ideal for roasting and adding to soups. Try sauteing the light green tops in your favorite side dish.
Fast-Growing Early Wonder Beets
Early Wonder beets, or Nuttings Gem and Boston Crosby, is an heirloom cultivar introduced to the United States in 1911. It is an early maturing type that is both heat and cold tolerant, with delicious roots and abundant greens.
These deep red beetroots are two to three inches in size and ready for harvesting in about 50 days. They are mildly sweet and are round with a slightly flat top.
The green tops are fast-growing and have a tangy flavor, especially if you harvest them early. Early Wonder beets are great for pickling, baking, and boiling and an optimal choice for freezing.
How to Grow Beets in the Garden
Beetroots are a cool-weather crop, and knowing how to grow them keeps your kitchen fully stocked with beets of all types for many months. Here is how to grow beets in the garden.
Choose a full sun or partial shade garden site for your beets and prepare a planting time two to three weeks before spring's last frost. If you're unsure how many beets to grow, consider planting five to ten beets for each member of your household.
Begin by soaking the beet seeds in a container of water for about 12 hours before planting to help the germination process. Make one-inch deep holes that are one-inch apart and sow the seed clusters into each hole.
To plant rows of beets, space each row 12 to 18 inches apart. Once the seedlings are three inches tall, thin them out so they are four to six inches apart. As they grow, the roots often begin pushing themselves out of the ground, so hill up the dirt around them as needed.
Spread mulch around the base of the plants and water them evenly. Beets are ready for harvesting in 40 to 80 days when they are one to three inches in diameter, depending on the type.
Ways to Store Garden Beets
Growing your own beets is only the first step to enjoying fresh veggies at the dinner table. Learn when to harvest beets for the tastiest roots. A bountiful harvest of beets only lasts so long if you don't store them properly. Here are several ways to store those tasty roots to keep them fresh.
Eat any damaged or bruised beets right away since these do not store well. For healthy roots, clean them first by rubbing away loose soil, but do not wash them with water.
For a large harvest, store red beets in a storage box of damp sand and make sure the roots don't touch each other. Keep them in a cool, moist area where the temperature is between 32 to 40°F and use them as needed.
To store them in the fridge, place the beets in a perforated plastic bag. How long do fresh beets last in the fridge? Place them in the crisper drawer to keep them fresh for one to three months.
Don't forget about the greens! Storing beet greens is important, too. Freezing beet greens is the perfect way to save them to add to a delicious soup or stew later.
Growing up, we all thought of beets as a weird canned veggie with a bright red color and strange taste.
However, beets are so much more than that, from Bull's Blood beets with purple leaves perfect for harvesting as microgreens to candy-striped Chioggia with concentric rings of white and pink with a sweet flavor.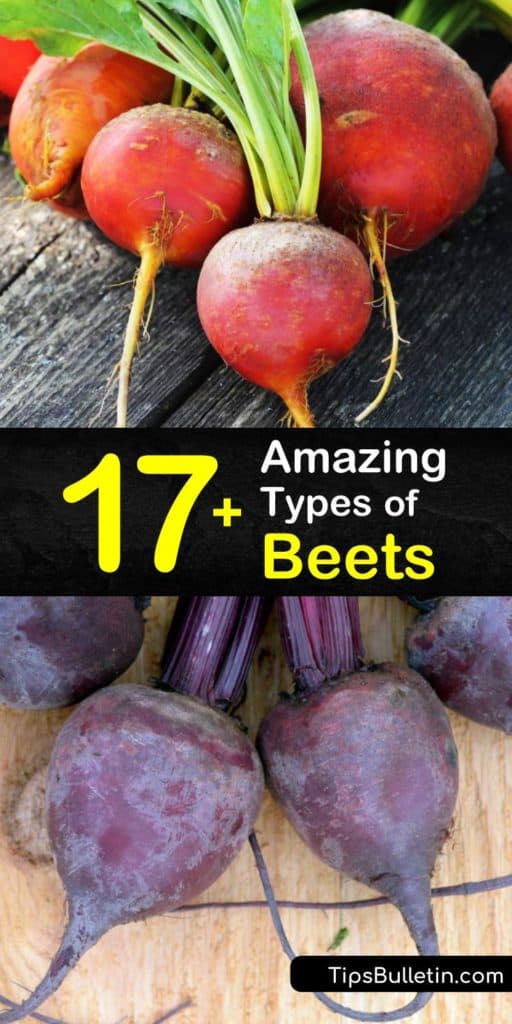 We hope that you enjoyed learning about the many different types of beets in your search for the perfect vegetable, and we'd love it if you share our beetroot guide and growing tips with your family and friends on Pinterest and Facebook.