Sweet bell peppers aren't just the typical red and green ones that we buy from the grocery store these days. There is a diverse selection to choose from, and each one has a different taste and heat level. Of all the types of bell peppers out there, it's a shame that we don't branch out more from what we know and love.
So, what is a bell pepper? There are dozens of varieties of bell peppers that offer something unique to our palates. Bell peppers are called Capsicum annuum, and this family includes sweet peppers as well as spicy ones.
Each pepper is rated in Scoville heat units and, as you work your way up the scale, the peppers get hotter and hotter. What most people don't know is that a sweet pepper can be both sweet and hot.
What are these bell pepper varieties names? Keep reading to find out the different types of peppers and you might find a new favorite along the way.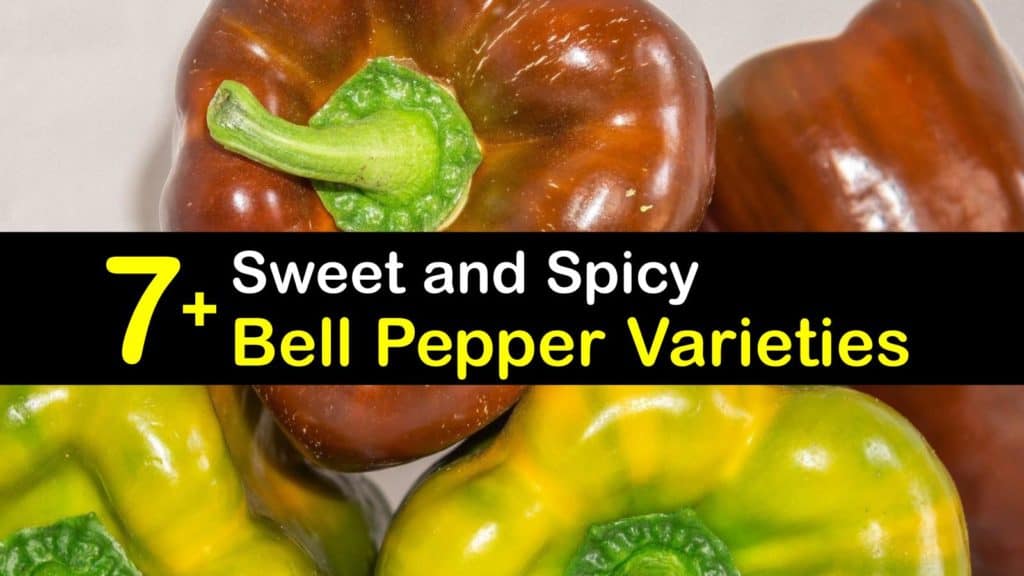 What is a Bell Pepper?
There are so many different types of peppers, as well as varieties of each species. Of all the peppers to choose from, what is a bell pepper, and what makes it different from other peppers? The genus provides either a sweet or chili pepper. These peppers tend to be larger, crunchier, and milder than their smaller and spicier relatives.
Sweet bell peppers originate from Central and South America, but China is the world's largest distributor of the peppers found in our local grocery stores.
Raw bell peppers provide us with over 97 percent of our daily recommended intake of vitamin C and feature vitamin A, B, K, folate, and beta-carotene.
Most types of bell peppers have a similar shape and structure, but they vary significantly in color. The outer skin is smooth and crunchy with a hollow inside containing countless seed clusters in the center.
The pepper seeds contain most of the capsaicin, the chemical compound found in both sweet and hot peppers that cause the burning sensation in your mouth.
People can't get enough of the sweet flavor, whether you are growing bell peppers from seeds yourself or purchase fresh peppers from the store or farmer's market.
If you decide to grow your own, how long for pepper seeds to sprout? It generally takes about a week for germination but you'll have to wait a bit longer for a fresh pepper to be ready to pick.
They are fantastic sauteed with other meats and veggies, and they are perfect for grilling at a summer BBQ. Take a look at some of the following pepper varieties and try adding a few into your next home cooked meal.
It's also important to know if bell peppers have gone bad, as well as other pepper varieties, after you determine when to pick bell peppers to ensure you have only the freshest peppers for your home recipes.
Types of Bell Peppers
Listed below are some of the most familiar varieties of bell peppers around the world. Each has its own ranking on the Scoville heat scale, but a single pepper's flavor and spiciness is individualistic based on how and what conditions they were grown in.
Use this list as a guide for growing peppers at home, how to grow bell peppers inside and out, and figuring out how much heat level your mouth can handle.
The Most Popular Varieties of Bell Peppers
Green bell peppers are probably the first thing that comes to mind when you think of peppers. However, that leaves many people questioning the difference between the green peppers and the red, orange, and yellow kinds.
Green bell peppers are unripe and the most bitter. As the colors change, so does the level of sweetness. Yellow bell peppers are a mix between sweet and bitter and are only slightly sweeter than the green kind.
Orange bell peppers are pretty sweet, and the red bell peppers are the sweetest of the bunch. Even though these peppers are different colors, they are the same plant and taste better with age.
If you're looking for something that is still very sweet but with a tiny bit more heat, the cubanelle pepper or Italian frying pepper might be a good option.
Bell peppers rank the lowest in Scoville heat units at zero. Bell peppers require full sun to grow in your garden and ripen properly.
They have a long growing season of around 100 days long, and most plants reach from six inches to three feet tall. Sweet bell peppers are extremely hardy, surviving in USDA hardiness zones one through 11.
Banana Peppers
The banana pepper is the next sweetest pepper and only one step above bell peppers on the Scoville scale with heat units ranging from zero to 500. These peppers get their name from their shape and color with a long, curved, and banana-yellow body.
These peppers have waxy skin and a mild but sweet flavor. People love to pickle these peppers and put them on sandwiches, salads, and pizza for a burst of flavor.
People often confuse them with wax peppers from Hungary, but don't be fooled by their similar looks; those peppers are much hotter and might take you by surprise.
If you are looking for a banana pepper substitute, cherry peppers don't look the same, but they have a similar heat and sweetness level and are equally delicious.
Pimento Peppers
Did you ever think that the small red center of a green olive was part of the olive? You might be shocked to know that that tasty center is actually a pimento pepper. These peppers are large, sweet red peppers.
They are similar to bell peppers, but their flesh is extra thick and much juicier. Their heat units range from 100 to 500 and are perfect for dips and appetizers.
Pimento peppers thrive in hot weather with moist and fertile soil. They love to bask in the sun and are about three inches wide and tall. They are hardy up to zones 11 and make a perfect starting plant for beginner gardeners.
Paprika Peppers
Home cooks love seasoning food with paprika powder. This spice is ground from dehydrated paprika peppers that originate from Hungary.
These peppers have a mild heat and outdoorsy flavor, with Scoville units ranging from 250 to 1,000. They have a long, slim body and are often available at most grocery stores.
Anaheim Chili Peppers
As we work our way up the Scoville scale, Anaheim chili pepper varieties start to get spicier, with units ranging from 500 to 2,500. These peppers are about six inches in length, and they have a curved and tapered shape to their green bodies.
These peppers are delicious in salsa or stuffed with other ingredients. These peppers are mostly in California but are popular in New Mexico as well. Anaheim peppers are perennial plants that produce peppers for about three years.
The plants reach a foot and a half tall and are hardy in USDA hardiness zones five through 12.
Water regularly during the growing season, and once they start producing peppers, you might find yourself with so many that you don't know what to do with them all.
Poblano and Jalapeno Peppers
Poblano peppers, sometimes called ancho peppers, rank around the same in heat as the Anaheim peppers. Poblano peppers are extremely popular for grilling and stuffing. They have a thick wall and earthy flavor.
Their dark green flesh gets even darker as it ripens, and they are popular in Southwestern and Mexican dishes. Jalapeno peppers are only one step higher on the Scoville range than poblanos.
While the most common types we buy are green, they are sometimes red, giving them a much sweeter flavor. The spice level varies between each pepper, and most of the spice is concentrated in the seeds.
They have a similar, earthy flavor to poblanos and, although jalapenos are smaller, they are great substitutes for one another.
Hotter Bell Peppers
Serrano chiles and cayenne peppers are where the peppers really start to get spicy. They start at around 10,000 heat units and go up to 50,000 heat units.
Serrano chiles are the mildest of the two but are a popular choice for people who love a sweet pepper with a bit of a punch. Their skin is extremely thin and tastes heavenly when blistered on the stove.
Cayenne peppers are slightly more spicy than the serrano chiles. They range from green to red and have a long, curved body. Cayenne is often a staple in most kitchens and adds a nice heat to soups, meat, and sometimes even desserts.
If you really want to pack on the heat, consider eating a habanero pepper. What is a habanero? Habaneros are extremely spicy peppers, with Scoville units ranging from 150,000 to 350,000. Don't eat these if you are sensitive to heat because some people can't handle them.
Delicious Pepper Recipes
Of all the types of bell peppers, there are even more recipes for you to try. Stuffed peppers are an excellent dish that can be made with different varieties of bell peppers.
While green bell peppers are traditional, we like to use poblano peppers for extra heat and a Southwestern flair.
Preheat your oven to 375°F. Heat a large, non-stick frying pan over medium to high heat and saute the turkey, garlic, shallot, and tomatoes in the olive oil.
Stir in all the spices and black beans and let the turkey mixture simmer for about six minutes until everything is cooked through. Scoop the seeds out of the poblano halves and fill each with equal parts of the turkey filling.
Place each stuffed pepper half on a baking sheet and cook them in the oven for 15 minutes before serving.
If you have leftover peppers you didn't use for this recipe or another favorite, make bell peppers last longer with proper preservation practices like freezing or drying.
What is a bell pepper? We hope you learned that bell peppers don't only have to be sweet. Bell peppers range in size, flavor, heat, and color, and each has special qualities of its own.
While you might not be a heat lover, working your way up the Scoville units might train your tastebuds and get you to appreciate the spice and flavor that each pepper has to offer.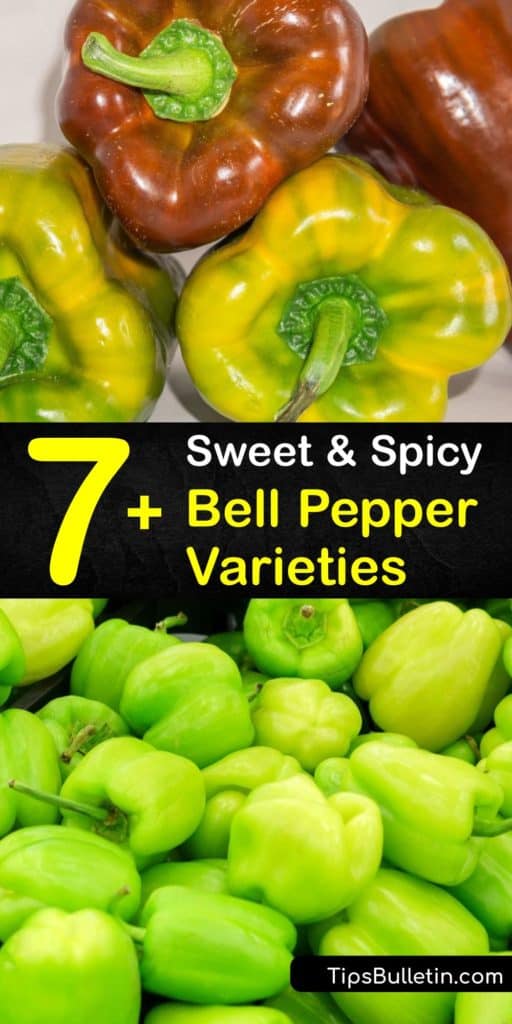 If this article listing different types of bell peppers has shown you a new favorite pepper, share this information on varieties of bell peppers on Facebook and Pinterest.