Blueberries are more popular than ever since these superfruits are both delicious and packed with antioxidants. They are easy growers and an excellent addition to the home garden. However, there are different types of blueberries; some have a midseason harvest, while others are late-season. Explore some of the more popular blueberry varieties and plant care tips to ensure healthy fruiting.
Blueberry plants are related to the azalea and rhododendron; they thrive in the same conditions and produce blue fruit with a mildly sweet and slightly acidic flavor. Some are dark blue, while others are light blue, and each blueberry type has a unique growth habit.
Lowbush blueberries only grow up to a foot and a half tall, while highbush cultivars may grow nine feet tall. Understanding the different types is vital before growing them in your yard, especially if you have limited space.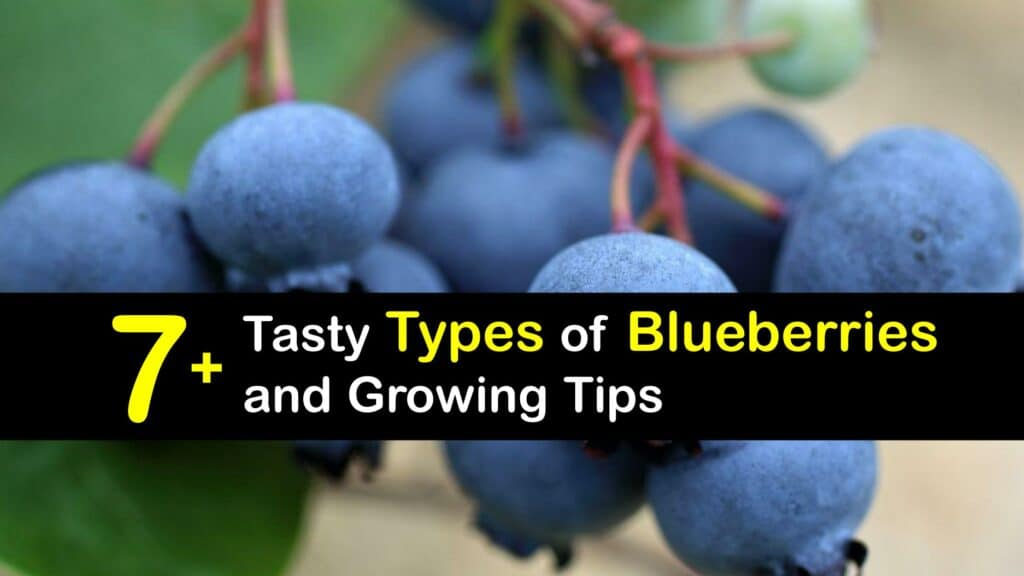 Growing Different Blueberry Types
While we don't think much about it when purchasing fresh blueberries at the grocery store, it's good to learn about the different types when planting them in the garden. Discover the main varieties of blueberries and the best ones to grow at home. Additionally, learn growing tips to help your plant produce large berries during the harvest season.
How Many Varieties of Blueberries are There?
While you may think that a blueberry is a blueberry, there are five major varieties of blueberries and many types. Explore the differences to help you pick the ideal plant for your yard space.
Lowbush, half-high, northern highbush, southern highbush, and rabbiteye are the five main blueberry varieties, and highbush – rabbiteye blueberries are the most common in Georgia.
Lowbush varieties (Vaccinium angustifolium) are shorter bushes that grow under a foot and a half tall and need little pruning. Highbush types grow 5 to 9 feet tall and require consistent pruning.
Northern highbush blueberries (Vaccinium corymbosum) are native to the eastern and northeastern United States, while southern highbush types (V. corymbosum) are native to Florida.
Rabbiteye blueberry plants (Vaccinium virgatum) are native to the southeastern United States, and they flourish in long, hot summers, growing six to ten feet tall.
Half-high blueberries are a cross between lowbush and northern highbush, and they tolerate low-chill temperatures between 35 and 45°F. They are medium-sized plants that grow three to four feet tall.
Easy Types of Blueberries to Grow at Home
Before you head to the garden center, it's important to note that some blueberry plants are easier to grow than others. Learn about the common types of blueberries for home-growing, their growing habits, fruit production, and their pros and cons.
The Dwarf lowbush is a great choice for growing blueberries in a small yard. These blueberries grow best in pots for container gardening and ornamental landscaping in zones 3 through 7, and produce fruit from mid to late summer.
To ensure a bountiful berry yield, consider planting more than one cultivar for cross-pollination since they are not self-fertile.
Bluecrop, Jersey, Blueray, Duke, Bluejay, Coville, and Legacy are northern highbush cultivars that develop fruit in July. They desire more pruning than other blueberry types and grow in USDA hardiness zones 3 through 8.
Jewel and Emerald southern highbush blueberries grow fruit from late winter to May. These types are hardy in zones 7 through 9 and are suitable for areas with mild winters.
Some good examples of rabbiteye blueberries are Powderblue, Brightwell, and Tifblue. Like southern highbush plants, they are suitable for growing in hardiness zones 7 through 9, growing rather tall, reaching six to ten feet in height.
Bluegold half-high blueberries are a great option if you're looking for a container-blueberry. They require less pruning than other plants and grow in a compact size.
What Do Blueberry Plants Need to Grow?
Some plants are hardy and grow just about anywhere you plant them, while others, like blueberries, need the perfect growing conditions to thrive. Discover what blueberry plants want to grow strong, produce fruits, and continue growing yearly.
Choose the sunniest area of your yard when you prepare for planting. Blueberry plants are sun-lovers and require eight to ten hours of full sun each day. In addition, they want acidic soil to flourish and be fruitful. Test your dirt and ensure you have soil pH between 4.5 and 5.5.
Beautiful azaleas and lilacs are great companion plants for blueberry bushes as they all like acidic soil.
How to Plant all Blueberry types
Once you choose the most suitable blueberry plant for your area and yard, it's time to get gardening. Follow these tips for planting all blueberry types to ensure your new plant gets off to a good start.
Plant all types of blueberries in early spring or late fall unless you live in a very cold region. If you experience cold weather, wait until mid-spring to plant, and choose one to three-year-old plants for the best results.
Dig a garden hole twice the depth and width of the plant's roots, and space each one four to five feet apart. Position the bush in the hole with the roots spread out and the rootball just below the surface, and push the dirt around the plant's base. Pat it down tightly to remove air pockets and water deeply.
Caring for Blueberries in the Home Garden
All plants desire a little TLC now and then, including blueberry plants. Sometimes they seek a drink of water, and other times they want a little food to give them a boost. Here is how to care for all blueberry types throughout the growing season.
Blueberry plants have shallow roots, and spreading mulch around them helps keep weeds in check while retaining moisture. Place a two-inch layer of sawdust, pine needles, or woodchips in the garden, leaving an inch gap around the trunk for air circulation.
Water your blueberries regularly to ensure one to two inches of water each week. Pinch back blossoms on new plants as they develop to stop your plant from producing fruit for the first year or two to allow it to put most of its energy into root and plant growth, giving you a healthier, more productive bush in the following years.
One year after planting, when the flowers begin blooming in the spring, apply a 10-10-10 fertilizer to your blueberries. Organic fertilizer is best. Pruning during the first four years is unnecessary. However, once the plant matures, prune in late winter or early spring before new growth appears.
How Long Do Blueberries Take to Grow?
Some varieties of blueberries grow faster than others, producing fruits at varying times of the season. Learn how long different blueberry types take to grow and when they are ready for harvesting.
Blueberry Plant Growth and Harvest
Lowbush varieties take two to three years to reach maturity, half-bush and rabbiteye types take three to four years to grow, and highbush blueberries take six years or more to reach full production.
Generally, blueberries are ready to harvest between June and August. However, it depends on your region – southern highbush types ripen between April and May. When the blueberries turn blue and fall off in your hand without tugging, they are ready for harvesting.
Common Problems When Growing Blueberry Bushes
Any plant you grow has to deal with nature's problems, from pests to diseases. Find out about some common issues your blueberry plants may encounter and learn prevention and elimination tips.
The blueberry maggot, or fruit fly, is a pest that plagues blueberry plants. The adult flies appear in the summer and then feed, mate, and lay eggs in the berries. It's crucial to eliminate these pests with an insecticide as soon as you notice the flies or you won't have to worry about bilberries or blueberries for eating or cooking at home.
Powdery mildew is another issue these plants contend with, and it appears as a white fungal layer on mature leaves. The best way to prevent this disease is to plant disease-resistant varieties and provide your plants with plenty of air circulation.
You're not the only one who loves eating berries. Similar to huckleberries, birds are notorious for feasting on blueberries and often won't stop until all the fruits are gone. Cover your blueberry shrubs with bird netting to prevent hungry birds from stealing all your berries.
Make a Refreshing Beverage with Fresh Blueberries
Why not make a refreshing drink if you're running out of ideas for using up your blueberry harvest? This unique lemonade is perfectly sweet and a delicious way to get a healthy kick on a hot summer day.
Combine the sugar, half a cup of water, and two tablespoons of blueberries in a pan and cook it on medium heat until the sugar dissolves. Pour the liquid into a pitcher, add the remaining water, blueberries, and lemon juice, and stir well to mix. Chill the blueberry lemonade in the fridge and serve it with ice.
Blueberry plants are a wonderful addition to the home garden. Not only are there many types to choose from, but they are reasonably simple to grow and keep your kitchen well-stocked with superfoods during the harvest season.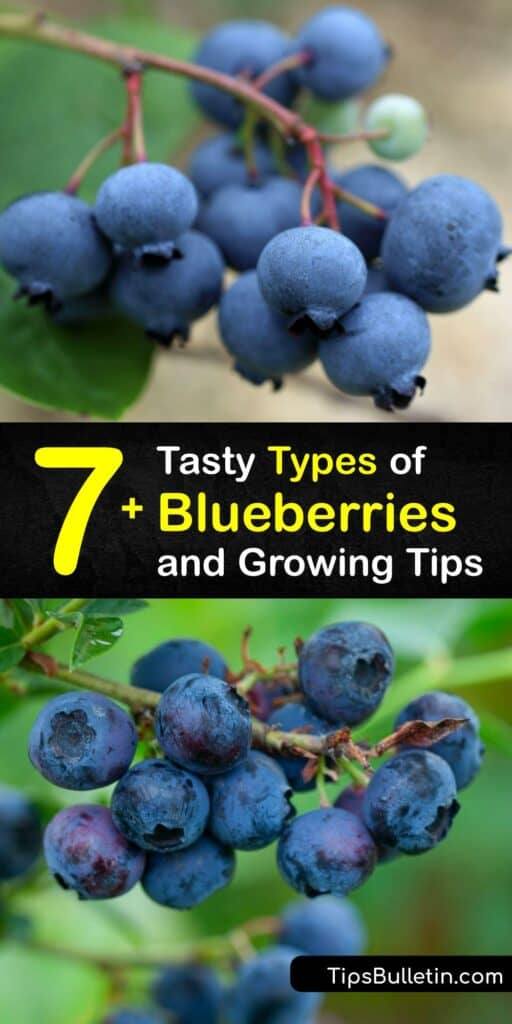 We hope you enjoyed discovering the different types of blueberries to narrow your search for the perfect fruiting plant, so why not share our blueberry variety guide and planting tips with your social circle on Facebook and Pinterest?