Dating back to the 16th century, cauliflower as we know it today has come a long way from its days as a mutation of wild cabbage. Although you may only be familiar with the white heads of cauliflower found in the produce section, there are many unique types of cauliflower to discover.
In the United States, home growers plant and grow cauliflower in USDA Hardiness Zones two to eleven, making it ideal for anyone to grow. Cauliflower is a cool season cruciferous vegetable belonging to the same family of crops like Brussels sprouts, Brassica oleracea (Botrytis group).
Cauliflower has many health benefits as a single cup is low in calories and contains more than 20% vitamin C and K. Among the different types of cauliflower discussed in this article are varieties with colors ranging from orange to purple. These cultivars, among many others, are the result of cross-breeding to create hybrids and other mutations.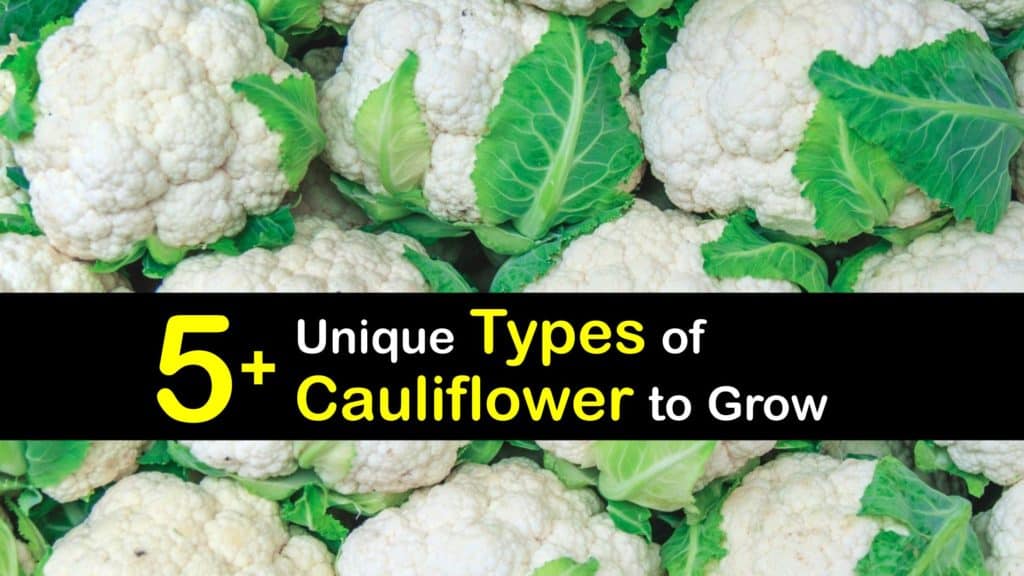 Varieties of Cauliflower
Along with new colors, selective breeding of cauliflower created varieties with better nutritional values and disease resistance. These factors and overall appearance are essential when deciding what kind of cauliflower to grow at home.
Various cauliflower types are available to grow, so narrowing down which to include in your garden may come to personal preference. The critical differences between cauliflower types are the rate they mature and their flavor. It may surprise you to know that broccoli and cauliflower are related, although they typically differ in shape and color.
Cheddar Hybrid
The cheddar hybrid of cauliflower is an orange variety that matures early, roughly 60 days after planting. Cheddar has a brighter color than other orange cauliflower like Flame Star but does not have the same resistance to heat as Flame Star.
Unlike white cauliflower, this hybrid is an excellent source of vitamin A and beta-carotene due to its orange color that deepens when cooked.
This type of cauliflower is great for a fall harvest, but you can sow seeds in early spring to harvest in summer. After sowing seeds, sprouts appear in approximately two weeks.
Sicilian Violet
Sicilian Violet is known for its sweet flavor and resistance to insects and is an Italian heirloom of purple florets on green stems. Many love this variety for the ease at which it grows compared to some varieties of white cauliflower.
Sicilian Violet matures in about 70 days and is frost-hardy, although the ideal temperature is between 50-75°F. Start by sowing seeds at least six weeks before the last frost date for your area and transplanting once the seedling develops several true leaves. Plant again in midsummer to enjoy a beautiful fall harvest.
Fioretto 60
If you want to plant cauliflower in the spring and harvest it quickly before summer arrives, Fioretto 60 is a great choice. Maturing between 35 and 60 days, this type of cauliflower is one of the fastest growing cauliflower varieties.
Fioretto 60 is a sprouting variety that grows small white heads on long green stems. It grows about 18 inches tall once it reaches maturity.
After cooking, this cauliflower holds onto its crunchy texture well and comes with a somewhat nutty flavor. To keep the pigments of your cauliflower, blanch it in the garden by covering the developing white curds with the outer leaves.
Self-Blanching Snowball
Snowball is one of the white varieties of heirloom cauliflower that grows leaves that protect the developing head. This trait of protecting itself in cool weather prevents the pure white cauliflower head from turning green or brown in the sun.
This kind of cauliflower matures in about 70 days and is best started indoors to achieve two harvests per year. Start in early March with seeds in a pot indoors before transplanting in April or May. In July, repeat the process to transplant your cabbage to the garden in late summer for a fall harvest.
Veronica Romanesco
Also known as broccoflower, this lime-green cauliflower is a cross between broccoli and cauliflower. The cauliflower head grows about seven inches across and develops pointed curds in a fractal pattern.
This cauliflower matures in about 85 days and has a sweet-savory flavor with average resistance against heat and fungus diseases. Unlike most white cauliflower, Romanesco cauliflower does not require blanching.
Depurple Hybrid
What separates Depurple from other varieties of purple cauliflower is the white stems that hold the purple heads. The bright purple florets contain anthocyanins, the same antioxidants found in red wine. With the unique color, this variety brings the delicious flavor of butter and nuts.
The purple color starts turning green during the cooking process, but if you want to keep the purple to add color, consider adding a bit of vinegar to keep the color.
Bred for weather resistance, Depurple grows in various conditions, making it ideal for planting in spring or fall. This cauliflower is a variety that takes longer to reach maturity, around 90 days until harvest.
Growing Different Cauliflower Types at Home
As far as vegetables go, cauliflower isn't the easiest to grow due to needing consistently moist soil and cool weather to reach maturity. Still, it's possible to bring crunchy and delicious cauliflower to the table with the proper care.
The easiest and best way to plant cauliflower is to grow it in full sun in well-draining soil with a pH between 6 and 7. If you're planting directly into the garden, amend and till your soil before adding compost rich in nutrients. To start growing from a pot, select a balanced potting mix.
Planting Various Types of Cauliflower
Although the timing varies by location, the right time to plant cauliflower in zone 6 and higher is to transplant cauliflower outside two weeks before the last frost date. To ensure your plant grows enough to survive the change to its outdoor garden, start sowing seeds indoors at least six weeks before your transplant date.
Based on the North America growing zone map, if your area has typically warm springs, alter your timeline to avoid your cauliflower growing in hot weather. As a whole, cauliflower doesn't do well in warm weather, and the best time to grow this crop is when temperatures stay between 60 and 65°F.
Some varieties of cauliflower, like Snow Crown, grow quickly, and their taste isn't affected by growing in the heat of summer, so certain varieties may appeal to you if your growing season tends to be warmer.
Plant three seeds per container and water them thoroughly to start growing cauliflower. Leave your containers in a location that receives full sun daily until the sprouts appear. Thin out the new seedlings to one plant per pot and continue to monitor until each sprout has at least five true leaves.
Start hardening off your cauliflower by leaving it outside for an hour a day until it remains outside for six to seven hours to acclimate it to outdoor growing conditions. Once the ground is workable, dig enough holes to plant your cauliflower at least two feet apart.
Companion planting is a useful strategy to keep bugs away and naturally fertilize the soil. However, incompatible plants should be planted as far apart as possible to prevent other issues. Corn, squash, and tomatoes do not do well near cauliflower and broccoli.
Caring for Cauliflower Plants
Check the top inch of your garden soil weekly to test if it's dry and needs more water. If you find your soil drying out quickly, add a layer of organic mulch around the base of your plants to help with retaining moisture.
Because part of the appeal of cauliflower is the color of the flower buds that make up the head, if you're growing a white variety, you may need to blanch your plant to help with color retention. Once the cauliflower head is about the size of an egg, cover it with the plant's outer leaves. You can loosely tie the leaves together or secure them with a band.
As with all other veggies, problems can occur. Buttoning in cauliflower results in tiny heads, bugs and worms can feast on your plants, and inconsistent watering yields flavorless heads. Take care of issues early to save your crop.
Size at the time of maturity varies by cultivar, but it's generally time to harvest once your cauliflower head reaches six inches. Use shears to cut the stalk below the head while leaving an inch or two of the stem behind.
Using Cauliflower After Harvest
After bringing your cauliflower indoors, soak the head in saltwater for half an hour. This process kills any cabbage worms that may hide inside the crop. Rinse the head off and dry it before storage. The best ways to store and keep cauliflower fresh are by enclosing it in protective wrap, and putting it in the fridge for about a week. It can be frozen for longer storage until you're ready to cook it.
Turn your cauliflower florets into rice by running them through a food processor until you have five cups worth of rice. Warm one tablespoon of vegetable oil over medium heat and cook your eggs.
In a separate pan, warm the rest of your oil before adding garlic and onion and cooking until they are translucent. Stir in vegetables of your choice like corn, peas, carrots, and broccoli. Stir everything in the pan until the vegetables are tender.
Add eggs, cauliflower, and any additional seasonings or sauces (like soy) to the vegetables and cook until your cauliflower is tender.
If you're craving homegrown and nutrient-rich cauliflower, look into one of the types we've suggested to try your hand at growing something new. Introduce a pop of color or an ornamental flair to your vegetable garden with one of the unique cauliflower types.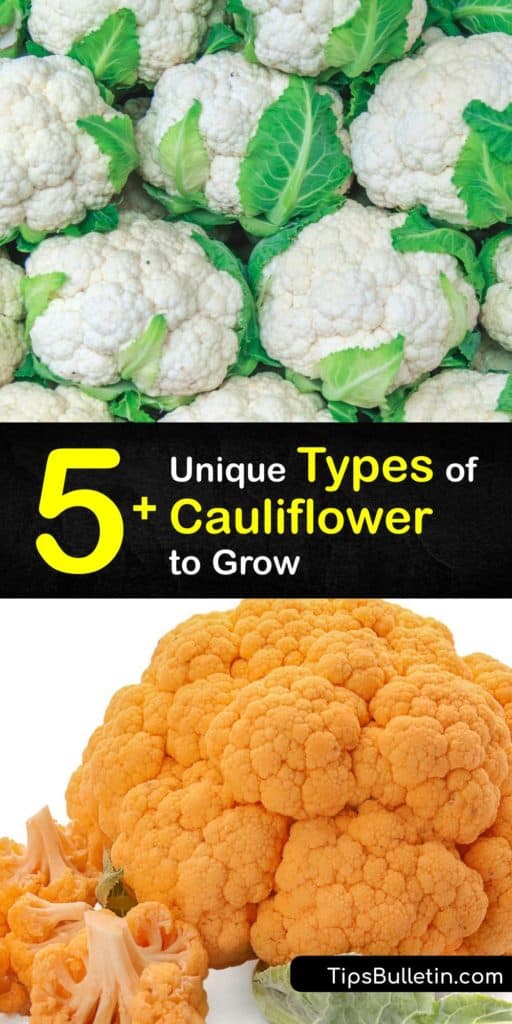 Through our article on common types of cauliflower, we hope you learned about new varieties of cauliflower to share with your friends on Facebook and Pinterest.