Celery is a commonplace item in most kitchens, but did you know that there are dozens of different types of celery? Homegrown produce tastes better and is more nutritious than store-bought. Read on to learn which celery varieties are best suited to your growing climate and intended use.
Originating in the Mediterranean basin, celery has been grown for centuries. Celery plants were first cultivated for their medicinal properties and later for culinary use.
Celery is an excellent source of antioxidants, vitamins A, C, and K, and minerals like folate, iron, magnesium, and potassium. It supports digestive health, reduces inflammation, and neutralizes acidic foods that sometimes cause stomach upset.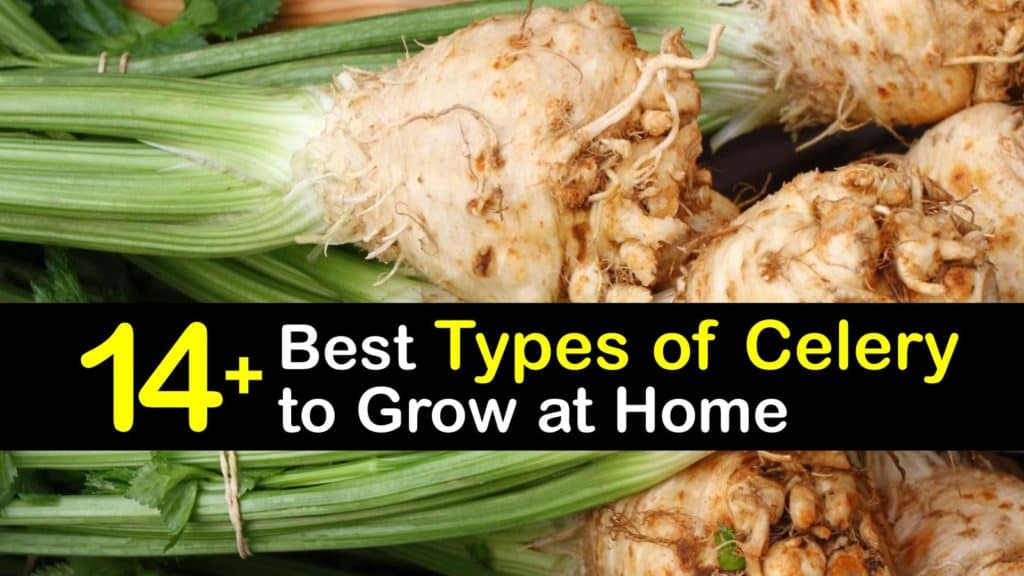 Top Celery Varieties in USA
Celery is technically a biennial plant, meaning that it focuses its energy on growing strong roots, stems, and leaves in the first growing season and produces flowers and seeds in the second year.
However, most gardeners grow celery as an annual plant for its delicious, crispy stalks and flavorful leaves. Celeriac, a classification of celery cultivars grown for the root, is also steadily gaining popularity in the USA.
There are three primary classifications of celery varieties in USA. Although celery is primarily grown for its crunchy stalks, the young leaves are an excellent addition to fresh salads.
The older, more intensely flavorful leaves add a wonderful touch to soups and sauces. Celery stalks are petioles or stems that attach the compound leaves to the base of the plant.
The most commonplace types of celery are trenching varieties or stalk celery. They typically have wide, firm stalks and must get buried or wrapped for two or three weeks before harvest to lighten the color and make the flavor milder.
Self-blanching, or leaf celery, has thinner stalks that have a stronger flavor. It is also prized for its savory leaves and seeds. Celeriac, or root celery, is grown for its large, round root, although the stems and leaves are still edible.
Wild celery is a common name for an aquatic plant that grows in streams, lakes, and ponds up to 15 feet deep.
It is useful as a natural filtration system for water features. Celery is in the Apiaceae family of aromatic flowering plants along with carrots, dill, fennel, and parsley.
Best Self-Blanching Celery Varieties
Self-blanching celery does not require any intervention before harvesting. Also called leaf celery, or Apium graveolens var. secalinum, these varieties closely resemble the herb smallage, an ancestor of celery grown in Old World gardens.
They tend to be more heat tolerant than stalk celery. When growing celery at home, gardeners typically grow self-blanching celery in blocks rather than rows. Dark green outer stalks grow around a heart of creamy, pale inner stalks.
Although it is possible to blanch green varieties for a milder flavor, blanched celery is less nutritious because it is deprived of sunlight before harvesting.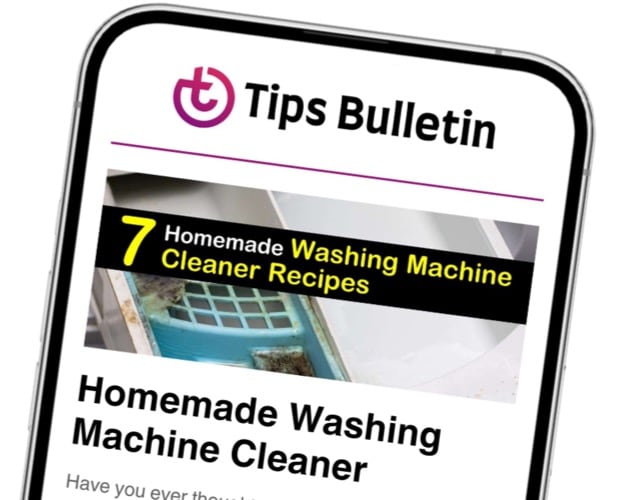 Finally, an email that Transforms Your Home.
Get the latest home and garden tips from our experts, delivered straight to your inbox.
Another name for self-blanching celery is cutting celery because many gardeners harvest a few stalks at a time as needed rather than waiting to harvest the entire plant at once.
Self-blanching celery has a bold flavor that adds a fresh twist to salads and side dishes. Try a unique spin on coleslaw with this Waldorf Slaw recipe.
Add the apples, cabbage, celery, and grapes to a large mixing bowl. In a small bowl, stir the white wine vinegar into the mayonnaise and season to taste with salt and pepper.
Combine the mixture with the fruit and veggies until they are well-coated. Top with the chopped walnuts and serve fresh. The leftovers keep in the refrigerator for up to three days.
Here are several of the leading celery varieties in the self-blanching category. Try growing one or more in your vegetable garden, and you won't be disappointed.
Flora 55 Dark Green Celery
This hybrid variety of dark green leaf celery is heat tolerant and resistant to bolting in warm weather. It produces a high yield of 12-inch long, flavorful stalks that are nearly stringless in 85-120 days.
Production time is highly dependent on weather conditions. To give your celery plants a head start, plant seeds indoors in early spring.
Golden Boy
Golden Boy celery plants produce short stalks that are virtually stringless and mature in about 85 days. The stalks are a creamy white color, and the leaves are golden yellow. It has a mild flavor and pleasant texture.
Golden Pascal Celery
A French heirloom variety, Golden Pascal produces tender, stringless, yellow-green stalks that grow up to 20 inches tall. Both the outer stalks and the inner heart have a pleasant, tender texture. It is a cold-tolerant variety, maturing in approximately 115 days.
Take advantage of celery companion plants like tomatoes and beans to ward off annoying pests.
Golden Self-Blanching
Johnson and Stokes Seed Company introduced this heirloom variety in 1886. It is sometimes called Dulce or Paris Golden Self-Blanching.
These unique celery plants have dark green leaves and stalks for most of the growing season, then lighten to a beautiful golden color when they are ready to harvest. They mature in about 105 days and grow up to two feet tall.
Skinny Nan Ling Celery
Nan Ling is a Chinese celery cultivar used in many Asian recipes. The stalks are pencil-thin and are ready to harvest as soon as 60 days after planting.
This variety is referred to as cutting celery, meaning it is best to harvest a few stalks as needed and use them fresh. Some gardeners grow them as microgreens and begin harvesting at 30 days.
Heirloom Par-Cel Celery
Par-Cel is a Dutch heirloom variety that dates back to the 18th century. Its leaves are similar to parsley, and the stalks have a crisp, fresh flavor.
The slender stalks mature in approximately 75 days and grow to reach 18 to 20 inches tall. It is a highly versatile cultivar, being drought-tolerant and able to withstand high and low temperatures.
Peppery Safir
Safir celery has a distinctively peppery flavor profile that makes an excellent addition to salads, soups, and sauces.
These celery plants produce a prolific harvest of slender, crisp stalks measuring 12-14 inches long in about 85-115 days, depending on temperatures. This variety is also highly resistant to common pest and disease problems.
Most Popular Trenching Types of Celery
Stalk celery, also known as Pascal celery or Apium graveolens var. graveolens, requires light deprivation for two or three weeks before harvest.
Pascal celery grows best in cooler climates, between USDA growing zones 2-10. Its ideal temperatures range from below 75℉ during the day to 50-60℉ at night.
Blanching celery lightens the color of the stalks and creates a milder flavor profile. How deep to plant celery? Some gardeners prefer planting celery in a trench 12 inches deep.
Others simply wrap the plant in newspaper or cardboard for blanching. Once the celery plants reach 12 inches tall, either fill in the trench with soil up to the leaves or wrap the stalks for two or three weeks, then harvest the entire plant.
Besides eating them fresh dipped in peanut butter, celery stalks are a wonderful addition to hearty stews. Try this flavorful Persian stew with celery and mushrooms.
Heat up the half-cup of olive oil in a medium or large soup pot on a high setting. Sauté the mushrooms for five minutes, then add the celery, onions, garlic, and red pepper flakes and sauté for another ten minutes. Season with salt and pepper to taste.
Pour the three cups of water into the pot and bring the soup to a strong boil. Reduce it to medium heat, cover, and simmer for 40 minutes.
Stir in the fenugreek, lime juice, mint, parsley, and saffron and simmer for five more minutes. Serve over Persian rice if desired.
Try planting one or more of these outstanding celery varieties in the trenching or Pascal category. You may be amazed at the diversity of flavors between different celery types.
Conquistador – Somewhat Drought-Tolerant
Conquistador is a fast grower and yields crisp, flavorful 12-14 inch stalks in as little as 80 days in warmer climates. In cooler climates, it might take up to 115 days to harvest.
Conquistador is a somewhat heat-tolerant variety and can withstand drought better than some other kinds of celery.
Giant Red
This English heirloom variety lives up to its name, growing to an impressive two feet tall. It is also cold-tolerant and matures relatively quickly, in approximately 85 days.
The outer stalks are a deep purple, and the tender inner hearts are a yellow-pink color. It is prized for its rich flavor and disease resistance.
Fast-Maturing Monterey Celery
Monterey is a Spanish hybrid variety that is heat tolerant, resistant to bolting, and quick to mature. The 12-inch stalks are ready to harvest in an average of 80 days. This hardy celery cultivar is also highly disease-resistant.
Tall Utah
Tall Utah is an heirloom variety that produces crunchy, stringless 12-inch stalks. The delightful flavor and texture make this type of celery a classic favorite. It is heat and drought-tolerant, disease-resistant, and matures in 100-125 days.
Premium Celeriac Cultivars
Celeriac, or Apium graveolens var. rapaceum by its botanical name, also goes by the names celery root, knob celery, and turnip-rooted celery. The texture of celeriac is similar to parsnips or potatoes, and it has a mild celery flavor with nutty undertones.
Like other root vegetables, celeriac keeps for four to six months when stored properly in a cool, dry location. However, the flavor is best when they are used fresh.
Celery root is delicious to use fresh or cooked in a recipe. Try this recipe for celeriac, pancetta, and thyme soup.
In a heavy-bottomed saucepan, heat one tablespoon of olive oil and fry the pancetta for about three minutes on each side. Put the pieces on a plate and set them aside.
In the same pan, melt the butter, and add the onion, bay leaf, and thyme stalks. Cook for ten minutes until the onions begin to brown. Add the cubed celeriac and cook for two more minutes.
Add in three and a half cups of vegetable or chicken stock and allow it to gently simmer for ten minutes until the celeriac is tender.
Incorporate the cream and bring the soup back to a boil. Remove the bay leaf and thyme stalks, then use a blender or food processor to purée the soup until it is smooth.
Before serving, stir half of the fresh thyme leaves into the soup. Garnish the soup with crispy pancetta, a drizzle of olive oil, and the remaining thyme leaves.
Celeriac grows similarly to other varieties of celery. Here are a few of the most highly praised celeriac cultivars.
Brilliant – English Heirloom Celeriac
Brilliant celeriac is an English heirloom variety that produces large, round roots with dense, flavorful flesh.
The plants reach maturity in about 110 days and are highly disease-resistant. They are ideal for roasting, using in soups, or cooking with other root vegetables.
Diamant
Underneath the rough, knobby exterior of celery root, this Dutch heirloom variety boasts milky white flesh with a rich, hearty texture and a delicately nutty flavor. Diamant celeriac is ready to harvest in approximately 120 days.
Old-World Celeriac – Giant Prague
Giant Prague is an heirloom variety dating back to 1871. They are ready to harvest in about 85 days when the root is roughly four inches in diameter. The flavor is comparable to that of celery stalks, with subtle earthy notes.
President
President is a fast-growing celeriac variety with large, smooth roots and dark green stalks that are also excellent for cooking or eating fresh. Harvest them young at 110 days for a more tender texture and a milder flavor, or wait longer for larger roots.
If you can deliver a large crop of celery, it's important to know how to store it to keep it fresh. You can freeze celery, store it in the fridge, dry it or make canned celery soup.
When is celery bad? Spoiled celery is limp, watery, and often has an unpleasant odor. Toss celery with any of these characteristics.
Although it has a long growing season, planting celery varieties in your vegetable garden is well worth the effort. There are numerous different kinds of celery available.
Plant celery seeds in an area of your vegetable garden with nutrient-rich soil that receives a minimum of six direct sunlight hours every day to enjoy a bountiful late summer harvest. Homegrown produce is more flavorful and nutritious than what is available at the grocery store.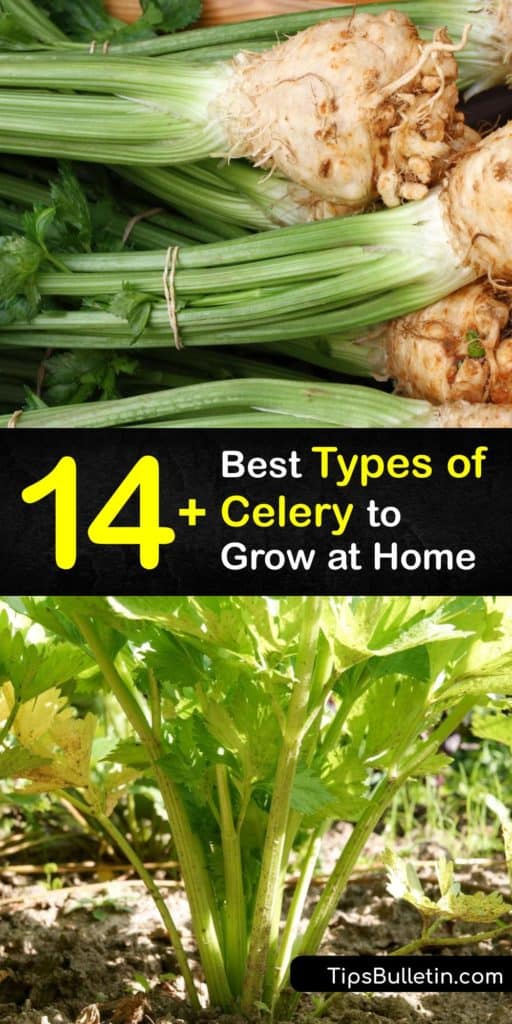 If you enjoyed learning about the best celery varieties in USA, please share this article about various types of celery with your fellow green thumbs on Facebook and Pinterest.