Who doesn't love cherry tomato plants with their long clusters of dangling fruits? It's like nature decided to reward our efforts by providing us with sweet morsels of snacking goodness. We explain some of the most popular types of cherry tomatoes and the differences between them, and how to grow them in your home garden.
You're probably well aware of those large, beefsteak tomatoes for slicing on hamburgers and the typical deep red cherry tomatoes you toss on a garden salad.
Did you know that cherry and grape tomatoes actually grow in a variety of sizes, shapes, colors, and flavors? Not only that, there are types that are disease-resistant and crack-resistant, as well as indeterminate and determinate varieties.
There are even heirloom tomatoes passed down each season from plants that produce the tastiest fruits. The hardest part about tomato gardening is deciding which ones to grow to suit your tastes.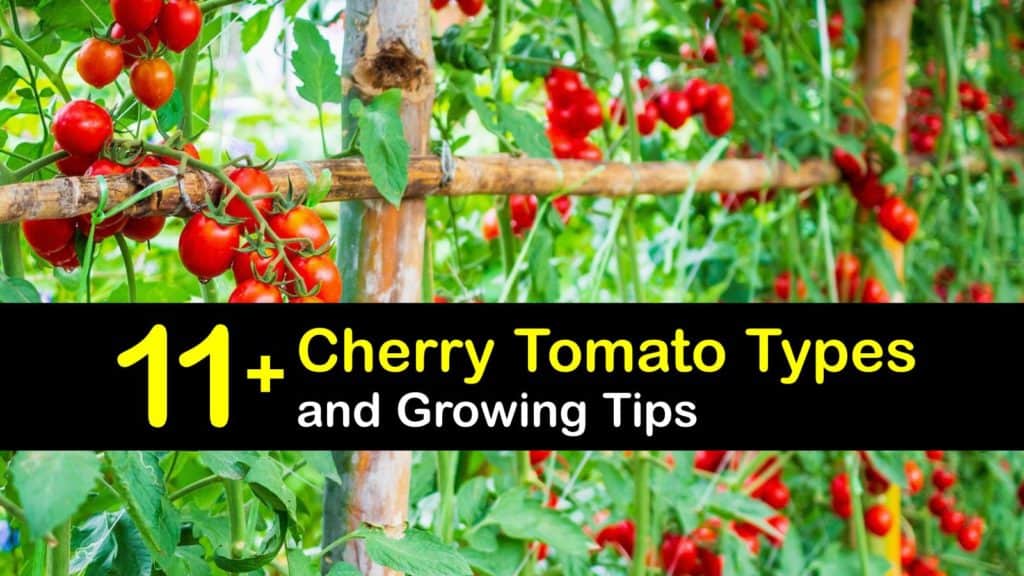 Popular Types of Cherry Tomatoes and How to Grow Them
Cherry tomatoes are the wonder of the garden. They are the perfect size for popping in your mouth, and salads aren't the same without them.
The most remarkable thing about them is there are so many cherry tomato varieties to choose from, from hybrid to heirloom and indeterminate and determinate tomatoes.
What are cherry tomatoes, and how are they different from regular tomatoes? And, what about cherry vs grape tomatoes?
We explain the differences between tomato plants and the fruits they produce, give you some examples of popular cherry tomatoes, and help get you started on growing your own tomato plants at home. Cherry tomato gardening is easy and rewarding.
What are Cherry Tomatoes?
There is a wide range of tomatoes, from large, slicing tomatoes and Roma tomato types to grape tomatoes. But, what are cherry tomatoes, and how are they different from regular tomatoes?
Cherry Tomatoes
Cherry tomatoes are basically the same as regular tomatoes but bite-size. They get their name because they are small, like cherries, but their flavor is similar to a large tomato.
Some of them are perfectly round, while others are oblong or pear-shaped, and they are a good source of vitamins, antioxidants, and lycopene, and small amounts of anthocyanins.
While they are generally small enough to pop in your mouth, they range in size from blueberry-sized to an inch or more. Some types grow in long, drooping clusters, while others grow in tight groups.
Indeterminate and Determinate Cherry Tomato Varieties
Not only are there different cherry tomato varieties, but there are also indeterminate and indeterminate tomato plants. Learn the differences between them to help you choose the right plant for your garden.
There are two basic types of tomatoes, indeterminate and determinate, and it's essential to understand the difference when deciding whether to plant your tomatoes in a garden or pot.
A determinate tomato stops shoot production once the plant flowers, produces most fruits at the terminal end, and the tomatoes tend to ripen early. This type is ideal for container gardening.
An indeterminate plant has a longer stem growth, sets fruit all along the stem, and continues growing until the weather turns cold. This plant requires staking to support the trusses and is most suitable for growing in a garden bed.
How Many Types of Cherry Tomatoes are There?
While it's hard to believe, there are more types of cherry tomatoes than the traditional, small red fruit you are used to. In fact, there are so many cherry tomato types that we simply can't list them all.
There are hundreds of types of cherry tomatoes ranging in size, color, and taste, and they consist of hybrid and heirloom varieties. Hybrids are the types of tomatoes you commonly see in your local grocery store.
They are crossbred for particular characteristics such as roundness, size, and disease resistance. Unfortunately, these types lack a lot of flavor.
In contrast, the best heirloom cherry tomato varieties haven't been crossbred for at least 40 years, and the seeds are passed down through generations. These types are often tastier and juicier than the hybrid varieties.
The Popular Sungold Cherry Tomato
Sungold tomatoes grow in a long, hefty cluster of tangerine orange fruits. These one-inch tomatoes have a firm texture that holds longer than other varieties.
Their sweet, tropical flavor makes them the best cherry tomato for salads, grilling, and eating straight off the vine.
The Sungold cherry tomato is one of the most popular. This hybrid plant is indeterminate, and it grows 48 to 60 inches tall and requires staking.
It produces ripe fruit within 57 days, and the time to harvest cherry tomatoes is twice a week until the first frost. This tomato is resistant to verticillium wilt, fusarium wilt, tobacco mosaic virus, and nematodes.
The Sweet Flavor of the Black Cherry Tomato
Black cherry tomatoes are one-inch fruits with a rich, mahogany-brown color. They have a firm texture, sweet, complex taste, and low acidity that adds richness to pizza, bruschetta, and salsa.
These vigorous and fast-growing heirloom tomato plants grow an abundance of heavy clusters of round fruits.
They grow 60 inches tall, and the fruit ripens in about 64 days. These black tomatoes are naturally disease resistant, and the seeds are perfect for propagation.
The Kid-Approved Isis Candy Cherry Tomato
These unique cherry tomatoes have golden flesh with varying shades of reds and yellows with a cat's eye shape on the blossom end. The fruits are one and a half-inch in size, grow in clusters of six to eight, and kids love their fruity, sweet taste.
This heirloom cultivar grows up to 6 feet tall, and the tomatoes are ready for picking 70 to 80 days after transplanting. It is heat and drought tolerant and a vigorous grower that requires support.
The Sweet-Tart Sun Sugar Cherry Tomato
The sun sugar cherry tomato grows bite-size, yellow-orange fruits and matures in 75 days. The tomatoes are less than an inch in size, and their sweet-tart, rich flavor makes them perfect for a salad bowl or snacks.
This indeterminate, hybrid tomato plant grows 7 feet tall or more and requires a cage or trellis. Each plant can produce hundreds of fruits, and it is resistant to tomato mosaic virus and fusarium wilt.
The Determinate Baby Boomer Cherry Tomato
If you're looking for a patio tomato plant with a high yield, the Baby Boomer is the one for you. This plant produces over 300 bright red sweet fruits throughout the season, so you get to enjoy grilled or fresh tomatoes almost non-stop.
This determinate cherry tomato plant matures in only 50 to 55 days, and it reaches a height of 20 to 25 inches tall. It is a compact plant resistant to fusarium and verticillium wilt and produces fruits one-inch in size up until the first frost.
The Oddly-Shaped Yellow Pear Cherry Tomato
This heirloom cherry tomato has fruit that resembles a pear with its shape and bright yellow color. It grows an abundance of small, sweet, and mild tomatoes ideal for the grill or for preserves.
This indeterminate tomato vine grows up to 90 inches tall, and a trellis or cage is necessary for support. It reaches maturity after 80 days, and the seeds are a good choice for storing for propagation.
The Highly Productive and Tiny Red Currant Cherry Tomato
This plant produces tiny, red tomatoes that are only a half-inch in diameter and 3 grams in weight. Red Currant tomatoes have a firm and juicy texture with a sweet-tart flavor that works well in salads and preserves.
This heirloom variety has a wild, rambling growth habit and grows up to 8 feet tall. It is suited for a garden bed with a lot of room and support. Red Currant cherry tomato plants mature with ripe fruits after 65 days of growth.
The Sweetheart of the Patio Cherry Tomato for Container Gardening
The Sweetheart of the Patio cherry tomato is the perfect plant for growing in small spaces. It has a superior yield and grows large clusters of one inch fruits that are bright red and super sweet.
This hybrid tomato plant is semi-determinate, and it grows 24 to 36 inches tall with ripe fruits within 68 days. It resists late blight, and its compact shape makes it ideal for a patio container or hanging basket.
Are Cherry Tomatoes Easy to Grow?
Tomato plants are probably one of the easiest veggies for gardening, and they grow well in both a garden bed or containers. It's also possible to grow cherry tomatoes indoors as long as they get enough light. Here are simple steps for growing cherry tomatoes from seed indoors six to eight weeks before the last frost.
Fill a seed starting tray with potting soil and moisten it by spraying the surface with water. Use a pencil end to make a quarter-inch hole in each section a half-inch apart and drop two seeds into the dirt. Push dirt over the top and pat it down lightly.
Set the tray in front of a sunny window where the temperature is between 75 to 80°F. Keep the dirt damp but not soaked by spraying it as needed with water. Tomato seeds take about a week to germinate and a month to get their true leaves.
At this point, it's time to move them outdoors into a prepared garden bed or container. Make sure to plant your cherry tomato varieties in an area where they receive at least six hours of direct sunlight each day.
Tomatoes are not only sweet and juicy, but they are easy to grow and packed full of vitamins and nutrients. The hardest part about growing cherry tomatoes is not eating them straight from the garden as you harvest them at the end of the growing season.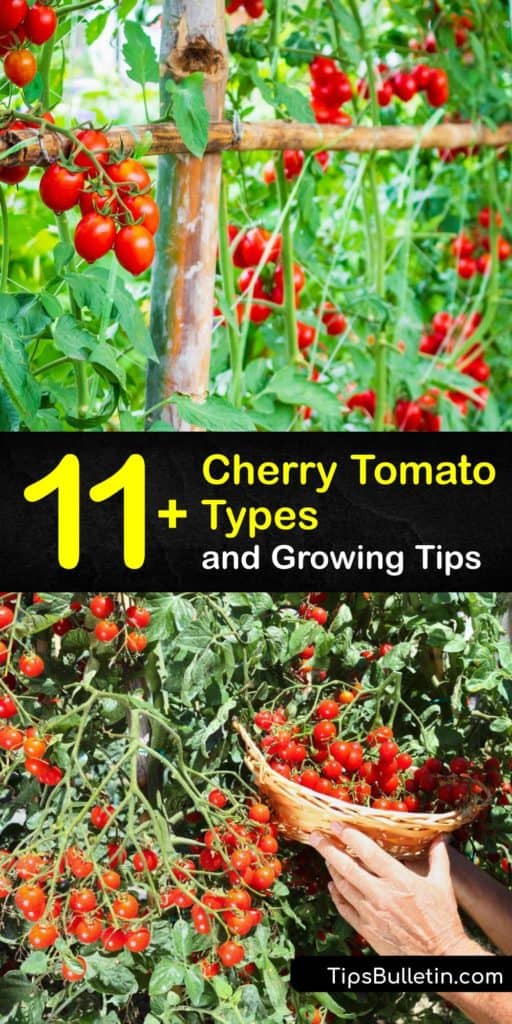 There are so many types of cherry tomatoes that it's often challenging to know which ones to grow, so why not share our cherry tomato plant guide and growing tips with the gardeners in your life on Facebook and Pinterest?