The different types of composting may seem daunting when you're ready to choose a technique to use at home, though they're well worth getting to know. Using composting methods is a greener alternative than tossing everything into the trash and provides the opportunity to create high-quality organic fertilizer while helping the environment.
Some everyday household waste items like shredded paper are unsuitable for recycling, and food scraps take a long time to go through the degradation process in landfills. Learning about composting lets you take care of these items at home while enriching your garden soil with finished compost and saving money on commercial fertilizers.
Composting techniques range from massive windrow systems to a simple at-home compost structure, and each has advantages and disadvantages. Whether you don't have a yard and want to try composting, or you have a high output of organic waste and lots of space, there's a composting method for you.
Composting Methods for Every Home and Garden
Different types of composting offer pros and cons; some are more appropriate for use at home, while others offer beginner composting tips, and still others are designed for higher volumes of waste. Some people think peat moss is compost, but they are different and have varying purposes in the garden.
When considering composting methods, remember the type of waste your family produces, the space available for your composting, and the amount of time and effort you're willing to spend maintaining your bin or pile. The way to compost dog poop is a little different than cow or horse manure and a lot different than composting kitchen waste.
Whether you choose to use a compost tumbler vs bin, composting helps the environment by reducing food waste, offering options to recycle shredded paper, and lowering the carbon footprint compared to the recycling process.
Composting Techniques – Open Air Composting
Open-air is an anaerobic composting method often used on a small scale, such as in-home composting. It works on the principle of making a pile or digging a small hole and making compost there.
Open-air composting is budget-friendly, easy to start, and works well in various locations and climates. A compost pile used to break down garden waste and food scraps is an example of an open-air composting system.
Despite being straightforward, open-air composting has some drawbacks. If food scraps are part of your compost materials list, note that their addition to your compost pile or compost bins may attract rodents to your garden if not adequately buried. This method takes up to two years to produce finished compost.
Types of Composting – Vermicomposting
Vermicomposting uses redworms to assist in the composting process. A pound of these specialized red worms for composting processes half a pound of organic material daily, yet their bin takes up very little space. Setting up a worm bin requires some effort, yet once established, it works well with little maintenance.
Begin filling your container with the soil, cow manure compost, and dry leaves; aim for about a quarter to a half full. Set out a thin layer of organic waste such as kitchen scraps and cover it with a fine layer of soil. Use care when you put food waste in your compost as all scraps are not compostable.
Sprinkle water onto the top of the substrate until damp, not wet, and add your worms. Vermicomposting is ideal for small spaces and makes compost in as little as three months.
Aerated Static Pile Composting
A larger-scale aerobic composting method often used on farms and ranches, aerated static composting is another option. Waste is mixed with bulking agents and placed in piles or rows over a system of pipes to aerate the matter using blowers. Trench composting over an airflow system is one example.
Though this system is costly to install given the air pipes, it works quickly, generating lots of finished compost in about three to six months, and the core retains its warmth even in cold weather. This method would be difficult to install at home and is perhaps unnecessary unless vast volumes of organic matter are produced.
Windrow Composting for Commercial Facilities
Windrow is a commercial composting method that processes high volumes of organic material. Waste is deposited in windrows, or long rows about six feet tall and 16 feet wide, so the piles are large enough to stay warm and still receive airflow.
This technique is relatively easy to set up, given the scale, and works in all climates. Windrows require lots of land space, so this may not be the best method for the home composter. In addition, heavy equipment must be acquired and operated to turn the rows, and if not appropriately managed, the runoff potentially contaminates groundwater.
In Vessel Composting for Big or Small Spaces
In vessel composting works across large and small-scale operations. This technique involves a compost tumbler in most homes, though farms may use a silo or drum. The organic material is placed in the vessel and regularly turned to aid decomposition.
Though the start-up costs are often high when you start a compost tumbler, they produce compost in just a few weeks and require minimal space to maintain. Compost tumblers are even available for the kitchen counter. Using a vessel gives the user complete control of climate, aeration, and the ability to move the system as required.
Hot Composting Versus Cold Composting Method
Whatever technique you choose, there are two ways to make finished compost. Choosing a cold compost method means your pile requires less maintenance and effort but takes longer, sometimes up to two years, to break down all the organic material into a finished product.
Hot compost is a fast compost method involving altering the ratio of green material to brown organic material, so the pile heats and organic matter decomposes faster.
To use hot composting and break down solid waste quickly, increase the amount of nitrogen-rich green matter such as kitchen scraps and green grass clipping waste, compared to the amount of brown matter such as yard waste, straw, and other dry yard trimmings. Composting shredded office paper is included in your brown material.
For cold composting, your compost bin typically has green to brown material in a ratio of 1:3 parts. Alter this ratio to 1 part green to 2 parts brown, and turn often to create heat and air pockets for hot composting.
Your plants will thank you with a bountiful crop, whether you add manure or compost for the vegetable garden. Regular fertilization leaves healthy plants.
Different types of compost methods are appropriate for varying scales and spaces. There is also a list of what not to compost to have the most successful experience. If you're eager to reduce your food waste and create organic fertilizer to enrich the soil in your garden, consider a small-scale method like open-air or vermicomposting.
A composting facility handling large volumes of waste typically uses windrow or aerated static pile composting. Choose the method best suited for your household and goals, including the amount of space available. Composting at home is an intelligent way to reuse waste products like food and scrap paper and enjoy finished compost for your garden.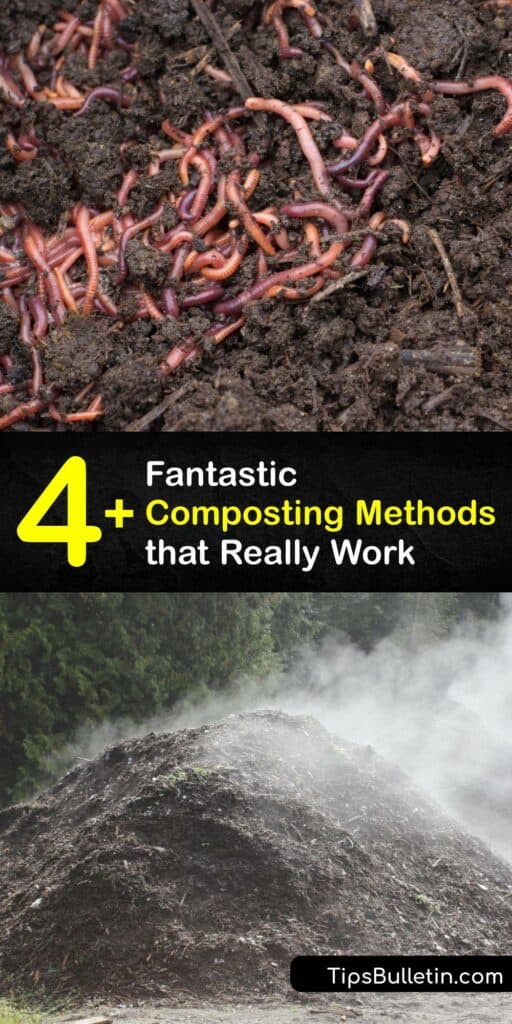 If you loved this article on types of composting, please share this brilliant information on composting methods with your family and good friends on Pinterest and Facebook.