Cranberries have a tart and mildly sweet flavor, similar to the lingonberry, making them perfect for adding to drinks, topping salads, and baking in loaves of bread. In addition, they have little to no fat, contain high amounts of vitamin C, nutrients, and antioxidants, and are an excellent addition to the diet. But, did you know that there are different types of cranberries?
The American cranberry (Vaccinium macrocarpon) is native to North America, and commercial growers produce them everywhere from British Columbia and Minnesota to Wisconsin and Oregon.
While they are most famous for making cranberry juice and cranberry sauce, they are also a favorite for many recipes.
It's easy to think that cranberries are just cranberries. However, there are many varieties of cranberries, and some of them grow better in a home garden than others. Some cranberry bushes grow compact with berries that ripen early, while others take longer to produce fruit.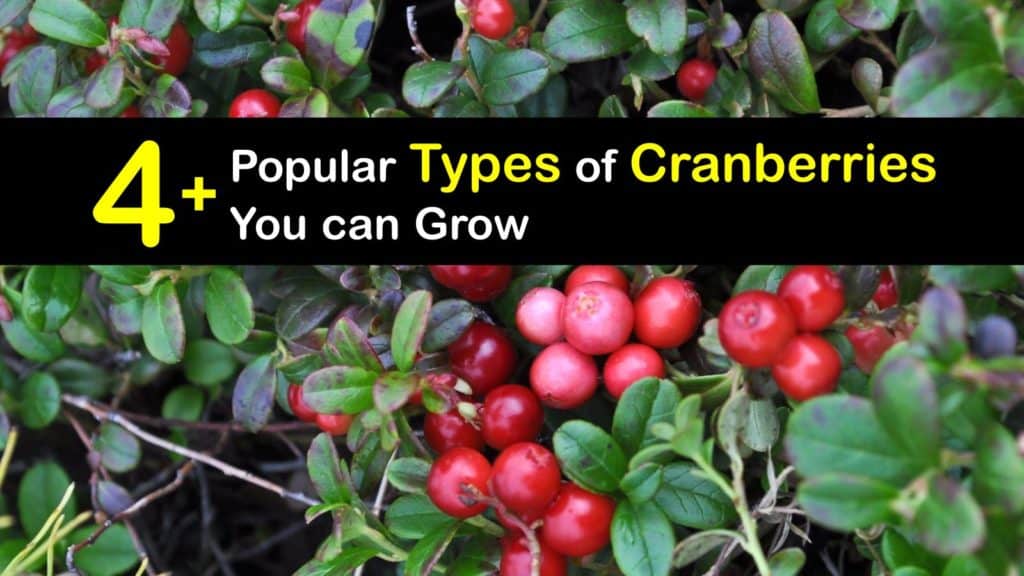 Growing and Preparing Different Types of Cranberries
Growing fruit at home is fun and rewarding. Whether you want to grow mulberries or blackberries or want to experiment with cranberries, there are a lot of options.
Learn about some of the more popular cranberry varieties to help you choose the perfect bushes to grow in your area. Find tips for growing them at home, the best companion plants for cranberries, and preparing them in a recipe.
How Many Cranberry Types are There?
What are cranberries, where do cranberries come from, and how many cranberry types are there? There are over 100 cranberry varieties. Discover what these berries are and where they love to grow.
Cranberries (Vaccinium subg. oxycoccus)
Cranberry plants (v. macrocarpon) are evergreen shrubs or trailing vines that produce small tart and sour, hard round berries from mid-September through mid-November in North America.
They are members of the heather or Ericaceae family, and there are many different types, from Demoranville to Cranberry viburnum. However, some cranberry plants like Highbush are not true cranberries.
What climate do cranberries grow in? Find them in moist and acidic soils in USDA hardiness zones 2 through 7. You find them growing naturally in boggy areas of Massachusetts, Wisconsin, New Jersey, Cape Cod, and other regions.
Hybrid Varieties of Cranberries
A hybrid plant is when two plants cross-pollinate to produce new seeds, and there are many hybrid varieties of cranberries (Vaccinium subg. oxycoccus). Here are some of our favorites for growing in a home garden.
Crimson Queen is a hybrid of two cranberry varieties, the Stevens and Ben Lear. It has a vigorous growth habit, establishes quickly, and produces large and consistent yields.
Franklin cranberry plants are a hybrid of Howes and Early Black. It has a high pectin count and low levels of juiciness. It needs more sun than other cranberry types.
For a plant resistant to fake blossom and frost, the Pilgrim variety is a good choice. This plant is a hybrid of Prolific and McFarlin, and it has low pectin, juicy fruits.
Scarlet Knight is a high-yielding, disease-resistant plant with sweet, dark red berries early in the season.
Heirloom Types of Cranberries
There are different types of cranberries, and heirloom varieties are open-pollinated – old cultivars that have been around for years. While these types often require more attention than hybrids, many of them are easy to grow.
The Ben Lear cranberry plant is a very productive early variety with deep red, large fruit. According to a book published by Rutgers University Press called The American Cranberry, this native cranberry type was selected for cultivation in 1901.
Early Black produces small, dark red berries with a surprisingly sweet taste that ripen early.
Howes heirloom has shiny berries that ripen later in the season than Early Black and is frost resistant.
McFarlin is a plant sourced from the wild that produces large late-ripening fruit and is resistant to fake blossom.
Tips for Growing Cranberries at Home
Once you choose the ideal cranberry plant (Vaccinium oxycoccos) for your location, it's time for growing cranberry plants in the garden. Here are some cranberry gardening tips to help you grow and produce healthy cranberries at the end of the growing season.
North American cranberry plants require full sun and moist but good draining dirt, so choose a garden spot wisely. They enjoy acidic soil with a pH of 4.5 to 5.5. Amend the ground with an acidifier, peat moss, compost, or cow manure if necessary. Cranberries like growing beside azaleas or blueberries as they enjoy similar soil needs.
The best time to transplant cranberry bushes is after the last spring frost. These bushes have a shallow root system and only grow in the top six inches of dirt. When planting your cranberries, space them two to three feet apart, and don't plant them too deep.
Make sure the crown is at ground level with the roots just beneath the surface, and expect them only to reach eight to ten inches tall, depending on the variety.
It's not necessary to prune your cranberry bushes at planting time but pruning cranberry plants of their dead canes is beneficial. Spread mulch over the garden bed to retain moisture and stop weeds from taking over the space, and water your cranberry plants regularly, so they are moist but not soaked to avoid fruit rot.
Fertilize them in early spring with a 5-10-10 fertilizer and stop feeding them in late June. Avoid using harmful pesticides on your plants that may kill bees and other pollinators.
Cranberry plants do not self pollinate, and pollination is necessary for berry growth. Expect to pick cranberries every couple of days during harvest time and consider using a bird net to protect your crop from hungry birds.
Making Cranberry Sauce with Fresh Cranberries
The holidays are just around the corner, and what better way to use freshly picked cranberries than a homemade cranberry sauce. This simple recipe only takes 20 minutes to prepare, and it serves up to 16.
Pour water into a saucepan, add the sugar, and bring the mixture to a boil for five minutes to dissolve the sugar. Add the cranberries, bring them back to a boil, and then turn down the heat.
Simmer the cranberries for at least ten minutes or until they reach the desired consistency. The longer you simmer it, the less chunky the sauce is. If you prefer a sweeter cranberry sauce, consider adding two cups of sugar instead of one.
Large commercial cranberry bogs are not the only place cranberries grow. It's easy to grow them at home as long as you pick the correct type of cranberry for your backyard space and area.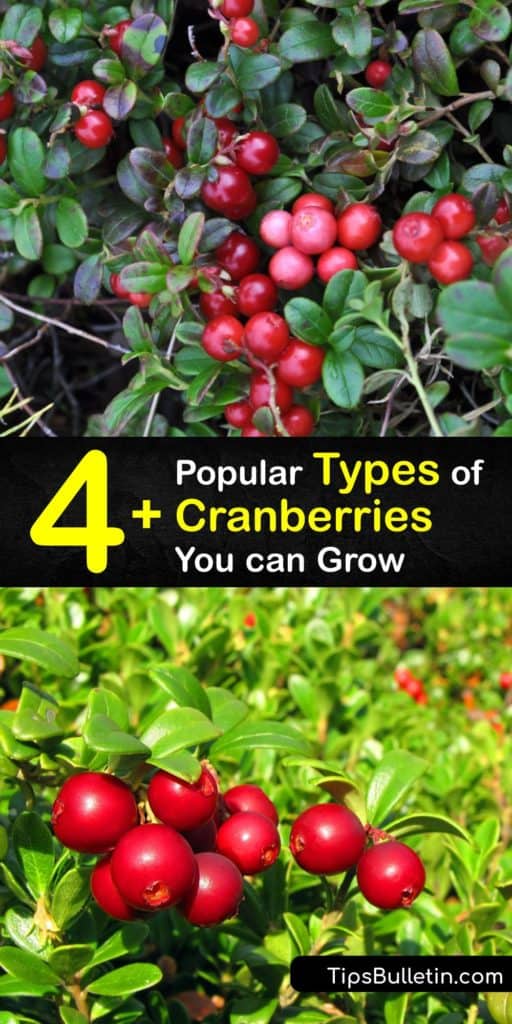 Growing your own cranberry plants is a great way to enjoy fresh berries each year, and there are many types of cranberries to choose from, so why not share our cranberry variety guide and gardening tips with your family and friends on Facebook and Pinterest?