When you wander around the grocery store, you're only likely to find one or two garlic varieties on the shelf. Even though the regular garlic we use is a staple in most households, there are other types of garlic that have unique sizes, flavors, and textures. You might put garlic in most of your dishes, but what is a garlic bulb, and where does this rich root vegetable come from?
Garlic bulbs come to stores and farmers markets so that you can enrich your cooking with deep, more complex flavors. Of all the different types of garlic, it seems strange that we are limited to only a few options.
This article's purpose is to inform you of the varieties of garlic you can choose from. They might not always be available, but when you have an opportunity to cook with one of these unique plants, don't be afraid to try them out and embrace the strong flavor they produce. If you've been eager to learn more about garlic, this garlic guide is a perfect place to start.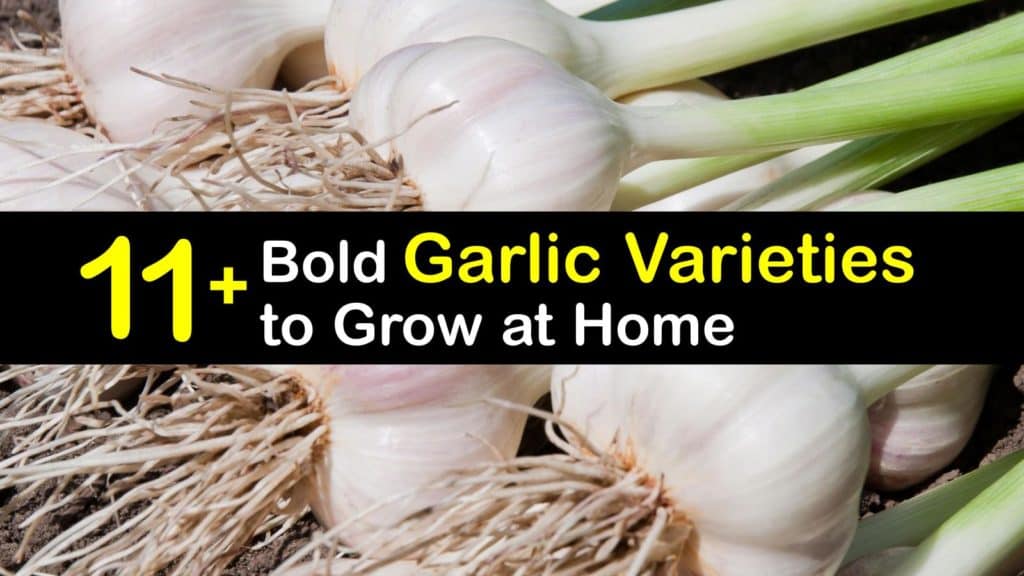 What is a Garlic Plant?
Garlic, also known as Allium sativum, is grown and eaten for its tasty bulbils. Wild garlic is an Asian, Italian, and French plant. The bulbs have an aroma similar to an onion with a pungent taste.
Garlic plants grow to reach two feet in height, and most varieties of garlic have long, smooth leaves arising from a hard central stalk that rises above the bulbs. The bulbs are covered in a membrane of skin that closes around 20 cloves of garlic.
Garlic is an annual crop, and growing it is possible in nearly all growing zones. Aside from being delicious, garlic has a lot of medicinal properties. Garlic is most closely related to onions, leeks, and shallots.
It is low in calories but contains vitamins and minerals like manganese, vitamin C, and fiber. Garlic cloves reduce blood pressure and cholesterol levels, and it works as an antioxidant to reduce inflammation and prevent diseases like Alzheimer's and cancer.
Garlic Varieties
There are two categories of garlic. Hardneck garlic is called Allium ophioscorodon and usually has more flavor than their softneck garlic counterparts. Hardneck varieties are characterized by their woody central stalks with long flower stalk or garlic scapes.
Do you know how much is a head of garlic? It depends on which type you have. These bulbs or heads have around four to 12 large cloves each, and their strong garlic flavor is sometimes considered spicy. These types of garlic grow best in colder regions where they are dormant during winter and flower in the spring.
Softneck garlic is what we are used to buying at the market and is loved because it has many large bulbs. There are sometimes more than 30 bulbs in a single bulb of a softneck garlic plant. Softneck varieties have a more subtle flavor that tastes more earthy.
Most Common Types of Garlic
Artichoke garlic is one of the most common that we buy. This garlic has larger bulbs that mature early during the growing season. These plants adapt to a wide range of climates and soil types and are hardy in USDA hardiness zones four through ten.
The bulbs often have flattened shapes, and the outer sheaths have a light purple color. Regrowing garlic from the cloves is easy, whether in a container or the garden. Cultivars of artichoke garlic include Inchelium Red and Early Red Italian garlic.
Silverskin Garlic Information
Silverskin garlic is the second most popular garlic that we buy, and home growers like them for how easy they are to grow. This type of garlic is hardy in zones four through ten and has average moisture requirements.
The garlic enjoys full sun or partial shade, and they mature later than artichoke garlic. Bulbs have been found with up to 40 cloves inside them, each an irregular size.
Silverskin garlic is often braided and displayed in the store because it has a shelf life of 12 months when stored this way. Another way to keep your garlic is by making frozen garlic, which is ideal for all kinds of recipes.
Creole Garlic
Creole garlic is a hardneck variety and better suited for warmer regions. These bulbs grow wild in the United States and produce smaller bulbs than what we're used to.
Creole garlic is becoming increasingly popular in gourmet cooking because it has a delicate, nutty flavor with a sharp hint of heat.
The skin of the garlic comes in shades of red and purple, and the cultivar garlic variety's names include Creole Red and Burgundy garlic.
Glazed Purple Stripe Garlic
This garlic type is native to Eastern Europe and is named for its glossy red-purple exterior. These cloves have a mild leek flavor and a shelf life of five to seven months.
Although each bulb only contains six to 12 cloves, the entire plant is hardy from zones two through eight and perfect for people who want to grow a hardy plant. Some other cultivars of the glazed purple stripe are Red Rezan and Vekak.
Using Porcelain Garlic
Porcelain garlic produces a much larger plant than average and reaches up to six feet tall. It requires full sun, moderate water and is hardy from zones two through eight.
The Asiatic bulbs are huge and only have up to six cloves per bulb. They have a strong flavor and traditional garlic taste. This is one of the most widespread subspecies of hardneck garlic because it keeps well for up to eight months.
Growing Rocambole Garlic
Rocambole has the same requirements as most other types of garlic, but it is extremely popular with home growers because it has a full-bodied garlic flavor, and the sheaths are loose, so the cloves are easy to peel.
The one downside to Rocambole garlic is that it is sometimes challenging to grow if you live in an area with frigid winters. The bulbs only keep well for six months, so make sure to preserve them before they go bad.
Turban Hardnecks
Turban garlic plants grow up to three feet tall and are hardy from zones as cold as two and as hot as ten. Turban garlic isn't as common as many other types of garlic.
They come from Mexico and Eastern Europe and are named from the top of their central stalk that resembles a turban. The flavor of turban garlic doesn't taste like garlic at all. It is often very fiery and adds a distinctive flavor to food dishes.
Chesnok Red Garlic
An extra cold-hardy garlic variety is the Chesnok Red garlic. This plant has medium-sized bulbs and stores well for up to six months.
People who have grown this garlic have nothing but good things to say about it. The red bulbs retain their flavor and shape well even after cooking. They are easy to peel and produce a high yield harvested in the mid-summer.
A Favorite Subspecies of Garlic
If you're looking for garlic on steroids, consider buying some elephant garlic. Elephant garlic, or Allium ampeloprasum, gets its name from its massive shape. The garlic flavor is mild, but it has more of an onion note.
Elephant garlic is easily interchangeable with softneck garlic because it cooks so well and has a pleasant, mild flavor. The giant cloves peel easily, and this is one of the easiest garlic varieties to find at the farmers market.
About German White Garlic
German White garlic is one of the least common kinds. It has an extremely pungent flavor and satin white bulbs.
The big bulbs only contain three or four cloves and are excellent when cooked and put into pesto and sauces. Growing German White garlic is relatively simple. This plant only requires full sun, loamy soil, and regular watering.
Heirloom Garlic
Spanish Roja garlic is an heirloom garlic plant that came to the United States in the early 1900s from Central Asia. It has a robust and traditional garlic taste with hints of heat.
The white bulbs are covered in lots of purple striping and white bulbs blotched with amber colors. Although it only stores well for four to six months, it might be worth trying to grow in your garden at home.
How to Roast Garlic
If you love garlic, you know that roasting it is one of the easiest ways to bring out their bold flavors that pair well with other foods. This recipe requires minimal ingredients and only takes about an hour.
Heat your oven to 400°F. Check to be sure you have the freshest garlic cloves and not spoiled garlic. Slice the top of the entire garlic head off, so the tops of the cloves are exposed. Drizzle some good olive oil over the garlic's top and season it lightly with salt and pepper.
Wrap the entire bulb in aluminum foil and place it on a baking sheet. Roast the garlic head in the oven for about 40 minutes. Remove the aluminum wrapped garlic from the range and let it cool. Open the foil and squeeze out each clove from the bulb.
If you have extra garlic, try several methods of storing it to eat later. Preserving garlic in olive oil is easy, as is making a paste that you freeze.
What is a garlic plant? Garlic is a root vegetable used to enhance our dishes and bring joy to our meals. If you can't find several garlic varieties at your local supermarket, try searching for them at farmers markets and other small stores.
Experimenting with garlic is well worth it because you get to experience everything that this unique plant has to offer in the kitchen.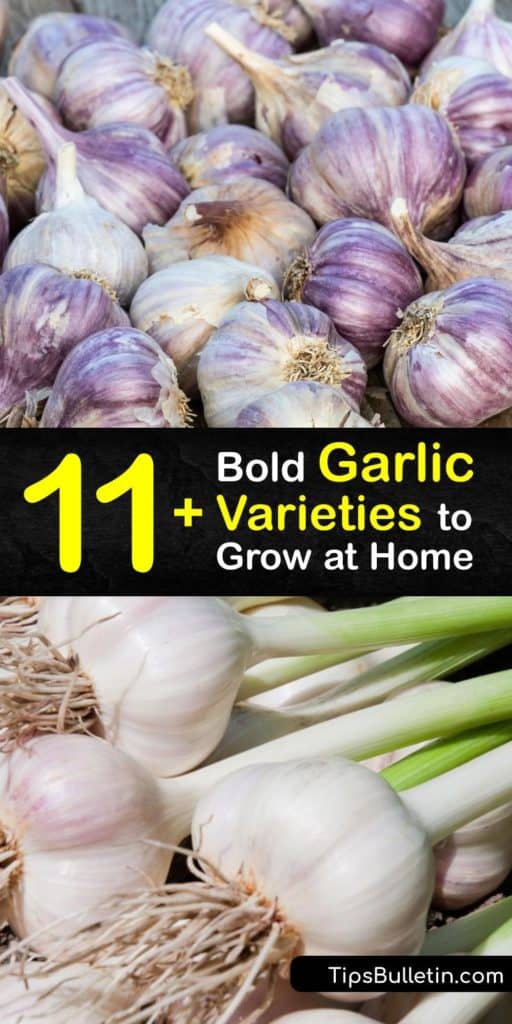 If this list of types of garlic opened your eyes to new flavors, share these one-of-a-kind garlic varieties on Facebook and Pinterest.