Gnats are, without a doubt, an unwelcome guest in any house. When you discover a gnat infestation in your home, it is essential that you take action quickly to keep the problem from getting worse. If you want to know how to kill gnats in your house, you're going to have to identify what types of gnats that are in your home.
These small flies are extremely weak fliers and won't venture far from the moist soil where they lay their eggs, so it is easy to identify their feeding grounds and breeding sites. To effectively get rid of gnats in the house, you'll want to be able to determine which species are invading your home end employ the most efficient way to eliminate them.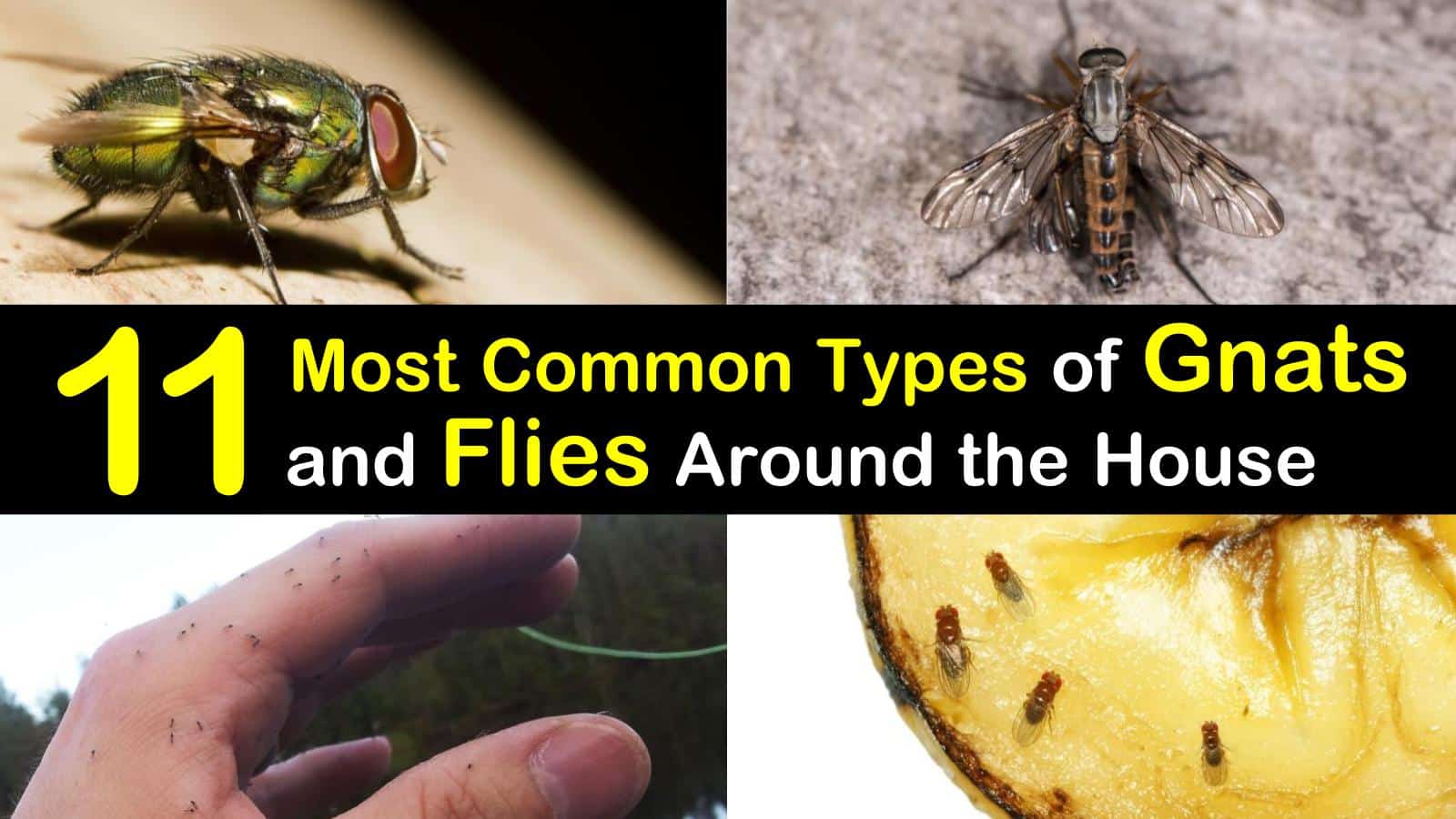 Different Types of Gnats
What are gnats? The term "gnat" refers to a collection of different flying pests that include fungus gnats, drain flies, buffalo gnats, turkey gnats, fruit flies, and many others. The various species share some similar characteristics, including their tiny size and ability to fly.
Fungus Gnats
The fungus gnat, also known as the winter gnat, is a tiny fly that feeds on the roots and fungi of plants. Fungus gnats have long legs and long thin wings that have a vein pattern.
The fungus gnat eggs are hardly visible and are smooth, shiny white, oval, and semi-transparent. Fungus gnat larvae are white, thread-like, and legless. They have a bright black head and can grow to be up to ¼ inch in length. The pupae, form silk-like cocoons in the soil.
The fungus gnat's life cycle is about one month, and will continuously reproduce in homes with warm temperatures. Female, adult fungus gnats will lay up to 300 eggs in on the surface of the moist soil or in the soil cracks. Fungus gnats are attracted to light, so they can usually be found flying around lamps and windows.
Fruit Flies
The essential identifying characteristic of a fruit fly is the bright red eyes. Their body is usually a light yellow or tan color, and they are about one-third of the size of the common house fly.
You can typically find fruit flies in areas where you store fruits and vegetables outside of the refrigerator. You will often see them swarming under appliances, in your garbage can, and around recycling bins.
The first step to eliminating fruit flies in the bathroom and the kitchen is to have proper sanitation. Make sure you clean your garbage cans and dumpsters to get rid of the decaying organic matter that is the perfect breeding ground for these small insects. You also want to be sure to eat or refrigerate any ripened fruit that you may have on your counters.
House Fly
The common house fly is typically between 1/6 and 1/4 inch long. An adult house fly has a fourth wing vein that is sharply angled, and they have four, length-wise dark stripes that appear on the top of its thorax.
It has two velvety lines on its face, which are gold below and silver above. The female house fly's space between the eyes is much wider than the male.
Each adult female house fly will lay eggs just a few days after hatching and can lay up to 600 eggs in their brief lifetime. When the weather is warm, the fly larvae will hatch in 12 to 24 hours.
The cream-colored larvae will burrow into the organic food material and grow into pupate in four to seven days. The adult flies can transmit disease by contaminating food with the disease organisms that it has picked up on its hairy legs.
Eye Gnats
The eye gnat is called many different names including grass flies and eye flies. Eye gnats are tiny flies that are attracted to the fluids that are secreted by the nose, eyes, and ears of both animals and humans.
These small pests are known to transmit eye diseases and conditions like pink eye. While these gnats can thrive in any environment, they prefer to live in areas that have loose sandy soil.
Buffalo Gnats
Also known as the black fly, the buffalo gnat has a humpbacked appearance and is about 1/8 of an inch in length. You will usually see buffalo gnats in late spring and early summer.
The female black fly, will swarm around animals, birds, and humans and bite them to obtain the protein they need to reproduce. Buffalo gnats are typically found near streams and lakes because they like to lay their eggs near, clean, fast-moving water.
Drain Gnats
Drain or sewer flies are small in size, only measuring about 1/8 of an inch in length and are usually black, but can also be brown. The critical identifying trait for this fly is the unique vein pattern on its wings. Their wings and bodies are covered with numerous hairs, and when you crush them, they will leave a powdery smudge.
These drain gnats are typically found around drains and are often confused with the fruit fly, sphaerocierid fly, and the phorid fly, which also are known to infest sewers and drains.
Drain flies life cycle ranges from eight to 24 days and develops by complete metamorphosis. They will lay up to 100 eggs that will hatch in less than 48 hours.
What attracts gnats? The drain fly larvae and pupae can be found living in the thin gelatinous film that is common around drains, septic tank field lines, and filter stones. They remain in their larval stage for up to 15 days before pupating, which lasts for 20 to 40 hours before emerging as a fully mature adult fly.
Phorid Fly
Phorid flies are also known as humpbacked flies and resemble fruit flies in appearance. These flies are typically tan to dark brown, like the fruit fly, but they lack the red eye color.
The most prominent feature of the phorid fly is the humpbacked shape of its thorax. The adult phorid flies are most active during the warm months of the year, and primarily breeds in and feeds on the moist decaying organic matter.
Sphaerocerid Fly
The Sphaerocerid fly is also called the dung fly because it tends to breed in the manure of animals. These flies are black and only grow to a small, 1/8 of an inch in size. The first segment of the tarsi is much larger compared to the other parts of the body.
The first and best line of defense against these tiny insects is to find and remove its breeding sources. If you have floor drains, they need to be cleaned regularly and treated with a bio drain gel. Once you've removed the breeding sources, you should use a gnat spray or pyrethrin treatment to kill the remaining adult flies.
Sand Flies
Sand flies are called many names, including biting midges, no-see-ums, sandflea, granny nipper, or Chitra. They are one of the few types of gnats that will bite and suck blood, and can be considered as one of the many types of mosquitoes, except their bites are much larger than mosquito bites. You can usually find sand flies at coastal lagoons, beaches, tidal flats, and mangrove swamps because they love sandy areas.
One of the best repellents for sand gnats, as well as being extremely effective at repelling mosquitoes, is a citronella candle. Sand flies and other tiny flying insects don't like the scent of citronella and will keep them at bay.
If you are walking in areas that are prone to sand fly infestations, make sure to keep yourself covered and wear light-colored clothes to keep yourself from getting bitten by these pesky insects.
Stable Flies
Stable flies are also called biting flies because of the painful bites they deliver. The bites typically feel like a needle stab and often occur around the lower parts of the legs and ankles.
Stable flies measure about a ¼ inch in length and are often confused with the house fly. Fortunately, stable flies are rarely found feeding or resting inside and prefer to be outside near stables, dog kennels, and along the seashore.
Blow Flies
Blow flies are found worldwide and are located around dead animals. They are slightly larger than house flies, and their bodies are metallic blue or green. They range in length from ¼ to ½ inch in length and have broad heads and robust bodies.
Adult blow flies primarily feed on plant sap, flower nectar, and other sugary materials. The female typically lays her eggs on the body of recently deceased animals, and they hatch quickly.
Where Do Gnats Come from?
If you have a gnat infestation in your home, you may be wondering where do gnats come from and what attracts gnats. You can find gnats in a variety of different places, but the particular species that you see will depend on the location and source of the gnats.
The fungus gnat, which is the most common type to deal with, is often found near plants around your home. They can be brought in with your store-bought plants, or find their way into your home through small holes in your screens, or gaps in your door and window frames.
Non-biting midges are typically found in damp soil and freshwater sources. If you have decomposing plants, mud or sand near your home, you might have to deal with biting midges when you are out in your yard. Gnats are attracted to moisture, organic matter, and scent, so it is essential to keep your house and yard free of decaying plants, excess moisture, and sweet smelling scents.
If you are trying to deal with an infestation of gnats in your home, it is imperative that you identify the type of gnats that you are dealing with so you can employ the proper extermination methods. The list of gnats mentioned above is the most common type that you will find in and around homes.
Once you identify the kind of gnat that you are dealing with, you can take the proper steps to rid your home of these tiny pests.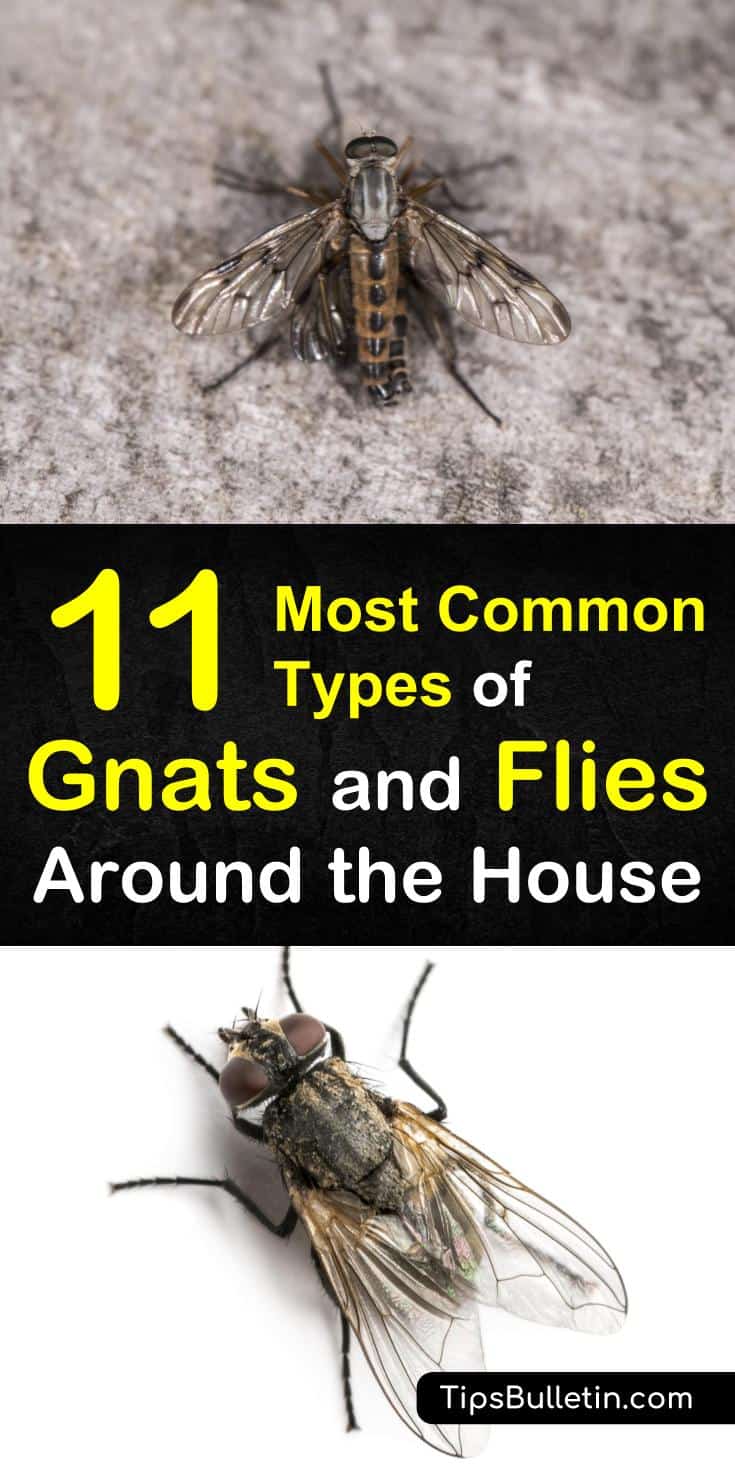 We hope you enjoyed learning about the different types of gnats that are common to households and yards. If you found the information in this article helpful, please share it with your family and friends.