Habanero peppers are famous for their fiery heat level and bright, citrus-like flavor. They are an excellent addition to spicy salsas, chili recipes, and more. If you enjoy hot peppers, read on to learn about the best types of habanero peppers.
There are over 100 types of habaneros to choose from. They come in a wide range of colors, including orange, red, chocolate brown, and white.
Habanero varieties also differ in their levels of capsaicin, which is the naturally occurring chemical that gives hot peppers their spiciness.
Aside from making delicious hot sauce, habanero peppers are excellent for pickling, roasting, making savory jam, and spicing up your favorite recipes. Some people even use them as a cocktail garnish.
Habaneros also have numerous health benefits. They are rich in vitamins A and C, help reduce blood pressure and lower cholesterol, and increase metabolism.
The possibilities for having habaneros in the garden and kitchen are endless, so why not try growing a few habanero pepper varieties yourself?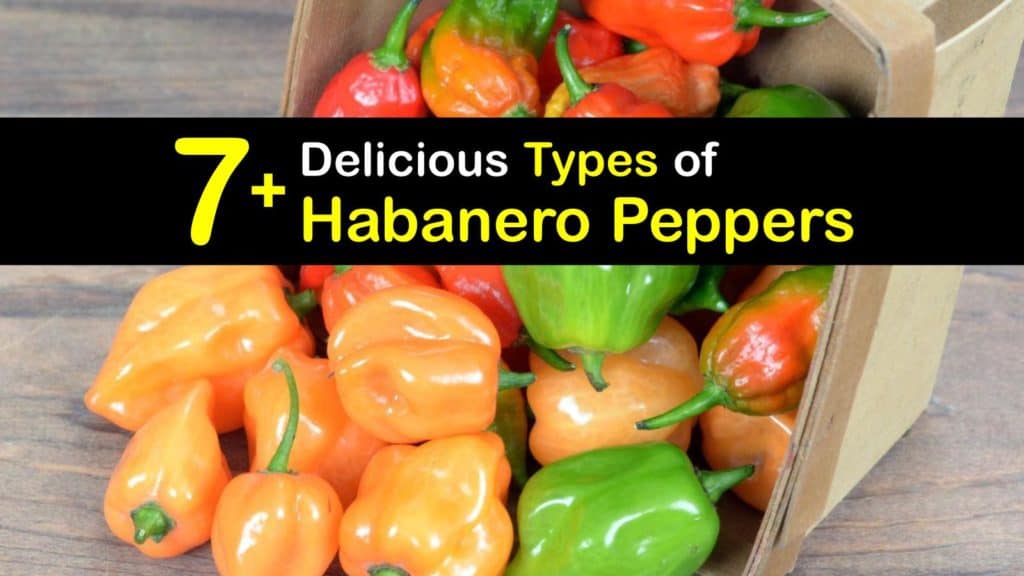 What is a Habanero Pepper?
If you are not very familiar with specialty hot peppers, you might be wondering, "What is a habanero pepper?"
Although it gets its name from the Cuban city of La Habana, known as Havana in the United States, experts believe that habanero peppers originated from the Yucatan Peninsula in Mexico.
La Habana was a significant trading port for habanero peppers for many years. However, the Mexican state of Yucatan is still the largest producer of habanero peppers.
Habaneros became more popularized by Spanish explorers, who brought them all over the world. 18th-century taxonomists mistakenly named them "Capsicum chinense," believing them to be of Chinese origin.
Today they are grown in hot climates worldwide, mainly in Mexico, Costa Rica, Belize, and California. In Panama, they are called "aji chombo."
Like jalapeno varieties, habanero plants are relatively easy to grow. They thrive with plenty of sunshine, warm temperatures, and consistently moist soil rich in nutrients.
These chili types are also ideal candidates for container gardening, allowing growers to keep them alive for many years if overwintered indoors.
The Scoville scale measures hot peppers' heat levels based on their capsaicin content. For reference, bell peppers do not contain capsaicin and measure 0 Scoville Heat Units (SHU).
Jalapeño peppers measure 2,500-8,000 SHU, cayenne peppers measure 30,000-50,000 SHU, and habaneros measure 100,000-350,000 SHU.
Some of the hottest pepper varieties are the ghost pepper at 855,000 to over one million SHU, the Trinidad Moruga scorpion pepper at 1.2 million SHU, and the super-hot Carolina Reaper at more than two million SHU.
The 2013 Guinness World Record for the hottest pepper was a Carolina Reaper that measured 2.2 million SHU.
Habaneros are most similar to Scotch Bonnet peppers, both in heat level and flavor profile. Both varieties of chili pepper are common in Caribbean cuisine.
For a taste of the Caribbean, try this easy recipe for grilled jerk chicken with mangoes and habaneros.
Add the rum, mango, and habanero pepper to a food processor and purée until smooth. Pour the mixture into a small saucepan and bring to a boil. Stir in the butter, vinegar, and an eighth teaspoon of salt.
Reduce to low heat and simmer for eight minutes or until reduced to one cup, then set aside. Whisk the remaining salt with garlic powder, brown sugar, red pepper, thyme, and allspice in a small bowl.
Rub the chicken with canola oil, then sprinkle the spice mixture evenly over each piece. Grill the chicken for five minutes on each side, or until the internal temperature reaches 165℉.
Remove the pieces of chicken from the grill and let them rest for five minutes. Cut the chicken into thin slices and serve over rice topped with the mango and rum sauce.
Heirloom Habanero Varieties
Heirloom plants are true to seed, meaning their pollination process is closely controlled to ensure the seedlings are identical to the mother plant.
Heirloom seeds often get passed down through generations of gardeners in a precise area. They are selected based on desirable traits like taste, growth habit, and disease resistance.
If you have extra habanero peppers to use up at the end of the summer, try this easy recipe for habanero hot sauce. With only five ingredients, it is ready to enjoy in as little as five minutes.
Add the ingredients to a blender or food processor and purée until smooth. Stir in cold water as needed until you reach your desired consistency.
Store your hot sauce in an airtight container in the refrigerator for up to a week. Or, try freezing leftover hot sauce in ice cube trays to have small portions on hand. Store the frozen hot sauce cubes in a freezer bag for up to one month.
Caribbean Red
Caribbean Red habaneros tend to be even hotter than traditional habanero peppers, measuring 300,000-445,000 SHU.
They also have a unique smokey hint along with the typical citrus-fruity flavor associated with habaneros. The plants are heavy producers, so you'll have plenty to share with your friends and family, too. Grow poblano peppers, too, for another pepper with a smoky flavor.
Chocolate Habanero
These unique habanero plants produce large yields of two-inch peppers that ripen from bright green to a rich chocolate brown. On average, chocolate habanero peppers measure around 300,000 SHU. They have a rich, smokey flavor along with their fiery heat.
Habanero Orange
This heirloom orange habanero variety is often considered the classic habanero pepper. The peppers range from 100,000-350,000 SHU.
It's important to know when to harvest habaneros no matter what the variety. These plants produce one- to two-inch round peppers that are green when unripe and turn bright orange when fully mature. They are ready to harvest approximately 80-100 days from transplanting.
Lucifer's Dream
This red habanero pepper variety produces a high yield of hot red peppers. Many times spicier than a jalapeno pepper, Lucifer's Dream peppers typically range from 150,000-250,000 SHU.
They mature in 90-100 days from transplanting. Mature plants reach about three feet tall.
Red Savina
Another super-hot habanero variety, Red Savina peppers average about 450,000 SHU and sometimes reach up to 575,000 SHU.
In 2007, Red Savina lost its title in the Guinness World Records as the hottest pepper to the bhut jolokia or ghost pepper, originating in India.
Red Savina habanero peppers have a sweet, fruity flavor behind the intense heat that is a signature of numerous Caribbean and Asian dishes.
Hybrid Types of Habanero Peppers
Hybrid plant cultivars are purposely cross-pollinated to produce seedlings with the best traits of both parent plants. This hybridization process often takes long years of plant breeding for desirable features like larger fruit or improved disease resistance.
Seeds produced by hybrid plants do not grow true, meaning the seedlings exhibit different characteristics than the mother plant.
If you are trying to find something different to make with habanero peppers, try this recipe for homemade habanero jam. The sugar in the jam tempers much of the habaneros' heat. It is excellent in meat marinades, salad dressings, or as a spicy sandwich spread.
Use a food processor to finely chop your habanero peppers without turning them into a purée. Add the chopped peppers, sugar, lemon juice, and apple cider vinegar to a medium-sized saucepan.
Bring the liquid to boiling, then lower the flame and simmer for ten minutes. Return the heat to high and bring the mixture to a rolling boil. Pour the liquid pectin into the saucepan and boil for one minute, stirring continuously.
Spoon the jam into sterilized Mason jars and seal the lids. Process the jars in a hot water bath for ten minutes, then remove and allow them to cool overnight.
Flamethrower
This unique hybrid variety produces an incredible mix of orange, red, brown, and white habanero peppers on the same plant. Flamethrower habanero peppers grow 24-36 inches tall and mature in roughly 90-100 days.
Roulette
Roulette habanero peppers are the perfect choice for those who enjoy the flavor of hot peppers but not the heat.
With a Scoville rating of just 100, it has a fruity taste without the intense heat. These plants produce a uniform harvest of bright red peppers in about 85 days.
White Bullet
White Bullet is an intensely hot hybrid habanero variety from the Caribbean. By some reports, it is even hotter than Red Savina.
These unique habanero peppers grow about an inch long and have smoother sides than most other habanero varieties, giving them a distinctive bullet-like shape. The plants produce a heavy yield of ivory-white habanero peppers in about 95-100 days.
If you end up with an excellent crop of habaneros, experiment with the best way to store fresh peppers, from refrigeration to freezing to drying.
Habaneros are among the hottest peppers available and are an excellent way to spice up your garden. By growing habanero peppers and other hot peppers, you'll be able to try unusual habanero varieties that are not available at grocery stores or farmer's markets.
There are numerous creative ways to use habanero peppers in the kitchen, from tacos and chili to hot sauce and habanero jam.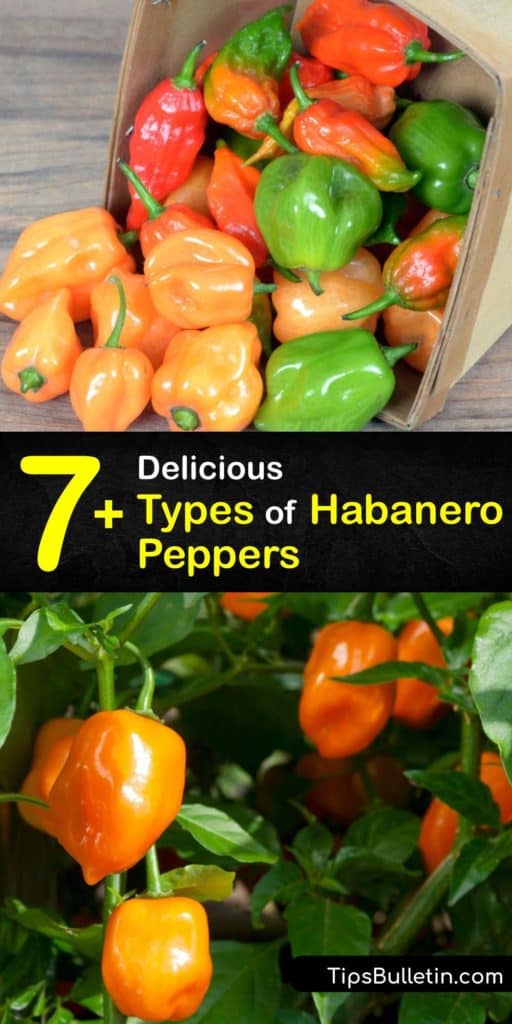 If you enjoyed learning about different types of habanero peppers, please share this article with your friends and family on Pinterest and Facebook who may be wondering, "What is a habanero?"