Different types of herbs drastically alter a dish's flavor profile and contain many health benefits and medicinal properties. Knowing more about herb types and growing herb varieties at home allows home gardeners to produce fresh herbs in their garden.
As growing your own fruits and vegetables becomes more popular, it's unsurprising that many are interested in growing their own herbs. Made up of a vast group of plants with savory or aromatic characteristics, herbs are often used for flavoring, garnish, or medicine. A wide range of culinary dishes and cuisines, from Mexican, Italian, Mediterranean, Thai, Asian, Greek, French cuisine, and more, rely on herbs to add depth and flavor to food.
Whether you love the tangy, citrusy taste of cilantro or Chinese parsley or the minty anise flavor of fresh basil, starting a herb garden or adding herbs to your vegetable patch is a rewarding project. Most herbs are easy to grow and harvest over some time for continuous access to fresh herbs.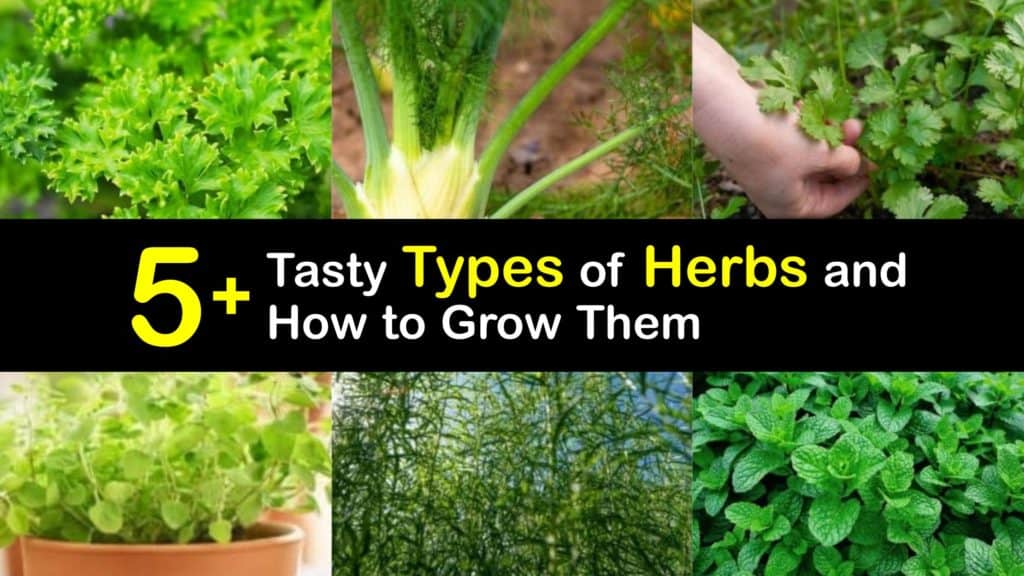 The Best Herb Types to Grow at Home
Whether you are interested in medicinal herb properties, culinary herbs, or creating variety in the garden, understanding the types of herbs and how to grow herb types is the first step in cultivating all homegrown herb varieties.
Fresh herbs are typically more flavorful and have higher nutritional value than dried herbs. Starting a herb garden requires few tools and very little space. Whether you're looking to create an indoor herb garden on your window sill or plant herbs outdoors in the vegetable garden, choosing the right herbs is worthwhile.
Types of Herbs for Home Gardeners – Oregano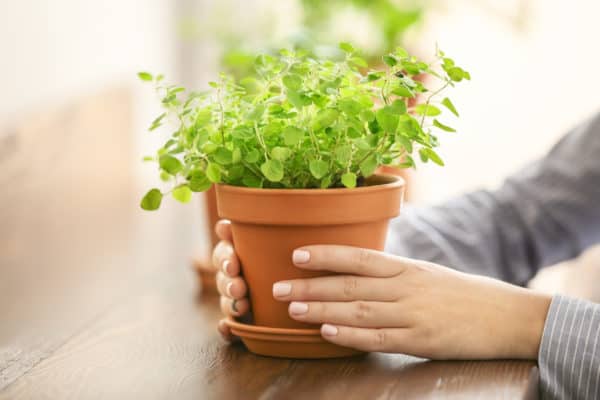 The Oreganum genus includes many perennial herbs and subshrubs. Oregano is a common ingredient in pesto and tomato sauce, and it adds a distinctive flavor to Italian recipes. While oregano plants are easy herbs to grow in small pots, they're hardy perennials suitable for growing in the garden too.
Oregano leaves are round and dark green, and they grow in opposite pairs up the stem. Some cultivars even have fuzzy leaves. Oregano begins as a tiny rosette of leaves clinging to the ground and quickly grows around two feet tall.
A few stems yield enough oregano to use fresh during the season and dry for the year. Oregano is often grown from potted nursery plants or cuttings and planted in the spring or fall. It grows swiftly, and its leaves are ready to eat practically immediately.
Grow Tarragon Indoors or Outdoors
Tarragon or Estragon is a sunflower family perennial herb. It is divided into two categories – the French version is easier to find and has a stronger taste than the Russian kind. The plant reaches a few feet tall and has long light green leaves. A single plant offers an abundance of leaves for harvest.
Tarragon grows wild in temperate European climates. It's resilient and straightforward to grow in well-drained soil in a sunny or shaded location.
It grows best in springtime and doesn't fare well in hotter areas. Tarragon is a flavorful herb and is easy to grow, hardy, and drought tolerant. It is often used in dressings like béarnaise sauce.
Homegrown Herb Varieties – Cilantro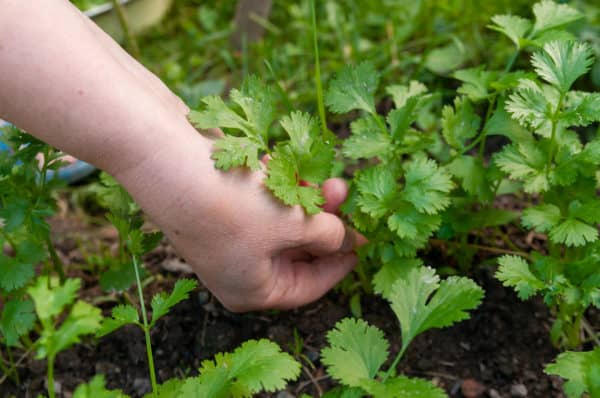 Cilantro or coriander is a wonderful herb to have in the garden. It's not only a simple plant to grow; it has multiple applications in the kitchen. The plant's thin stems and flat, lacy green leaves, best eaten fresh, are known as cilantro.
Coriander is another name for the seeds, commonly used as a cooking spice. The main difference between a spice and an herb is using the seeds versus the leaves. Cilantro grows best in the early spring, though some growers may choose these herbs to plant around fall. It matures swiftly, with the first harvesting of leaves usually occurring within 30 days. Its seeds are ready to harvest about three months after planting.
Parsley is Easy to Grow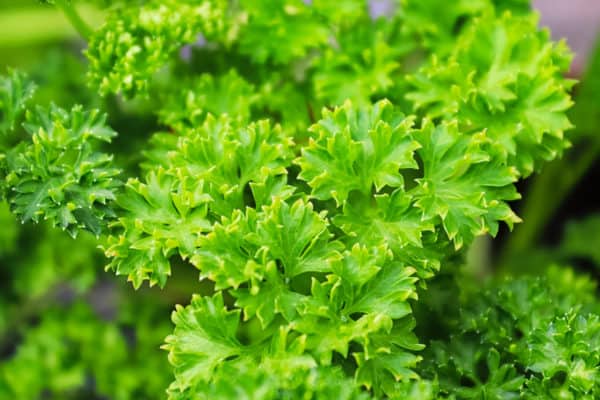 Parsley is a biennial plant native to Europe, commonly grown as a culinary herb. It has triangle-shaped dark green leaves growing about a foot high in bunches and makes a nice garnish or herbaceous addition to meals.
Most parsley cultivars grow slowly, reaching maturity between 70 and 90 days after planting, and are best planted in spring. Chemical components found in parsley make it harmful to pets.
Different parsley kinds have varied flavors, giving the home gardener plenty of choices regarding which type to plant. Curly parsley, for example, may be bitter to some, although flat-leaf parsley (Italian parsley) is more popular among today's chefs.
Peppermint and Spearmint are Common Types of Herbs to Cultivate
Peppermint and spearmint are hardy perennial herbs in the mint family. Grown for their leaves, whether you are using fresh herbs vs dried, they are used to flavor items like vinegar or jelly (typically eaten with roast lamb or other meats), and enhance tea or thirst-quenching cold beverages.
Plant mints in areas where they won't intrude on other plants, as they spread quickly if not controlled. It's perfect for hydroponic and container gardening. Mint prefers deep, rich, moist soil and takes little maintenance other than manicuring and fertilizing in the spring.
However, because the stems grow quickly and the leaves become thinner as the season progresses, trim the patch from a third to a half when it's six or eight inches tall, dry the mint leaves, and keep them in airtight jars for use over the winter. Chamomile is another aromatic herb often used for tea, quickly grown at home.
Other Different Types of Herbs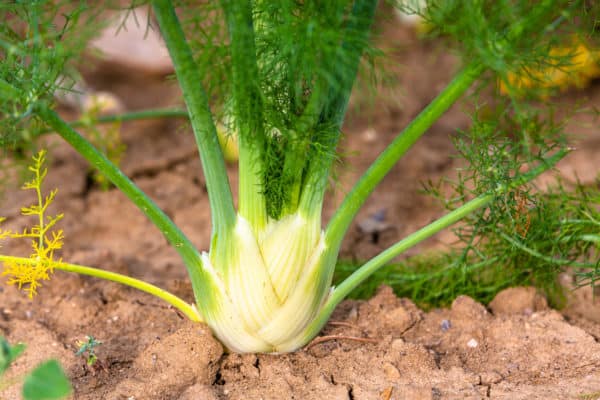 If none of the above appeals, a multitude of other herbs is perfect for growing at home.
There are herb options appropriate for every garden with a range of flavors, nutritional profiles, and health benefits.
Growing Herbs is Straightforward
Herbs are simple to plant and grow well indoors in a full sun location, like a window sill, or outside in the garden if the weather is temperate. You can also choose the best indoor herbs for low light conditions if you don't have enough sunlight.
Whether using cuttings or seeds to grow herbs, a high-quality potting mix, and damp soil but not soaked helps to ensure strong growth and a healthy plant.
Herbs grown indoors are less susceptible to pests, though they should still be monitored closely. Treat any pest issues promptly to avoid long-term damage to the plant, with fewer herbs harvested.
Harvesting and Storing Fresh Herbs
Harvest your homegrown herbs first thing in the morning when the oils are at their peak, and avoid picking all of your herb's large edible leaves straight away, as they are the herb's power station.
Use your fingers or clean scissors to pinch or snip off the herbs required. When harvesting, take a combination of smaller, fresh leaves and larger, older ones to keep your plant healthier, happier, and considerably leafier.
Store cut herbs wrapped in a damp paper towel inside a plastic bag in the refrigerator to prolong their freshness.
From lemongrass to licorice, homegrown herbs are bursting with freshness and flavor. Some herbs bring flavor to a dish by cooking with the ingredients; others are used at the end of cooking to garnish for appearance and texture.
If you loved this article on types of herbs, please share this brilliant information on herb varieties with your friends and family on Pinterest and Facebook.