Jalapeño peppers are one of the most popular and widely grown chile pepper varieties. Did you know that there are numerous different types of jalapenos? In this article, you'll learn all about some of the best varieties of jalapenos and what makes them unique.
From nachos and hot sauce to guacamole and jalapeno poppers, these mildly hot peppers are a staple ingredient in many of our favorite Mexican dishes. Jalapenos are super-versatile in the kitchen and add a rich flavor to a wide variety of recipes.
It's also incredibly easy to grow jalapeño plants in your vegetable garden or pots on your deck or patio.
Homegrown produce tastes better and has more nutrients than what's available at grocery stores, so why not try growing your own jalapeño pepper plants?
All they need is plenty of water, sunshine, and nutrient-rich soil. Use this guide to choose the perfect varieties of jalapeno peppers to plant in your home garden.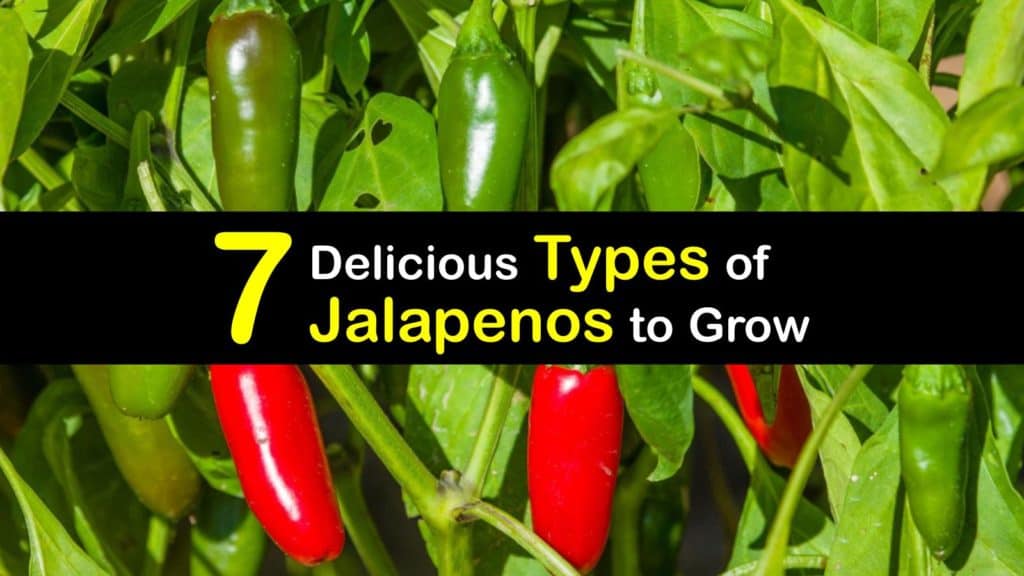 What are Jalapenos?
Originating in Jalapa (Xalapa), Mexico, the capital city of the Mexican state of Veracruz, jalapeño peppers have mild to medium heat levels and a crisp, bright flavor, unlike bell pepper varieties which have little to no heat at all. They're typically eaten when they're dark green and have a tart flavor and milder heat levels.
If you'd prefer them hotter, let them ripen to red before harvesting. Both bell peppers and hot peppers go by the botanical name Capsicum annuum. The difference lies in their levels of capsaicin, the naturally occurring chemical that gives peppers their heat.
Peppers' capsaicin levels get measured on the Scoville scale for heat. For reference, bell peppers measure 0 Scoville Heat Units (SHU), anaheim peppers measure 500-2,500 SHU, and poblano peppers measure 1,000-1,500 SHU.
Ancho peppers measure 1,000-2,000 SHU, jalapeños measure 2,500-8,000 SHU, chipotles measure 2,500-8,000 SHU, Fresno peppers measure 2,500-10,000 SHU, serrano peppers measure 5,000-15,000 SHU.
Cayenne pepper is a bit hotter, with heat levels measuring between 30,000 and 50,000 SHU.
Some of the hottest pepper varieties are the habanero pepper at 100,000-350,000 SHU, the ghost pepper at 855,000 to over one million SHU, and the super-hot Carolina Reaper at more than two million SHU.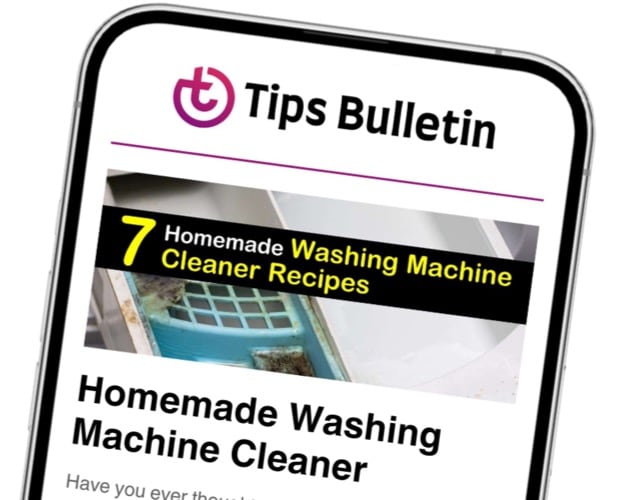 Finally, an email that Transforms Your Home.
Get the latest home and garden tips from our experts, delivered straight to your inbox.
How to Grow the Best Types of Jalapenos
Like other types of peppers, jalapeño plants love heat and sunshine. For the best fruit production and the best way to grow poblano peppers and other pepper plants, make sure they receive at least eight hours of direct sunshine daily and keep the soil consistently moist but never soggy.
Peppers have a long growing season, so when to plant jalapenos is important. Growing jalapenos from seeds begins indoors in early spring or you can purchase starts from your local plant nursery after the last danger of frost has passed.
Every four to six weeks, apply an organic fertilizer with higher levels of phosphorus and potassium than nitrogen to promote fruiting and flowering.
Learn when to harvest jalapenos for the best flavor and heat. Also, when harvesting your jalapeño peppers, use a clean pair of scissors rather than pulling the peppers off of the branch to avoid accidental plant damage.
Best Heirloom Varieties of Jalapeno Peppers
Heirloom plant varieties are true to seed, meaning the pollination process is carefully controlled to ensure that the seeds yield plants identical to the mother plant.
Heirloom varieties often get passed down through generations of gardeners in a particular area and have been selected based on their desirable traits like flavor, growth habit, and disease resistance.
If you have a lot of jalapeño peppers to use at once, try this delicious recipe for traditional New Mexico Chili Verde.
Set your oven to broil, and thoroughly rinse your peppers and tomatillos. If desired, substitute some of the jalapeño peppers with a mixture of poblano or Hatch chiles.
Coat them with a bit of vegetable oil, and roast them for 15-18 minutes, turning them halfway through. Once their skins are sufficiently browned, remove them from the oven and set them aside to cool.
Meanwhile, brown the cubed pork in a large pot over high heat. Cook the pork in batches to ensure it gets evenly browned, then set aside.
Sautée the onions on low heat in the pork drippings for two to three minutes. Add the browned pork and chicken broth and simmer. In a blender or food processor, purée the tomatillos, peppers, garlic, and cilantro until smooth.
Add the mixture to the broth, stir well, and simmer for two to four hours. In the last half-hour of cooking, taste your chili and adjust your seasonings to taste. At this point, add the oregano as well. Serve with fresh cilantro, grated cheese, and rice.
Here are a few of our favorite heirloom varieties of jalapeno peppers.
Purple Jalapenos
This unique heirloom jalapeño variety produces small peppers that ripen from dark green to purple. The peppers have a mild to medium heat level (2,500-8,000 SHU) and are ready to harvest in about 80 days from transplanting.
They're usually smaller than traditional jalapenos, measuring two to three inches long and three-quarters inch wide.
TAM Jalapenos
Developed by Texas A&M University in the early 2000s, TAM jalapeños have milder heat levels than other varieties of chili peppers, measuring 1,000 SHU on average.
Peppers typically measure about three inches long and are ready to harvest in 70 days from transplanting. They're highly productive and disease-resistant.
The Traveler
Introduced by Larry Pierce of Cabool, Missouri, this jalapeño variety gets its name because Larry grew them in Oklahoma, Missouri, and Wyoming over the years.
Planting homegrown peppers like the Traveler produces three-inch-long peppers in about 70 days. The peppers usually measure between 2,500 and 8,000 SHU.
Top Hybrid Varieties of Jalapenos
Hybrid plant varieties are intentionally cross-pollinated to produce offspring with the best traits of both parent plants. The hybridization process often takes many years of plant breeding for traits like bigger fruit or better disease resistance.
Seeds from hybrid plants don't grow true, meaning the seedlings will exhibit different traits than the mother plant.
Jalapeño poppers are a classic appetizer that's always a potluck favorite. Try making your own bacon-wrapped poppers with this easy recipe.
Start with preheating the oven to 375℉ and lining a baking sheet with aluminum foil or parchment paper. Blend the cream cheese, cheddar cheese, and taco seasoning in a mixing bowl.
Fill the halved jalapeño peppers with the mixture and wrap each one with a piece of bacon. Arrange your peppers on the baking sheet and top with breadcrumbs.
Bake for 20-30 minutes, or until the peppers are tender and cheese filling is golden brown on top. Serve immediately.
Here are a few of the top-rated hybrid jalapeño varieties.
Chichimeca Hybrid
This hybrid variety produces a heavy yield of three to four-inch jalapeño peppers in about 70 days from transplanting.
The peppers have a medium heat level, averaging 3,500-5,000 SHU, although they sometimes reach up to 8,000 SHU. They're also resistant to most of the common plant diseases that affect peppers.
Chilipeño – An Unusual Jalapeno
What makes this hybrid variety unique is that the green peppers go through a purple phase before fully ripening to red.
Growers often observe all three colors on a single pepper at once. Harvest time is typically 70-80 days from transplant. They tend to have mild to medium heat levels, measuring 2,500 to 5,000 SHU on average.
Jalafuego
This hot jalapeno variety rewards you with a generous harvest of three to four-inch-long peppers in about 70 days.
Peppers measure between 4,000 and 8,000 on the Scoville scale. Jalafuego plants are exceptionally disease-resistant, and the fruits are also resistant to cracking.
Mammoth – Giant Jalapenos
As the name suggests, these hybrid jalapeño plants produce large peppers that average five inches long and two inches wide, making them perfect for making stuffed jalapeno poppers.
They're also ideal for pickling. The peppers are ready to harvest in about 75 days from transplanting. This variety is also highly disease-resistant.
Jalapeño peppers are an essential item in many kitchens, and for a great reason. They're delicious, easy to grow, and there are plenty of options to choose from when it comes to which varieties of jalapenos to grow in your garden.
How long are jalapenos good for after picking? Store them in the fridge for the short-term or use a long-term option like pickling, canning, or freezing.
When you grow your own produce, it's fun and satisfying to try growing cultivars that aren't available at many grocery stores or farmer's markets.
Whether you choose a tried-and-true heirloom variety or a unique hybrid chili pepper, it's hard to go wrong with growing jalapeños. Use your favorite jalapeno storage method to have them whenever you want to eat them.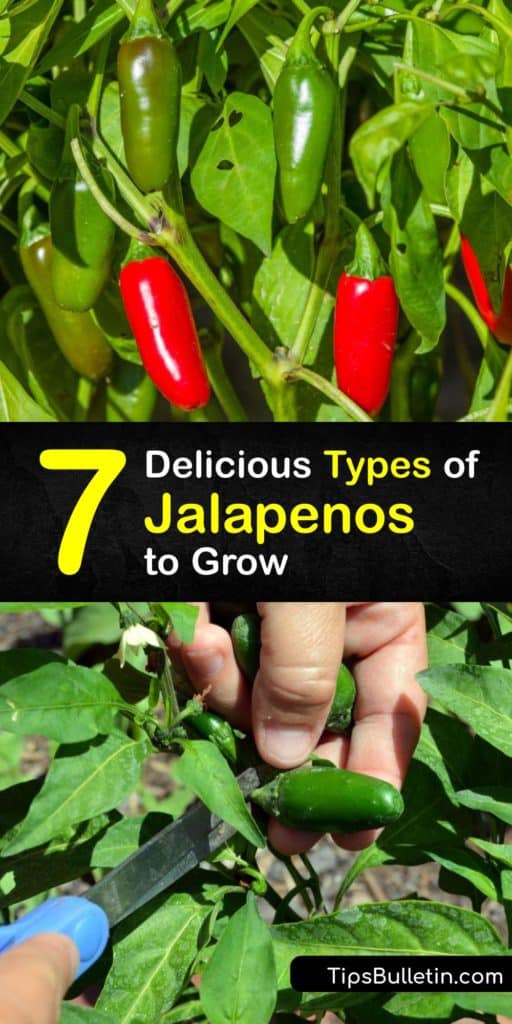 If you enjoyed reading about the best varieties of jalapeno peppers, please feel free to share this article about different types of jalapenos with your friends and family on Pinterest and Facebook.