When a recipe lacks texture, salad greens are an excellent ingredient for adding a crisp, fresh bite. Eating them raw with dressing or cooking them down are fantastic techniques to incorporate more lettuce into your diet. Many of us know about Iceberg and Romaine lettuce, but there are even more types of lettuce that you should try.
There are several common types of lettuce that most of us rely on. However, using different lettuce types provides various flavors that we may have never tasted before.
There are four different types of lettuce categories. Of all the lettuce species globally, each falls under looseleaf lettuce, butterhead lettuce, crisphead lettuce, or romaine lettuce.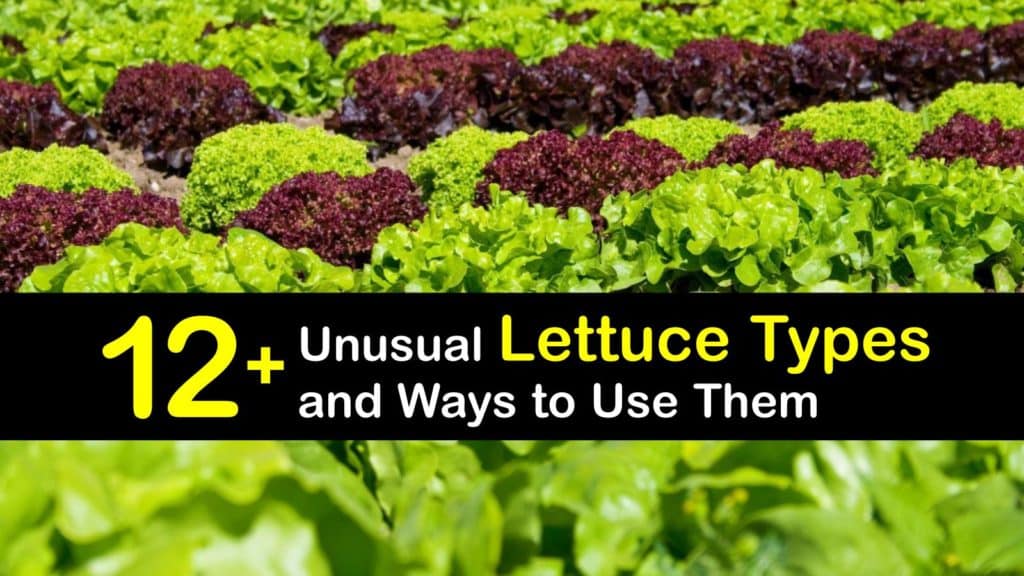 How to Grow Lettuce
Crisphead is round with tightly packed and crispy leaves, butterhead lettuces have looser leaves and smoother textures, and romaine has elongated leaves.
Looseleaf lettuces are loosely gathered, and it is easier to harvest individual leaves than an entire plant. Several unique and different types of lettuce fit into these categories, and we give you a list of each kind and its characteristics.
Despite there being many different lettuce types, most of them are all grown in the same way. Is cabbage and lettuce the same thing? While they are different plants, they do have similar growing requirements. Because lettuce is full of antioxidants, it makes a nutritious addition to your food, and the crisp texture from the leaves is hard not to love.
Different types of arugula lettuce and other lettuce varieties are a cool-weather crop grown in either spring or fall, depending on your growing zone. It germinates in temperatures as low as 40°F, but its ideal growing temperature is between 60°F and 65°F.
For most common types of lettuce, they enjoy a place where they receive at least six to eight hours of sunlight. If you only have a nearby location with partial shade, try planting loose leaf varieties of lettuces instead.
When you have the ideal location, till in a couple of inches of organic compost or fertilizer. Because they have a shallow root system, container gardening is also a good option if you want to grow different lettuce types at home instead of buying them from the grocery store.
There are two ways to plant lettuce during lettuce growing season. First, either sow the seeds directly into your garden beds or containers. Or, transplant the seedlings that you started indoors.
When you sow seeds directly into the ground, space each one roughly two inches apart and have each row about 12 to 18 inches apart.
Try not to plant them too deep since they have to have light to germinate. If you are transplanting lettuce, space each seedling about ten inches apart with rows 12 to 18 inches apart.
Succession planting is possible with lettuce if you want to harvest their green leaves throughout the growing season.
Sow lettuce seeds once every two or three weeks during the middle of spring or early summer and harvest the crisp leaves throughout the summer and into fall.
Lettuce Pests
For those choosing to grow several different types of lettuce at home, make sure that you check your lettuce plants every day to ensure that they don't have any pests on them. The biggest threats to lettuce plants are usually deer, slugs, and aphids.
Lettuce is a fast grower, and a mild infestation usually isn't a huge problem as long as you wash them before making a spring mix salad. However, it is better to put some barriers into place beforehand.
Keep deer away with chicken wire or bird netting and create a tunnel over your lettuce plants. For slugs and aphids, sprinkle some diatomaceous earth on top of your soil to kill them.
If you prefer not to make a trip to the store, spray some soapy water on your plants to kill both the insects and the eggs they lay.
How to Harvest Lettuce Leaves
How you harvest your lettuce depends on the lettuce types that you choose to grow. Loose leaf lettuce has a flexible harvest date. For most varieties, you can wait until the entire plant matures or cut them from the plant as necessary.
Most lettuce leaves are ready for harvest when they reach three to six inches long. Continue to harvest the lettuce leaves until the plant bolts or starts to produce flowers and seeds.
To harvest loose leaves, grab a clean, sharp pair of garden shears or kitchen scissors and carefully clip the leaves from the plant near the base of the stem. Remember to wash the leaves before eating them.
Harvesting a full head of lettuce is a slightly different process. You have to let this type of lettuce plant fully mature before you gather the leaves.
Find a harvest knife or garden shears and cut the entire head of the plant off the central stem, just above the soil line. Use the leaves from the head as often as you like until the whole plant is gone.
Harvesting your plants early in the morning is best because they are in their coolest and crispest condition. If you are unsure when to reap your lettuce plants, check the seed packet you used at the beginning of the growing season.
Signs of maturity usually include a firm and filled-out head. If harvesting in the spring, gather lettuce before the weather gets too hot and days reach consistent levels of 70°F. Warm temperatures make the lettuce plants mushy and bitter.
Common Types of Lettuce
There are dozens of lettuce types globally, and each has unique colors, flavors, and textures to offer. Some of the lettuce here may be familiar to you, but there are some that you probably haven't heard of or tried yet.
Use this list featuring different types of lettuce and discover some tasty greens and new ways to make a salad.
The Most Well-Known Types of Lettuce: Iceberg
Most people around the world know iceberg lettuce. It features pale green, crisp leaves that are perfect if you want something with a lot of texture.
The leaves are watery and refreshing and tightly packed together on a head the size of a small basketball. You'll often find that this is the standard for a wedge or chopped salads or a topping for tacos or sandwiches.
Keep lettuce fresh in the fridge by wrapping loose leaves in a damp paper towel and placing them in the crisper drawer.
Wash the entire head of lettuce, and then use a large knife to remove the stalk and chop it in half. Chop each half in half again to make four wedges.
Lay the lettuce wedges on their side and drizzle some ranch dressing over the top. Sprinkle the chopped tomatoes, bacon pieces, and blue cheese crumbles over the wedges to stick to the dressing and serve.
Butterhead Lettuce
Butterhead lettuce is both a category of lettuce and a specific type. You may have heard it referred to as Boston lettuce or bibb lettuce as well. This lettuce has a small head with a buttery texture and delicate leaves.
The softer texture is excellent in a salad or used as a wrap for a light lunch. Butterhead lettuce is usually a little pricier than traditional iceberg or romaine but is well worth the extra cash if you're looking for something a little more delicate. Store green leaf lettuce like butterhead in the refrigerator.
Romaine Lettuce
You already have no issues when picking romaine lettuce out of the bunch at the store but there are many romaine lettuce growing tips if you want to harvest your own. Romaine leaves are large, long, and stiffer than most common types of lettuce. The center rib offers a hardy crunch and has a slightly bitter taste.
Most people use romaine lettuce in a Caesar salad or whenever they crave a salad with a lot of crunchiness. Try making your own Caesar dressing at home to take an ordinary salad up a notch.
Whisk the minced garlic, anchovy paste, mustard, lemon juice, and Worcestershire sauce in a medium-sized bowl. Stir in the mayo, Parmesan, salt, and pepper until everything is evenly combined.
Use the dressing as often as you like and keep it in the fridge for up to a week before discarding it.
Unusual Types of Lettuce: Chicory
Chicory is the proper name for these lettuce types, but you're more likely to hear them called Belgian endive or French endive. This lettuce features oval-shaped leaves with a soft or satiny-like texture.
The leaves have a slight bitterness, and the scoop or bowl shape makes them ideal for small appetizers. Most people like to tear the individual leaves from the head and use them for dips, although they are great in a salad.
Watercress
Watercress, or cress, is the lettuce you're looking for if you love a peppery bite to your food. Watercress is usually sold in bunches, and the mature leaves are more rigid and fibrous while the baby ones are a little more tender.
They are grown in sandy soil, so make sure to wash them thoroughly before eating. Their bold flavors are a perfect addition to a saucy noodle recipe or on top of a homemade pizza.
Escarole
Escarole, called Batavia lettuce, is actually another type of endive but with large, broad leaves. It has a more mild, bitter flavor, and people love to eat them in soups or paired with bean dishes. Escarole is popular in Italian cuisine but used in other regions of the world too.
Frisée
You'd be able to spot frisée lettuce out of any lettuce lineup. This type of lettuce has an unforgettable frilly texture. The leaves are curled and tinged with yellow and green hues that are slightly bitter.
The crunch stem adds a crisp bite, and their pale colors result from being shielded from the light while they grow. Frisée is excellent thawed or warmed through, but we love it for a large salad during brunch.
Put the lettuce leaves, parsley, red pepper, and toasted bread pieces in a large mixing bowl. Bring a frying pan filled halfway with water to a boil and stir in the white vinegar.
Crack the eggs and carefully put them into the pan to poach them. Use a slotted spoon to remove the cooked eggs and drain them on dry paper towels.
Whisk the sherry vinegar and balsamic vinegar together in a separate bowl with mustard, garlic, and salt and pepper.
Whisk in the oil and then toss the vinaigrette into the salad until everything is coated. Place the freshly poached eggs on top of the salad and season with additional salt, pepper, and thyme before serving.
Delicious Lettuce Types: Oak Leaf Lettuce
Oakleaf lettuce is a kind of butter lettuce, but it gets its name from the distinct shape of the leaves that look similar to the leaves of an oak tree. From afar, they look similar to red leaf lettuce but are different in shape and texture when you take a closer look.
Oakleaf lettuce has a shorter shape, and they are softer than other common types of lettuce. Because they are one of the fast growing lettuce varieties that is both delicate and tender, they are best tossed with other ingredients in a hardy salad because they won't compete with the other flavors.
Radicchio
You know you're eating radicchio lettuce by the deep red and purple colors on the veggies. They are sold as heads or as loose leaves, and this is the best lettuce for those who love bitter greens.
They stand alone as a salad or turn sweeter when you cook them. Mix them with sweeter lettuces to get a well-rounded flavor profile for breakfast, lunch, or dinner.
Celtuce Lettuce
No, we didn't spell it wrong. Celtuce is often described as a cross between celery and lettuce. The leaves are floppy and more bitter like escarole, but it also has a long stalk that we peel and eat for its nutty, cucumber flavor.
Most people enjoy celtuce leaves raw or stirred into hot soups. Don't forget to utilize the stem, even though it takes a little more work. Add them to a stir fry or grill them alongside asparagus and broccoli stems.
Mesclun Mix
Mesclun isn't actually a type of lettuce. Instead, it is a spring mix featuring endive, arugula, spinach, and other leafy greens from baby lettuce leaves. Mesclun usually comes pre-packed, though it wouldn't be hard to make your own at home.
French Crisp
French crisp or summer crisp lettuce is one of the easiest types of lettuce to grow at home. They tolerate hotter weather compared to the other kinds and are good to harvest from baby leaf to mature leaf sizes.
The French crisp describes its crunchy texture. It is similar to romaine but with sweeter and juicier leaves and zero bitterness. When they are young, the plant has many loose leaves, but they get a lot more compact around the head as it matures.
Bonus Leaves: Dandelion Leaves
You may not even have to start your own lettuce garden to make delicious salads this summer. Dandelion leaves are completely edible and one of the most nutritious leaves available. They are high in potassium, calcium, iron, and magnesium.
Dandelion leaves are loaded with vitamins A, B, and C, and are higher in vitamin A than any other garden plant.
Better yet, the roots are also edible and delicious when brewed into tea. Because dandelion leaves are already flavorful, they don't require many extra ingredients to spruce them up.
Grab a medium bowl and toss the greens, onions, and tomatoes. Season everything with basil and salt and pepper to taste. Top the dandelion salad with your favorite dressing or vinaigrette before serving it.
If unsure about which dressing to use, we recommend making a simple mix of extra-virgin olive oil, fresh lemon juice, salt and freshly cracked pepper for a quick, easy, and tasty vinaigrette.
Even though you are likely aware that there were many different types of lettuce, you probably didn't know all the different characteristics of these plants.
There are lettuce types to fit the needs of anyone no matter their preference, and growing them in your garden beds at home is a cheaper and more flavorful way to use them.
If this list of different types of lettuce has made you eager to branch out from your traditional salads, share these flavorful lettuce types on Facebook and Pinterest.