The okra plant (Abelmoschus esculentus) is notable for its long, fuzzy green pods and fibrous, delicate leaves. There are many types of okra, and this plant, sometimes known as ladies' fingers or gumbo, belongs to the hibiscus family, not the gourds plant family. While it seems like a vegetable, okra is a fruit. Many okra types are commonly harvested for use in stews, gumbo, soups, and other dishes.
Okra thrives in hot weather, so it's better to cultivate in your home garden if you live in a warmer area. Okra seeds grow in colder climates (these plants survive winter across all USDA Hardiness Zones), but the pods are smaller than in warmer locations. The warm season is the perfect time to grow all varieties of okra plants to their full potential.
Okra are tall plants and develop from germination to five feet tall in their short growing season if they are constantly exposed to temperatures above 70°F. Okra comes in an almost infinite variety of varieties for vegetable gardeners to choose to grow.
The Best Varieties of Okra for Your Garden
While all types of okra have their own distinct flavor, the size, taste, and appearance change from one to another. Learning more about okra varieties, common types of okra, and what different types of okra offer allows growers to select the best fit for their garden.
Okra (Abelmoschus esculentus) is a blooming plant grown annually in most parts of the world, though it is a perennial in Ethiopia's native dry tropical climate. Because of its lovely blossoms, okra is occasionally used as a landscaping plant.
It is, however, commonly planted as a vegetable crop because of the edible seed pods developing after the flowers bloom. These seed pods are used in various ways in the kitchen, from gumbos to chutneys.
The okra plant grows in an erect branching form, with palmate leaves having five to seven lobes and yellow or white flowers with purplish centers. The flowers are followed by elongated seed pods growing several inches long and containing white seeds inside a pentagon-shaped chamber structure.
Okra is often planted in the spring, when the soil temperature reaches 60-70°F, from seeds sown straight into the garden. The plants develop swiftly and yield seed pods for okra harvest time in about two months.
There are quite a few great companion plants for okra, including mint, oregano, and geraniums. These plants deter unwanted pests and draw beneficial pollinators.
Seeds may be started inside three to four weeks before the last expected frost date in areas with short growing seasons. Different types of okra have unique characteristics. Learning about okra types helps growers select the best varieties of okra for the home garden.
Planting Your Chosen Okra Types in the Garden
The right time to plant okra is in the evenings when the soil temperature is 60°F or above, spacing seedlings ten inches apart in a bright, well-drained region with a pH of 6.5 to 7.0 and healthy, well-drained soil. Mix in several inches of rich organic material like aged compost to improve native soil.
Okra thrives in the heat and endures a dry spell well; give plants an inch of water once a week and add a layer of mulch to help with water retention and weeds. Avoid transplanting okra to keep the roots intact and less susceptible to okra nematodes.
Feeding using a continuous-release plant food regularly promotes a more bountiful yield. Okra pods should be harvested at the appropriate length, depending on the types of okra.
Note that okra can last only two to three days after being picked, so either cook it right away or preserve it to enjoy later.
Types of Okra – Clemson Spineless
The Clemson Spineless or Abelmoschus esculentus is an heirloom okra variety featuring spineless pods and edible cream flowers. This okra plant grows rapidly to about four feet tall and boasts meaty dark-green pods rich in flavor and high yields. The Clemson Spineless is an All-America Selections (AAS) award winner.
Okra Types – Annie Oakley II
The Annie Oakley II okra is another variety with spineless tender pods. This type of okra is a more compact plant, making it perfect for smaller gardens as it offers high yields for the spacing it requires. Annie Oakley II seed pods are uniform and hearty.
Varieties of Okra – Red Okra
Red okra cultivars offer a unique option in both taste and coloration. Red okra provides an alternative to the more commonly seen green okra and adds a pop of color to the garden.
Red okra is a torpedo-shaped vegetable offering two to five-inch pods that are red with red stems. The fresh taste is midway between eggplant and asparagus, with unique flavors and textures. However, the crimson tint fades when cooked, and the pods change to green. Raw red okra gives a splash of color to many dishes.
Louisiana Green Velvet Okra
The Louisiana Green Velvet variety of okra is a spineless cultivar produced for its large, emerald green okra pods, harvested until they are as large as eight inches. This plant's long pod is known for achieving a good size while staying tender.
The Louisiana Green Velvet grows up to eight feet tall, though they typically mature at about four or five feet.
The Award-Winning Cajun Delight
The Cajun Delight okra is an AAS award winner producing three to five-inch long green pods in about 50 to 55 days. The pods stay tender even at five inches, and the large leaves are attractive in flower beds. These okra plants have a mature height of about four feet and produce best when picked 2-3 times weekly in hot weather.
Cow Horn, Mallow, Star of David, and other varieties of okra make lovely additions to your garden. This Ethiopia native plant produces a high yield of tasty veggies great for frying, pickling, or adding to gumbo, soup, or stew. Store and preserve fresh okra or eat it right away. It's straightforward to grow and makes a fun project for many gardeners.
Most types of okra are pretty forgiving, and all okra types taste great. When considering varieties of okra for your garden, factor in the space available, your intended uses for the product, and the growing season in your area.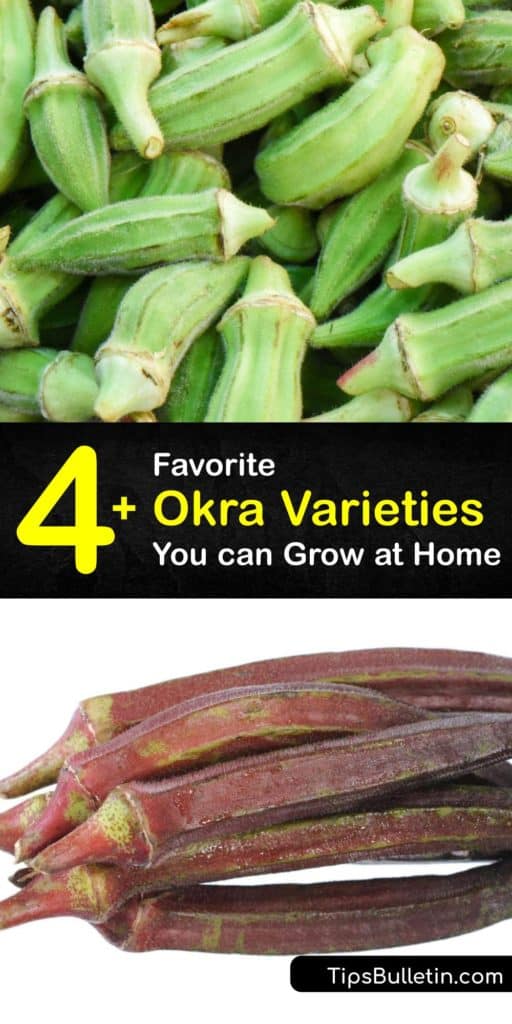 If you loved this article on types of okra, please share this brilliant information on different varieties of okra with your friends and family on Pinterest and Facebook.