Peanuts are a familiar ingredient in many of our favorite snack foods. Did you know that they're also relatively easy to grow at home? In this article, learn about the various types of peanuts, how they grow, and the best uses for each one.
There are four basic types of peanuts available to grow: runner, Spanish, Valencia, and Virginia. Peanut plants, or Arachis hypogaea, are legume family members like beans and peas.
Although the crop's exact origins aren't well-documented, it seems likely that peanuts did originate in South America. Spanish explorers prized the versatility of peanuts as a food source, bringing them back to Europe and spreading them throughout the New World.
Peanut plants require a long growing season with 100-150 frost-free days to develop. They thrive in regions with hot summers and mild fall temperatures.
Nonetheless, there are some varieties of peanuts that mature faster and are suitable for the northern US and southern Canada. Read on to find out which peanut types are best for your area.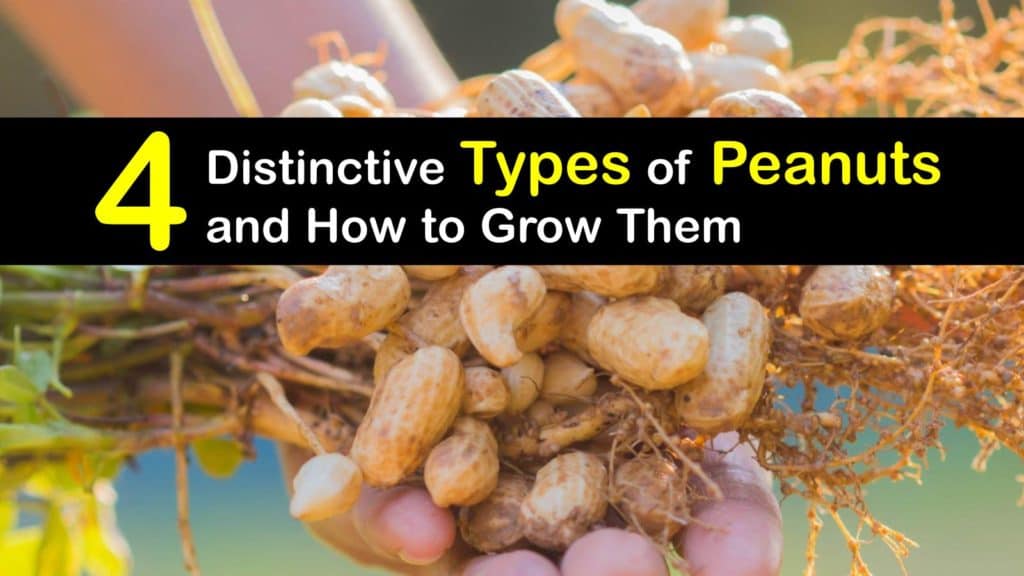 How to Grow Different Peanut Types
Peanuts were first cultivated in the US in southeastern Virginia during the 1700s. Today, over half of US-grown peanut crops come from the state of Georgia.
Alabama is the nation's second-highest peanut producer, followed by Texas, Florida, North Carolina, South Carolina, Mississippi, Virginia, Oklahoma, and New Mexico.
Peanuts are rather unusual plants. Their yellow flowers bloom above-ground, but the seed pods develop underground.
The flowers are self-pollinating. After they are fertilized, the petals fall off and the plants produce long stalks called peduncles or pegs. These elongate and grow down into the earth, where the seed pod matures.
On average, each peanut plant produces 25-50 pods during the peanut growing season. The amount of kernels inside each pod varies between different types of peanuts. If you're wondering, it takes around 540 peanuts to make a 12-ounce jar of peanut butter.
Try planting early-maturing varieties like Garoy (Spanish) or Tennessee Red (Valencia) if you have a shorter growing season. They mature in approximately 100 days.
Plant your peanuts where they get at least eight hours of direct sunlight during the day. They grow best in well-draining, sandy soil rich in organic matter.
Give the plants around two inches of water per week until the pegs begin elongating. Then, cut back to one inch of water per week so the pods don't rot in oversaturated soil.
When the peanut plants are a foot tall and the pegs are entirely underground, begin hilling around the plant's base, similar to potatoes.
Add two or three inches of garden soil and compost, then a layer of grass clippings, leaves, or pine needles. Repeat the hilling process every two or three weeks until they're ready to harvest.
Harvest peanuts in late summer or early fall. They're ready to dig up when the plant turns yellow. However, it's beneficial to look at a few pods before uprooting the entire plant. Ripe peanut pods show a veined surface with darker interiors and seed coats.
Runner Types of Peanuts
Most commercial growers cultivate runner peanuts because they have a mostly uniform shape and size and provide consistently high yields. They normally produce two medium-sized kernels per pod.
Runner peanuts primarily get used for making peanut butter. They're also great for roasting and using in peanut candy.
Florunner is one of the most prevalent cultivars of runner peanuts after its development in the early 1970s. They mature in about 140 days.
Lariat is another excellent runner peanut variety. The plants are highly disease-resistant and produce slightly larger kernels than Florunner. They take 130-140 days to harvest.
Spanish Varieties of Peanuts
Spanish types grow smaller kernels with bright-red skin. They generally have a higher oleic acid content than other varieties. Spanish peanuts frequently get used for shelling, roasting, pressing for peanut oil, and making candied nuts.
Olé is an outstanding hybrid variety of Spanish peanuts. Enjoy high yields of deliciously sweet peanuts in 110-120 days. The plants are remarkably disease-resistant and grow one to two feet tall.
Shubert Spanish peanuts have a small to medium kernel size, and also reach maturity in 110-120 days. They have a considerably higher oil content than most other varieties and reward your efforts with consistently high yields.
Valencia Peanut Types
Valencia peanuts develop longer shells than other types and regularly contain three medium-sized kernels.
They're known for producing incredibly sweet peanuts and are excellent for making homemade natural peanut butter or tasty confections. Many people also enjoy Valencia peanuts for fresh use.
Georgia Red is one of the most common types of peanuts in the Valencia group. They grow small to medium kernels wrapped in reddish-brown skin and are ready to harvest in 120-130 days.
NuMex 01 is a newly-developed hybrid variety from New Mexico Agricultural State University, released for commercial cultivation in New Mexico and West Texas in 2015.
It produces pods containing three or four kernels with high levels of oleic acid in about 110-120 days.
If you're a DIY enthusiast, try making homemade peanut butter with this quick and easy recipe.
Roast your peanuts for ten minutes at 350℉ before blending them for a richer, fuller flavor and to loosen the oil for easier mixing.
Transfer them to a blender or food processor and pulse until roughly chopped. For making crunchy peanut butter, set aside a half-cup of chopped peanuts.
Purée the peanuts nonstop for one minute. They'll have a dry, gritty consistency. Scrape down the walls of the blender or food processor with a rubber spatula, then purée for another minute. Repeat the process until it has a creamy, smooth texture.
At this point, incorporate any extra additions like oil or sweetener. Purée your peanut butter for another minute or two. Incorporate the chopped peanuts if you're making crunchy peanut butter and lightly pulse several times to blend.
Scoop your homemade peanut butter into an airtight, lidded container and keep it sealed in your refrigerator for up to three weeks. Natural peanut butter usually requires mixing when the oil separates.
This recipe makes roughly one and a half cups of peanut butter. Feel free to adjust the measurements to make as much you'd like at once.
Virginia Peanut Varieties
Virginia type peanuts bear the largest kernels. They often get nicknamed "ballpark" or "jumbo" peanuts because they're popular as shelled peanuts and snack nuts. Virginia peanuts most often come from southeastern Virginia and northeastern North Carolina.
Gregory peanuts are an ideal southern crop, thanks to their high tolerance for heat and humidity. They're also exceptionally disease-resistant. They yield extra-large kernels in 120-130 days.
Florida Fancy is a fantastic hybrid variety with superior disease resistance. Expect high yields of large, richly flavored peanuts in 130-140 days.
Did you know that there are so many different varieties of peanuts? These unique legumes are fun to watch as they grow and even more fun to eat.
Growing peanuts at home isn't as challenging as it might seem at first. As long as you can provide the right growing conditions and select peanut types that are suited to your climate, you'll enjoy delicious homegrown peanuts at the end of the growing season.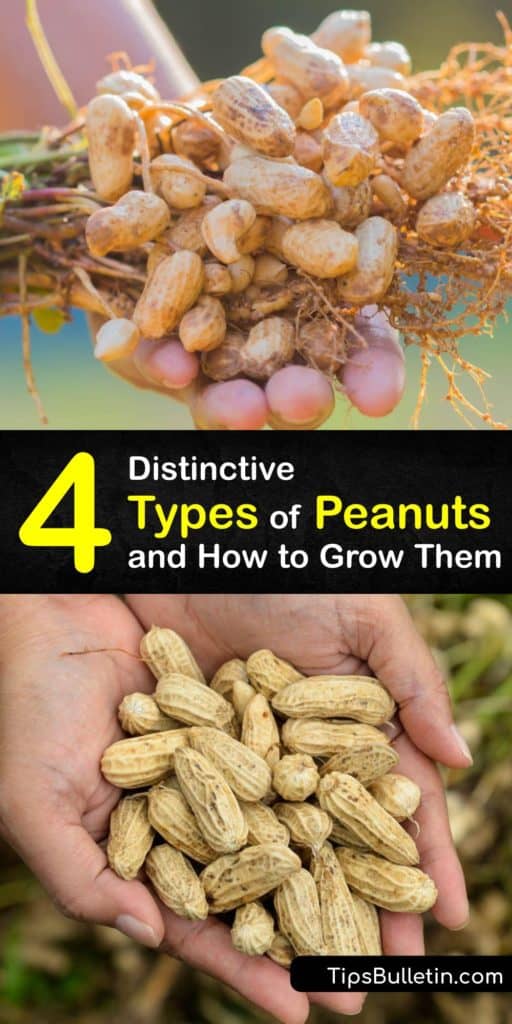 If you enjoyed learning about common peanut varieties, please share this article about these distinctive types of peanuts with your friends and family on Pinterest and Facebook.