Potatoes are an incredibly versatile ingredient in the kitchen and have been one of the world's most important food crops for centuries. Whether you enjoy them baked, boiled, chipped, fried, mashed, or roasted, growing your own potatoes is satisfying and worthwhile. In this article, you'll discover which types of potatoes are best for your growing climate and intended culinary use.
With over 100 different types of potatoes to choose from, it is essential to understand their differences. Varieties of potatoes differ in their color, flavor, growth habit, disease resistance, and time to harvest.
Use this potato planting guide to grow the best potatoes possible in your garden this year. Growing your own groceries allows you to experiment with interesting new varieties and leaves you with the satisfaction of knowing exactly where your food comes from.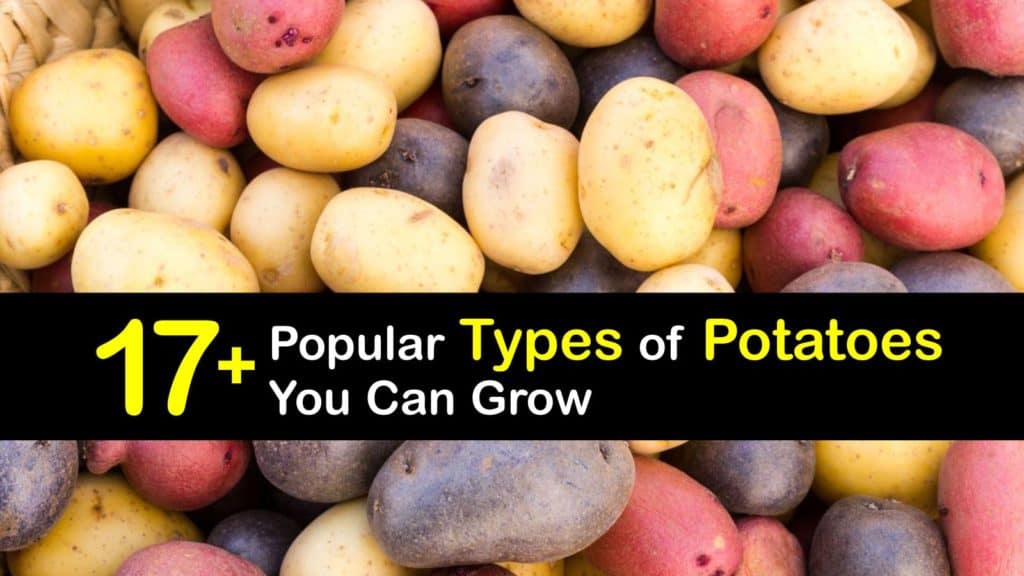 Common Types of Potatoes for Home Gardeners
So many options might make choosing between the available potato types seem overwhelming. Read on to find out the most significant factors to keep in mind when selecting seed potatoes.
Even though many potato cultivars are available, the most common types of potatoes found at grocery stores are russet potatoes. Specifically, the Russet Burbank is the most widely grown potato variety in North America.
Initially developed in the 1870s by horticulturist Luther Burbank, the disease-resistant cultivar gained popularity in the early twentieth century and now accounts for about 70% of the processed potato market in the United States.
However, not all potatoes are created equal. Potato types with higher starch content are superb for making baked potatoes, French fries, and mashed potatoes because they absorb more liquid and break down during the cooking process.
Less starchy potatoes have a waxy texture and hold their shape and consistency when cooked, making them well-suited for soups, stews, and potato salad. How long will potato salad last in the fridge? If you have leftovers, potato salad usually keeps for up to four days in the refrigerator.
Potato varieties are also classified by the length of their growing season. In general, there are early, mid, and late-season potatoes.
Potatoes grow best between 60-70℉. When temperatures exceed 80℉, mature potatoes may become discolored or woody. The timing of your potato harvest should be a crucial determining factor in which types of potatoes you choose to grow. Know that growing potatoes in straw, bags, and buckets are just as successful as growing them in garden soil.
What is a Potato?
Although they are an incredibly commonplace pantry item, have you ever wondered, "Exactly what is a potato?" What about a yam vs potato? Native to North and South America, Solanum tuberosum is a member of the nightshade family along with tobacco, tomatoes, peppers, and eggplant.
While they are often referred to as root vegetables, the edible parts of a potato plant are technically tubers. Roots are plants' compact storage organs with hair-like stems that develop underground.
Tubers are storage organs that grow from elongated stem tissue or rhizomes. The main difference is that, unlike root plants, tubers send out horizontal rhizomes with nodes, or eyes that produce above-ground stems.
It is possible to cut tubers apart and grow them as individual plants, while this isn't the case with traditional root plants. Regrowing potatoes from pieces is an easy way to start a crop.
Potatoes likely originated in the Andean regions of modern-day Bolivia and Peru, where the Incas widely cultivated them.
The Spaniards brought them back to Europe in the 16th century. By the 18th century, it was a significant crop throughout continental Europe. The term 'spuds' presumably refers to the spades used to harvest potatoes.
Although the nutritional content varies depending on the variety of potatoes and the cooking method, they are an outstanding source of fiber, potassium, protein, and vitamins C and B6.
Potatoes are also rich in antioxidants, which neutralize harmful free radicals in the body and reduce the risk of chronic heart disease, diabetes, and even some types of cancer.
Learning how to tell if potatoes are bad can help you out before adding them to a recipe. Mushy, moldy tubers that are wrinkled or smell are usually only fit for the garbage.
Early-Season Types of Potatoes
Early-season potatoes require 75-90 cool but frost-free days to reach maturity. These types of potatoes are ideal for regions that have intensely hot summers. It's important to learn how deep do you plant seed potatoes to shield them from the hot temperatures.
Plant early potatoes three or four weeks before the average last frost date or anytime the soil temperature is consistently warmer than 40℉. In USDA growing zones seven and above, it is possible to grow a second potato crop in the fall, as well.
To indulge in the ultimate comfort food, try this recipe for Potatoes au Gratin, also called Dauphinoise Potatoes.
This recipe is excellent as a side dish to make ahead of time for your next potluck or dinner party. Use starchy potatoes that break down and become soft during cooking for best results.
Preheat your oven to 350℉. In a large-sized mixing bowl, mix the melted butter, cream, and garlic until smooth. Peel and slice the potatoes.
In a 9×13-inch baking dish, arrange one-third of the potato slices in an even layer. Pour one-third of the cream mixture over the layer of potato slices, then top with three-quarters cup of cheese and one-third of the salt, pepper, and thyme.
Repeat this process to create the second and third layers. However, do not top the final layer with cheese for the first hour of baking.
Cover your baking dish with a lid or aluminum foil, and bake for one hour or until the potatoes are fork-tender. Remove the foil and top the dish with the remaining cheese. Bake uncovered for ten to 15 more minutes or until the cheese begins to turn golden and bubbly.
Let stand for five minutes before serving. Keep any leftovers refrigerated in a sealed, airtight container for up to five days.
Adirondack Red
Developed by Cornell University in 2008, these beautiful red potatoes have been dubbed "heirlooms-to-be." They have deep red waxy skin over rosy pink flesh and boast a rich, nutty flavor.
They're fine for roasting or to boil potatoes for potato salad as a colorful side dish for your next potluck. The plants reach maturity in 80-90 days and are resistant to common scab, cracking, and internal defects.
Caribe Potatoes
With deep purple skin over snowy white flesh, Caribe potatoes are a favorite for making deliciously fluffy mashed potatoes.
They are also suitable candidates for harvesting new potatoes early in the growing season, ready in as little as 70 days. Plants produce large oblong tubers that are resistant to diseases like late blight and scab.
Irish Cobbler Heirloom Potatoes
This heirloom potato variety dates back to 1876. It is perfect for baking and mashing thanks to its high starch content and creamy, mealy white flesh with a pleasant, earthy taste.
The light brown skin has a rich, nutty flavor. Enjoy a generous harvest of round to slightly oblong potatoes in approximately 70 days from transplanting.
The Compact Red Norland
Red Norland potatoes were developed in 1957 by North Dakota State University. They are ideal candidates for smaller gardens, as the plants stay more compact than other varieties.
They reach a mature size of 18-24 inches wide and 20-25 inches tall and yield large potatoes with red skin and smooth white flesh in about 70 days.
The plants are also highly disease-resistant, especially to scab and stem canker. Their lower starch content makes Red Norland potatoes ideal for boiling and making potato salad.
Yukon Gold – Perfect for All Recipes
One of the most popular early potato varieties, Yukon Golds are magnificent all-purpose potatoes that mature in 80-95 days. They have a medium starch content, putting their texture between the dry, fluffy russet potatoes and moist, waxy potatoes.
They feature golden yellow flesh and skin and boast a rich, buttery flavor. Developed in the 1960s by Gary Johnston in Ontario, Canada, Yukon Gold was the first Canadian-bred potato variety sold on the mainstream market.
Mid-Season Potato Types
Mid-season potatoes are typically ready to harvest in midsummer, around 95-110 days from transplanting. They are optimal for climates with relatively cool summer temperatures and early autumn frosts.
Potato salad is a classic favorite side dish for summertime BBQs. Try this easy recipe for delicious homemade potato salad for your next family get-together.
It is best to use waxy potatoes with a lower starch content that holds their texture during the cooking process.
Boil a large pot of water and cook the quartered potatoes at a soft boil over medium heat for 20-25 minutes or until the potatoes are fork-tender. Drain the potatoes and allow them to cool until they are safe to handle.
Peel the skins from the potato pieces and cut them into half-inch cubes. Place the warm potatoes in a mixing bowl and toss with vinegar, then allow them to cool fully.
Add the hard-boiled eggs, diced celery, and green onions to the potato mixture and stir the ingredients. In a medium-small mixing bowl, whisk the mayonnaise or Miracle Whip, mustard, celery seed, salt, and pepper into a creamy dressing.
If desired, substitute sour cream or Greek yogurt for a tangier flavor. Fold the sauce into the potato mixture and season with salt and pepper to taste.
Refrigerate the potato salad for at least one hour or overnight before serving. To serve, top your potato salad with thinly sliced hard-boiled egg and paprika.
French Fingerlings
French fingerling potatoes are popular heirlooms first introduced to the US from France in the 1950s. With rosy pink skin and yellow flesh flecked with red, they are incredibly versatile in the kitchen.
Enjoy their rich, nutty flavor baked, boiled, mashed, roasted, or in your favorite potato salad recipe.
They are ready to harvest in approximately 80-100 days and are resistant to late blight and scab. French fingerlings are typically larger than most other fingerling potato varieties.
Idaho Potatoes – The Classic White Potato
Have you ever wondered, "What are white potatoes?" White potato is a broad term that usually refers to Idaho potatoes.
Since Idaho is one of the top potato-producing states in the US, the term "Idaho potatoes" is broadly synonymous with high-quality russet potatoes.
Their notable characteristics include dark brown skin with few eyes, a consistently large and relatively uniform oval shape, and floury white flesh. They are frequently used in commercial kitchens for baked and mashed potatoes or making French fries.
Kennebec
Kennebec is an excellent all-purpose potato with thin skin and creamy, firm flesh. These white potatoes are well-suited for baking, boiling, frying, and mashing.
The large, oval-shaped potatoes are ready to harvest in 80-100 days. The plants show superior disease resistance to blight and mosaic virus.
Keuka Gold – Disease Resistant
Another recent release from the Cornell University breeding program, Keuka Gold potatoes made their debut in the Public Seed Initiative in 2004.
This easy-to-grow variety is ready to harvest in 90-100 days from transplanting and is resistant to common potato diseases like late blight and scab as well as damage from nematodes.
Similar in flavor and texture to Yukon Gold potatoes, Keuka Gold is easier to grow in some climates, and the potatoes store exceptionally well.
Pontiac Red Bliss
Pontiac Red Bliss potatoes are many growers' favorites due to their being incredibly easy to cultivate. They are highly adaptable to various growing climates.
Reaching maturity in 80-100 days, these delicious red potatoes are wonderful for baking, boiling, mashing, or making chips or French fries.
Harvest new potatoes as soon as you notice the plants begin to flower or wait until they reach full maturity for larger tubers.
Purple Viking – A Colorful Variety
Purple Viking potatoes feature deep purple skin speckled with salmon-pink spots over creamy white flesh. They are exquisite all-purpose potatoes with a light, buttery flavor.
They are ready to harvest within 80-100 days from transplanting. The plants are resistant to blight, scab, and leafhoppers.
Russian Banana
This European heirloom potato cultivar gets its name from the tubers' oblong, slightly curved shape and deep golden color. They have a rich, buttery, nutty flavor and produce heavy yields of four- to six-inch fingerling potatoes in approximately 90-105 days.
Their waxy, thin skin and low starch content make them perfect for wet cooking methods like boiling or steaming.
Late-Season Varieties of Potatoes
Late-season potato types mature in 120-135 days and get harvested in late summer to early autumn. These varieties often produce heavy yields of large potatoes suitable for long-term storage.
Many fingerling potato varieties are also classified as late-season. They are a fantastic choice for climates with mild autumn temperatures.
Autumn means gardeners have plenty of veggies and herbs to use. One of our all-time favorite autumn comfort foods is roasted potatoes with savory herbs.
Starchy potatoes are best for this recipe because they get soft on the inside while staying crispy on the outside.
Preheat your oven to 425℉. In a deep roasting pan, combine all of the ingredients, tossing to coat the veggies with oil and seasonings evenly. Roast them for one hour or until the potatoes are golden brown and lightly charred.
It is beneficial to toss the veggies once or twice as they roast to prevent them from burning on top or sticking to the bottom of the pan. Allow them to cool for around five to ten minutes before serving.
All Blue or Fenton Blue
These stunning heirloom potatoes feature dark blue skin and flesh that pales when cooked. Dating back over 100 years, this variety sometimes gets called Blue or Purple Marker, River John Blue, and Fenton Blue.
Their outstanding flavor and unique appearance make All Blue potatoes excellent for baking, boiling, or mashing.
The plants are highly drought tolerant and resistant to diseases like scab and late blight. Harvest new potatoes within 100 days from transplanting. For larger, mature tubers, wait until the plant's foliage begins to turn yellow in early autumn.
German Butterball
These exceptional russet-type heirloom potatoes boast thin, golden skin over tender golden flesh with a rich, buttery flavor. They are superior all-purpose potatoes, and they store well for several months.
German Butterballs are medium to large potatoes that are ready to harvest in 100-130 days. First introduced in 1988 by David Ronniger of Moyie Springs, Idaho, it has grown in popularity among home gardeners and specialty markets.
Drought-Tolerant Katahdin
An heirloom potato developed in Maine in 1932, Katahdin remains popular today thanks to its adaptability, drought tolerance, and disease resistance.
Enjoy high yields of thin-skinned, flavorful white potatoes in early autumn. The potatoes store well and tend to be large with a round to slightly oblong shape.
Purple Peruvian
This unique Andean heirloom potato is highly drought and heat tolerant and is ready to harvest in around 110-120 days. The plants require cooler temperatures and autumn rains to set their tubers.
These starchy purple potatoes have a rich, nutty flavor and are splendid for baking, frying, and roasting. They are also unusually high in antioxidants.
They get their deep purple skin and flesh from high levels of anthocyanins, which are the natural pigments that give certain plants their blue, purple, or red coloring.
Yams vs Sweet Potatoes
Did you know that potatoes, sweet potatoes, and yams are in different plant families? There are also significant differences in yams vs sweet potatoes. Although they are all tuber vegetables, potatoes are only distantly related to sweet potatoes, botanically speaking, and yams are not related at all.
The term yam refers to several vining species in the plant family Dioscoreaceae, monocots related to grasses and lilies. They have tough, woody skin and meaty white flesh with relatively low sugar content.
Sweet potatoes, or Ipomoea batata, are vining plants in the morning glory family. Planting sweet potatoes is easy. They have a higher sugar content than yams and commonly, but mistakenly, get referred to as yams in North America.
Sweet potatoes typically have brown or red skin and orange, white, or yellow flesh.
On chilly autumn mornings, sweet potato pancakes are the perfect sweet and spicy breakfast treat. Roasted sweet potato purée is a great way to use up your fall harvest of sweet potatoes.
Start by cutting two small sweet potatoes in half lengthwise and roasting them in your oven at 425℉ for 45-60 minutes, or until fork-tender. Allow the potatoes to cool enough to handle, then peel them.
Purée in a blender or food processor until smooth. For a richer flavor, add two tablespoons of butter and salt to taste.
In a large-sized mixing bowl, stir the flour, baking powder, baking soda, brown sugar, salt, cinnamon, ginger, and nutmeg until thoroughly blended. In a second mixing bowl, combine the sweet potato purée, buttermilk, eggs, and vanilla extract.
Pour the blended wet ingredients into the mixing bowl with the dry ingredients and stir until just combined. The batter should still be slightly lumpy.
Melt a pat of salted butter in a large, heavy-bottomed skillet over medium-low heat. Spoon a third- to half-cup of batter into the skillet and cook until bubbles begin forming on top.
Carefully flip your pancake with a spatula and cook until the other side is golden, or about three minutes. Repeat with the remaining batter.
Serve your sweet potato pancakes with butter, maple syrup, toasted pecans, powdered sugar, or your favorite pancake topping.
If you have leftovers, wrap them in aluminum foil or plastic wrap, store them refrigerated for up to four or five days, and reheat them in the oven or toaster.
Potatoes are an essential food crop worldwide and have gained popularity with home gardeners in recent years. They are a staple ingredient in some of our favorite side dish recipes, from creamy scalloped potatoes to crispy chips and French fries. Interestingly, potatoes are an excellent substitute for parsnip and vice versa.
When choosing which potato types to try growing in your garden, consider your growing climate and your intended culinary uses to determine which varieties are best for your needs.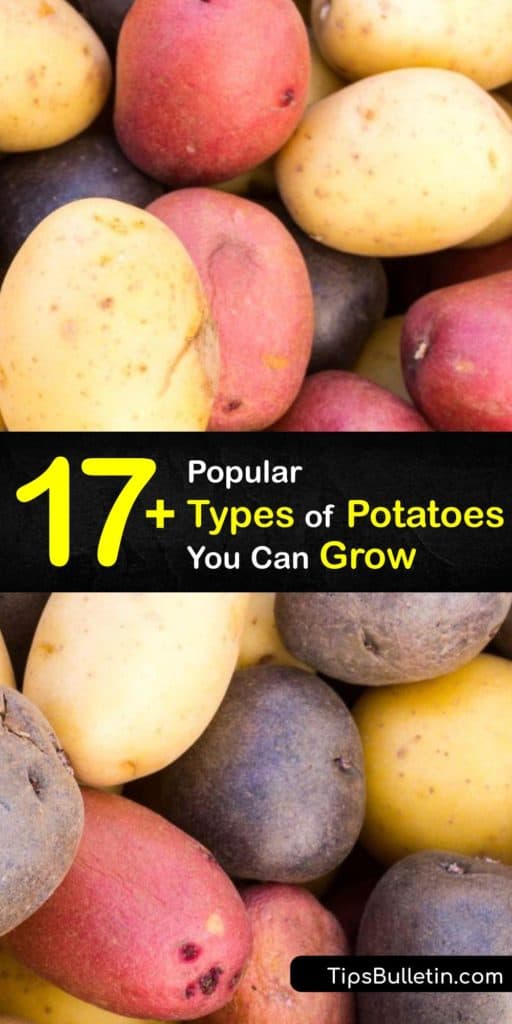 If you enjoyed this guide for common types of potatoes, please share this article about the best types of potatoes with your fellow gardening enthusiasts on Pinterest and Facebook.