Radishes (Raphanus sativus) are typically separated into kinds produced in the spring, autumn, and summer, depending on their optimal growing conditions — the types of radishes are adapted to the seasonal environmental conditions such as light and temperature.
Radishes are root vegetables with a crunchy texture. It comes in unique shapes and colors, including round, rectangular, and conical shapes and yellow, white, red, purple, and multi-colored varieties. The taste and spiciness of different types of radishes vary as well.
Radishes are surprisingly flexible and may be prepared in various flavorful ways. Some radishes are small and attractive, with crimson or white skin. These miniature table radishes come in many shapes, from plump spherical to narrow, carrot-like root shapes, and have names like Easter Egg, French Breakfast radish, and Icicle.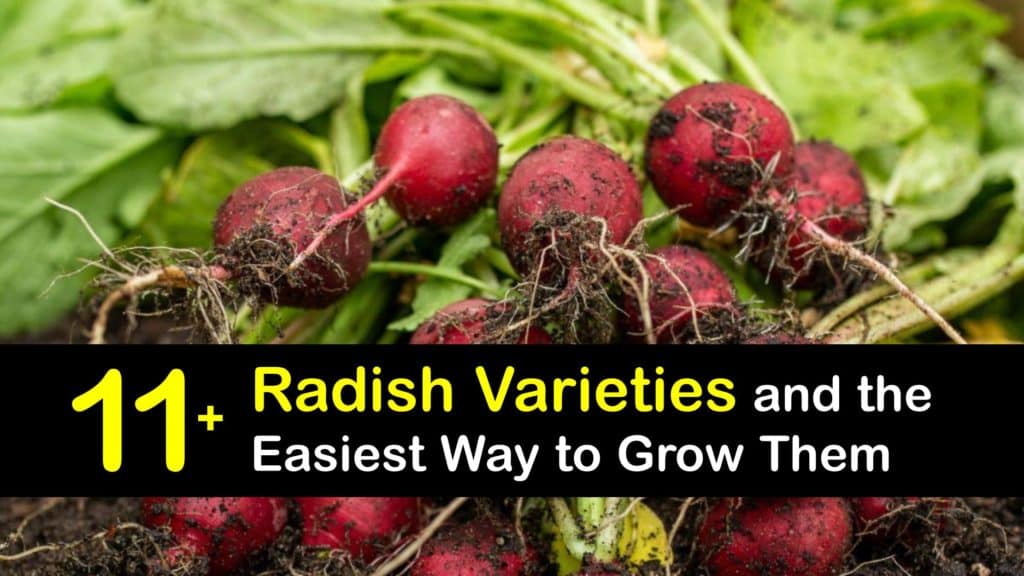 All About Radish Types
Whether you're looking for new radish types to expand your palette or hunting for the best varieties of radishes to grow in the garden or to grow radish inside on a windowsill, this article covers the many different types of radishes, common types of radishes, and how to grow them.
Radishes and turnips are popular vegetables prized for their distinct tang and crispness. The variety of radishes available is practically unlimited; they may be spicy or milder, round or oblong, huge or small, and come in an array of colors.
Radishes are one of the most straightforward vegetables to grow. Planting in the early spring and the early fall assures a continual supply of crisp, peppery roots. They are a valuable source of vitamin C and a great garden companion plant, and every portion of the radish is edible.
Although these peppery roots are commonly used in appetizers, stir-fry, and salads, they're excellent when roasted with olive oil, steamed, sautéed, or used for pickling or garnish.
Classifying Types of Radishes
One way to classify radish varieties is by their growing season.
Early season cultivars develop in the cooler months of early spring and fall and mature quickly in 20-30 days. Midseason radishes are in season and are more heat tolerant and are planted in succession between May and August as part of a July planting guide. Summer radishes are smaller and take 30-40 days to grow.
Late season radishes or winter radishes are sown all year in warm climates and late summer into October in temperate climates. Winter radishes have extensive roots and take longer to mature, requiring 60-70 days to reach maturity.
The Many Varieties of Radishes
Beyond being classified by growing season, the types of radishes available are grouped by color and flavor. Learning about common radish types helps growers select the best radish seeds to produce the varieties of radishes most appropriate for their garden and culinary goals.
Radishes are available in different sizes, shapes, and colors, including white, black, red, pink, green, and purple. The taste of each radish type varies, making it difficult to choose the best variety of radishes to grow. Learn more about the most popular types of radish to make an informed decision on which seeds to purchase.
The Horseradish
Horseradish is the radish to choose if you prefer no bitter aftertaste in your mouth. The green tops are edible, and the roots have a mild flavor. The best time to plant horseradishes is in the fall or winter, and they store well in the refrigerator for use in the spring.
Brilliant Red French Breakfast Radish
The French Breakfast radish is a bright red radish with a white rounded tip and is more elongated than a typical round radish. It has a lovely crisp flavoring and is moderately acrid.
This cultivar is one of the earliest maturing radish varieties and is ready to harvest around 25-30 days after the seedlings are planted. Its deliciousness and aesthetic appeal make the French Breakfast radish a popular choice for growers looking to explore produce not usually available in grocery stores.
The White Icicle
The White Icicle is a white radish with a 5-6 inches long cylindrical root, comparable to daikon radishes. When harvested early, it has the most delicate flavor and is eaten alone or used in salads and sauces. It takes 30-40 days for this plant to attain maturity.
Daikon Radish or Chinese Radish
White radish, Japanese radish, Chinese radish, and luobo are all names for Daikon radishes used in Japanese, Chinese, and other Asian cuisines. The vegetable looks like a huge, plump white carrot and is eaten fresh, roasted, or pickled. There are many types of daikon radish in Asia, in addition to the typical white daikon radish.
Cherry Belle Radish
One of the most loved radish varieties among gardeners is this round radish, thanks to its hardiness and tolerance. Crispy, sweet, and peppery, it's perfect for salads.
Harvest this early maturing type in as little as 23-27 days after germination for quick production of a large harvest. The Cherry Belle is recognizable by its bright red skin and white flesh.
Long Black Spanish Radishes
This black radish grows up to around nine inches in length. Despite the difference in shape, the nutrition value remains the same in both round and long varieties of similar colors and types. The Long Black Spanish radish is often either steamed or used in stir-fry.
Watermelon Radish – A Sweeter Choice
Watermelon radishes are slightly sweeter and less spicy than other radishes. This root is beige or white, with a hint of green on the outside. However, as the name implies, the color inside resembles a watermelon, with a white border around the brilliant pink.
The watermelon radish is a variety of daikon taking around 50-60 days to mature after being planted. Its growth requires only three inches of space, making it an excellent choice for container or small space gardening.
Easter Egg Radishes
This heirloom variety of radish is named because of its shape, which resembles an easter egg. It comes in a bouquet of colors, including white, red, pink, purple, and lavender.
These tiny radishes are harvested when they reach a diameter of one inch to prevent them from becoming hard and bitter. Easter Egg radishes are as decorative as they are tasty and make a fun addition to any garden.
The Crispy Plum Purple
This cultivar comes in a range of purple hues from magenta to burgundy. The root's sweet and crispy flesh, which grows up to two inches in diameter, is a visual and gastronomic delight. Because of the rich color, the Plum Purple is used to accent other foods or served on with a bit of butter and salt.
Pink Radishes
The pink radish varieties like Pink beauty, Pink Summercicle, Pink Celebration, and the Lady Slipper are known for their lovely pink skin color and rounded or somewhat elongated shape.
These petite and early maturing types are suitable for container gardening or small space gardens and are picked just a month after planting. If you're in the market for bright color and a short growing season without skipping on flavor, give one of the pink radish types a try.
The Chinese Rose Radish – A More Cold-Tolerant Variety
The elongated Chinese Rose radish is purple-red on the outside and white on the inside with pink veins. It grows early in the fall and is particularly resistant to decreasing temperatures.
It has a very distinct flavoring worth the growing experience in and of itself: it starts with a mild flavor on the palate, but then the senses are inundated with a surprisingly pungent mouthful.
Early Scarlet Globe Radishes
This red radish has a pleasing round shape and is perfect for gardeners with a shorter growing season. The Scarlet Globe is a radish cultivar that is easier and faster to harvest than many other varieties of radishes.
The globe-shaped cultivar is classified as a round radish and is ready to harvest in 25 days. The outside has a vibrant ruby red skin with a pristine white interior, making this root as beautiful as tasty.
Planting Radishes in Your Garden
Choose a sunny location with rich, loose, and well-draining soil. Growing in a container is an alternative to direct sowing radish seeds. Radishes can be packed between slower-growing plants such as carrots because they develop swiftly. Before the other plants require space, the radishes are harvested.
Radishes are helpful for loosening soil, but make sure your radishes aren't shaded by surrounding vegetation. Sow radish seeds one to two inches apart and 1/2 inch deep. Space seedlings three inches apart and make each row three inches apart for the best harvest.
Radish Care for a Large Harvest
Radish plants require full sun on most days, meaning six hours of direct sunshine. Radishes planted in the shade use more energy on leaf growth than root growth. These veggies thrive in soil that is rich, loamy, or sandy, well-draining, and slightly acidic to neutral in pH.
The earth cannot be heavy or compact, as this prevents the roots from growing properly. Radish plants require one inch of water each week on average.
Too dry soil causes the plant to go to seed or bolt and spoils the quality of the radishes by making them pithy. Overly moist soil splits and destroys the roots. A mulch layer helps to keep the soil moist.
Radishes prefer temperatures of 40-70℉. The plants bolt and lose quality if the weather is too hot. They might become rigid and woody or spongy and hollow in the middle. Once radish plants bolt, the bulb stops forming. Humidity is usually not a concern as long as the soil is kept moist and there's proper air circulation around the plants.
Harvesting Homegrown Radishes
Note when your specific radish variety is ready to harvest from the seed packet. Generally, harvest the roots when they are about one inch in diameter. The heads of the radish frequently rise just above the soil line, but you may have to pluck a radish out to see whether it's ready.
To ensure a good tang and delicate texture, don't wait too long to harvest. Pull the entire radish plant and cut off the crowns and the thin roots to harvest. Leaving the leaves on causes the radish bulb to lose moisture and nutrients.
Eat the green tops raw or cooked or store in the refrigerator for a couple of days. The bulbs keep for 1-2 weeks in the vegetable crisper drawer. They're delicious raw or cooked and suitable for salads, soups, and other dishes.
Aside from trimming seedlings, you won't need to prune your radish plants. The radishes will not develop if they are overcrowded. Fortunately, any seedlings you thin are edible. To prevent damaging the roots of nearby plants, snip them off at the soil level rather than uprooting them.
If you have a big harvest, canning radishes long term by making pickles is a popular and easy way to enjoy them year-round.
Beware of Radish Pests
Cabbage maggots, which burrow into radishes, are a common pest of all radish types. Cutworms and flea beetles also target radishes. Keep an eye on the situation to catch these insects before damaging the crop.
Growing radishes behind floating row covers may avoid pest problems. Downy mildew and black root are some of the diseases harming radish plants. Maintaining adequate growing conditions helps avoid numerous ailments and aids in producing a bountiful harvest.
Radishes are a fun garden project for any grower level and are suitable for the smallest gardens or a container. Like broccoli, kale, cabbage, cauliflower, and collards, radishes are annual vegetables belonging to the Brassicaceae family.
Along with other cabbage family members, they are excellent additions to the vegetable garden. The many different types of radishes mean it's easy to add something unique to your home garden by selecting radish types not usually available at the grocery store.
Add a few varieties of radishes to your plot and reap the rewards of delicious root veggies produced quickly.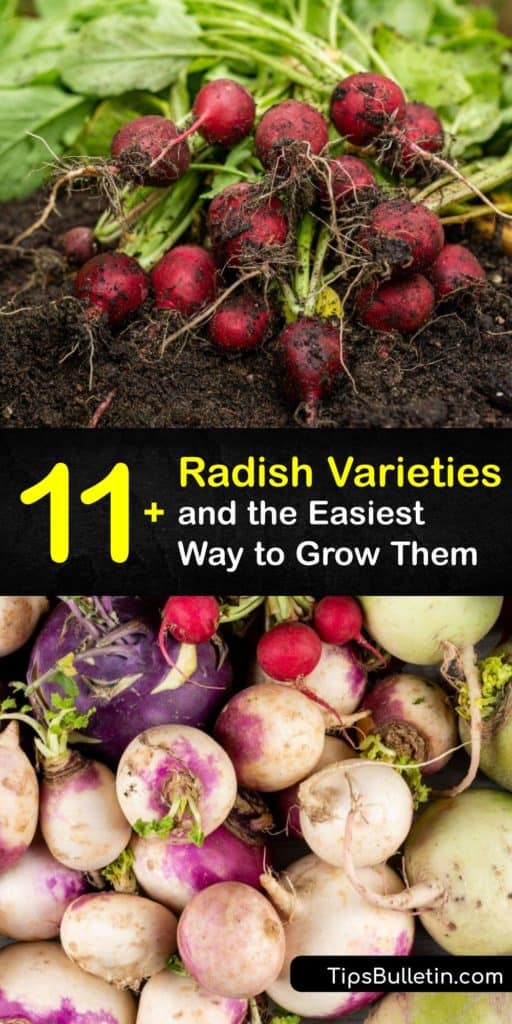 If you loved this article on the different types of radishes, please share this brilliant information on radish types with your family and friends on Pinterest and Facebook.