If you live on land once used for farming, you may find green stalks poking through your yard. Their smell may trick you into thinking they're onions, and you're partially correct; these stalks belong to scallions. There are different types of scallions throughout the world. They are sometimes known as green onions because they are very young onions.
This naming creates confusion as a green onion may refer to scallions or onions harvested early. The difference is that scallions do not produce bulbs. Scallions are among the easiest veggies to grow in any climate. Their versatility makes scallions an ideal vegetable for your garden due to the types of scallions available.
With varying shapes and flavors, choosing the right scallion to include in your next dish or deciding which to grow is a tough decision. In this article, we review several scallion types and their uses.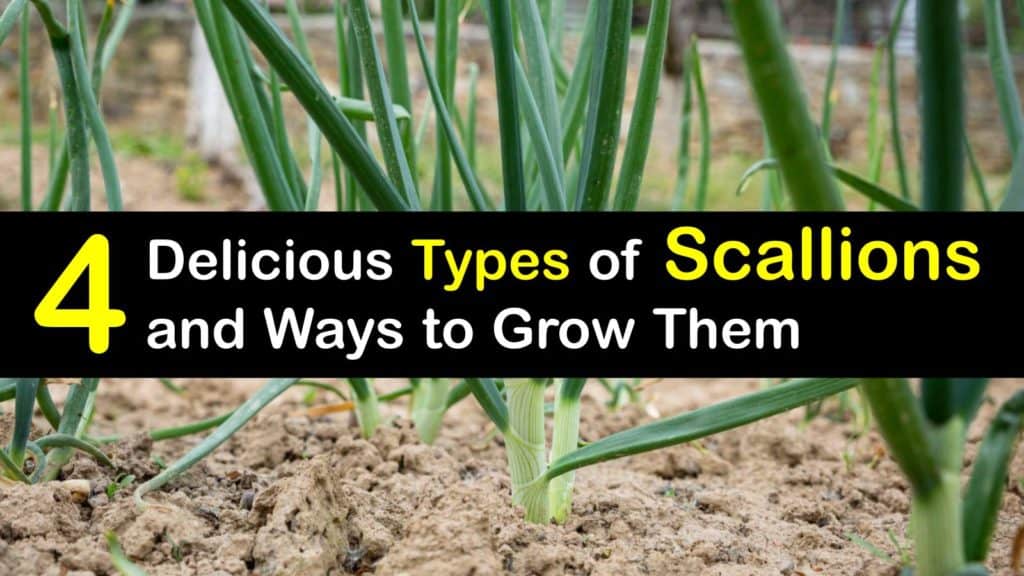 Scallion Types and How to Grow Them
Also known as spring onions, scallion types are separated by their growth, taste, and shape. Scallions are very easy to grow and taste delicious in all kinds of recipes. Explore some popular scallion varieties, methods for using them in food, and how to grow them until it is scallion harvest time.
It's possible to grow from green onions bulbs with scraps in water and you get tasty onion shoots for a garnish to to add to another dish.
Evergreen Long White Bunching (Allium fistulosum)
Evergreen Long White Bunching, also known as the Welsh onion, is a common scallion variety that does not form bulbs. These bunching onions are common in your grocery store.
Their fast growth and resistance to cold make them staples in gardening. Chop the green part of scallions as a garnish in Asian cuisine dishes like stir-fry, and use the white section in pasta and casseroles.
Leeks (Allium ampeloprasum)
Leeks belong to the same genus as bunching onions and are related to pearl onions. Leeks form small white bulbs beneath the ground with green tops that grow up to three feet high.
In farmers markets, leeks are cut to one foot because the tough green leaves are generally not eaten. Leeks are oniony in taste, have a mild flavor, and work well with pasta and soups.
Plant leek seeds in deep holes and space six inches apart; this allows the stem and bulb to grow while hidden from the sun, producing a more succulent stem.
Chives (Allium schoenoprasum)
Chives and scallions belong to the same family as bulb onions and grow in clumps that produce more delicate hollow leaves than ones made by onions. The taste of chives is more subtle than the typical onion flavor, and they are often used to add flavor to dips and mashed potatoes.
When planting chives, sow seeds two inches apart, no more than ¼ inch deep, and cover with soil. Once seedlings emerge, thin them out so the plants are spaced four to six inches apart in all directions. Chives grow best in full sun with moist, well-draining soil.
Onion (Allium cepa)
Among the different species in the Allium genus called scallions is the common onion. Regular onions are the most familiar vegetable in its genus. There are numerous green onion varieties and more, such as white onions, yellow onions, and red onions, which have the stronger flavor of the common types.
In the kitchen, these types of onions have a variety of uses, from being incorporated in a side dish, a vinaigrette, or infused into olive oil.
Plant the different kinds of onions in early spring in a garden or a raised bed. Place seeds six inches apart and in rows that are one foot apart. Onion seeds grow well in a sunny area with well-draining soil.
Scallions only take a few weeks to grow. Sow once a week for a continuous crop.
Dealing with Common Pests for Scallions
Some insects avoid crops with strong smells, but even members of the onion family are not immune from pests.
Nematodes inject toxins into the root system of plants, causing the tops to turn yellow with blackened tips. Maggots feed on the bulb of onions and with scallions, maggots cause the seedling to die. If your scallions or green onions are affected by either, it's recommended to destroy the plant to avoid spreading pests to other plants.
Thrips are insects that cause white streaks or blotches to form on the tops of your plants. For a thorough removal method, create an insecticidal soap spray.
Dilute rubbing alcohol in water to kill pests and add mild liquid dish soap to allow your spray to cling to the leaves of your plant.
Uses for Various Types of Scallions
In the culinary world, varieties of scallions are chopped as salad onions, whereas sweet onions, like Vidalia onions, are sauteed with vegetables. Shallots, part of the Allium genus, are used to create vinaigrette. In Mexican culture, scallions are grilled until crispy and eaten with cheese and rice.
Growing Varieties of Scallions
Plant varieties of scallions as indoor plants four to ten weeks before the last frost in your area. Plant scallion seeds in containers at least six inches deep and cover with a starting formula. Water your seeds and once seedlings emerge, place the container on a sunny windowsill.
When your seedlings have grown several inches, transplant them into pots or begin the process of hardening outside for an hour a day until your scallions stay out for seven full hours. Hardening prevents transplant shock and toughens their cell structure before transplanting into your garden.
If you enjoyed reading about different types of scallions, please consider sharing this article on common types of scallions with your friends and family on Facebook and Pinterest.