You might not think of turnips as the most exciting garden vegetable, but that's probably because you haven't taken the time to grow a few of the best cultivars mother nature has to offer. Of all the different types of turnips, there aren't many that most gardeners are familiar with.
When you garden with uncommon varieties of turnips, you start to realize that they all have different flavors. They also become more or less useful in the kitchen, depending on the recipe you're cooking or the goal you have in mind.
There are dozens of turnip types to grow. You might have to keep an eye out the next time you're at your local nursery. While some places offer a good variety for your home garden, most like to stick to some of the more well-known varieties of turnips.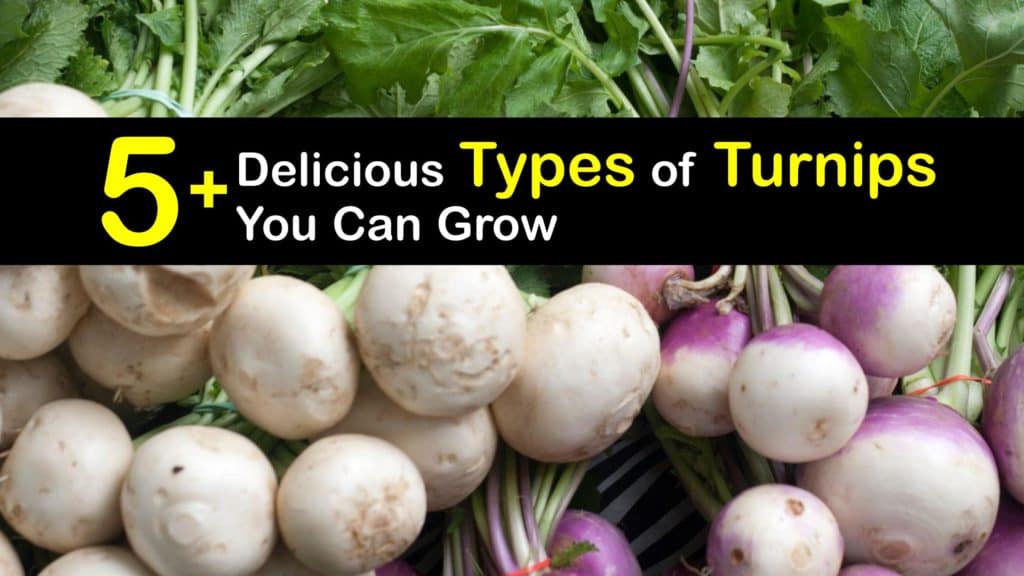 What is a Turnip?
By the end of this article, you'll not only have a list of some of the top turnip varieties, but you'll also know how to grow these root vegetables.
Turnips are called Brassica rapa. They are root vegetables that are related to mustard greens and kohlrabi. There is a long history of human cultivation of these crops.
The most common types of turnips have slightly hairy leaves, small yellow flowers, and white bulbs with red and purple tops.
Although you are probably more comfortable with purple top turnip roots that look like radishes, there is a whole other world of turnips with unique flavors and colors.
During World War I, turnips were a staple crop because they helped save so many people from starvation. Some of our most popular varieties of turnips have been around for hundreds of years and have proven to be an excellent cool-weather crop.
Turnips are rich in vitamin C, potassium, calcium, and folate. Their white flesh is low-calorie with a somewhat sweet flavor, and their green tops are the perfect addition to your favorite collard greens recipe.
For low-carb eaters, substitute turnips for potatoes. Do turnips taste like potatoes? They have similar flavor and work great as a mashed dish. The same applies to turnip or rutabaga.
How to Propagate Different Types of Turnips
When you have so many different turnip types to choose from, you often can't wait to get started on growing your own at home.
Turnips make the perfect fall crop where you can sow seeds in the late summer and have them appear in early spring. However, you may grow them as a summer crop too.
Sow seeds directly into well-draining soil and in a location with full sun or partial shade. Plant them as soon as the soil temperatures reach 40°F.
Remember that turnips thrive in cooler weather. Too much heat could cause roots to be woodier. For hotter growing zones, harvest the turnip greens quickly and sow more seeds every few weeks for a longer turnip season.
How to Grow Turnips
The way to plant turnip seeds is easy. Growing turnips is smart because the heirloom varieties are fast-growing, low-maintenance, and reliable.
You do not need to fertilize plants once they are in the ground. Instead, ensure that the soil is rich with organic material before you sow seeds. If you didn't beforehand, amend the soil with organic fertilizer or compost.
To prevent plants from getting waterlogged, mulch the entire area with hay or straw. Thick layers of mulch also help to protect the baby turnips from frost damage.
The Different Varieties of Turnips
There are quite a few different turnip types you might not have heard of before. Keep a somewhat open mind, and you might find your new favorite cultivar.
Also, just because a veggie looks like a turnip doesn't mean it is one. Rutabagas, also called swedes, are often confused for turnips because of their white skin and purple tops. These are two completely different plants.
Purple Top White Globe
We had to start with one of the most common types of turnips. The name of this crop is self-explanatory. These turnips have purple tops and white bodies.
They mature in about 55 days and grow four to six inches across. These biennial plants have a slightly spicy flavor that is perfect for stews.
Heat your kitchen oven to 325°F and heat the room temperature oil in a large Dutch oven on medium-high heat. Cook the beef chunks until browned on all sides and set them aside.
Add the beef stock to the pot and scrape up the brown bits on the bottom. Add the meat back into the pot. Drop in the onion, sauce, bay leaves, caraway seeds, and half of the salt.
Cover the Dutch pot and bring everything to a boil. Bake the food in the oven for two hours. Increase the temperature to 375°F.
Add the carrots, potatoes, turnips, and mushrooms to the hot pot and bake everything for an additional 45 minutes before removing the Dutch oven from the oven and serving.
Scarlet Queen
For a fun burst of color in a salad, try to grow the Scarlet Queen cultivar. These bright red turnips are flatter in shape and mature in as little as 45 days.
The flavor is crisp and sweet. They pair nicely with honey, lemon, carrots, and parsley.
Golden Ball
The name of these turnip types says it all. This veggie has a golden skin color and sweet, almond-like taste. They are about five inches in diameter and reach maturity in about 45 days, although some people harvest them early.
Gilfeather
The heirloom variety is a hybrid between turnip and rutabaga. They are harvested in about 75 days, although the taste depends mainly on the quality of the soil. The best ones have white flesh with a sweet taste. They almost resemble a potato.
Seven Top Turnip and Topper Turnip Types
These two types of turnips are best for their delicious and nutritious turnip leaves. Each plant is between 18 and 22 inches long. To get the best flavor, try to harvest the leaves while they are still young and super tender. Taste preference is the biggest difference between collard greens and turnip greens when cooking. Turnip greens tend to be sweeter.
Hakurei
These are tiny little turnips, with each bulb only being two or three inches in diameter. They are best for the crispy bite that they add to a salad, and they have a sweet flavor. Most of them are white with hairless greens.
Shogoin
Also called the Japanese turnip, this is one of the oldest varieties. Each bulb is six to eight inches wide and 18 to 20 inches tall.
They are ready to harvest in about 55 to 70 days, although the greens only take about 30 days and are delicious as well.
Alltop Turnip
Alltop turnips are almost root-free. Instead, people buy these to strictly grow their greens. They are thick and large and can be harvested multiple times throughout the season.
Turnips may not get you as excited as squash or tomatoes, yet these crops have some of the deepest histories and have kept families fed for hundreds of years.
They are extremely versatile and truly deserve more appreciation in the home garden. While all types may not be for you, we are sure that there are a few that you'll end up loving.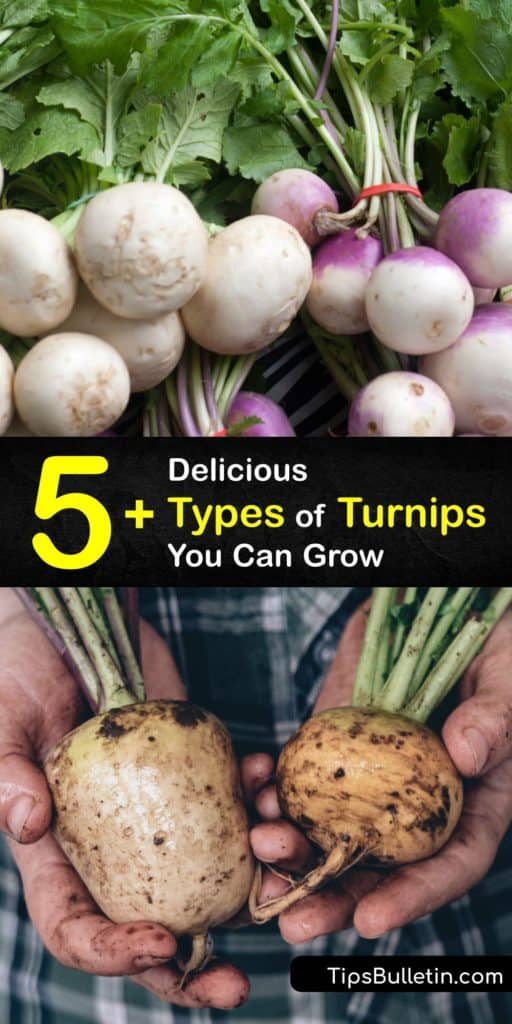 If this list of the different types of turnips has helped you work with some new cultivars, share our guide to some of the top varieties of turnips on Facebook and Pinterest.