Were you aware that there are over 50 different types of watermelons? From seedless watermelons to unusual cultivars with yellow or orange flesh, the options are endless. In this article, discover the best varieties of watermelons to plant in your garden.
Watermelons, or Citrullus lanatus, are warm-season vining plants native to the Kalahari Desert in Africa. They belong to the Cucurbitaceae plant family, along with cantaloupe, cucumbers, and squash. They are related to different types of gourds like pumpkins.
The fruits usually have a light green rind with dark green stripes. Although red flesh is most common, there are also orange, yellow, and white varieties of watermelon.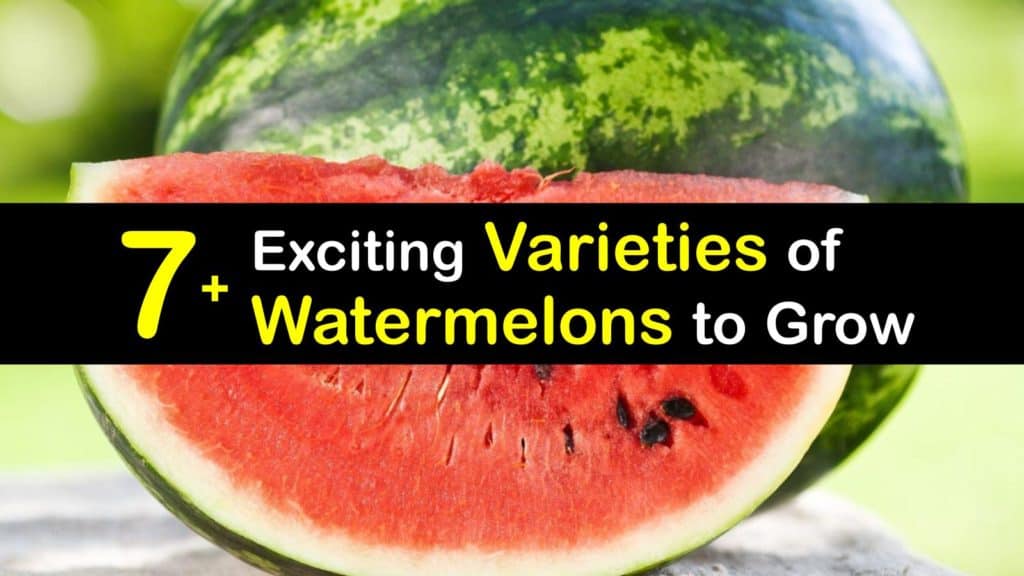 Best Varieties of Watermelons for Home Gardeners
Just as there are many varieties of cantaloupe, there are several significant considerations when choosing which watermelon types to grow. These include the length of your growing season, your available garden space, and your intended culinary uses.
Read on to discover how to select the perfect watermelon types to suit your home garden.
When you grow melons, it's essential to understand the differences between the most common types of watermelons. The various cultivars differ slightly in their growth habits and harvest times. No matter which type you prefer, starting watermelon seeds indoors is a wise idea.
Many growers choose seedless varieties for easier eating. Seedless watermelons are hybrid cultivars carefully bred through hand-pollination.
The goal is to be triploid, meaning they have three sets of chromosomes and are therefore sterile. If you'd like to try saving watermelon seeds to grow next year, choose a seeded variety.
You know when to harvest a watermelon of the Icebox variety because they produce small to medium-sized fruits that can easily fit into a standard icebox. The fruits range from personal-sized to big enough for a small family to share and weigh between five and 15 pounds.
Picnic watermelons are the largest varieties, producing extra-large melons for the perfect picnic gathering. They often weigh as much as 45 or 50 pounds.
Seedless Types of Watermelons
Years of selective breeding have produced varieties of watermelons that don't grow large, black seeds or pips. Although they're not genuinely seedless, these watermelon types only make tiny, underdeveloped seeds that never fully mature.
Try this simple recipe for tangy watermelon fruit salad for an unusual twist on a traditional summer side dish.
Toss the red onion and watermelon cubes in a large bowl, then refrigerate until they're cold. Just before serving, add the nuts and salad greens.
Drizzle with the oil and vinaigrette and toss to coat the ingredients evenly. Top with goat cheese crumbles and enjoy immediately.
Black Diamond
The best way to plant watermelon of the Black Diamond type is to start them indoors. This drought-resistant heirloom watermelon variety produces a prolific harvest of oblong melons weighing up to 50 pounds. The dark green rind appears almost black, and the juicy red flesh is enticingly sweet. Allow 75-90 days from planting seeds to harvest.
Millionaire
Millionaire is an award-winning hybrid cultivar that grows a bumper crop of delightfully sweet, seedless watermelons. Unlike cantaloupe or muskmelon, the rinds have dark green stripes with bright red flesh underneath.
The oblong fruits usually weigh between 18 and 22 pounds and reach maturity in 90-100 days. The plants are resistant to anthracnose and fusarium wilt.
Icebox Watermelon Types
The smallest types of watermelons are icebox watermelons. The plants typically have a more compact growth habit and mature quickly, making them ideal for gardeners with a short season or limited space.
To indulge in a tempting summertime treat, try making a refreshing watermelon and mint mojito.
Mix the watermelon, mint leaves, and lime juice in your cocktail shaker and muddle until the watermelon breaks up. Fill the shaker with ice and incorporate the rum and simple syrup.
Shake until cold, and pour the contents into a glass without straining. Top off with chilled club soda, and garnish with fresh watermelon and a mint sprig.
Sugar Baby
This beloved heirloom watermelon cultivar produces super-sweet, round melons weighing between eight and ten pounds each.
They have dark green skin, and the bright red flesh has a firm, fine-grained texture and high sugar content. The usual harvest time is about 75-85 days.
Tiger Baby
Tiger Baby watermelons have light green rinds streaked with dark green stripes that turn golden yellow once mature. They have pale red flesh that's extra-sweet. They ripen in 80-90 days.
Yellow Doll
Yellow Doll is an unusual hybrid variety with sunny yellow flesh underneath a thin, green striped rind. The round to oval-shaped fruits weigh five to seven pounds each, making them a perfect summertime snack. The early-maturing plants produce fruit in as little as 65-75 days.
Picnic Types of Watermelons
If your goal is growing a contest-winning giant watermelon, choose a picnic watermelon variety. Be sure to give the long vines plenty of room to spread or train the plants to grow vertically on a trellis.
Tie pieces of flexible fabric to the frame like hammocks to support the weight of the heavy melons. If you have an abundance, learn how to preserve and store watermelon. For using fresh watermelon, try spicing up your summertime dinner menu with this creative recipe for pan-seared watermelon steak.
Start by making a balsamic reduction by simmering a half-cup of balsamic vinegar in a small saucepan over low heat. Whisk occasionally until the volume gets reduced by about half, then set aside.
Next, cut a large watermelon in half lengthwise. Place the flat side down and cut two-inch slices. Trim off the rind and create a roughly rectangular watermelon steak. Pat them dry, and refrigerate uncovered for one or two hours to dry out the excess moisture.
Meanwhile, prepare the marinade by combining the oil, liquid smoke, minced garlic, salt, and pepper in a small mixing bowl. Whisk the ingredients until blended.
Brush both sides of each watermelon steak liberally with the marinade. Sautée over low heat in a large, heavy-bottomed pan for about 5 minutes on each side.
Increase the heat to medium-high and sear each side for one more minute, or transfer your watermelon steaks to a pre-oiled grill and cook until char lines develop.
To serve, top the steaks with your balsamic reduction. Feta cheese, mint leaves, and baby greens make excellent garnishes.
Allsweet
These heirloom watermelons average 25-30 pounds and taste heavenly. The plants are highly disease-resistant, making them an outstanding choice for organic gardeners. Allsweet watermelons are ripe for picking after about 90-100 days.
Charleston Gray
Charleston Gray is a big, juicy heirloom watermelon weighing around 25-30 pounds and maturing in 85-100 days.
The rind is a gray-green color, and the bright red flesh has a crisp, smooth texture. These melons store exceptionally well, and the plants are resistant to fusarium wilt.
Crimson Sweet
Crimson Sweet watermelons are widely popular thanks to their high sugar content and ease of care. The plants are highly disease-resistant and reliably produce high yields of large green-striped melons with deep red flesh.
They weigh between 20 and 25 pounds. Expect your watermelons to be ready to harvest in 80-90 days.
Jubilee
These large, juicy watermelons grow in an elongated shape and often weigh 40 pounds or more. The bright green rind has contrasting dark green stripes, and the bright red flesh is rich and flavorful. The plants are disease-resistant and mature in 95-110 days.
If you'd like to grow watermelon plants in your garden, you're in for a real treat. With so many different watermelon types to choose from, it's fun to try a few unusual ones along with your classic favorites.
Grow icebox watermelons for personal-sized snacks, or try planting picnic watermelons for sharing among friends and family or making yummy recipes for desserts and cocktails.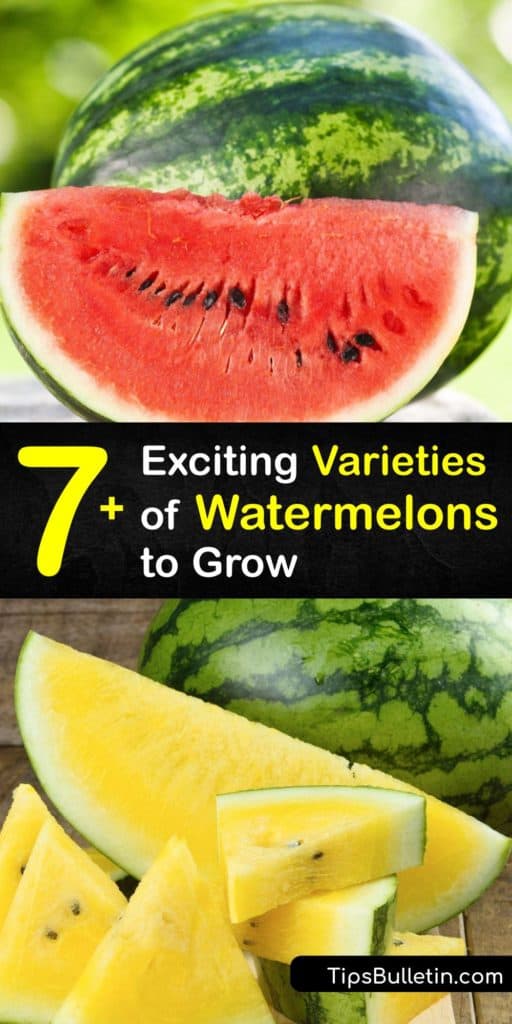 If you enjoyed learning about all these varieties of watermelons, please share this article about the best types of watermelons to grow with your fellow gardening enthusiasts on Pinterest and Facebook.