The zucchini and squash plants that we know and love today were once called green Italian zucchini, and the United States barely gave them any recognition until the 20th century. As time passed, we have started growing different types of zucchini that millions worldwide love eating.
Almost all zucchini varieties are affordable and easy to grow in a garden. They are also a quick solution to add extra nutrition to savory dishes and desserts. If you didn't already know, there are various types of summer squash and winter squash. Summer zucchini types have soft edible skin, and winter squash has a thick, inedible rind.
The insides of summer squash are tender enough to eat raw. They are usually harvested throughout the early to late summer, although they don't keep in the refrigerator for more than a couple of days. On the other hand, winter squash is harvested from late summer through fall, or sometimes into early winter. These are ideal for long-term storage, and the insides are firmer and require cooking to soften them.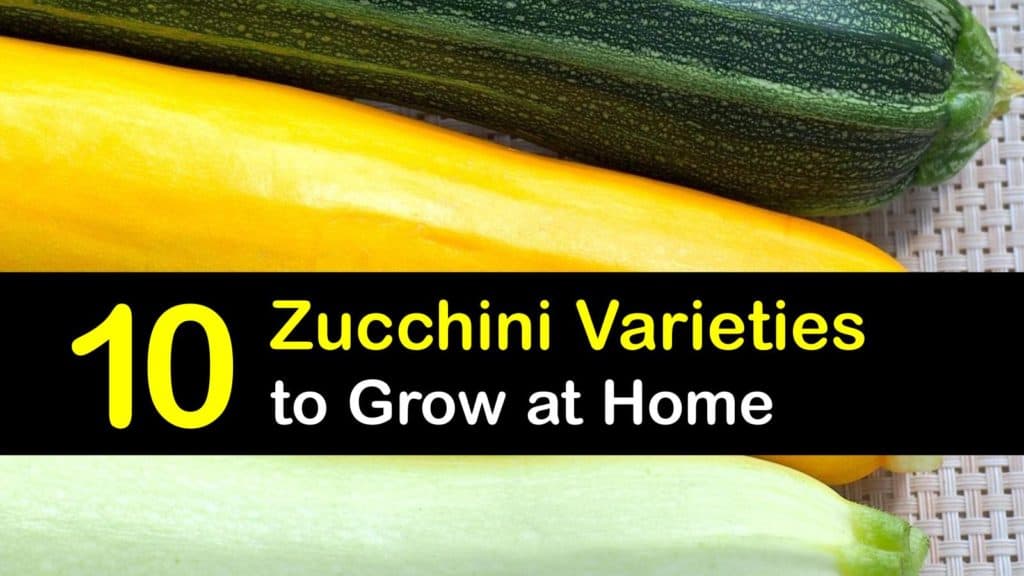 History of Squash Plants
We have compiled a list of the best varieties of zucchini for you to add to your summer garden beds.
We haven't met a zucchini that we didn't like, but some people have pickier tastebuds and prefer to try different types of zucchini to find their favorite. It's also important to know the difference between zucchini vs squash, as there are many different varieties of squash and zucchini, and they all have different flavor profiles.
The proper name for squash is Cucurbita pepo. They are a family member of the Cucurbitaceae group that includes similar green fruits like a gourd or cucumber. Green zucchini, also called a courgette, is relatively new in the culinary and gardening world.
They originate from Mexico, and researchers believe they have been around for about 7,000 years.
There are currently eight horticultural groups that summer squash falls under, with many cultivars within those groups. The eight groups are cocozelle, crookneck, straightneck, vegetable marrow, zucchini, and scallop.
Most of the types of zucchini that we know today are Italian heirloom cultivars since they first emerged in Italian agriculture and cuisine. Heirloom zucchini tend to be more disease-resistant than others.
However, the zucchini types you choose to grow are up to you. Summer squash is grown in temperate climates worldwide and is a staple in Middle Eastern, Japanese, Italian, Indian, Turkish, and American cuisines.
Types of Zucchini
If you're a zucchini lover, you should branch away from eating the same old zucchini varieties. Use this list to find a cultivar that is easy to grow in your region and start cooking with it once it's ready for harvest.
The Most Popular Zucchini Types: Black Beauty
The Black Beauty is the most popular of all zucchini varieties. These are easy-to-grow plants, and the fresh zucchini goes well in soups, gravies, salads, and even desserts.
This plant is an heirloom squash prized for its dark green, almost black, color, and creamy white flesh. Some of these plants grow up to 24 inches long and harvesting squash can occur in as little as 50 days.
Gourmet Gold Zucchini
Yellow zucchini is another common cultivar. These are similar to green zucchini with a more vibrant, sunny yellow color.
The flavor of this squash takes on the flavors of the spices cooked with it. Many cooks like to use this zucchini type in a frittata because of the soft texture.
Melt the knobs of butter in an ovenproof pan over medium heat. Turn the heat to medium-high and add the zucchinis and onion. Sauté everything for about 12 minutes or until the onion is tender and remove the pan from the heat.
Whisk the egg with sour cream and a pinch of salt and pepper. Pour the egg mixture into the hot pan and bake it at 350°F for about 35 minutes or until the edges around the pan are brown. Sprinkle it with fresh basil before serving.
Gadzukes Zucchini
One of the most striking zucchini varieties is Gadzukes zucchini. They have interesting skins with light green and dark green stripes that move down the body.
They also have a sweet, flavorful taste that goes well in curries and stir-fries. Canning shredded zucchini is a great preservation technique. These plants bear fruit about 50 days after planting and never become too tender to eat.
Rampicante Zucchini
These fruits aren't as popular as others listed here, but they are incredibly versatile because they grow in summer and winter. This evergreen squash grows exceptionally long and continues growing on the vine.
Some people prefer to harvest Rampicantes while shorter, but they are ready to pick at the length you desire as long as the skin has a lime green color with dark stripes on the outside.
Crookneck Squash
Crookneck squash is identifiable by its vibrant yellow skin and distinct neck shape that curves to the side. They are long and slender with sweet but mild flavors.
These are excellent types of zucchini for those who like having high yields at the end of the growing season. We prefer to use this squash to make casseroles.
Heat your kitchen oven to 350°F. Slice your squash and place them in a medium saucepan. Cover the squash with water and add salt. Heat the pan over high heat on the stove and boil for 15 minutes until tender.
Peel and dice your onion while the squash boils. Drain the squash when it finishes cooking and mash it in the same pan with the onion, half a cup of the cheese, and two tablespoons of the butter.
Stir in the egg and mayo and spoon everything into a casserole dish. Top the squash mix with breadcrumbs and the remaining cheese and butter. Bake the squash casserole for 30 minutes until bubbly and brown.
Unique Zucchini Varieties: Round Zucchini
Most of the squash we are familiar with are long and cylindrical. Round zucchini is the first spherical squash to make the list, although the flavor isn't much different from the other types of zucchini.
The wider surface area of these plants is better suited for stuffing them while you cook and holding in the flavors of other tasty ingredients. You could also cut them into rounds and try grilling them for an easy summer snack.
Pattypan Squash
Pattypan squash comes in colors like pale green, yellow, cream, and dark green. These are small zucchinis that are only four or five inches across.
It is easiest to use them by chopping or slicing them and roasting, grilling, or sautéing them over high heat. These squashes have a nutty flavor compared to more common yellow zucchini but are delicious nonetheless.
Cousa Squash
Cousa squash is another variety with a round shape. They have a speckled green exterior with glossy skin. Cousa is an excellent plant to use in Middle Eastern cuisine. The flavor and texture are sweeter and more tender than other zucchini, attributed to its super thin skin.
Cut the tops off the Cousa squash and hollow each one out with a spoon, careful not to poke through the bottom. In a mixing bowl, combine the beef with the rice, salt, pepper, and half of the minced garlic and mint.
Pour the canned tomato juice into a large pot and start heating it over medium-high heat. Stuff each Cousa squash and leave some space at the top for it to expand.
When the tomato juice comes to a rolling boil, gently set the stuffed squash into the liquid. Allow the squash to boil as long as it takes for the meat and rice to cook through.
Caserta Squash
The Caserta squash variety is an award-winning cultivar. The fruits grow 16 inches long with thin skin. The bodies are narrow at the top and more bulbous at the bottom.
They have light green exteriors with specks of forest green throughout. How long does zucchini take to grow if it's of the Caserta variety? These squashes germinate in less than ten days and are ready for harvest in about 60.
Acorn Squash
We didn't mention many winter squash here, but the acorn squash is one you don't want to miss. This squash is named after its acorn-like shape and ridged exterior.
Colors range from green to orange to yellow. You have to roast this squash for some time, but the sweet flavor is worth the wait.
Heat your oven to 400°F. Microwave the squash for one minute to make it easier to cut into. Cut the acorn squash in half from the stem to the bottom. Use a metal spoon to scrape the stringy interior and seeds out.
Grab a sharp knife and score the insides in a crosshatch pattern. Place each half on a roasting pan and pour a quarter-inch of water on the bottom of the pan to prevent the acorn squash halves from burning.
Rub half a tablespoon of butter on the insides of each piece and sprinkle it with salt. Crumble one tablespoon of brown sugar over the top and then drizzle each with a teaspoon of maple syrup.
Let the squash roast for an hour and 15 minutes until brown with soft flesh. Remove the squash from the pan and spoon over the remaining butter, syrup, and brown sugar before serving.
Caring for Zucchini Plants
The way to plant zucchini is simple enough even for beginning gardeners. Growing zucchini successfully is all about the location. These plants are not picky, yet they do have a few demands. Do you know what to plant with zucchini? Beans and spinach are excellent companions.
Give squash plants fertile soil amended with manure or compost and allow ample space between each plant to stop molds and diseases from spreading.
Zucchini do best in a soil pH between 6.0 and 7.5. Choose a location in the yard with full sun. If using a vining plant, make sure there is support for them like stakes or trellises.
Do not plant seeds outside until the temperatures are consistently above 55°F. Add a layer of organic mulch around the plants once they form two sets of true leaves.
Managing Pests and Diseases
Zucchinis may be easy to grow, but they are also prone to attracting certain pests and diseases. The most common gardening issues you may face when growing different types of zucchini are mosaic virus and powdery mildew.
The mosaic virus causes discolored foliage on infected plants. Unfortunately, there are no cures for the disease, so it is best to use resistant varieties when choosing which types of zucchini you want to plant. If a zucchini is soft is it still good? Usually not, but cut into it to be sure.
Powdery mildew, on the other hand, is simple to get rid of and more manageable. The easiest way to prevent it from coming in the first place is to make a homemade spray.
Mix the baking soda, oil, soap, and water in a large, clean bucket. Add the garden solution to a sprayer and spray your squash plants every one to two weeks throughout the growing season to prevent powdery mildew from taking over your garden.
Zucchini has become common in fruit and veggie gardens, but people tend to stick to the same zucchini types year after year.
There is a lot more that this species has to offer than the same flavors and textures every summer. With these zucchini plants suggestions, we know there is at least one that you'll gravitate toward.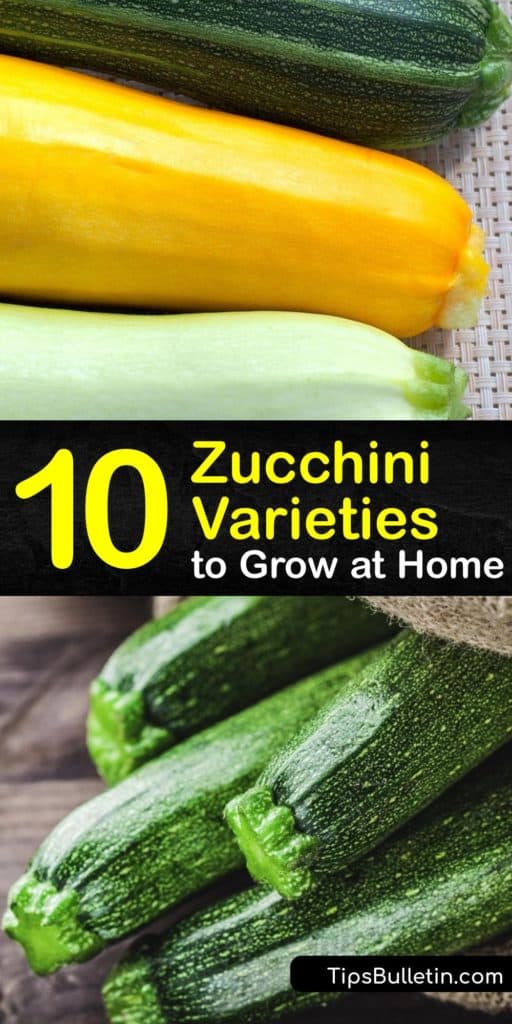 If these different types of zucchini have pushed you to try growing new cultivars, share this guide to grow zucchini varieties on Facebook and Pinterest.