Are you looking to make a bold statement in your yard while getting the attention of those passing by? Impressive structures such as a fence or arbor are often the go-to when creating an exciting landscape. But, nature is full of the weird and exotic, including many unusual trees.
We all love a good oak tree, with its strong and mighty display, but there is just something about rare and strange trees that seem to defy reality. Some of them grow so large that it boggles the mind, while others look like they emerged from a child's imagination.
Nature has more to offer than everyday pine trees and cherry trees. While those trees are beautiful in their own right, they lack the unique appearance that other plants carry with pride.
While not all of these trees are easy to grow, their strange and stunning display is well worth the effort.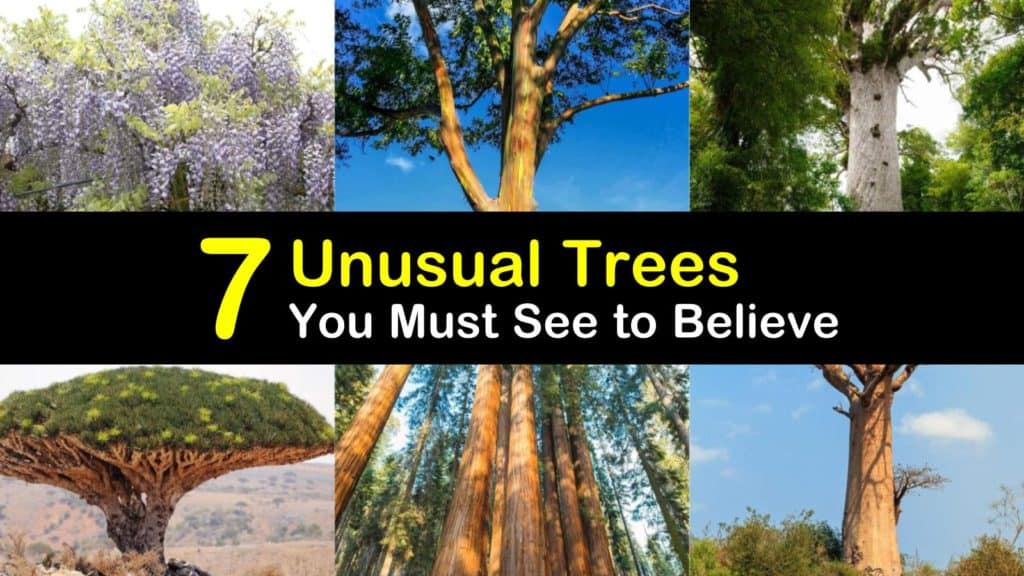 The World's Most Unusual Trees
Sometimes, mother nature has a peculiar sense of humor when it comes to creation. The world is full of wonderful and strange trees if you know where to look, and many of them are simple to grow right in your backyard.
Choose from trees with unique characteristics, dwarf landscaping trees, or towering behemoths. There are unlimited possibilities.
What Makes a Tree Unusual?
We often define the unusual by something uncommon, different, or unique. That said, if you live in an area where all you have is tall pines, an old live oak draped with Spanish moss is probably unique to you. Likewise, if you live in the deep South, trees with orange leaves in fall are startling, too.
However, a few trees are so out of the ordinary and bizarre that they are strangely appealing. Their shape, height, color, or canopy is strikingly different from common trees and is a treat to add to the landscape.
What Should I Look for When Tree Shopping?
When looking for a new tree, there are several things to consider. How large does the tree grow and how much space you have are important factors. Narrow your search based on the size and hardiness zone.
Do you want deciduous or evergreen trees? Deciduous trees are a delightful addition to the landscape with their fall leaves. However, if you crave a tree with year-round foliage, then evergreens are the best choice.
Do These Unusual Trees Grow Anywhere?
Unfortunately, these trees do not grow everywhere. Some of them prefer warm, southern climates, while others enjoy cooling themselves in northern areas.
It's vital to pick a tree with a USDA hardiness zone range that matches your location. Dirt and wind also play a role in where these trees grow. Some trees that grow near the ocean do not fare as well inland and vice versa.
While some are satisfied digging their roots into dry or sandy soil, others, such as the cypress tree, prefer moist, well-drained dirt. Check the soil-type for your area and compare it to the needs of the tree before purchasing.
Are These Trees Hard to Grow?
These trees are relatively easy to grow under the right conditions. The key to low-maintenance landscaping is to choose the appropriate plants for your area, make sure you give them the type of soil and sunshine they need, provide them with ample space to grow, and keep them tidy by removing dead or diseased branches.
Socotra Dragon Tree (Dracaena cinnabari)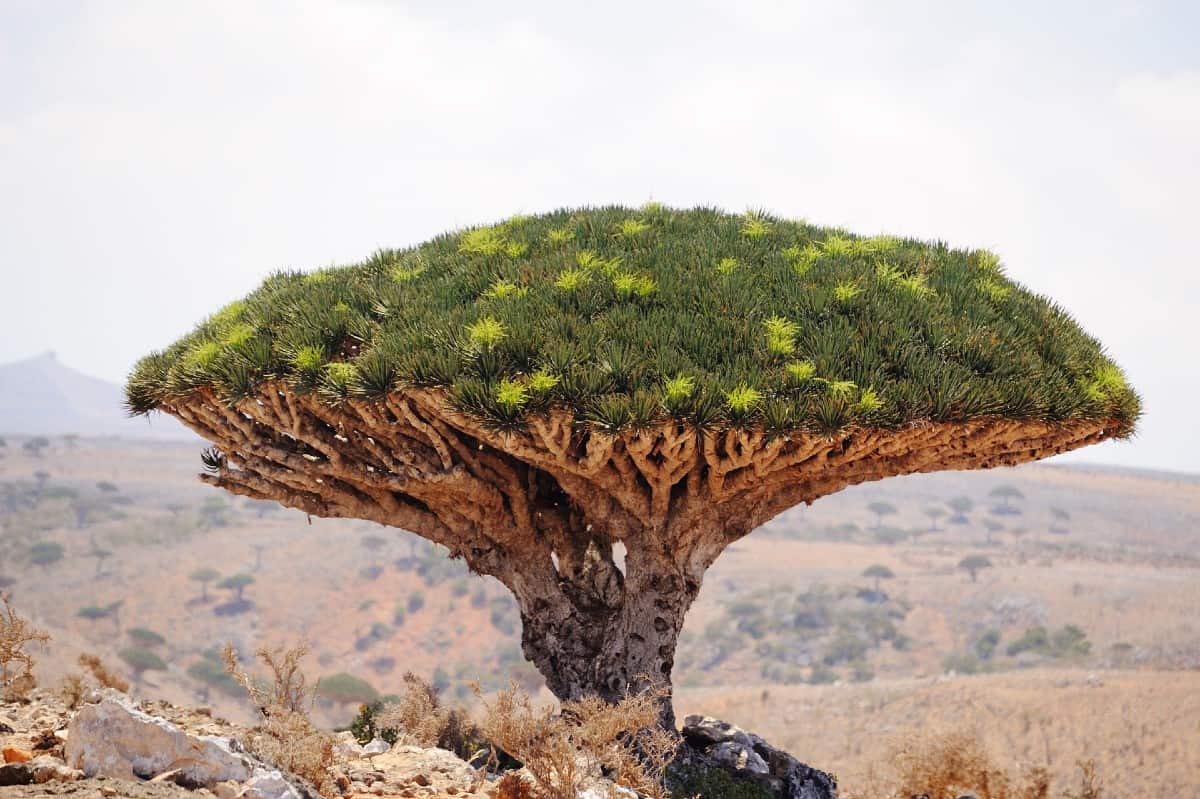 The Socotra dragon tree, also called the dragon blood tree, is endemic to the Yemen island off the horn of Africa. It grows with a bizarre shape that resembles an umbrella blown inside-out with a canopy of waxy and slender skyward pointing leaves.
This iconic, long-living tree is a succulent evergreen that produces teardrops of blood-red resin, giving it an eerie look. The dragon tree has a mature size of 30 to 40 feet tall and is hardy in zones 10 and 11.
Rainbow Eucalyptus Tree (Eucalyptus deglupta) – Unusual Trees with Colorful Bark
The rainbow eucalyptus tree looks as if a child painted it with bright paint in streaks of orange, blue, purple, yellow, and maroon.
Its smooth orange bark peels away during the summer to reveal a fantastic display of color, and the lance-shaped leaves release aroma after crushing.
This tree has a mature size of up to 100 feet tall and grows 3 to 5 feet per year. It loves full sun and rich soil and has no serious issues with pests or disease. The rainbow eucalyptus is hardy in zones 10 and 11.
Blue Chinese Wisteria Tree (Wisteria sinensis)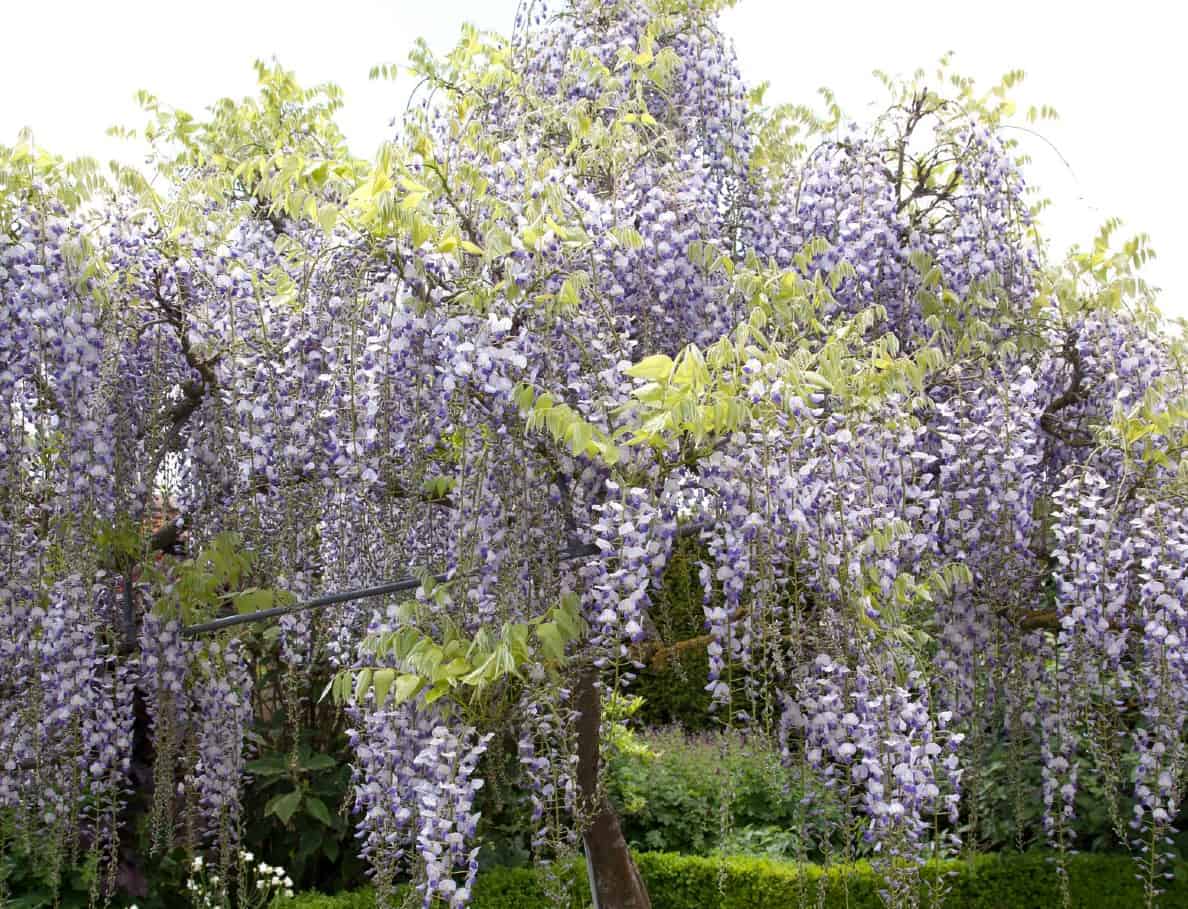 While often regarded as a hardy vine, blue Chinese wisteria grows like a tree with proper training and maturity. Its tough, vining branches lead up to a cascade of highly fragrant, drooping blue flowers that hang in pendulums from the branches.
This wisteria tree grows ideally in hardiness zones 5 through 9, and it grows 15 feet tall with a 12-foot spread. It's disease-resistant, drought-tolerant, and easy to grow.
These trees that attract hummingbirds are also enjoyed by bees and other pollinators, too.
Baobab Tree (Adansonia) – Strange Tree with a Massive Trunk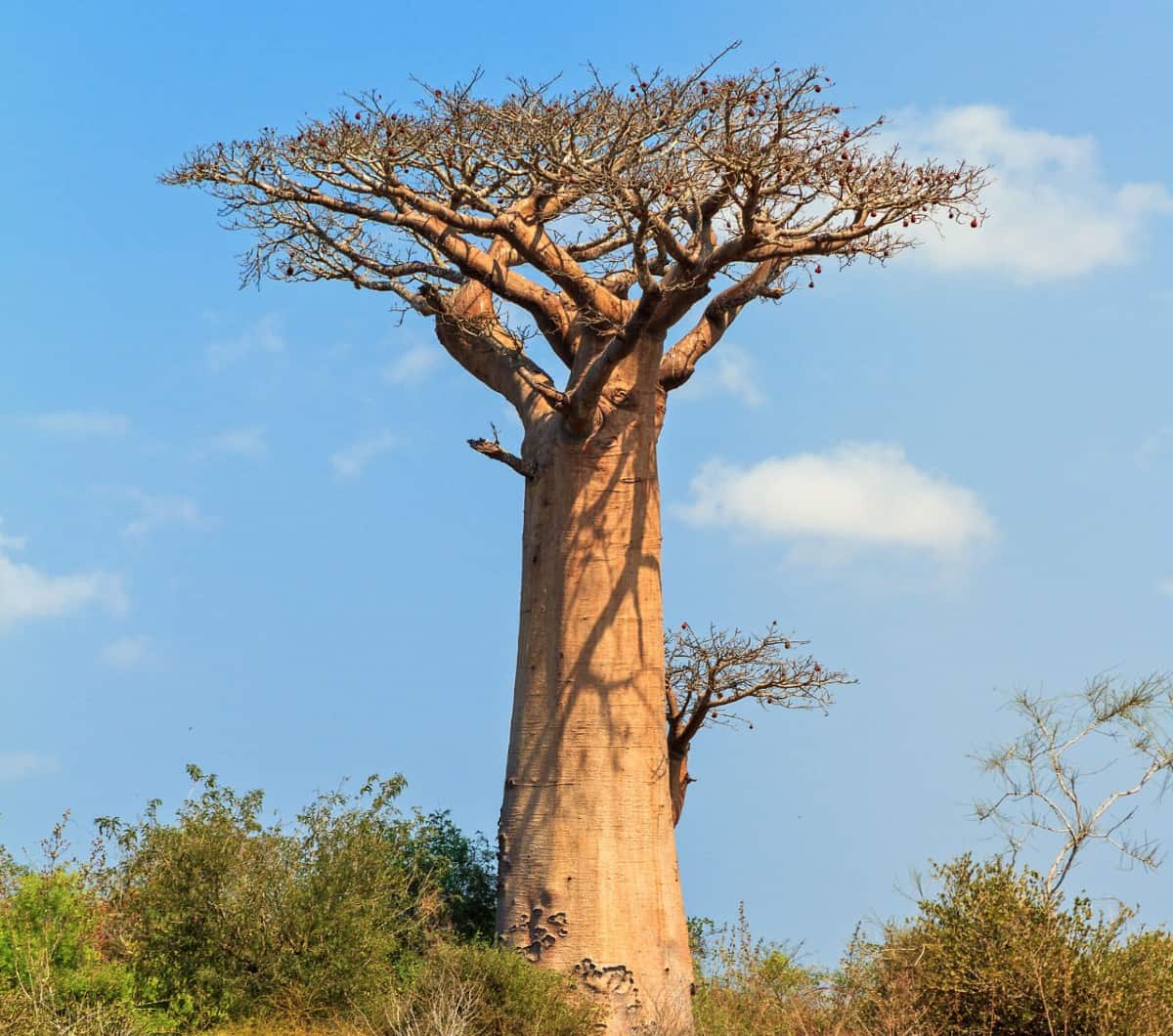 This tree, also called the tree of life, is native to Madagascar, Australia, and South Africa. It is an odd-looking tree with a massive trunk and a crown of greenery, enabling it to survive drought.
The baobab tree is the world's largest succulent, reaching a mature size of up to 60 feet tall with a 30-foot diameter. They are slow growing trees that thrive in hardiness zones 9 through 11, like arid climates, and are not picky about soil.
Boojum Tree (Fouquieria columnaris)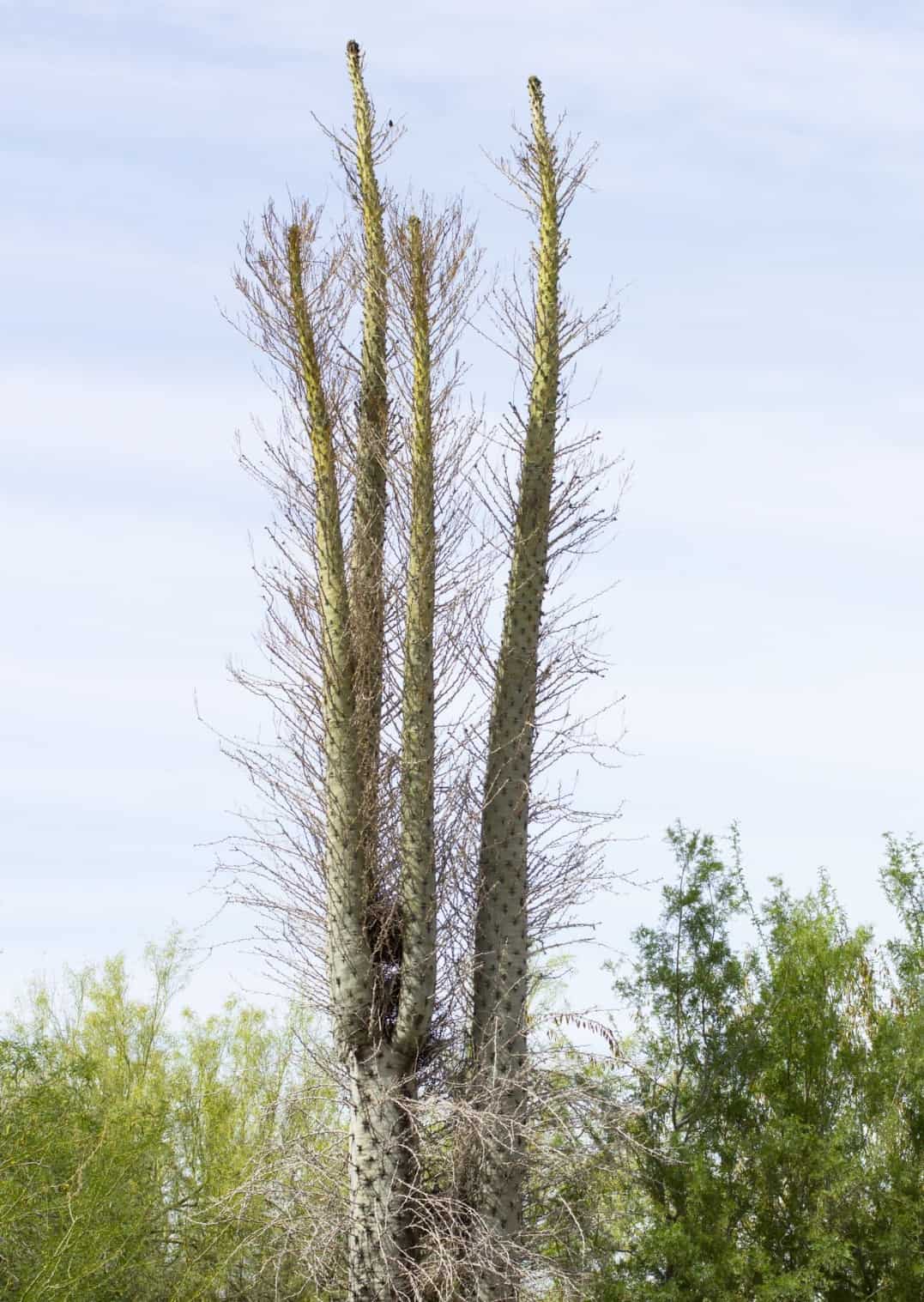 This tree is native to parts of the Sonora desert and Baja, California. It is an upright succulent with an imposing columnar shape and height, resembling an upside-down carrot.
It has small branches that grow perpendicular to the trunk with creamy white flowers in early spring.
This cool-season cactus grows 10 to 20 feet tall and goes dormant during hot weather. It enjoys sandy, well-drained soil, part to full sun, and is hardy in zones 8 through 10.
While not really one of the Arizona shade trees that don't shed, if placed in the right location, it can shield small areas from the hot sun.
Kauri Tree (Agathis australis) – Unique Tree with a Towering Appearance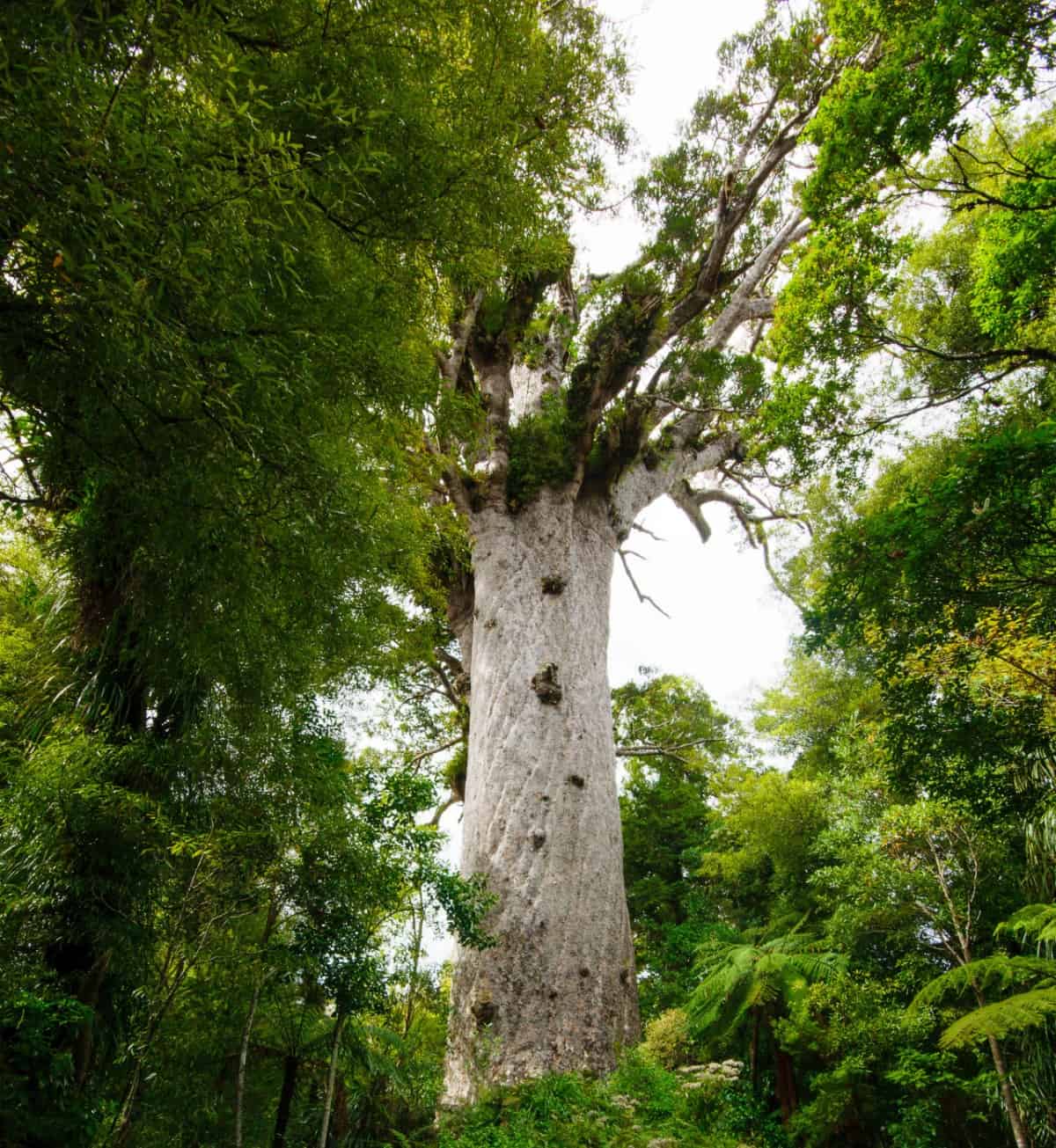 This coniferous tree is native to New Zealand and has small oval leaves and smooth bark. It sheds its lower branches as it grows, and a mature kauri has an imposing crown of leathery leaves that tower over other trees.
Kauri trees have a mature size of over 100 feet tall and are hardy in zones 9 through 12. They live for thousands of years under the right conditions and flourish in full sun or partial shade and moist soil.
Sequoia Tree (Sequoiadendron giganteum)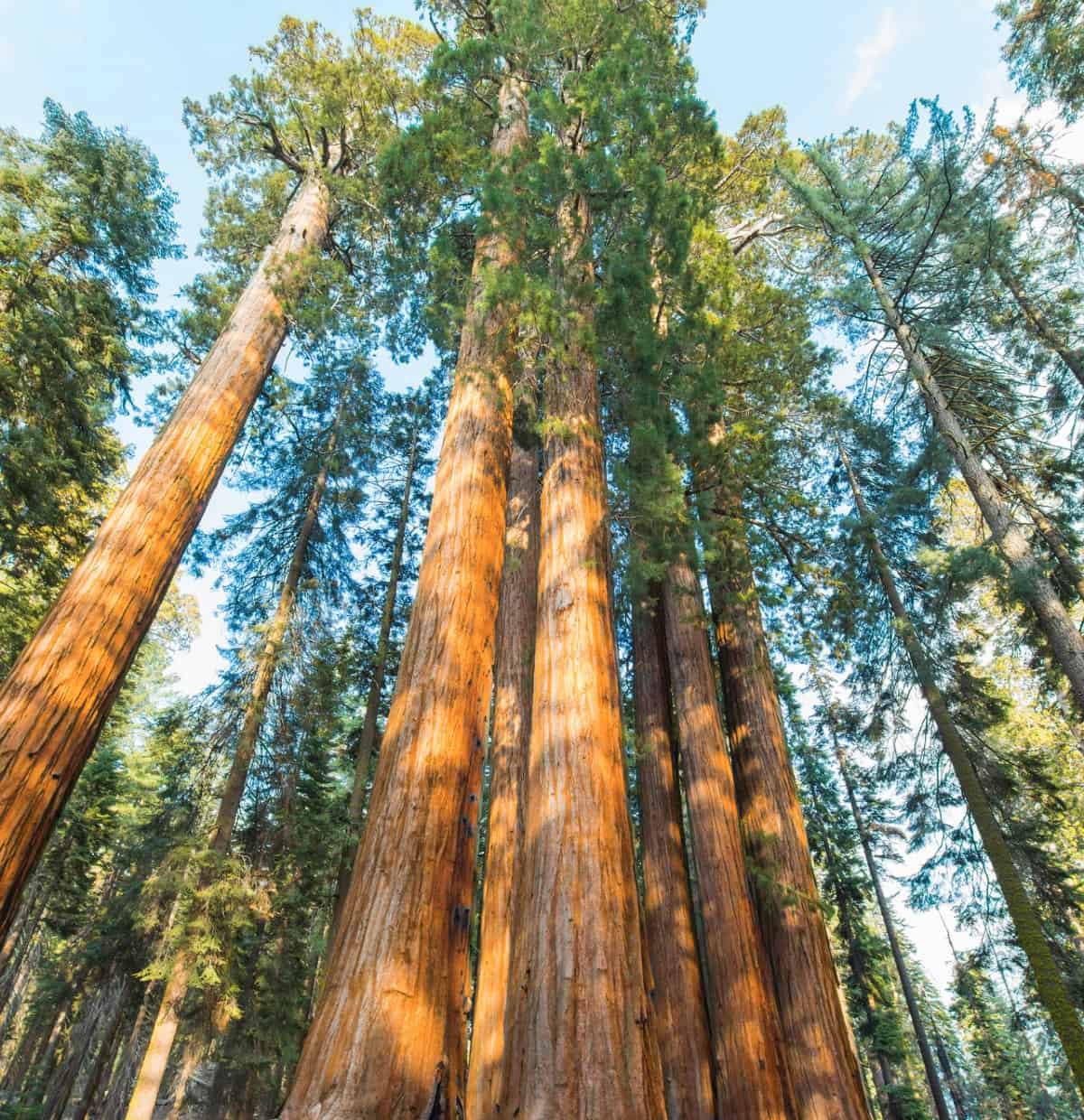 The giant sequoia tree is a columnar evergreen with bluish-green needles and reddish-brown cones. Its bark is thicker than any other tree, and it grows 1 to 2 feet a year, reaching a mature size of 60 to 200 feet tall.
These trees are highly resistant to disease, as well as forest fires, and live several thousands of years. Giant sequoia trees are suitable for growing in USDA hardiness zones 6 through 8.
While we all relish relaxing beneath a tall and stately shade tree, there's something special about a tree with unique flair and personality. Their unusual appearance peaks curiosity, sparks imagination, and inspires a sense of wonder.
We hope you enjoyed discovering some unusual trees that nature has to offer, and we'd love it if you'd share our guide to unique trees with your family and friends on Pinterest and Facebook.