Do you dream of having a vegetable garden but don't have space for a traditional garden plot or raised beds? Luckily, there is an abundance of vegetables to grow in containers.
As long as you have a sunny deck, porch, or windowsill, growing vegetables in containers is the perfect solution for gardening in small spaces. When it comes to growing vegetables in a container, the options are endless.
Use large or small containers, grow bags, window boxes, or hanging baskets. To grow climbing plants like cucumbers, peas, or pole beans, you'll need to set up a trellis. As long as the container drains adequately to prevent root rot and fungal diseases, use anything that suits your needs.
How to Grow Vegetables in Containers
No matter what type of vegetables you're growing, whether planting beets in containers or tomatoes or even when you grow mung bean sprouts, choosing a suitable container is essential for success. Ensure there's enough space for the root systems to fully develop, especially if growing several plants together.
Most fruits and vegetables produce best in full sun. However, if you don't have a sunny spot available, there are a few options for veggies to grow in partial shade. Read on to discover all about how to grow vegetables in containers.
When growing vegetables at home, always use pots with drainage holes so that water doesn't pool up in the bottom of the container.
In general, container vegetable gardening requires at least a five-gallon container. Use a larger container or planter box for veggies with extensive root systems. If possible, select dwarf varieties that stay more compact.
Choose a potting mix that's well-draining and rich in nutrients. Look for potting soil with added perlite for drainage, organic compost or fertilizer for plant food, and coconut coir or peat moss to retain moisture.
Most types of vegetables benefit from regular applications of organic fertilizer. In addition, plants absorb the available nutrients faster with their roots contained in a pot.
Fertilizing your container garden more often is necessary. For granular fertilizer, apply every two or three weeks. Whether you grow vegetables from seeds or seedlings, feed your plants liquid fertilizer weekly.
Container gardening has numerous advantages. The gardener has more control over the plants' growing conditions, which results in a lower risk of pest and disease issues.
If you don't have a yard or are short on garden space, growing vegetables in containers might be an ideal alternative. Here are a few of the best vegetables to grow in containers.
Full Sun Vegetables to Grow in Containers
It's possible to grow almost any type of plant in a container. However, certain species perform better than others in a pot. The key is providing the plant with optimal growing conditions as much as possible.
Sunlight is one of the most vital factors for success with container gardening. Most veggies require a minimum of six hours of direct sunlight each day to mature. Here are a few ideas for full sun container vegetables.
Alliums
Most members of the allium family are optimal for container gardening, thanks to their compact growth habits. These include bulb onions, chives, garlic, green onions, leeks, scallions, and shallots.
While they do tolerate partial shade, alliums grow best in full sun. However, it's even possible to grow them indoors on your kitchen windowsill. Growing green onions in pots leads them to develop a bit slower but you'll have an ample crop.
They have shallow roots and don't require much growing space. Plant alliums in a pot that's at least six inches deep. Refer to the seed packet for variety-specific recommendations regarding plant spacing.
Legumes
Legumes like beans and peas make great container vegetables. They have attractive flowers and foliage and are reasonably low-maintenance.
They also have a relatively short growing season. Whether you are planting peas in pots and containers or the garden, peas are typically ready to harvest in about 60-70 days. Bush bean plants grow rapidly and mature in 45-60 days, while pole beans take 65 and 80 days.
Bush beans don't require any additional support. However, to grow peas from seed, as well as pole beans, they need a trellis to climb. Since they have shallow roots, these legumes are perfect for growing in a small container or window box.
Nightshades
Eggplant, peppers, and tomatoes are all part of the nightshade plant family. Growing bell peppers in pots and planting eggplant in pots, as well as other nightshades, is easy.
The way to plant tomatillos and other warm-season veggies is to grow them in a large container where they have ample room. Avoid permitting the soil to dry out and fertilize them frequently.
Some people prefer growing cherry tomatoes in a large hanging basket. Making your own upside-down tomato planter is a fun and easy DIY project.
For planting cherry tomatoes in containers upside-down, cut the bottom off of a half-gallon milk jug and drill a small hole in the lid. This serves as a slow-release watering system. Cut a hole in a five-gallon bucket and carefully guide the root ball inside.
Fill the rest of the bucket with nutrient-rich potting soil and insert the milk jug into the top, so that the cut edge is one inch above the soil surface. Hang it from a sturdy hook on your deck or porch where it gets plenty of sunshine.
Summer Squash
Squash plants are generally easy to grow and reward your efforts with a prolific harvest of crookneck, yellow, or zucchini squash all summer long. Squash blossoms are also edible and make a fun salad garnish. In addition, they're delicious when stuffed and fried.
Plant squash in a large container for best results. Keep the plants well-watered and fertilize them regularly. It's helpful to grow aromatic herbs and flowers nearby to attract pollinators.
Growing Vegetables in Containers in Partial Shade
While the options are more limited, several veggies grow well in partial shade, meaning four to six hours of direct sun throughout the day.
Shade-loving veggies also tend to prefer cooler temperatures and may bolt or start prematurely flowering if temperatures are above 85℉. If your area normally has hot summers, look for heat-tolerant cultivars.
Brassicas
Commonly known as cruciferous vegetables, the Brassica family includes Brussels sprouts, cabbage, kale, kohlrabi, radishes, rutabaga, and turnips. These cool-season crops, like growing baby bok choy, grow best between 60-75℉ but can also tolerate light frosts. In hot climates, they're best grown in spring and fall.
Grow Brussel sprouts in containers on your patio, in the garden or a raised bed, along with Brassicas like radishes for more flexibility when the weather is too hot or too cold.
Think about the best way to grow bok choy in a container, as well as other Brassicas, to move them out of the hot sun during the day.
Salad Greens
Leafy greens like leaf lettuce and spinach grow exceptionally well in pots. They generally have shallow roots and thrive in small containers or tucked in between other plants. Growing arugula indoors or other salad greens also works well.
Chard is a larger leafy green vegetable that tends to be more heat-tolerant than other salad greens. Colorful leaves and stems make an attractive addition to your container garden. Allow about 12 inches of space for each chard plant.
Companion Planting Vegetables in Containers
You may be wondering what vegetables grow well together in containers. There are numerous choices for companion planting in a container garden.
Herbs like basil, oregano, rosemary, sage, and thyme make excellent companions for numerous veggies. They attract pollinators and beneficial predatory insects, making the gardener's job easier. Basil also reportedly improves the flavor of tomatoes when grown in the same pot.
Legumes have the unique capability to fix nitrogen in the soil, which is helpful when growing Brassicas and leafy greens. However, too much nitrogen may cause fruiting plants like peppers, squash, and tomatoes to grow abundant large leaves but not much fruit.
Alliums are another powerful pest-repellant plant group. Growing cauliflower in pots with garlic or onions deters aphids, bean beetles, cabbage worms, carrot flies, slugs, spider mites, thrips, and whiteflies. But keep alliums separate from legumes. These plants stunt one another's growth.
If you've ever wondered how to grow vegetables in containers, know that it's easy and highly satisfying. There are ample options to suit your unique situation, and your efforts are rewarded with bountiful harvests of delicious homegrown veggies.
Ultimately, growing vegetables in containers opens up a wide variety of possibilities for your garden space.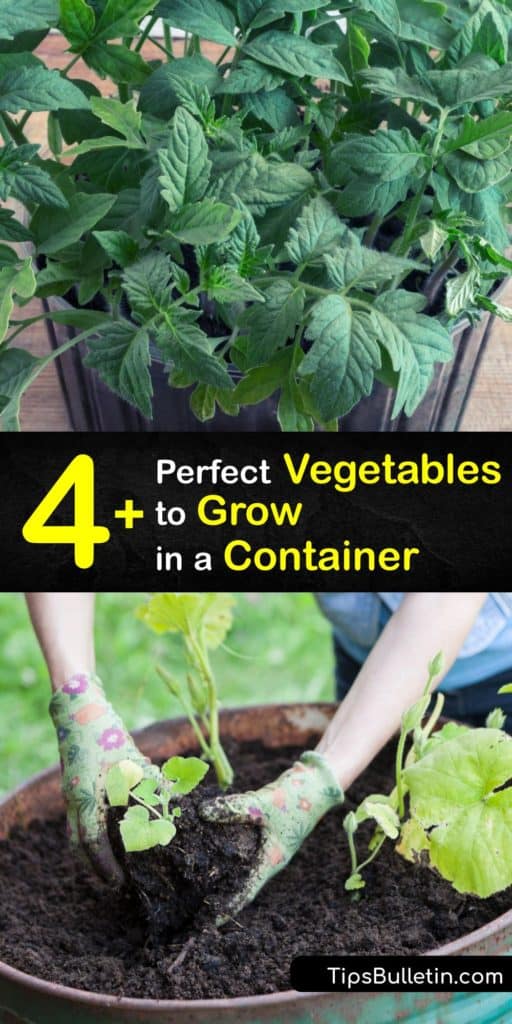 If you enjoyed these container gardening tips, please share this article about vegetables to grow in containers with your fellow green thumbs on Pinterest and Facebook.