Vegetable gardening is gaining popularity again, even among beginners. It's an excellent way to produce organic food at home, less expensive than purchasing veggies at the grocery store or farmer's market, and you don't need a large backyard to grow them. Learn how to prepare a container garden and which vegetables to grow in pots, and discover tips for growing them for healthy production.
A common misconception is that you cannot grow food because you live in the city. However, plants grow just as well in an urban setting as in rural areas, even if you have a small space. Vegetables are easy to grow in small containers, large pots, grow bags, hanging baskets, window boxes, or a windowsill.
We often overlook container growing when planning a garden since we think veggies prefer to grow in the ground. However, some of the best vegetables grow easily in pots, as long as you plant them in a sunny spot and provide them with TLC throughout the growing season.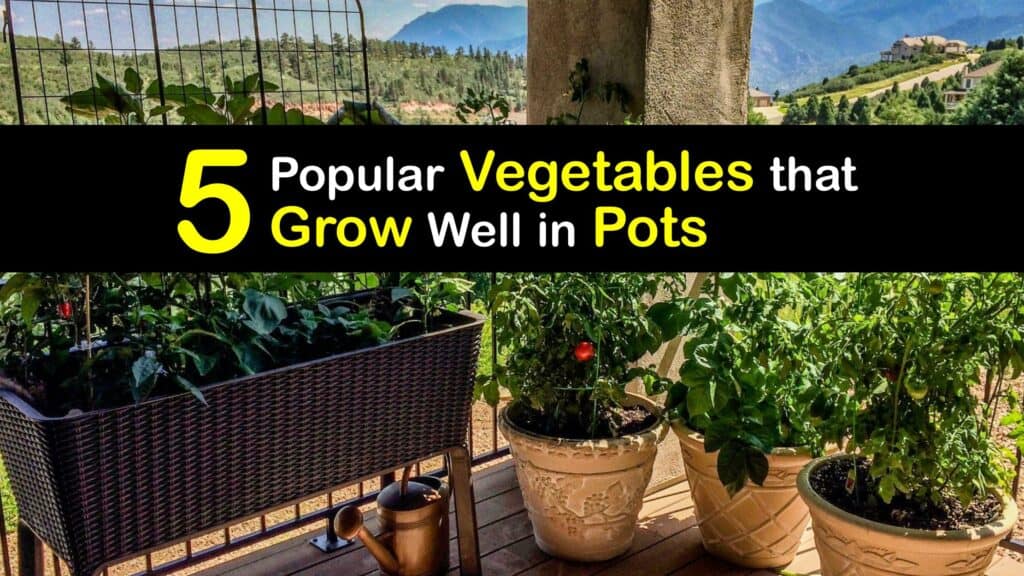 Container Vegetable Gardening
So, you want to try growing veggies in pots and don't know where to start? Explore what vegetable plants like for optimal growth, the ideal container types for veggie planting, and which plants are the easiest vegetables to grow in pots. Some vegetables can grow indoors, too, so think about what to add to your windowsill.
Things to Know About Planting Vegetables in Pots
Before planting vegetables in pots, it's helpful to understand what veggie plants desire to thrive. These plants want the right amount of sunshine and a suitable potting mix to produce; uncover these growing requirements to help you get off to a good start.
Most vegetable crops get by with three to six hours of full sun each day. However, peppers, cucumbers, summer squash, and tomatoes need a minimum of six hours of sun for a healthy harvest.
Veggies love growing in a mixture of equal parts garden soil, peat moss, and perlite. However, you don't have to prepare your own potting soil to grow veggies in pots. Local garden centers and nurseries carry pre-made potting mix for vegetable plants.
How to Prepare for Growing Vegetables in Pots
Once you understand how much sun and the soil type your plant enjoys, it's time to start planting. Prepare for growing vegetables in pots by choosing the ideal container and location for your plant.
The key to container gardening is to pick the appropriate sized pot for your plant. For example, green onions, chives, oregano, and other herbs are fine for growing in a six to ten-inch pot. Leafy greens, turnips, and radishes grow well in a one-gallon or larger container, and tomatoes, potatoes, eggplant, and peppers require a five gallon container.
Whichever container size you choose, whether it's a small pot or a large container, it's essential to pick one with drainage holes to keep your plant's roots from getting waterlogged. Adding an inch of coarse gravel to the pot's bottom before pouring in the soil is an excellent way to improve drainage.
Look around the patio, porch, or yard area where you plan to grow your vegetables, and keep track of the sites that get the most sunshine throughout the day.
For example, if you're growing peppers, squash, cucumbers, and tomato varieties in a pot, choose an area with six hours of full sun or more daily. All other vegetables are fine with slightly less sunlight.
Some vegetable plants like pole beans and cucumbers want a trellis for their vines to grow on, and it's essential to consider that when choosing a location for your potted veggies.
Which Vegetables to Grow in Pots
Growing vegetables in pots seems straightforward, but not all veggies are good for container growing. Learn which vegetable plants are the easiest to grow in a pot to ensure you pick the perfect ones for your garden.
While many vegetables grow in pots, including cucumbers, pole beans, and bush beans, some grow better in a container than others. The easiest veggies to plant in containers are all types of peppers, tomatoes, green onions, eggplant, zucchini, radishes, parsley, potatoes, and leafy greens like spinach and chard.
Small cherry tomatoes grow well in hanging baskets. Start growing jalapenos indoors in small pots and transplant them later. You can grow Brussel sprouts in a container on a deck or patio, as well.
Unless you live in the hottest growing zones, year round outdoor potted plants don't include veggies, there's no reason you can't try container gardening for your favorite vegetables.
Tips for Growing Vegetables in Pots
Knowing how to plant vegetables in pots means enjoying fresh veggies at the end of the season, even in a small space. Follow some plant care tips to ensure you get the best harvest.
Veggie plants grow well from either seeds or young nursery plants as long as you plant them after the last frost. However, they require organic fertilizer for healthy root growth and fruit production once your plants begin to grow. The simplest way to feed plants in a container is to use a water-soluble fertilizer.
Container plants want more watering than garden plants, and it's usually necessary to water them daily unless you get rainfall. Consider placing mulch around the plant's base to encourage moist soil and keep it from drying out too quickly.
Keep an eye on your vegetables as they grow and eliminate pests by hand or apply insecticidal soap if necessary, and remove any weeds as they appear.
Versatile Salad Dressing Your Container Veggies
Planting vegetables in pots is only half the fun since harvest time fills your kitchen with nature's goodies. This homemade dressing tastes great on any salad.
Whisk the olive oil, lemon juice, mustard, minced garlic, salt, and pepper in a bowl until well combined. Drizzle the dressing over your favorite salad immediately, pour it into a storage container, and refrigerate it for up to a week.
To customize the sauce, consider adding different types of mustard, crushed red pepper flakes, herbs, and sweeteners like honey or maple syrup.
There is something satisfying about picking salad greens and tomatoes from the garden; you don't need a large area to grow them. Potted vegetables are the perfect remedy for small spaces, and many veggies are quite happy growing in pots.
Knowing which vegetables to grow in pots means you reap the benefits of growing your own food at home, so why not share our veggie container gardening guide with your social circle on Pinterest and Facebook?