If you have the same luck I do, then you've been cursed with too few south-facing windows, thus making it difficult for your houseplants to get all the light that they need to thrive. Rather than deal with the annoying, and sometimes expensive, plant lights to try to make your various light-hungry plants live, switch to very low light houseplants.
This article contains a list of houseplants that are perfect for those of us who don't have as much natural light as they would hope to have in their home.
Whether or not you have a green thumb or are well versed in plant care, a lot of these very low light houseplants are relatively low maintenance and are great for beginner gardeners and plant enthusiasts.
Even if you only have north-facing windows, this article will guide you to some of the best houseplants for low light conditions.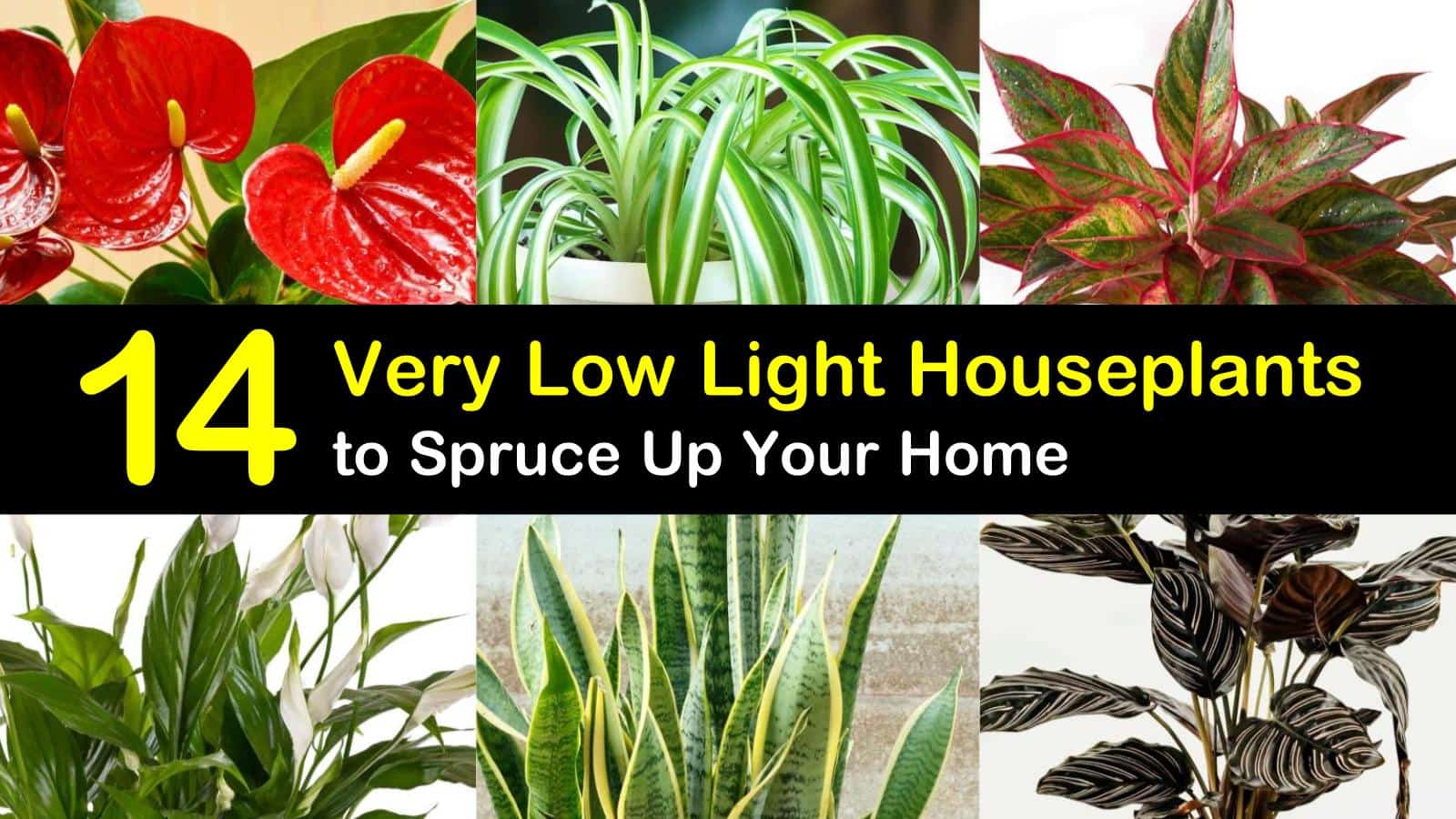 Beginner's Green Thumb: Best Houseplants for Low Light
One thing we learn about plants is that they need sunlight to live. Sometimes it's a little hard to believe that there are houseplants that don't need sun every waking hour. This article is a master list of the best houseplants for low light, and many of these indoor plants are also relatively low-maintenance.
If you are looking to start a hobby or have a passion for gardening, low light plants are fantastic beginning points. However, even among this list of already reasonably low maintenance plants, some are better than others for plant lovers who aren't confident in their green thumb.
The Snake Plant, Chinese Evergreen, and Parlor Palm are some of the hardier plants that require less maintenance and care. These plants are also resilient against common plant pests or botanical diseases.
You can then graduate to the ZZ Plant and Devils Ivy. Both of these indoor plants are relatively easy houseplants to grow; however, they are both toxic and probably shouldn't be around your pets or children. You might want to get comfortable with basic plant care first.
You could even try your hand at one of the many different types of bonsai trees for growing indoors or placing on your balcony or patio. Once you have the basics of plant care down, it's not that more challenging to train your plants to grow the way you want them to.
Learn how to get rid of powdery mildew on houseplants as well as how to deal with various plant bugs and other problems before you start growing plants indoors. This way, you'll know what to do if you encounter an unwelcome growing situation.
Treat mold on houseplant soil quickly so it doesn't become even more of a problem. There are several simple DIY strategies you can follow.
Do Any of these Very Low Light Houseplants Improve Air Quality?
As pollution is on the rise, you hear more and more about opening your home to plants for air quality improvement. Another thing we all learn about plants is that they take in carbon dioxide to produce oxygen. No matter which plant you choose, having that localized source of fresh oxygen will have plenty of benefits.
The increase in oxygen is linked to sleeping better and feeling more energetic as well as feeling healthier overall. Many people also see caring for plants as a therapeutic act that can help in destressing.
The best low light indoor plants improve air quality by adding oxygen. However, some of the plants on this list do a better job at removing even more pollutants and toxins, such as nitrogen dioxide from fuel emissions, from the air.
The Snake Plant, Spider Plant, and Parlor Palm are some of the hardier choices when it comes to houseplants that improve air quality and are great for beginners. However, the Peace Lily and Prayer Plant are also beautiful choices for more experienced gardeners.
Amazing Low Light Houseplants
Most of these plants require little care, although it's important to check them periodically for fungus gnats and aphids. Should you notice these annoying bugs, apply a simple home remedy for aphids on houseplants to eliminate the problem.
Zanzibar Gem (Zamioculcas zamiifolia)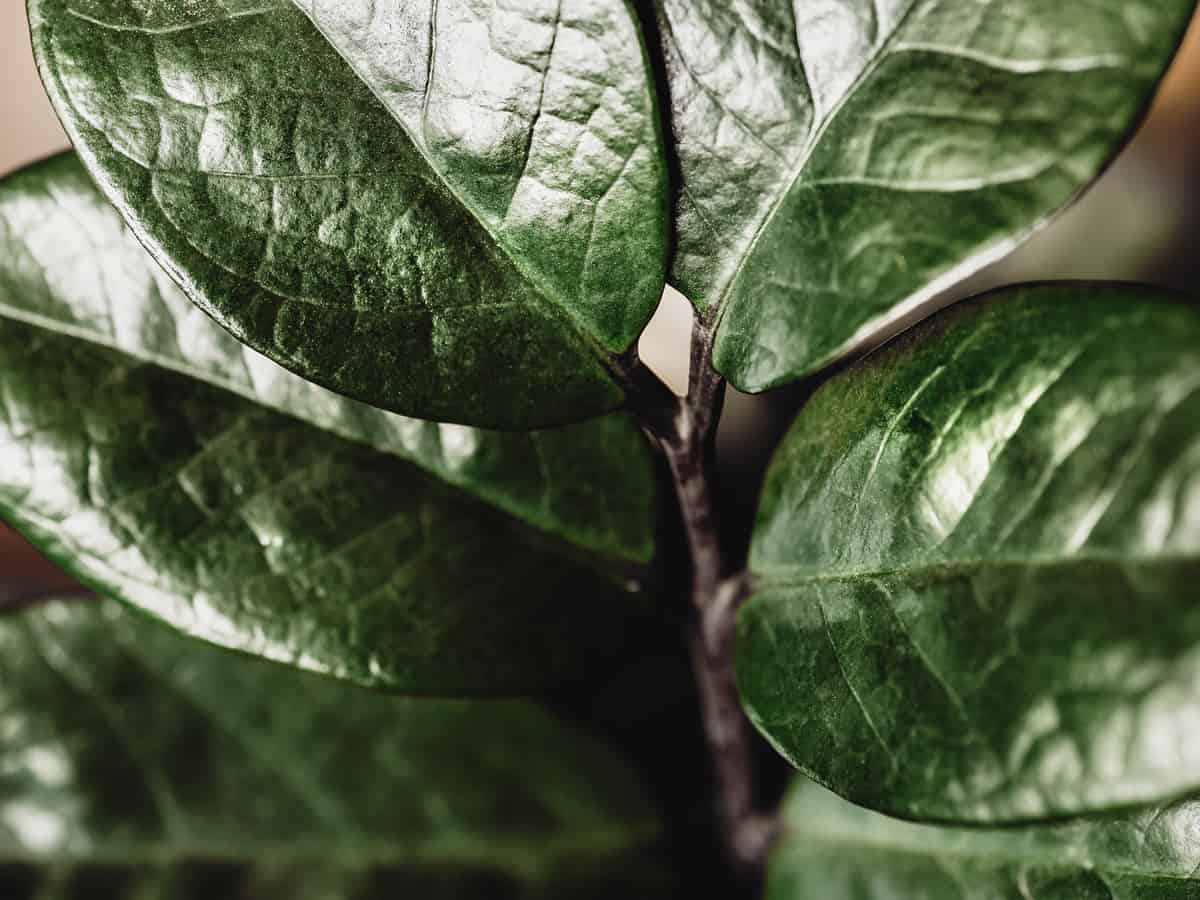 Don't let the extra syllables trip you up; the Zamioculcas zamiifolia has the common name of ZZ Plant. The ZZ Plant is an excellent example of low light plants that are also low maintenance. As long as you make sure the plant has well-draining soil, receives water, and is fed with a basic houseplant fertilizer once a month, you are in good shape.
However, keep in mind that the ZZ Plant is poisonous. So while it is a great starter plant for those looking to get into plant care, you will want to keep it away from any children or pets. And always wash your hands after caring for it.
Snake Plant (Sansevieria trifasciata)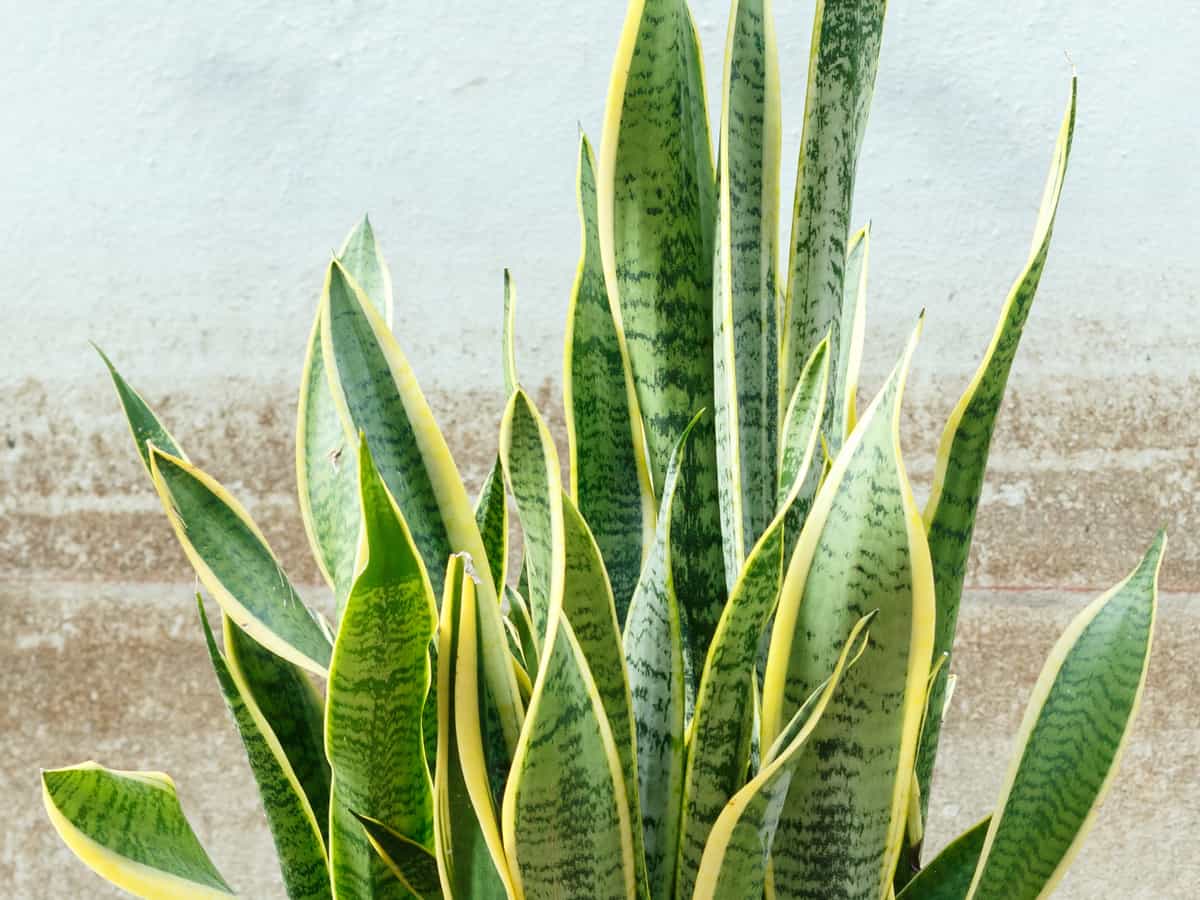 The plant of many names, such as Viper's Bowstring and most infamously known as Mother-in-Laws Tongue, the Snake Plant is a hardy plant. If the soil drains well, you will likely have a healthy plant.
However, if your soil doesn't drain well, you risk your Snake Plant rotting.
What's fun about snake plants is you can take a cutting from one Snake Plant and plant it in another pot with the appropriate soil and grow a second one. Just be sure to keep the plant out of indirect sunlight, and you will soon see some of those tell-tale tall green leaves.
Peace Lily (Spathiphyllum wallisii)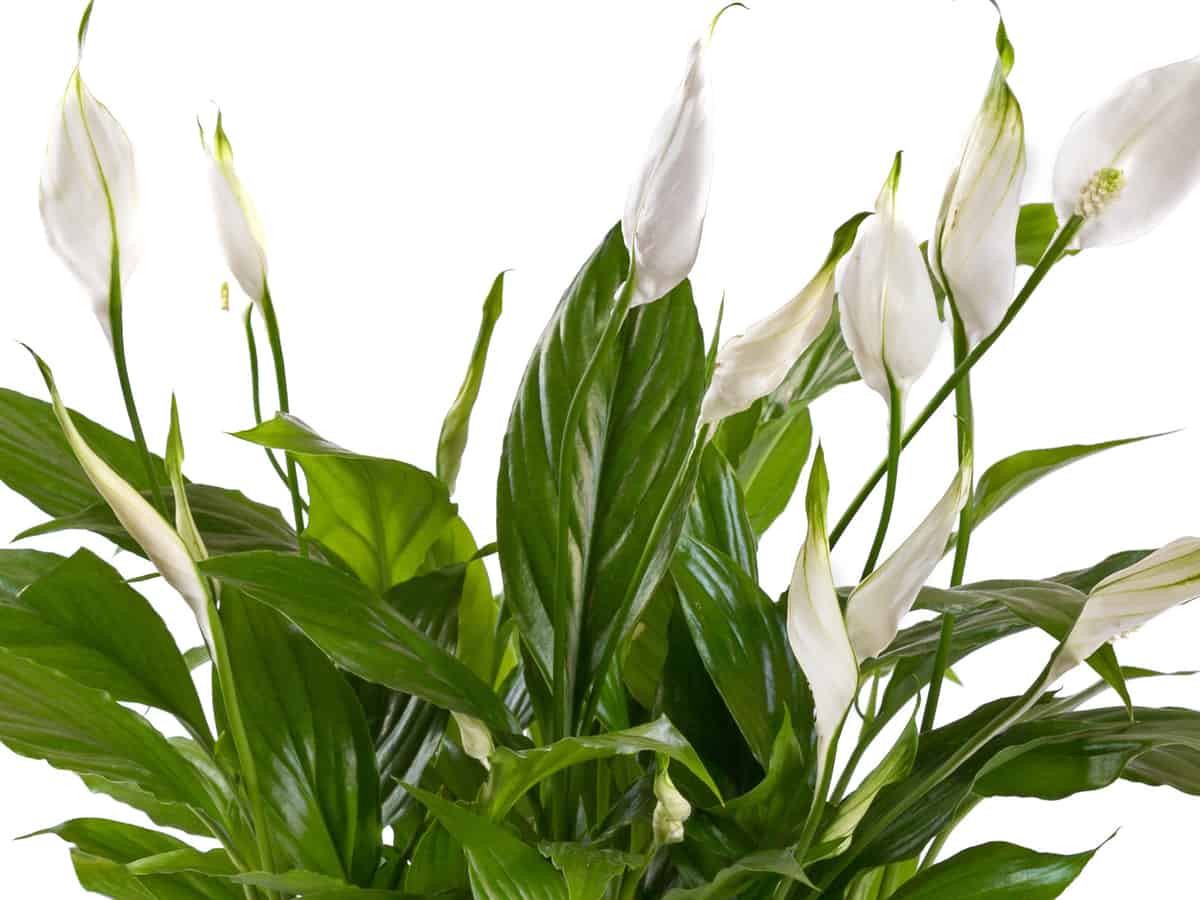 If you are looking for a large plant to decorate your space, get a Peace Lily. These tall low light houseplants can grow up to two feet tall and help tie a room together with their stunning dark green leaves and bright white flowers, making them one of the prettiest houseplants that don't need sun.
Because this plant naturally grows on the tropical rainforest floor, you will want to keep your Peace Lily out of direct sunlight since not a lot of natural light makes its way to the bottom of the rainforest floor.
While the flowers may look like lilies, the Peace Lily is not a real lily. However, just like lilies, the Peace Lily is toxic to pets, so do not get one if you have furry friends.
Chinese Evergreen (Aglaonema)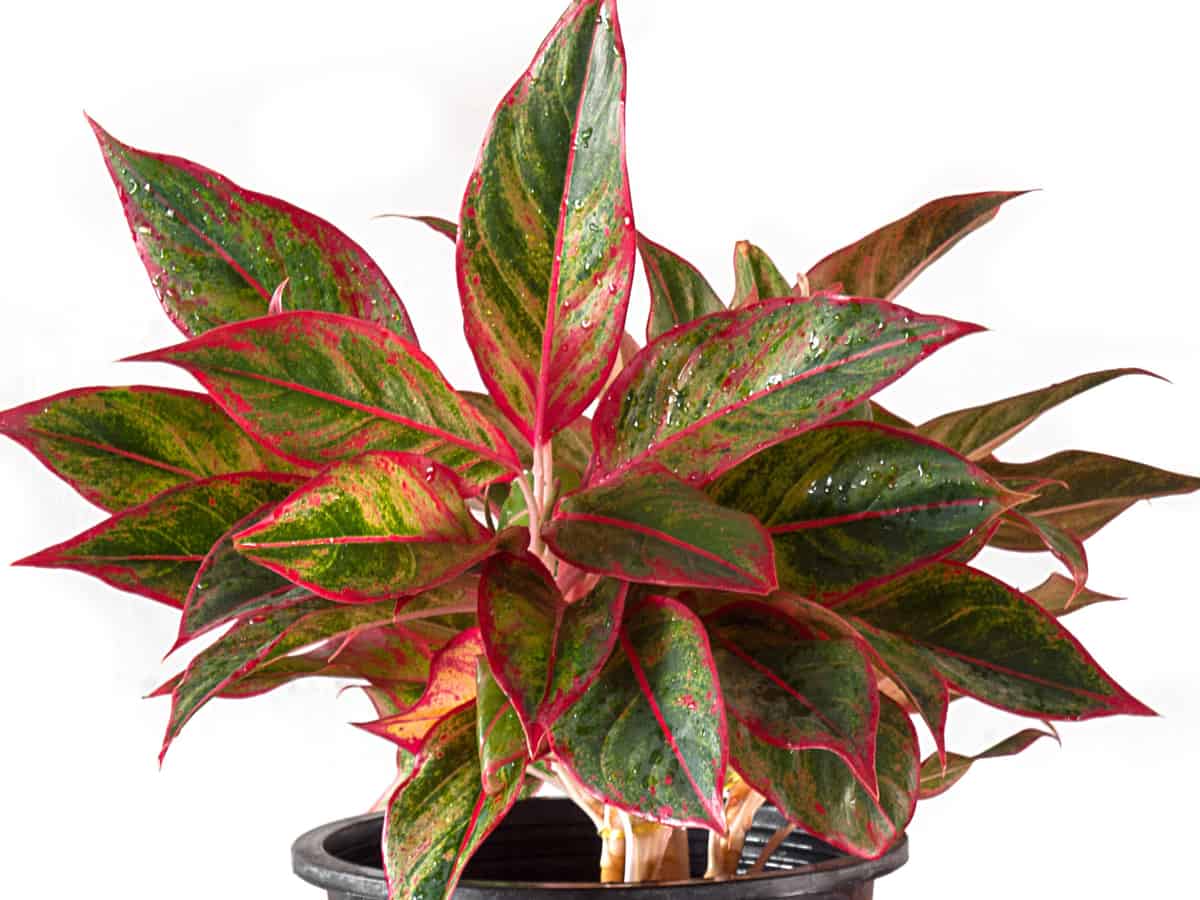 Aglaonema, or better known by its common name Chinese Evergreen, is a plant that can thrive in a few different lighting conditions. If the plant lives in an area with medium light, or even bright light, the plant will start to flower once it matures.
Keep in mind, though, that the Chinese Evergreen is a slow-to-mature plant, so it may take some time. However, the Chinese Evergreen is perfectly happy in an area with lower light.
The Chinese Evergreen is one of the best easy indoor plants, particularly for very low light. You won't need to water the plant frequently, only about once a week. Additionally, you'll only need to fertilize the plant once or maybe twice a year.
Cast Iron Plant (Aspidistra elatior)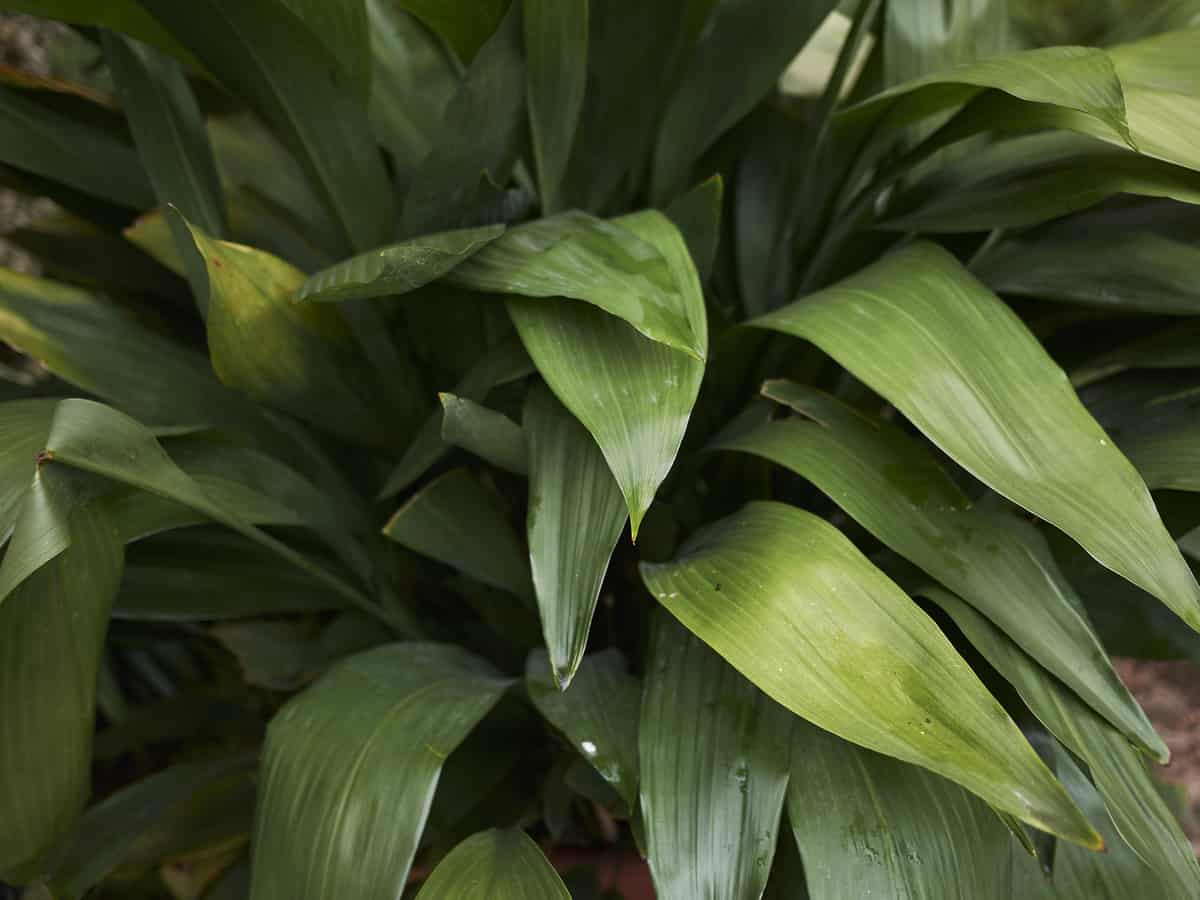 The Cast Iron Plant is one of the plants that don't need sun as much as others do. This easy-care plant thrives both as an indoor plant in a container or as a landscape addition for those shady corners of your yard. However, you could put it in a pot outside, as well.
The Cast Iron Plant is a slow grower and reaches about two feet in height and two feet wide, so make sure the plant has plenty of space. If it's in a pot, you may need to graduate to a larger one periodically. In the natural world, the Cast Iron Plant is only found in Asia, and mostly on the island nation of Japan.
What is really intriguing about the Cast Iron Plant is that horticulturists and botanists are still discovering new species of the plant as we learn more about it. So, pick up one of these beauties and add some greenery to your home.
Lucky Bamboo (Dracaena braunii)
This houseplant grows entirely in water and is one of the plants that are easy to grow indoors. This unique specimen of indoor plants needs little light to achieve its potential.
However, Lucky Bamboo also thrives in bright light, making it a genuinely bizarre plant. The plant also needs humid conditions to thrive, so it is one of the good bathroom plants.
Despite its name, Lucky Bamboo is not bamboo at all; it just happens to look like the famed bamboo plant. The classic bamboo plant is a grass whereas Lucky Bamboo is a member of the asparagus family.
Devils Ivy (Epipremnum aureum)
If you have hanging baskets, experiment with this popular hanging plant. Devils Ivy climbs up if given a chance. However, this can create a pleasant botanical atmosphere in your living space.
Devils Ivy is one of those plants that do better when left alone. You only need to water the plant once or twice a week. Keep in mind that Devils Ivy is a poisonous plant.
When you work with the plant, wear gloves and wash your hands. Also, be sure to keep any children or pets away from the plant.
Spider Plant (Chlorophytum comosum)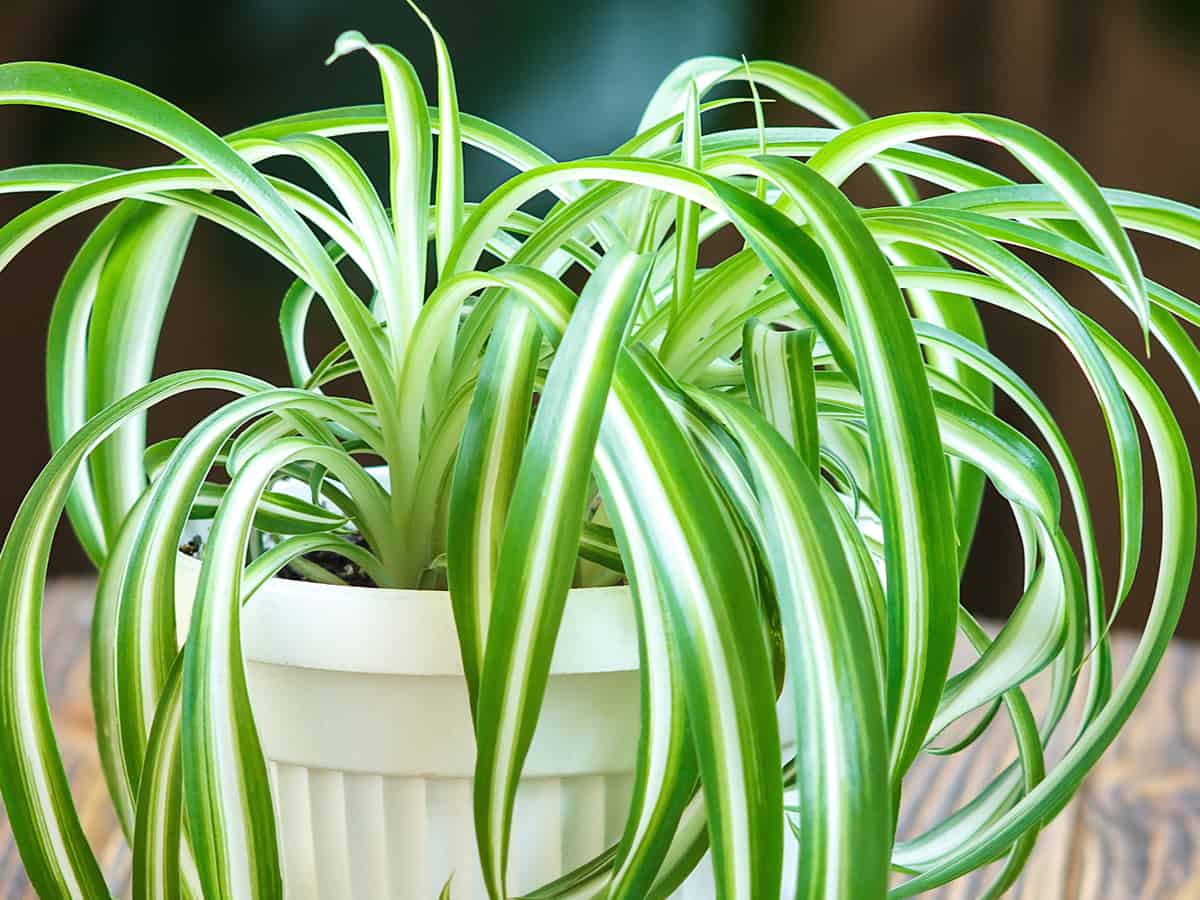 With its thin, spindly leaves of light green, this low light plant is aptly named the Spider Plant. It is equally happy in a container on your shelf or desk or in a hanging basket. With multiple options, you have plenty of interior design choices.
The Spider Plant also thrives in medium light or low light, making it that much easier to care for. As long as they live in indirect light, they will be healthy. If you start to notice browning on the leaves, find a shadier spot for your Spider Plant.
Parlor Palm (Chamaedorea elegans)
Turn your home into a tropical oasis without all the humidity and heat. These tall low light houseplants are perfectly happy in the corner of your living area or as bedroom plants.
With little light needed to keep the plant growing and healthy, long, healthy clumps of bright green leaves will grow. Even though the Parlor Palm is native to Central America, it is relatively hardy in colder weather.
Don't let it freeze, but you don't have to worry about always keeping it warm either. Add one to just about any area of the house so that you can enjoy it all year long.
Prayer Plant (Maranta leuconeura)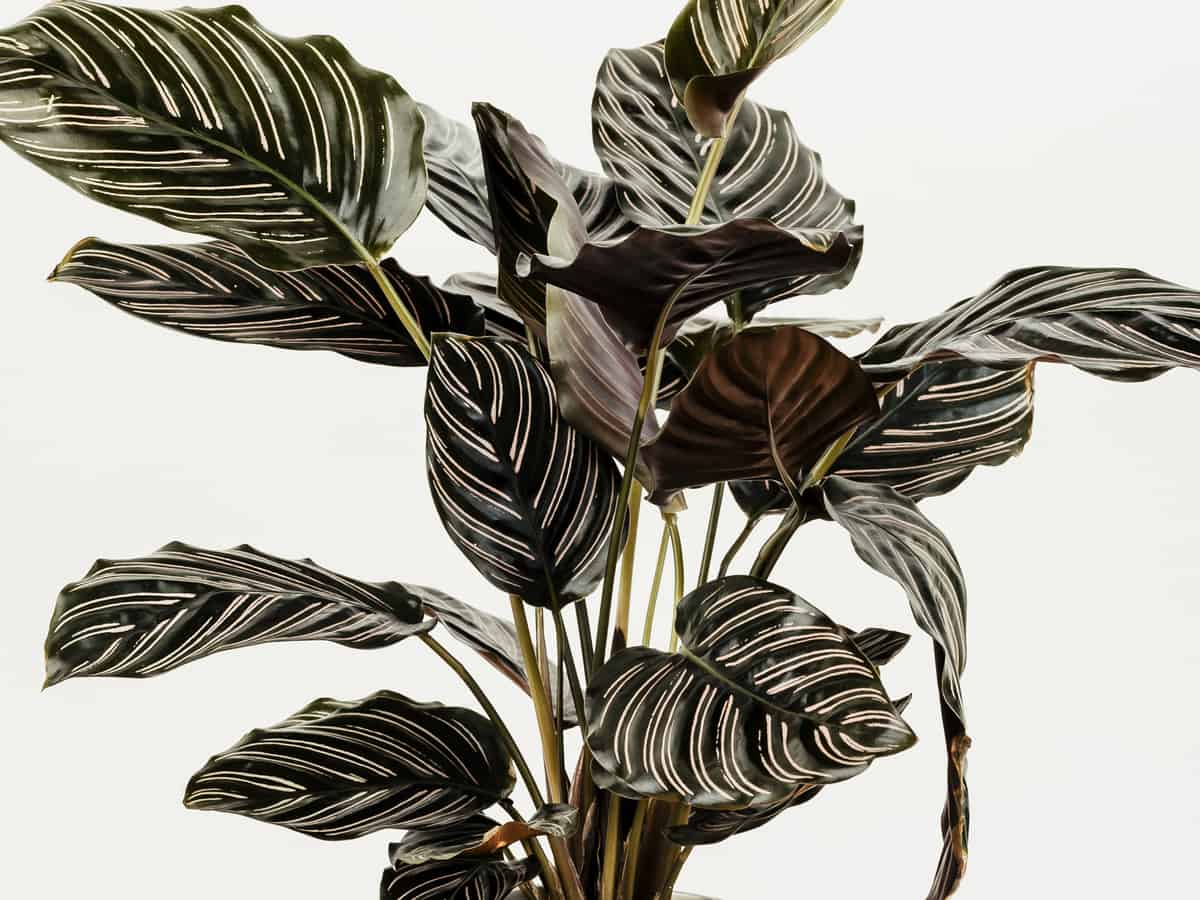 The Prayer Plant is one of those versatile plants that do well in both bright light and low-light conditions. The Prayer Plant enjoys humidity so it is one of the ideal plants for your bathroom. However, make sure that the soil is well drained.
Unfortunately, the Prayer Plant is prone to infestation. If you see signs of mites on plants, such as browning leaves or small bite marks, there are plenty of ways you can get rid of them without hurting the plant.
Arrowhead (Syngonium podophyllum)
The Arrowhead has a reasonably unique aging process. As the plant gets older, it forms a vine. Start your Arrowhead plant out in a pot or other container, but after a couple of years, transfer it to a hanging basket to let it reach its full potential.
If you cannot support a hanging basket, the Arrowhead plant happily grows up a trellis or lattice. These easy to grow low light houseplants prefer drying out between waterings to prevent root rot, so if you forget to water your Arrowhead plant one week, chances are it won't even notice.
Bird's Nest Fern (Asplenium nidus)
This plant gets its name from its unique leaf shape. The dark green leaves take on a wavy and spindly quality that, paired with its outreaching fern shape, creates what would seem to be a perfect haven for birds.
Additionally, in their natural rainforest habitats, the Bird's Nest Fern grows on tropical trees, making it live up to its name.
While the fronds of this fern can grow to be as large as three feet, the plant will likely never reach that size indoors. However, they do need some TLC to be healthy and happy.
Monstera in a Pot (Monstera deliciosa)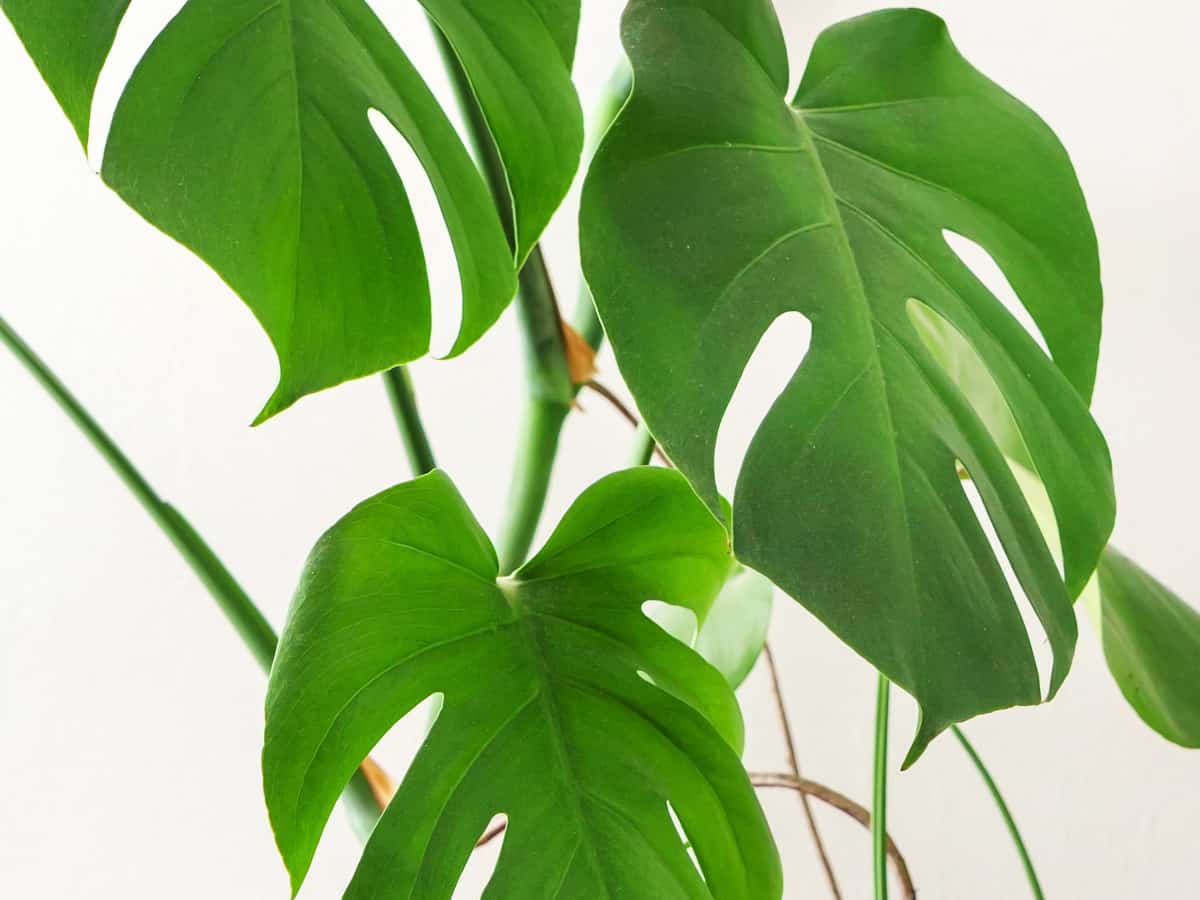 If you're looking for a plant to draw attention, consider getting a Monstera. The large, fan-like leaves naturally grow holes or indents, depending on the variety. The unique shape has earned this plant the nickname the "Swiss cheese plant."
The Monstera can grow both inside and outside and thrives in both medium light and low-light conditions. However, if you can keep the plant outside, you will enjoy the uniquely shaped yellow and white flowers. The Monstera also produces edible fruit.
Every part of the Monstera plant, except for the fruit, is poisonous so be sure to wear gloves and thoroughly wash your hands.
Flamingo Flower (Anthurium andraeanum)
If you are looking for a houseplant for low light, but still want the vibrancy of bright flowers, then consider the Flamingo Flower. These plants grow on the floors of the rainforest, so they don't like anything brighter than medium light. Keep the plant moist but ensure that the soil drains well.
The Flamingo Flower is a slightly more labor-intensive plant, so it is not the best plant for beginners. However, it is an excellent plant for when you are ready to start challenging yourself since its necessary care isn't difficult, just constant.
With so many fun and colorful options for low-light houseplants, you won't miss having to fuss with those plant lights or moving your plants inside and outside every day.
Now you can have your botanical escape inside just as easily as if you had a south-facing window, with a variety of these best houseplants for low light. Choose several varieties for added enjoyment and interest throughout your home.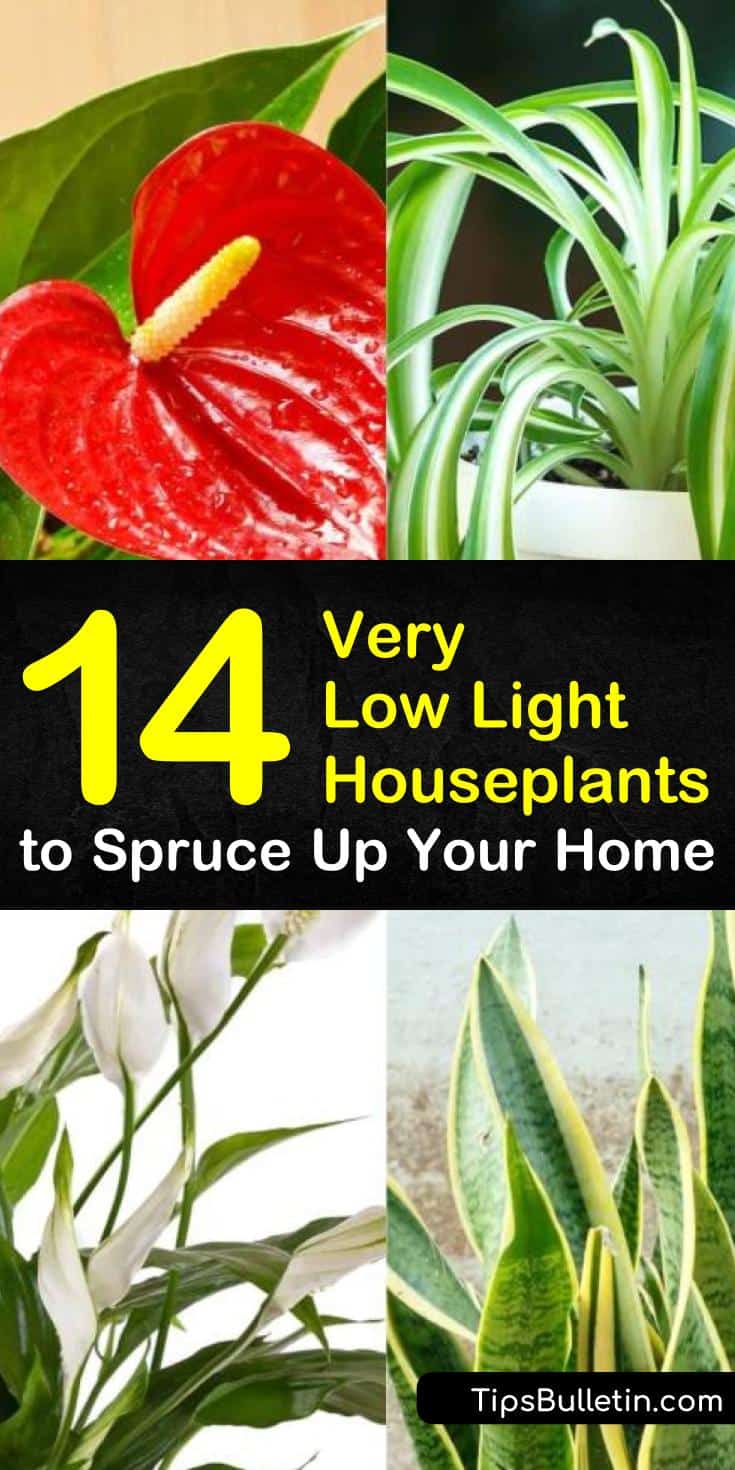 Everyone deserves to have a beautiful, natural home. If you enjoyed this article about very low light houseplants, please share these low light plants with your friends and family on Pinterest and Facebook.