There may be plenty of plants for sunny locations, but nothing compares in beauty to lush, fast-growing vines. Vines for sun are some of the best plants to use in areas desperate for some extra color.
A unique characteristic of these plants is their ability to do what no other plants can. Vines for sun twine and twist themselves around support structures and grow up, up, up, until they no longer have anywhere to go.
There are so many types of vines that you're bound to find one that fits your needs. Whether they're deciduous or evergreen, flowering or have variegated foliage; vines add colors, patterns, and textures to walls, fences, and ground cover areas.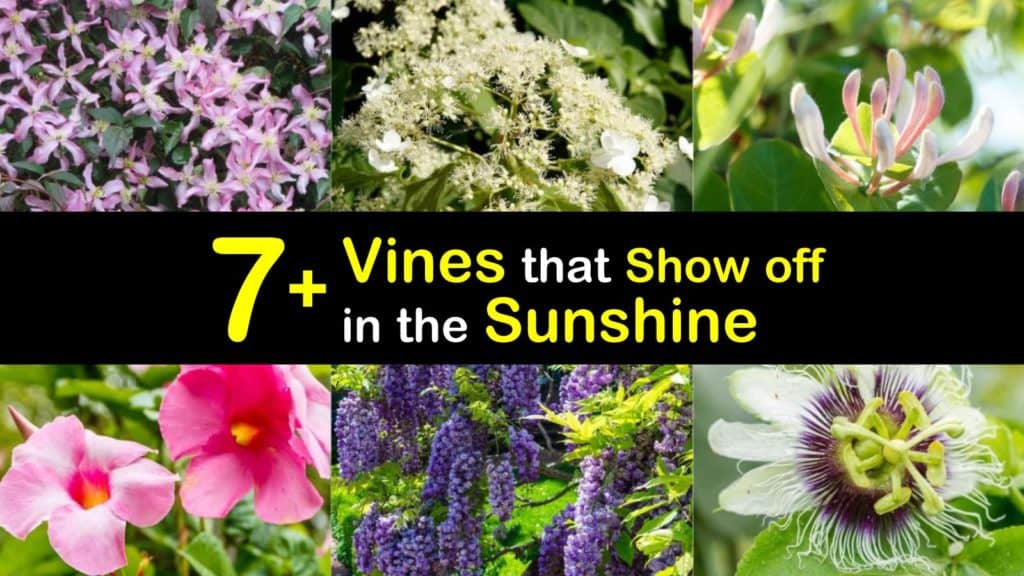 Characteristics of Vines
Unlike full sun shrubs and other types of plants, vines are nonwoody or herbaceous plants that use their stems to climb or sprawl against other plants, trees, rocks, or other physical supports. They grow both vertically and horizontally and are so massive that their stems cannot support themselves on their own.
There are five types of vines: twining, tendril, root climbers, leaf climbers, and hook climbers. Twining vines grow their main stem in a helix shape.
Tendrilled vines use small extensions to wrap themselves around supporting structures. Root climbers have roots that extend from the stem and attach to something physical.
Leaf climbers use their leaves to twist around something. Finally, hooked climbing vines use thorns and hooked structures to attach themselves to supports.
Regardless of the type of climber these vines for sun, they are sure to quickly grasp the nearest support structure and fill your yard with unforgettable beauty.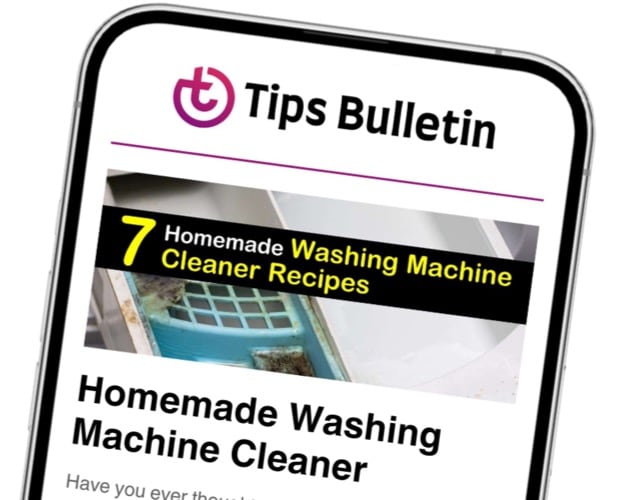 Finally, an email that Transforms Your Home.
Get the latest home and garden tips from our experts, delivered straight to your inbox.
Vines that Flower with Lots of Sun: Leather Flower Vine (Clematis montana)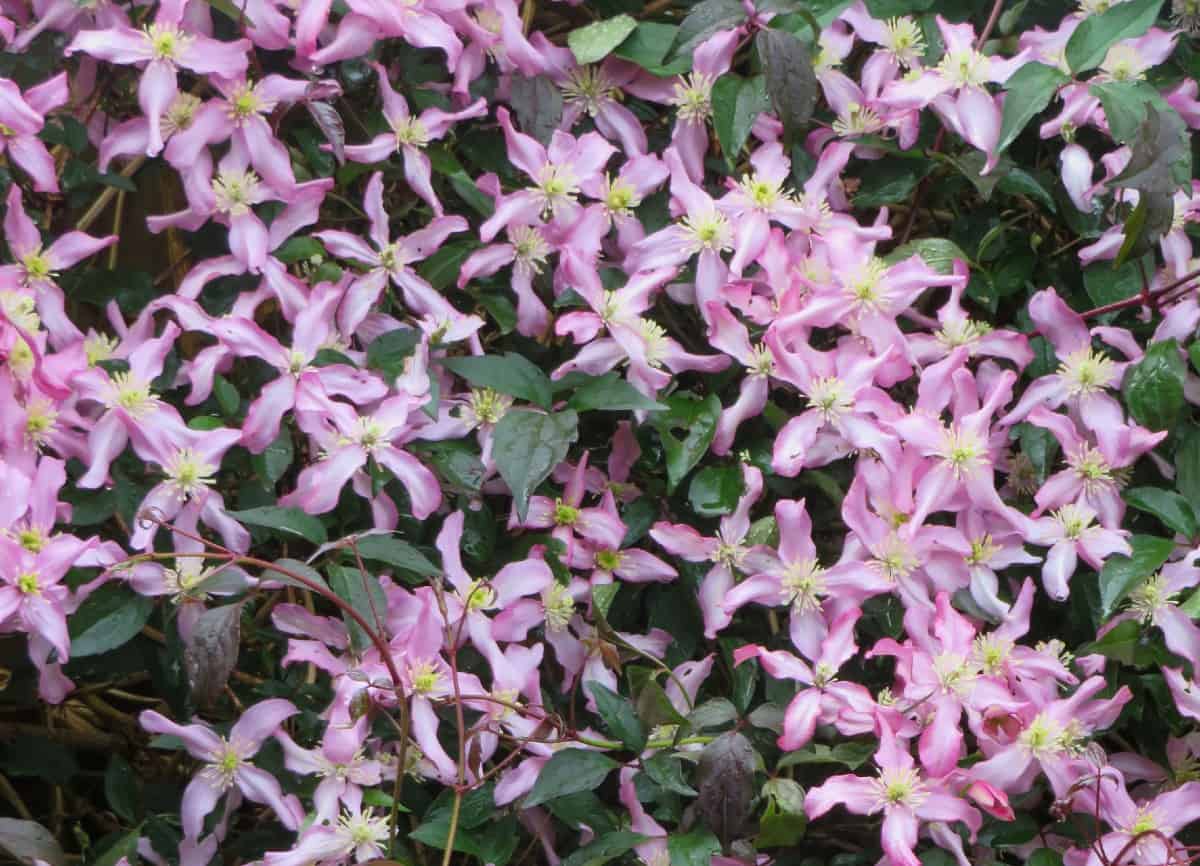 The leather flower vine, also known as clematis, has a diverse selection of colors, flower shapes, and climate tolerance. These climbing plants and vines make an excellent substitute for the popular morning glory vines that people love while providing a unique look.
Leather flowers are typically small pink and white flowers that bloom in abundance and have a delightful vanilla smell. Leather flower vines bloom from late spring to early summer and reach about 40 feet long under ideal conditions.
They enjoy full sun or part shade and prefer to keep their roots cold and their foliage hot. They are best for covering walls, fences, and pergolas quickly. Clematis can also be used as ground covering vines for erosion control on a slope.
Climbing Hydrangea (Hydrangea petiolaris)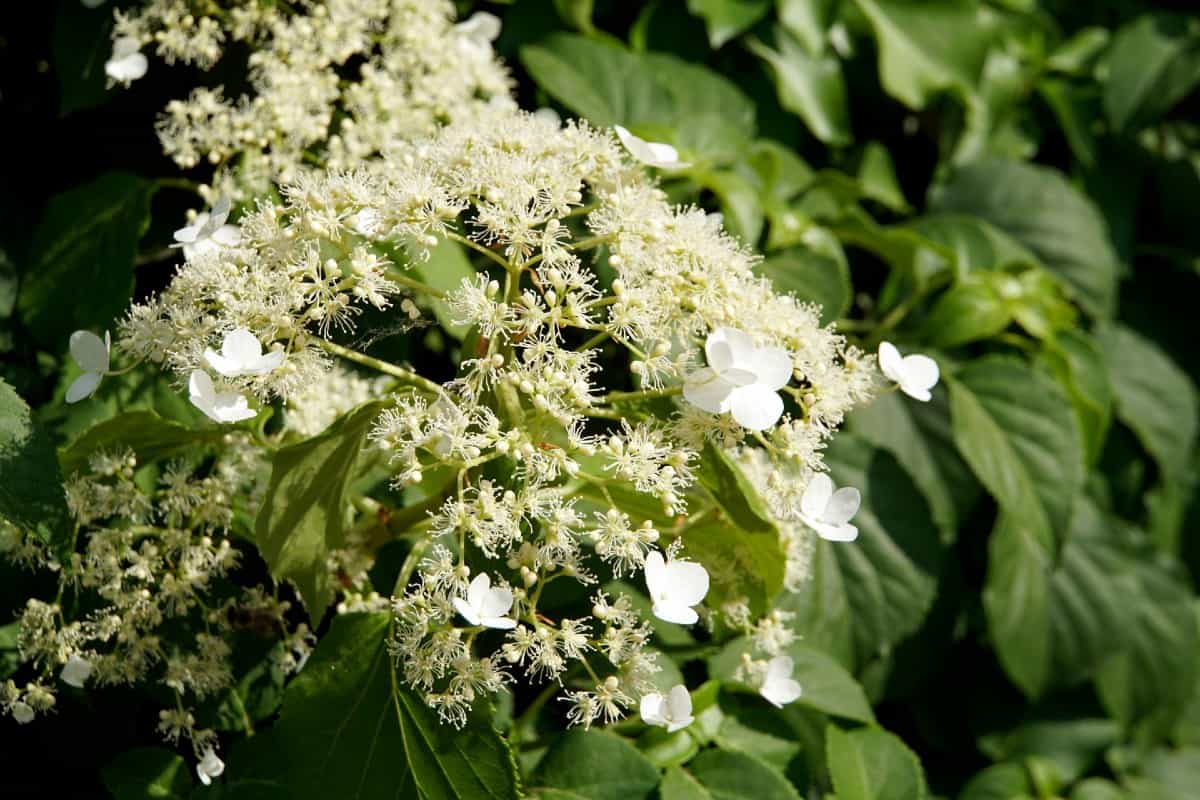 While most people fawn over the climbing rose, they often look past the climbing hydrangea's beauty. These flowering vines feature massive flower clusters that bloom from late spring to late summer.
The twining vine wraps itself around the support system and helps them grow to 80 feet long. Because they're heavy, they need something sturdy to grow on, like a trellis.
Climbing hydrangeas are hardy in USDA hardiness zones five through seven. They require fertile, well-draining soil and full sun or partial shade. Keep the soil moist and add a thin layer of mulch to the base to retain moisture and prevent weeds.
Brazilian Jasmine (Mandevilla sanderi)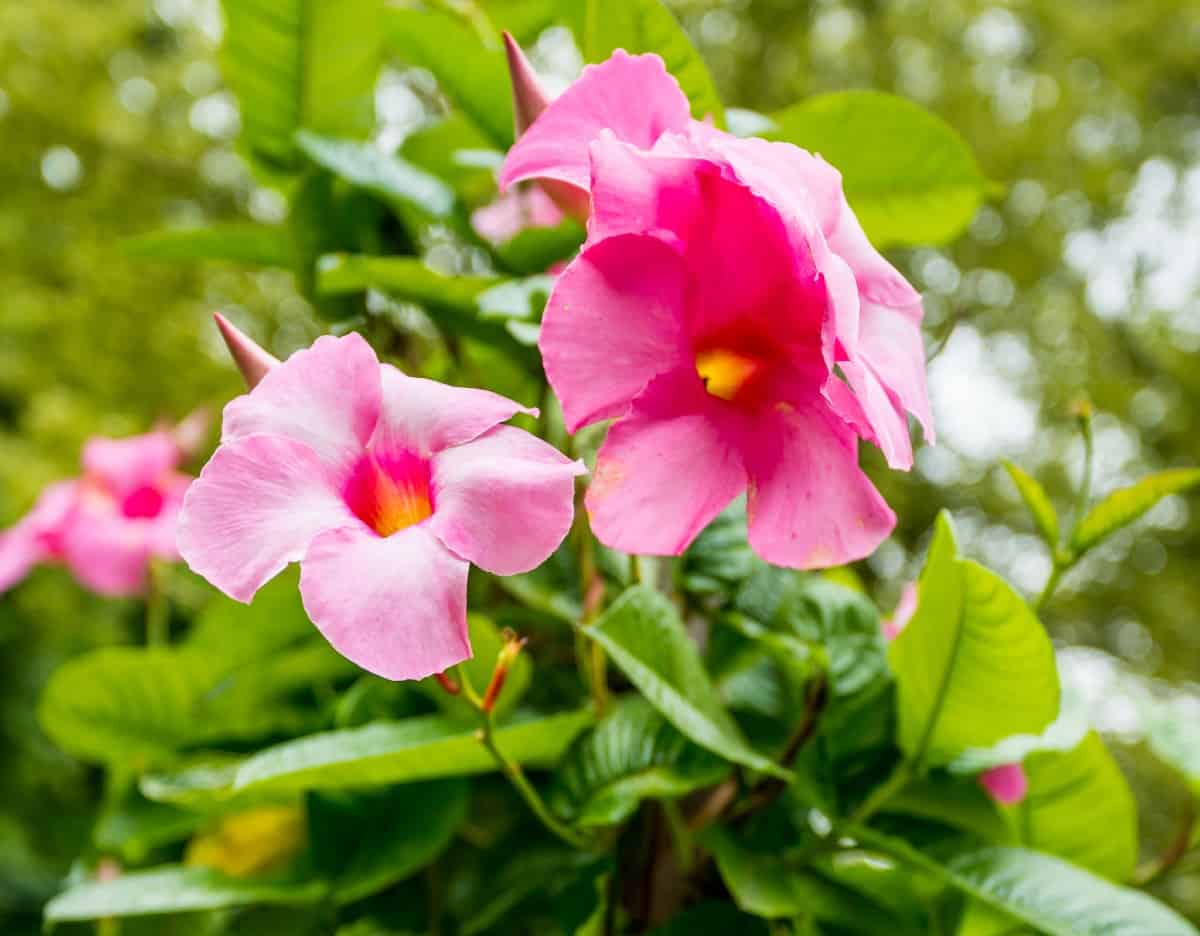 Brazilian jasmine plants are perennial climbing flowers that feature showy pink and white blooms and dark green foliage. They are hardy up to USDA zone seven and look stunning when climbing up trellises.
The bougainvillea vine is a similar Brazilian vine that is hardy from zones nine to 11 for those living in hotter regions. Brazilian jasmine plants prefer partial shade to full sun. The best place to put them is a warm and sunny spot while still being sheltered.
The vines reach as long as 15 feet and are a fast-growing vine, spreading as much as 24 inches every year. They also work for ground covers and are safe to prune after flowering.
Aromatic Vines for Sun – American Wisteria (Wisteria frutescens)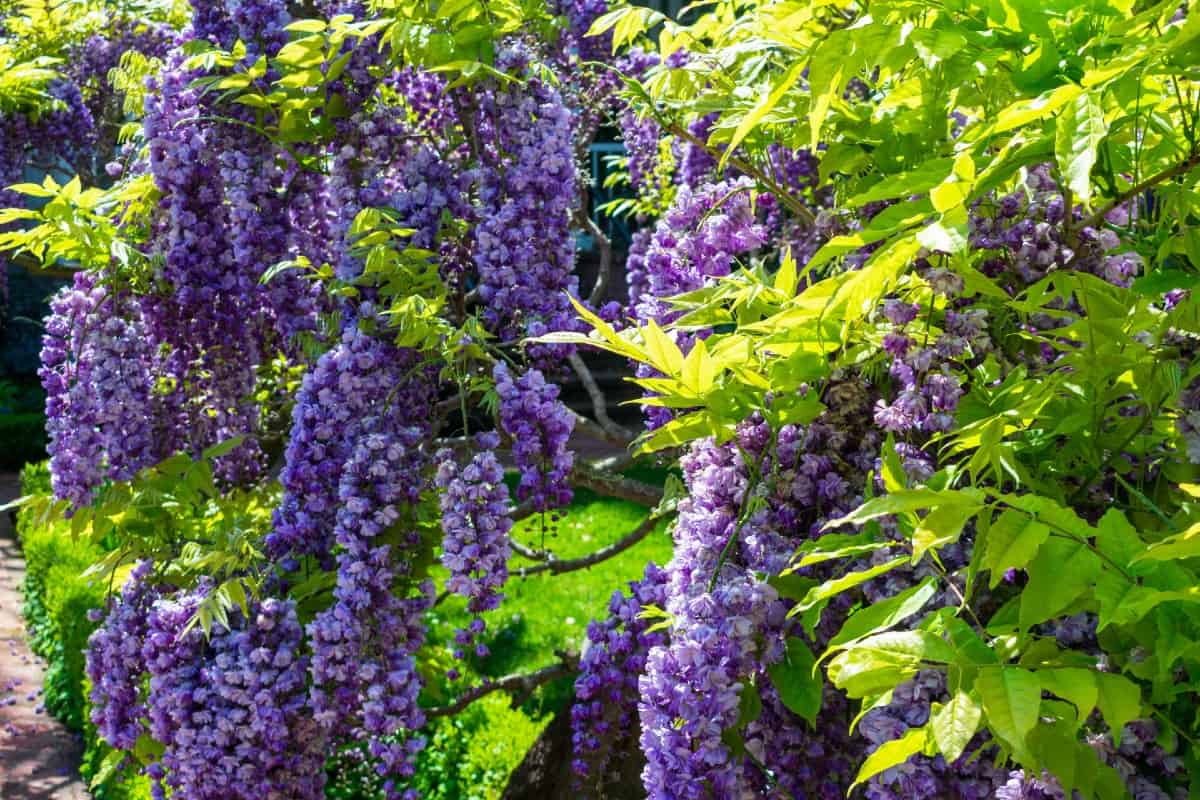 Wisteria vines are high-climbing plants with large, fragrant clusters of purple flowers that bloom from early spring to early summer. These vines for sun look breathtaking when hanging from an archway or pergola.
They reach over 30 feet long and provide a feast for hummingbirds. While American wisteria isn't quite as aggressive as Asian wisteria, the tendrils still multiply to secure it in its new home.
Plant American wisteria in a location with lots of sunlight for healthy blooms. These plants that grow in poor soil appreciate compost to amend it. Keep it away from other plants, so it doesn't overtake the area.
Hop Vine (Humulus lupulus)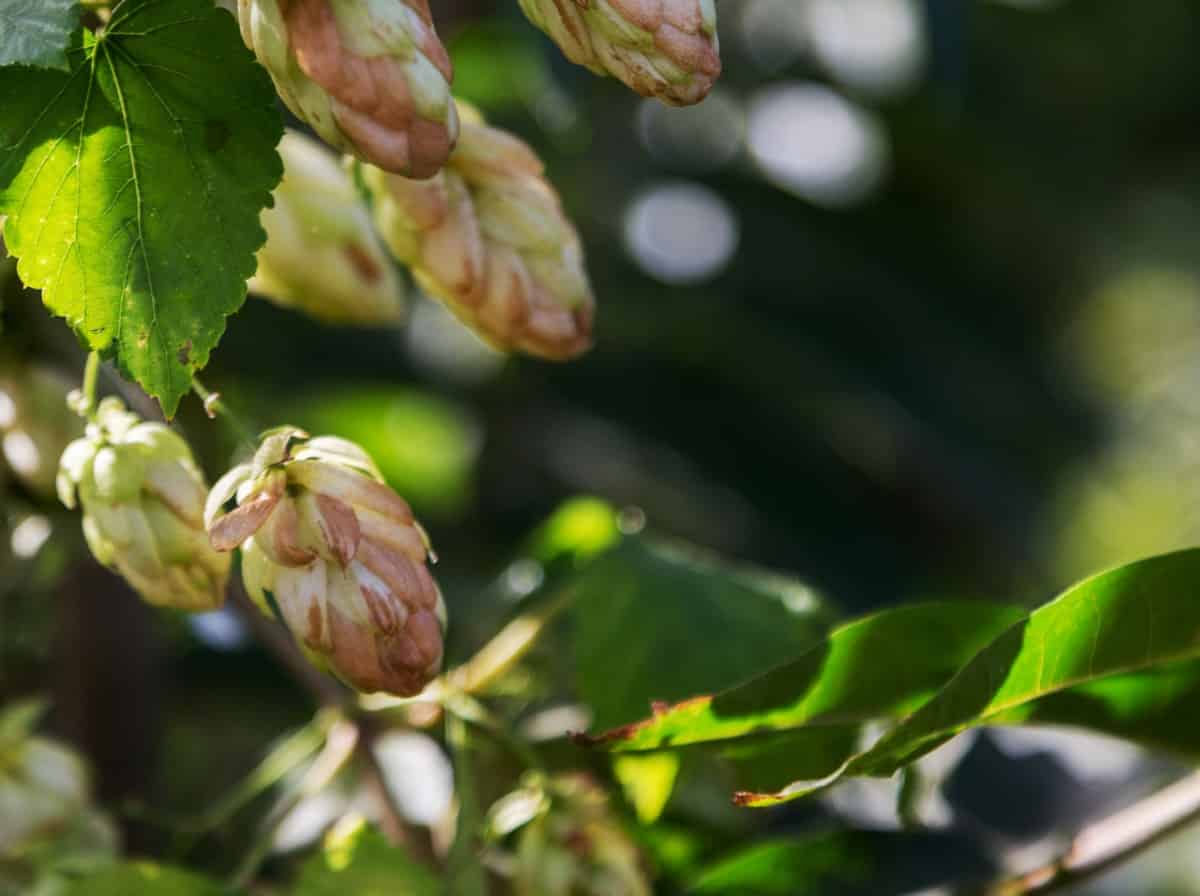 Hops may turn into beer, but planting these around your home is a great way to make an eye-catching statement. Hop vines come in male and female types, although the female produces the cones we all know as hops.
If you're interested in harvesting the cones, they are ready from August to September. Although the fruit is the showstopper, the foliage closely resembles Boston ivy leaves and gives it a classic feel with a twist.
Hop vines aren't particularly fussy about soil but prefer loamy and well-draining. Adding fertilizer helps give the plants a healthier start to their new life. Plant them in partial shade and watch them twine themselves through fences and up trellises.
Trumpet Vine (Campsis radicans)
Trumpet vines are showstopping vines for sun with unforgettable, trumpet-shaped flowers that dangle from the stems. Hummingbirds are drawn to the fragrant flowers that range from yellow to red.
Trumpet vines are hardy in USDA zones four through nine and reach 40 feet long. Pruning is necessary for this plant because it is such a fast grower and twines itself through whatever is in its path.
Both partial shade and full sun work well for these vines. They prefer having well-draining soil and water only when the soil is completely dry. Deadhead the flower to prevent it from reseeding and spreading to other areas.
Add a few drought tolerant ferns in front of your trumpet vine display for extra interest and color variation.
Exotic Sun Vines – Passionflower Vines (Passiflora ligularis)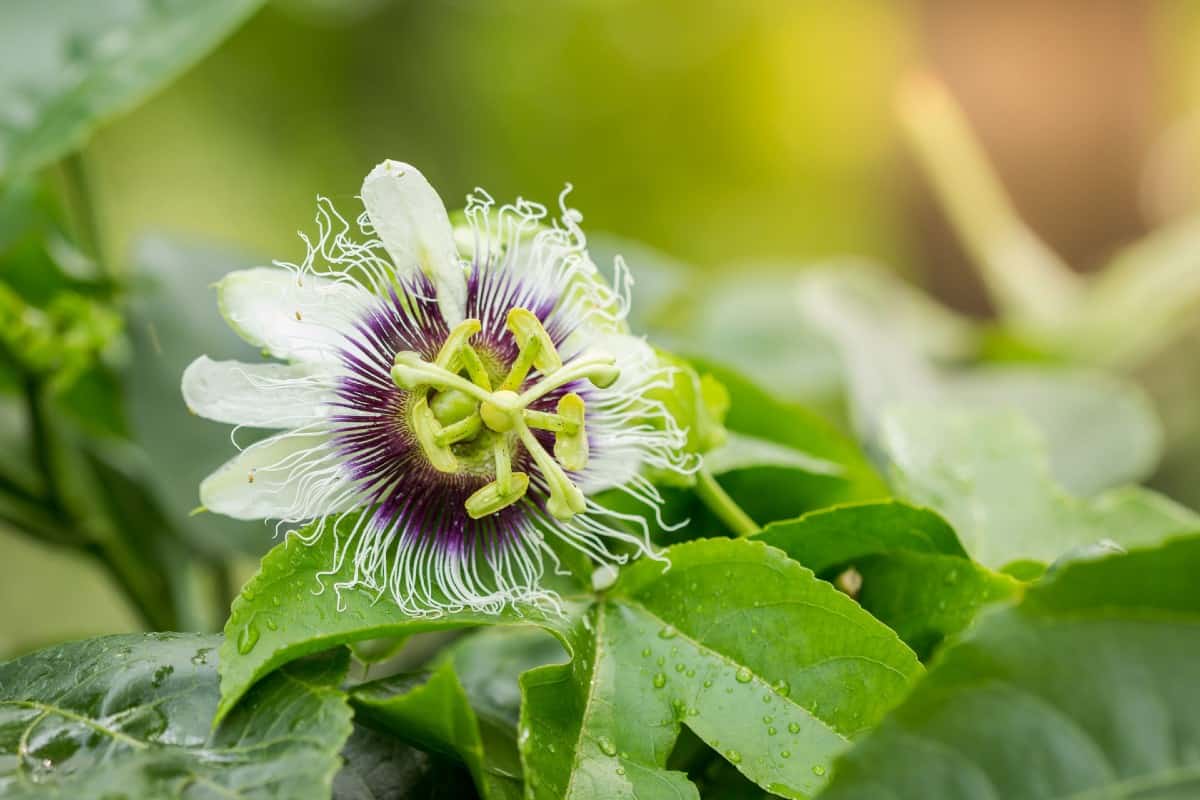 The passionflower vine is so original that you have to see it to believe it. The flowers look like they are from another planet and have pinkish-white petals with a bright purple, feathered center, and a bright green stamen.
The Dutchman's pipe vine stands no chance against this truly unique vine that blooms from midsummer to fall. Passionflower vines are flowers for sunny places that reach 30 feet long and eight feet wide.
These exotic plants are perennial vines and hardy in zones six through ten. Plant the vines in fertile, well-draining soil and remove the flowers once they fade.
Honeysuckle Vine (Lonicera periclymenum)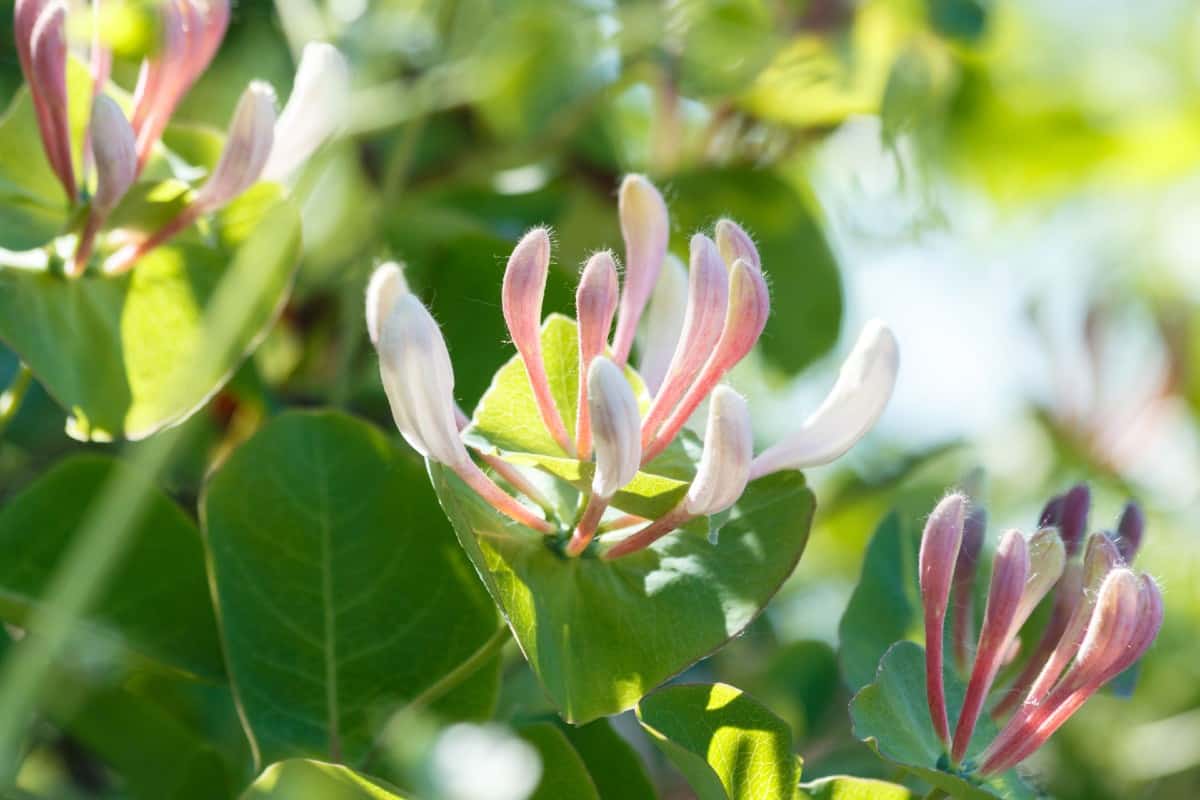 Honeysuckle plants are evergreen vines with an unforgettable, sweet pea smell. These vines for sun are extra hardy and grow in nearly every American state due to having over 180 varieties.
They have vibrant green, oval-shaped leaves, burgundy stems, and pink, orange, and yellow flowers. Honeysuckles enjoy full sun but tolerate some shade as well.
They are often grown as ground covers but do best with a support system like a fence or trellis. Keep the soil damp but not too wet and prune whenever you feel it is necessary.
Vines for sun are the best of their kind because they have the most magnificent blooms and vibrant colors. They are sure to spice up your garden and add texture, depth, and movement.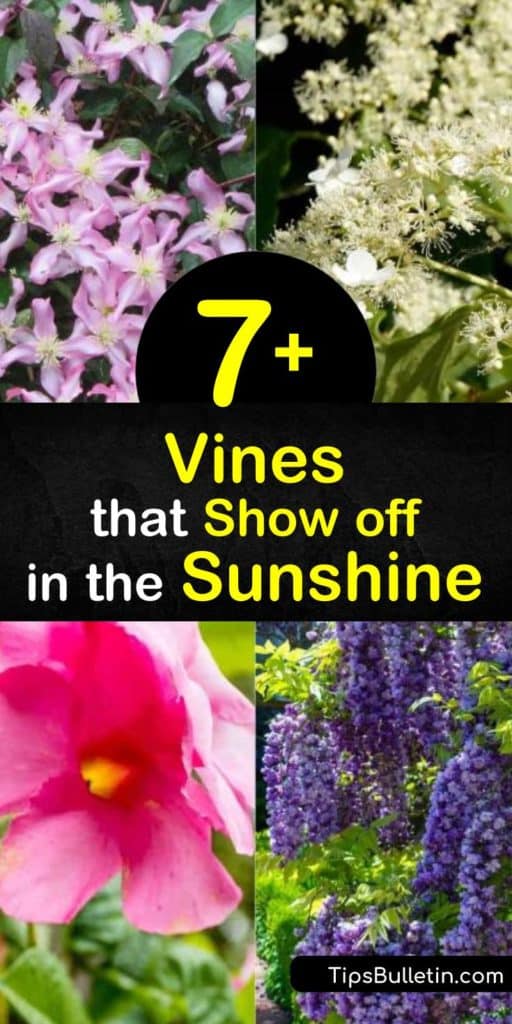 If these vines for sun helped you add interest to your yard, please share these vines that withstand heat on Facebook and Pinterest.