You open the washing machine to clean another load of laundry when a foul smell fills the laundry room, and you wonder if your clothes will even get clean. Unfortunately, a bad washing machine smell is typical, especially if you don't clean the unit regularly. Learn why a washer smells like sewer and how to remove the odor with proper cleaning.
There's nothing better than a new washing machine with its sparkling appearance and fresh smell, whether a front load washer or a top load washing machine. Yet, it doesn't take long before the appliance gets dirty with lint, dirt, and soap splatters, begins to emit a foul odor. The novelty of its newness begins to fade.
There are varying reasons for washer odors. It's important to clean a washing machine drain pipe, vent pipe, drain hose, and other plumbing, as the odor may come from the washing machine itself. Wherever it's coming from, it's vital to take care of it as soon as possible to keep the smell from transferring to your clothes.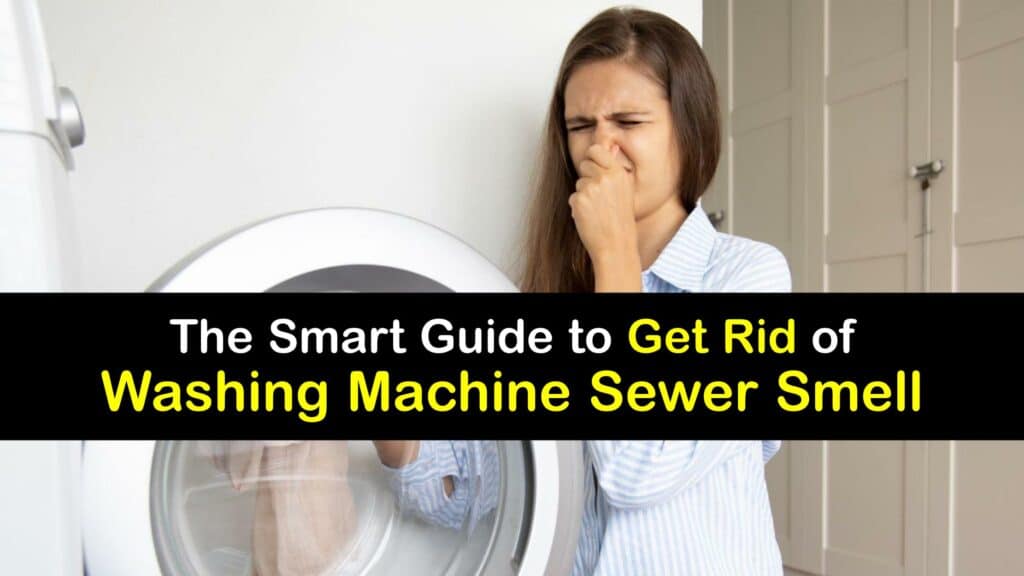 Ways to Eliminate Washing Machine Odors
Your washer is meant to clean clothes and other fabrics, not leave them with a bad smell or fill your home with sewage gas odor. It's vital to know how to get rid of a sewer smell in the washing machine to ensure your appliance runs appropriately and you don't end up with plumbing problems.
Learn the different reasons for washing machine odors to help you determine the next cause of action. Find out how to get rid of smelly laundry drains from a washer and some tips for preventing a smelly drain and washing machine.
Washer Smells Like Sewer
You may be unable to find the cause for the stinky odor at first. Then, there's no mistaking it as you discover it's coming from the washer. What causes a sewer smell in a washing machine, and how do you get rid of the stench?
Washer Odor
Washing machine odor comes from various places, like the filter, door seal, detergent dispenser, drum, hose, or drain. The smell results from bacterial growth from excessive dampness, low temperature, bad water quality, and inconsistent cleaning.
Or, it could be from something as simple as an air vent clogged with leaves and other debris. You may use too much laundry soap compared to water when cleaning your clothes. Excessive detergent leaves soap scum in the washer, offering an ideal hiding place and breeding ground for germs.
Front loading washing machines will often grow mold around the rubbing ring on the door. In this case, you will need to clean mold from a front load washer to eliminate the mildew smell.
How to Get Rid of a Sewer Smell in the Washing Machine
Once you determine that the odor is coming from the washer, not the plumbing, it's time to get cleaning. Deodorizing your washer will also help in getting poop smell out of clothing since the washing machine will no longer smell like the sewer. Discover how to get rid of a sewer smell in the washing machine by deep cleaning the appliance.
Add half a cup of baking soda and white vinegar to the washing machine and run a normal load without clothes. Check to see if the smell remains, and if it does, repeat the steps, but replace the white vinegar with a cup of bleach. Once the odor is gone, run a final load with hot water.
After cleaning the inside of the washer, it's time to wash the external parts of the machine. Make a solution of warm, soapy water and add a splash of white vinegar.
Dunk a clean rag into the liquid, wring it out, and wipe down the detergent drawer, liquid fabric softener dispenser, and the inside of the washer door and seal. Get another rag wet with water, rinse the entire machine, dry it with a towel, and leave the washer door open.
How to Remove Sewage Smell From a Washer
The cleaning process is different if the stench comes from the sink drain or drain trap rather than the washing machine. Explore how to remove sewage smell from a washer by cleaning the drain.
Sewer gas smell often occurs because the drain trap water evaporates. If yourbasement floor drain smells like sewage, the drain trap usually needs your attention. Find your washing machine's floor drain, which is usually a circular grate located in close proximity to the washer. Pour one gallon of water into the drain to restore water to the evaporated drain trap, and slowly add four ounces of mineral oil to slow the evaporation process.
Tips for Preventing Sewer Smell in the Washer
After getting a sewer smell out of the washer, you may find that it's an experience you don't want to repeat. Follow some simple maintenance tips to keep your washer and drain line free from rotten egg smell.
Check your sewer vent pipe regularly, which usually sits on the roof above your bathroom. Manually remove dirt and leaves to stop sewage odor from redirecting back into the house through the shower drain, toilet, or washer pump.
Wash your clothes with warm or hot water since laundry soap performs best in hotter temperatures. Run a hot water cycle every third or fourth washing if you prefer to clean your clothes with cold water.
Never leave wet clothes in the washer, which leads to bacteria growth and a mildew smell. Always leave the washer door open between uses. Give your washer a thorough cleaning once a week or bi-weekly, depending on your laundry schedule.
As much as we don't like the extra work, an appliance only runs as well as it's maintained. Cleaning your washing machine and plumbing is essential to prevent foul odors, whether from soap scum and mildew or clogged drains and vents.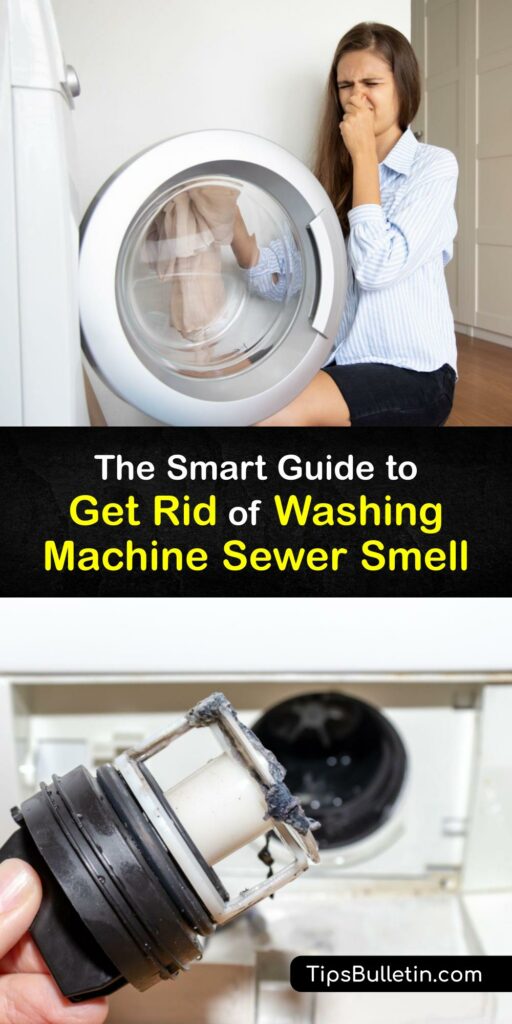 Now that you understand why your washer smells like sewer and how to remedy the problem, why not share this information for removing odors from the washing machine with your family and friend circle on Pinterest and Facebook?