Many house owners are greeted with the unpleasant realization their washing machine smells musty and is likely not doing the best job cleaning their clothes. Understanding how to get a musty smell out of the washer isn't as complicated as it might seem. A foul odor in the washer is generally caused by bacteria, mold, or other deposits like hard water grime, soap scum, and laundry detergent residue.
A foul smell in the washing machine may cling to your clothes, and worse, if the root cause is mold or other bacteria, these microbes could spread to your garments during the wash cycle. The biggest challenge when cleaning a washing machine is accessing the hard to reach areas, and the insides of the system where this pesky residue often collects.
Washer design allows easy at-home cleaning using safe, everyday products like baking soda, distilled white vinegar, and chlorine bleach. Though there are commercial washing machine cleaners available, these items are typically expensive and made with harmful chemicals.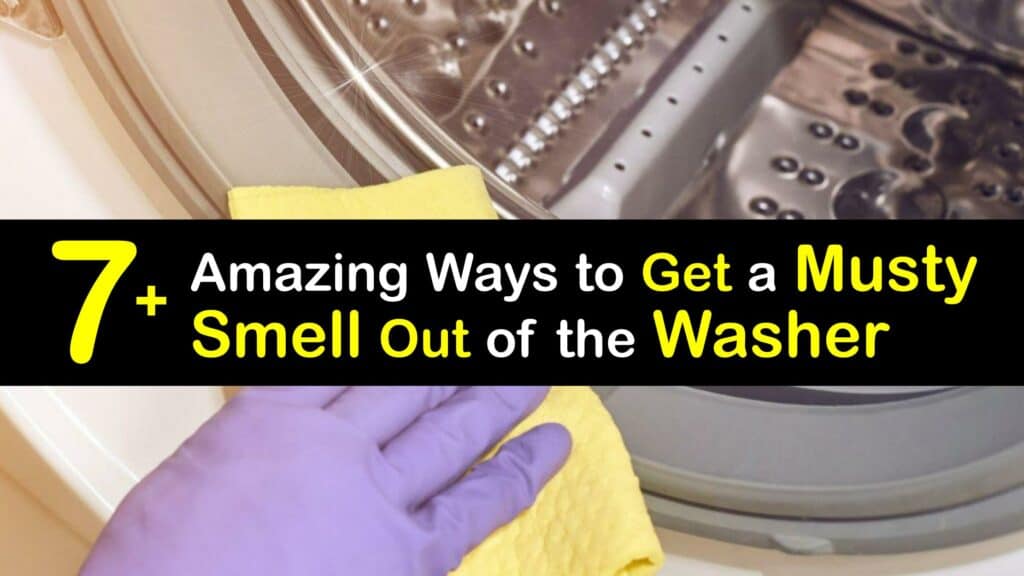 How to Get a Musty Smell Out of the Washer
Find out how to remove the musty smell from a washing machine with uncomplicated cleaners, to save money, prevent a horrible stench in your laundry room, and prevent damage to your washing machine.
Washing machines are costly appliances. A foul smell indicates the build of mold, dirt, and residue that may shorten the lifespan and reduce the efficiency with which they wash your clothes. When your washing machine smells musty, you need to know how to get a musty smell out of your washer as quickly as you can.
Though it might seem challenging, learning how to remove the musty smell from a washing machine is intuitive and only requires a little knowledge and basic supplies. Household items like baking soda, white vinegar, and chlorine bleach work perfectly in eliminating mildew odors from books along with deodorizing things around your home.
What Causes Washing Machine Smell?
A washing machine is associated with cleaning and freshening our clothes, yet from time to time, even these cleaning machines develop a musty smell and require extra attention. Several factors may contribute to an unwelcome odor in the laundry room.
Though dirt inside your machine is daunting, it's virtually effortless to remove the smell at its source with home remedies.
How to Remove the Musty Smell from a Washing Machine
When a bad smell comes from your washing machine, get to work to clean black mold off a washer gasket. Avoid harmful chemicals and make a cleaning solution using potent everyday products to remove the causes of odor from your machine.
Shake the ingredients in a spray canister and spritz the inside of the drum and door. Wipe all the washer surfaces with a soft cloth to sanitize and deodorize. Run a cleaning cycle without clothes to wash the baking soda and vinegar out of the washer drum.
The same remedy works when you need to get mildew smell out of your stinky dryer. Clean your washer and dryer at the same time to ensure clean-smelling clothes every time you do a load.
In a pinch, you can make your own mildew smell remover for clothes with this mixture. Lightly spritz your clothing and pop it in the dryer to eliminate the vinegar smell and musty odor simultaneously.
Clean from Inside When Your Washing Machine Smells Musty
Sometimes mold spores and other undesirable residue builds up in the internal parts of your washing machine. While these places are impossible to reach for manual cleaning, it's uncomplicated to run safe and natural cleaners through the system by placing them in the drum or detergent drawer to allow them to remove dirt or microbes.
Start by pouring half a cup of powdered baking soda into your washer drum (not the detergent dispenser drawer, as this will cause clumping), and run a regular wash cycle with no clothes.
When this cycle is complete, when cleaning mold from your washing machine with white vinegar, pour two cups of distilled white vinegar into the detergent drawer and run another wash. Add about two cups of chlorine bleach to the detergent drawer and run the hottest wash setting to sanitize inside your washer.
Getting Musty Smells Out of the Washer
The detergent dispenser drawer is a prime location for the buildup of soap scum and hard water residue. Use the washing machine cleaner above and an old toothbrush to clean the detergent drawer and its surroundings to remove a musty smell.
Carefully take the drawer out of the machine and spray its slot and the drawer itself with the cleaner. Work slowly with the toothbrush to loosen dirt and grime in small circular motions so the bristles break up the residue. Wipe everything with a dry clean cloth, and return the drawer to its place.
Fix a Musty Smelling Washing Machine
A mildew smell is often traced to a specific part of the washing machine called the load washer gasket, the rubber seal that keeps water from escaping the crack in the door. It is found inside the washer door.
Gently pull back the rubber seal with your fingers and use a paper towel or microfiber cloth to wipe any gunk inside. Once the cloth comes away clean, use a gentle cleaner or the washing machine cleaner recipe above and spray the solution into the gasket seal to sanitize and deodorize the area.
Clean Your Drain Pump Filter to Prevent Washing Machine Odor
Your washing machine drain removes the water from the drum when your machine is ready to spin. This drain has a drain filter, which occasionally contributes to foul odor issues from the washer.
Moisture, detergent, other residue, and even foreign items catch in this filter and form an ideal spot for mold and bacteria to build up and cause a smell. To get rid of smell from laundry drain and to clean your drain pump filter, unplug your washing machine from the wall for safety. Use a flat head screwdriver to pry open the drain pump door.
Consult your washing machine manual if unsure where to find the drain pump door. Slide a pan or shallow dish under the drain to catch water, and unscrew the filter per the manual guidelines.
Clean the filter of any gunk using cool water, remove foreign objects, and soak in a mild chlorine bleach solution for a few minutes to kill microorganisms. Carefully refit the clean filter, close the drain cover door, and enjoy an odor-free washing machine.
Removing the Musty Smell from a Washer
If you're short on time or don't want to use a straightforward DIY cleaner to eradicate the moldy smell from your washing machine, there is a range of commercial products for this purpose.
Many store-bought washing machine cleaners are drop and go, meaning you add them to the washer drum or the detergent dispenser drawer and run a wash cycle to have them clean your system. Though they're convenient, some of these cleaners are expensive.
When purchasing a product from your local hardware store, check the ingredients and look for anything damaging to your machine or something toxic you don't want in your home. Use commercial washing machine deodorizers following the label directions to achieve the best results.
Prevent a Smelly Washer
Once your washer is clean, try some simple tips to stop odor problems arising in the future. Despite being designed to clean fabrics, the washing machine is predisposed to harboring mold, scale, and more smell-causing compounds.
Regular cleaning and maintenance help lower the chances of your washing machine building up enough dirt or mold to impede its performance or cause a foul odor.
Minimizing the time your machine spends damp, using appropriate detergent, and increasing ventilation make it a less hospitable environment for mold and help air out odor before it becomes severe.
Like an air conditioner unit, a washing machine may develop odors since it deals with water. If your device has a persistent mold smell that doesn't resolve with treatment, reach out to a local washer repair company that can inspect your appliance parts and ensure nothing more sinister is wrong with your machine.
If you are just discovering that it is your washer that has caused your clothes to have a moldy smell, there's no need to rewash your clothes. For a quick fix, remove musty smell from clothes without washing by placing them in the dryer with a dryer sheet or a cloth dampened with vinegar. Musty smells will go away.
A smelly washing machine can't be effective at cleaning your clothes. Placing your clothes into a moldy washer to clean them is counterintuitive. As soon as you notice a stink from your washing machine, investigate the source and go through these simple ideas to remove odor-causing dirt or mold to oust the unpleasant smell.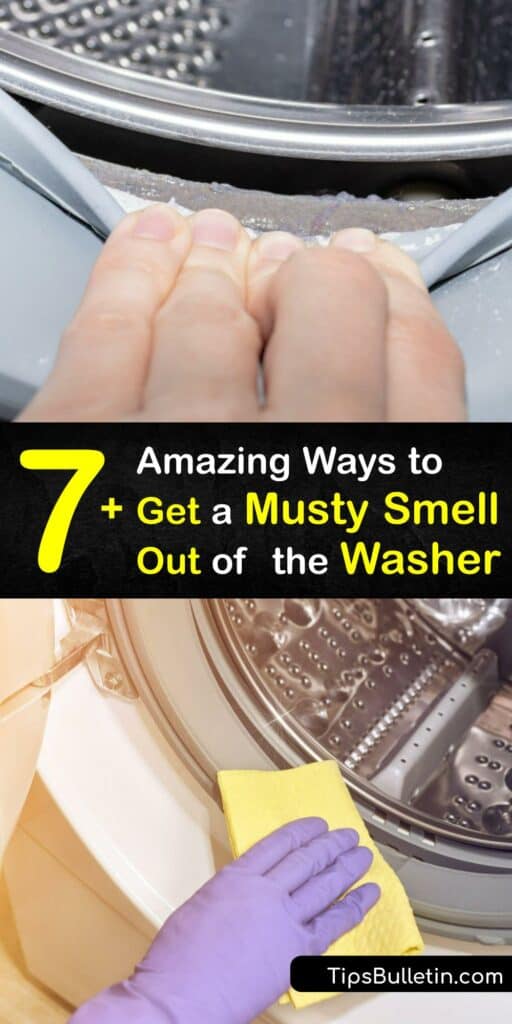 If you loved this article discussing why your washing machine smells musty, please share these brilliant strategies for how to get a musty smell out of the washer with your friends and family on Pinterest and Facebook.