When it comes to washing machines, we think of fresh, clean smells. The last thing we expect or want is nasty or foul washing machine smells. Most of us view clean laundry smells as relaxing and a pleasing scent, so it comes as no surprise that a stinky washer assaults our noses most unpleasantly.
Most odors emitting from your machine are caused by a combination of bacteria, mildew, and mold. Soap scum dirt, hair, and body oils are trapped inside dispensers, gaskets, and seals of washers and create a breeding ground for odor-causing bacteria.
Before you accept any foul washing machine odor as usual, we want you to know that there is not supposed to be any front load washer smell. Front-loaders or top loaders that smell aren't defective; they just need a good cleaning to rid themselves of any foul or nasty odors.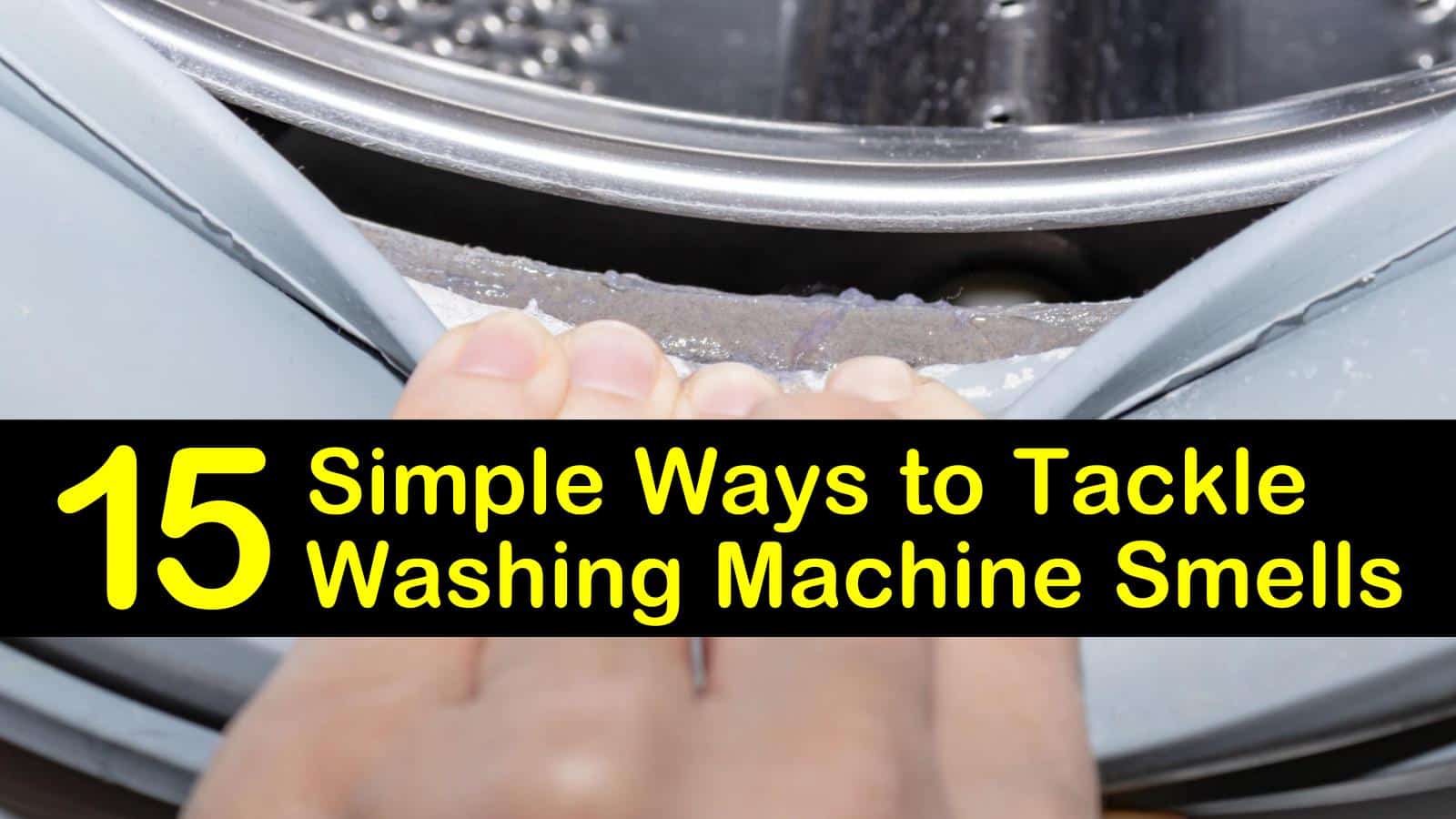 If your top-loading washing machine smells like mildew or your front load washer smells moldy, there are several ways to get rid of the smells. Make your washer smell better with our easy tips and tricks.
Get Rid of Stinky Washer Smells
Even though you regularly run laundry detergent through your washer, it doesn't clean your appliance as you think it does. Without regular cleaning using some everyday household products, it emits foul odors that smell worse than your dirty laundry.
Use a homemade washer cleaner made from simple ingredients you probably already have at home. You'll be pleasantly surprised at how well they work.
Why Does My Washing Machine Smell Bad?
Front-loading washing machines are more efficient washers than top-loading machines, but it is the improved efficiency that creates the odor problem in your laundry room. If you use high-efficiency detergents in a front-loading machine, the less water the machine requires isn't as much of a problem.
The more soap and softeners you use in a front loader, the bigger the smell problem, as there isn't enough water in a load to rinse away the soap and softener residue. Any soap and softener residue left behind coats the drum of the washer.
The soap scum attracts dirt and other debris from your clothing, which creates a breeding ground for bacteria, mold, and mildew as the inside of your washer is damp and warm.
The rubber door gasket adds to the smell problem, as its job is to prevent water from leaking out during the washing cycle. While it's doing its job, dirt, fabric, hair, etc., is trapped under the gasket where it sits and creates more foul odors.
Eliminate Stinky Washer Odors with Baking Soda
The first thing to try when eliminating funky machine odors is baking soda, as it's gentler than bleach. The baking soda works as a standalone odor eliminator or used in combination with other methods to get a musty smell out of the washer in record time.
Combine the baking soda and water and stir until dissolved. Pour the cleaner into the detergent container of your washing machine. Run a normal load to remove the smell from a front loading washing machine. Baking soda is a natural deodorizer that quickly eliminates musty smells from a washer.
Use Vinegar if Your Top Loading Washing Machine Smells Like Mildew
To combat mildew smells in top-loading machines and front loaders, add two cups of vinegar in washing machine drum. Use a regular cycle, but make sure it's set to high heat. Combine the vinegar with a baking soda solution for the ultimate odor-eliminating power.
Scrub Your Smelly Washer Parts
Remove all dispensers from your washing machine. This includes the bleach and fabric softener dispensers, as well as the main soap dispenser and even the drain pipe.
Water is often left behind in these dispensers when you run a wash cycle as the water splashes up into them and never fully drains. Follow our clever ways of cleaning a washing machine drain pipe to ensure that none of the components on your washing machine are creating a foul odor.
For the small cracks and crevices, use an old toothbrush to scrub any build up. Pipe cleaners work well to clear out anything stuck in the pipes of the dispensers. Use a mild soap mixed with hot water to wash each of these dispensers clean.
For front-load washers, one of the best ways to clean a washing machine gasket is to wipe down the rubber gasket with a rag dipped in the soapy water. Use a Q-tip to clean around the edge of the gasket as it removes the accumulation of gunk. For top-load machines, use a Q-tip to clean around the crevices of the machine door.
Combat Washing Machine Odor with Bleach
Bleach is the best solution for killing mold and mildew odors in washing machines. Use proper safety precautions when using bleach and never mix it with other cleaning products.
How much bleach you use depends on the type of machine you own. For top-loaders, add four cups of bleach, for a front-loader add two cups of bleach.
Set the washer to the hottest temperature and run a washing cycle. Once the tub fills and the agitator mixes the bleach, stop the washing cycle.
Allow the water to sit inside the drum for 30 minutes and then allow the cycle to resume. Run the rinse cycle again to remove any leftover bleach residue.
How to Deodorize your Machine with Vinegar
Use vinegar after sanitizing your machine with bleach. The acidity of the vinegar not only removes hard water buildup but eliminates any bacteria left behind by the bleach. Use the hottest washing setting and add four cups of white vinegar to your top-loader or two cups to your front loader.
Run a wash cycle; once the tub fills up, pause the wash cycle, and allow the water and vinegar to sit for 30 minutes. Once the time is up, unpause the cycle and let it finish.
Killing mold with vinegar is quite effective and it can also get rid of unpleasant smells that may linger in the drum or on the gaskets.
Treating the Rubber Seal for Mold
The seal around the door of your machine is one of the biggest culprits of nasty machine odors. Follow these simple steps for cleaning the rubber seal on a washing machine and say goodbye to mystery odors.
Combine the baking soda with water to form a thick paste. Wipe the seal, including the fold, so it is dry. Apply the baking soda paste to any mold spots you find while drying the seal.
Leave it alone for 15 minutes and then scrub with an old toothbrush. Follow up by placing a cup of vinegar in the detergent drawer and then run a regular wash cycle using hot water.
Soda Crystals Clean and Deodorize Washers
To clean the entire washer and not just the seal, use a pack of soda crystals along with white vinegar. Pour half the packet of soda crystals in the detergent drawer and then run a cycle using hot water.
Once the cycle is complete, add a cup of vinegar to the detergent drawer and repeat the wash cycle. If the odor persists, repeat the process using the second half of the soda crystals.
Check the Drain Pump
Most front load machines feature an accessible drain pump. Inside the pump is a filter or trap that collects various things like lint, hair, and other debris. We have even found small socks inside the drain pump.
Clean a smelly washing machine drain pump regularly to prevent buildup from forming and reduce any musty smell. Follow your manufacturer's instructions on how to clean drain filters or pumps as each machine varies.
Other Odor Eliminating Methods to Try
Bleach kills mold, mildew, and bacteria but doesn't always rid your machine of odors. If a vinegar treatment wasn't enough to eliminate the nasty smell, there are a few others.
For each of the following, add the products directly to the drum, and run a wash cycle using hot water. Never use more than one way at a time, as mixing certain chemicals creates toxic fumes.
If none of these solutions work to eliminate the odors in your machine, something else is wrong. At this point, call a professional repair company to diagnose what is causing the nasty smells in your washing machine.
Tips for Using a Commercial Washing Machine Cleaner
Odor causing residue in washers is hard to remove, as the heaviest buildup occurs right above the regular water line. This buildup is caused by soap residue and dirty water, which is splashed onto the drum but doesn't rinse away as the water doesn't usually reach that high.
Cleaning cycles, such as sanitize and tub clean, don't reach above the waterline, so they are not useful in fighting persistent odors. To rid your machine of these stubborn odors, use a commercial washer cleaner like "Smelly Washer" the next time you wash a full load of laundry.
In addition to detergent, add a capful of cleanser to your machine. The clothes push the water level higher, so it includes the area with the worst buildup as it rises to five inches above the typical water line.
Using Hot Water Reduces Odors
Using cold water for your wash cycles saves money, as well as energy, but does nothing to combat bacteria. Cold water leaves behind more soap residue than hot water. For the last load of the day, run a hot wash, even if you run it empty on a small load setting. The hot water kills off bacteria and dissolves any potential soap residue.
Will Cleaning the Outside of My Smelly-Washing-Machine Help?
Not all bad smells come from inside the washer. Mold and mildew also form on the outside of machines. Use a clean sponge and a cleaning solution to wipe down the entire exterior. If bleach isn't your thing, try using a 1:1 solution of water and vinegar.
Combine the bleach and water inside a bowl. Wearing gloves, dip a sponge in the solution and wring out the excess liquid.
Wipe down the exterior of your machine, rinsing the sponge in the solution as necessary. For harder to reach areas, use an old toothbrush or a Q-tip dipped in the bleach water.
Reduce the Risk of Odors by Using the Right Laundry Detergent
High-efficiency machines recommend using high-efficiency laundry detergent. Most popular laundry detergent choices offer a high-efficiency option in addition to regular laundry detergent. Or, make your own HE laundry detergent using this recipe or any other one posted on our site.
Combine the baking and washing soda in a bowl. Pour the Sal Suds into a small container and then add the soda mixture. Top off with water and shake to mix. Use ¼ cup for each wash cycle and then add ½ cup vinegar to your rinse cycle.
Using high-efficiency detergent in high-efficiency machines is crucial as HE cleanser creates fewer suds during the wash cycle. Fewer suds means less risk of soap residue buildup on your drum, so it stays cleaner and fresher for a more extended period.
How to Prevent Unpleasant Odors in Your Washer
To prevent nasty odors in your washing machine, regularly wipe it down. Use a damp cloth or a disinfecting wipe to wipe all interior surfaces. Pay close attention to the small nooks and crannies where buildup often occurs. Regularly wiping down the inside prevents buildup of grime and soap residue, so there is no breeding ground for mold, mildew, or bacteria.
Run a deodorizer through your machine once a month to keep it smelling clean and fresh — wipe out fabric softener, bleach, and detergent dispensers every other week.
After your last load, allow the door to remain open to allow any excess moisture to evaporate. Never overload the machine or use more detergent than necessary and always use the correct water temperature.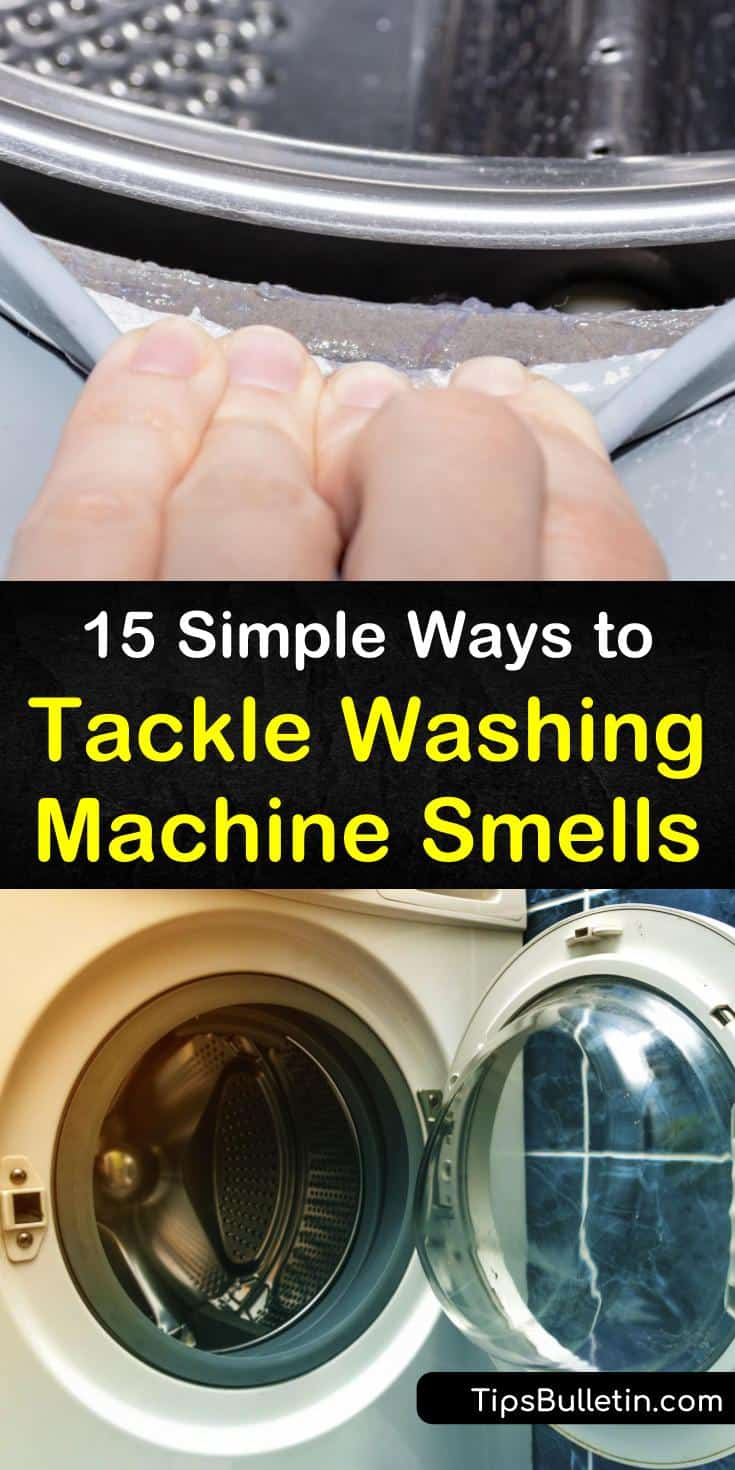 Thank you for reading our post about dealing with a stinky washer. If you found any of our smelly washer tips helpful, including what to do when your top-loading machine smells like mildew, please share our tips on tackling washing machine smells with others on Facebook and Pinterest.