Has the brew cycle on your coffee maker been acting up? Are there little bits of unknown debris floating around after you finish brewing a fresh cup of coffee? We've got several ways to clean a coffee maker using inexpensive and readily available ingredients.
Hard water deposits can create mineral buildup inside of the coffee maker. These deposits grow over time and reduce the functionality of your coffee brewer.
When a coffee maker is clogged with deposits, it may not brew all of the water from the water reservoir. This leftover water can become a breeding ground for mold and coliform bacteria. Therefore, you must clean your coffee maker regularly.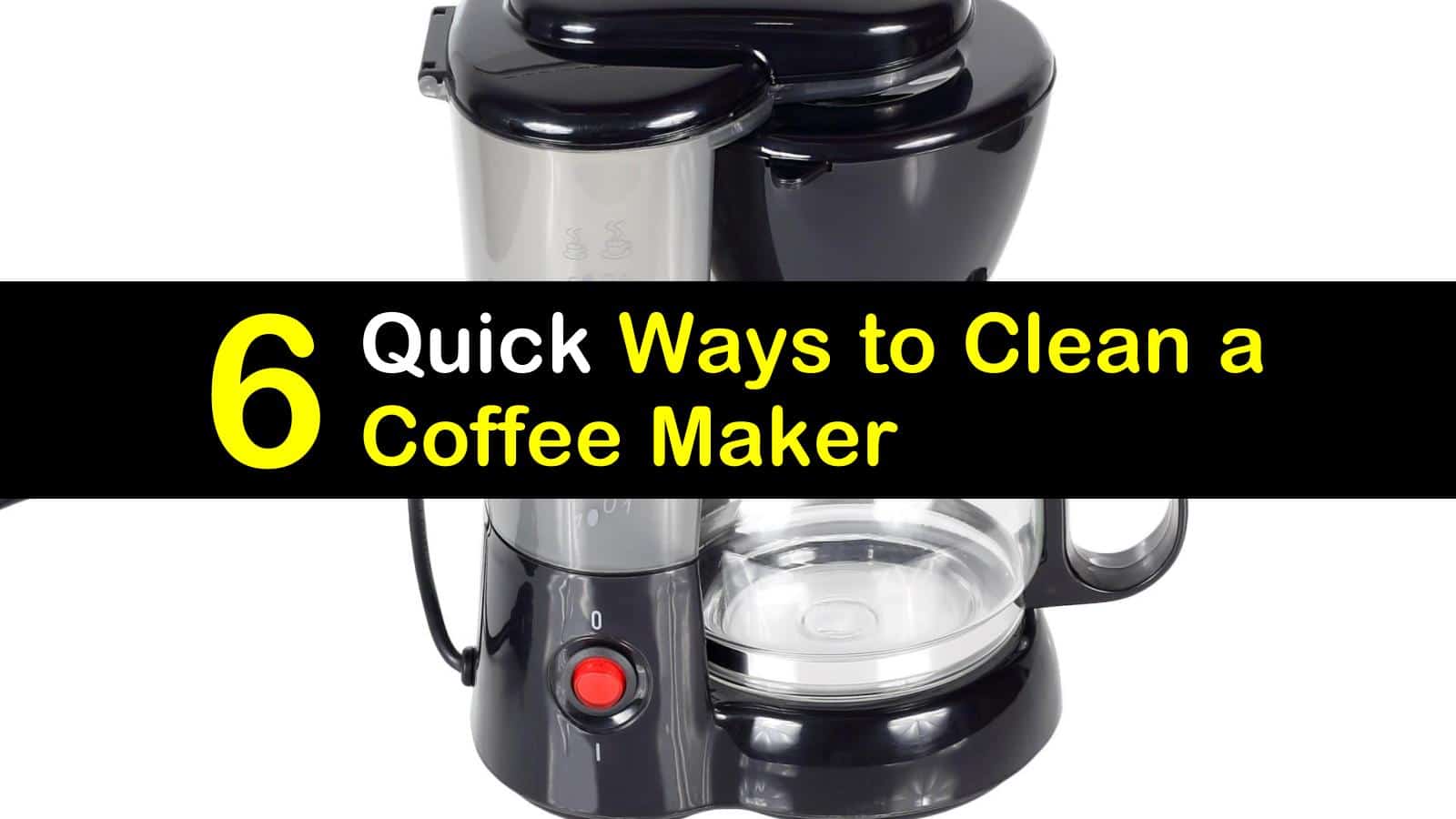 Ways to Clean a Coffee Maker
Coffee maker accessories such as the carafe and filter basket can typically be washed in the dishwasher. Be sure to check your coffee maker's owner's manual to see if those items are dishwasher safe. The following cleaning methods can be used for cleaning the inside of the coffee maker to remove hard water mineral deposits.
1. How Much Vinegar to Clean Coffee Maker?
You may wonder what is vinegar used for? The question really is what isn't vinegar used for? One of our favorite cleaning solutions is white vinegar due to its versatility and convenience. It cleans and sanitizes at the same time and is quite inexpensive.
Alternately, you can use another coffee maker descaling solution. The following steps show you how much vinegar to clean coffee maker by Keurig or any other single-cup coffee machine.
Descaling a Single Serve Coffee Brewer
Remove the k-cup and fill the water chamber with ten ounces of white vinegar. Position an appropriately sized mug to catch the liquid and run a brew cycle.
Once the cycle is complete, dump out the solution and repeat the process with fresh vinegar. After running two cycles of vinegar solution, run a final cycle using fresh water.
2. How to Clean a Coffee Maker with Vinegar
The following will show you how to clean a coffee maker with vinegar. Vinegar is an acidic liquid that works to clean the inside of a coffee maker by breaking down the mineral deposits. This method is ideal for cleaning any standard drip coffee maker.
Cleaning a Coffee Maker with Vinegar

2 cups of warm water
2 cups distilled white vinegar
Remove the dirty paper filter or clean coffee grounds out of a reusable coffee filter, and pour equal parts vinegar and water into the coffee carafe. Pour the vinegar mixture into the water reservoir and run the brewing cycle.
Stop the cycle once it is halfway finished and allow it to sit for one hour to give the vinegar time to completely loosen up deposits. Finish the cycle and then dump out the dirty liquid.
Wash the carafe with hot soapy water using dish soap. Fill the carafe with clean water and run it through the brewing cycle of the coffee maker to flush out any leftover vinegar and debris. Repeat this process with plain water three times, allowing a cool-down period between each cycle.
3. Cleaning a Single-Serve Coffee Brewer
If you're like many people, you probably have a single-serve coffee brewer. These handy little machines provide you with that one cup of delicious coffee on demand. While many coffee maker cleaning recipes are for use in a standard brewer, we have a smart trick you can use to clean a Keurig.
Denture Tablet Coffee Cleaner
Fill the water chamber with warm water and drop in two denture tablets. Allow the tablets time to dissolve, and then run the brew cycle into the cup or carafe. Once the unit has cooled, run another cycle using only warm water.
4. Cleaning a Coffee Maker with Baking Soda
This recipe shows you how to clean your coffee maker using baking soda and water. Baking soda is alkaline and works well at removing tough stains from just about anything. It's not surprising that it can also clean a coffee maker.
Baking Soda Coffee Maker Cleaner

1/4 cup baking soda
1 cup of water
Dish soap
Start by removing the filter from the coffee maker. Pour the water and baking soda into the coffee pot and give it a swirl to mix the solution. Pour the water solution into the reserve tank and place the empty carafe back onto the hotplate.
Run the coffee maker on a full cycle. Empty the carafe of cleaning solution and oily residue into the kitchen sink. Clean the carafe with soapy water made from hot water and dish soap.
Finish by running fresh water through the coffee maker for another cycle to flush out any leftover coffee residue. Wipe down the outside of the coffee maker with a damp cloth.
5. How to Clean a French Press Coffee Maker
While a French press is nothing like a modern coffee maker, it still needs proper cleaning to ensure a good cup of coffee. The following method is pretty straightforward and easy to do.
French Press Cleaning
If your French press is dishwasher safe, place the smaller removable parts into the silverware basket holder and the carafe into the top rack section of the dishwasher. Run the dishwasher on a regular cleaning cycle.
If you are unsure whether your French press is dishwasher safe or do not have one, you can clean it by hand. Fill the sink with hot soapy water. Remove the plunger screen and rinse off any loose coffee grounds.
Place the plunger and carafe into the soapy water and let them soak for several minutes. Twirl the plunger screen through the soapy water to remove leftover grounds. Use a sponge to clean the inside of the carafe and any of the removable parts. Finish by rinsing all parts using cold water.
6. How to Clean a Coffee Maker Using Lemon Juice
If you cannot stand the smell of vinegar, then you can use lemon juice as an alternative. Lemon juice is an acidic liquid that can clean hard water deposits and gunk and is a good substitute for cleaning the inside the coffee maker.
Coffee Maker Lemon Cleaner

1/2 cup water
1/2 cup lemon juice
Start by running a normal cycle on the coffee maker using only water to flush coffee residue out. Pour the lemon juice and water into the carafe and give it a swirl to mix. Pour the solution in the reservoir and place the pot back onto the hotplate.
Let the solution sit for about 15 minutes so it can begin to break down the deposits, and then run a full brewing cycle. Once the cycle has completed, and the coffee maker has cooled down, run a final brewing cycle using only water to flush out leftover lemon juice and debris.
Descaling and cleaning coffee stains off a coffee maker will make your coffee taste better while allowing the coffee brewer to work more efficiently and safely. Now that you've given your coffee maker a deep clean, you can enjoy a pleasurable coffee tasting experience with your morning cup of Joe.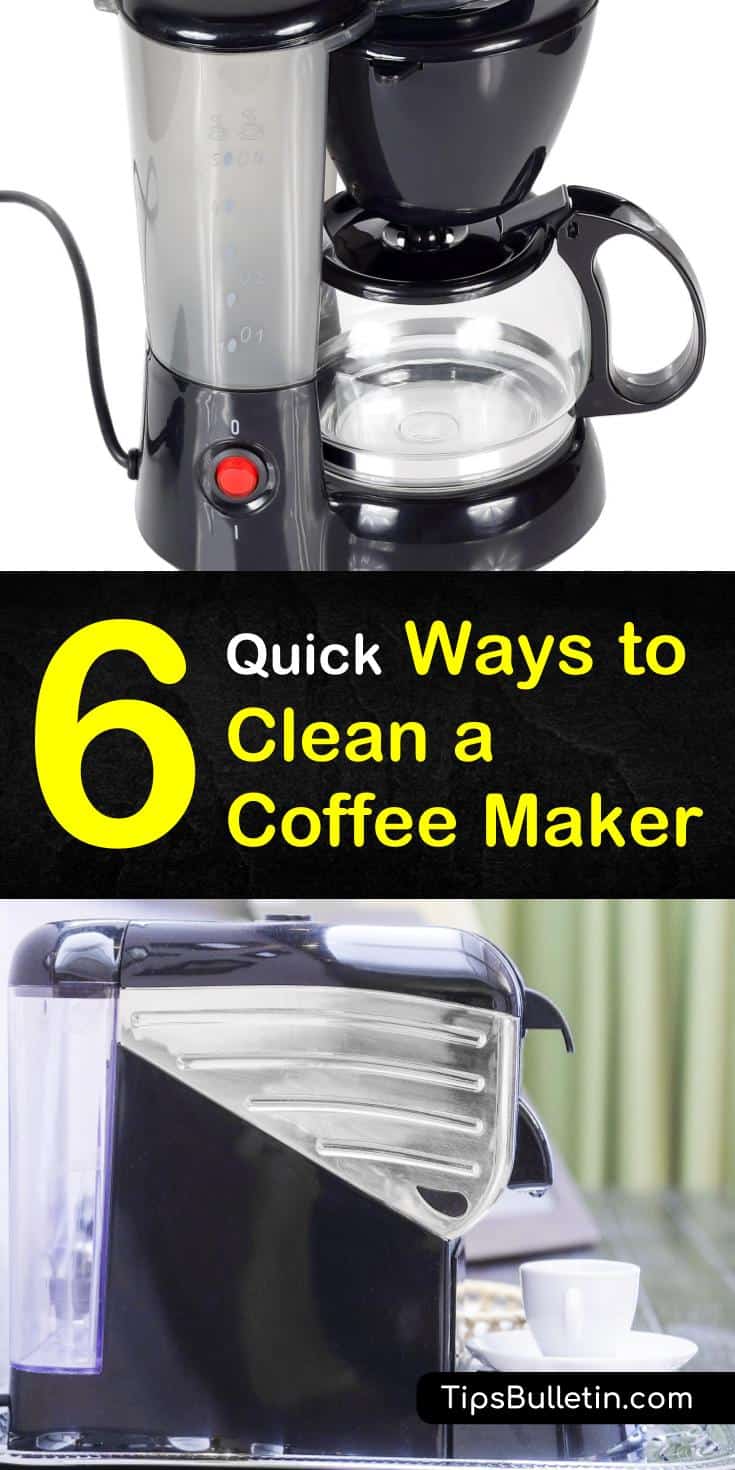 We hope you enjoyed the many ways to clean a coffee maker and that you'll share our coffee maker cleaning tips with friends and family on Facebook.