Having a stove is one of the miracles of modern life. With the turn of a knob, we have all the heat we need to cook anything we want. Knowing the ways to clean a stove top is essential to keeping your kitchen looking its best and your meals tasting great.
When you have an effective stove top cleaning method, your tasks get a little easier, and your day a bit brighter. This guide shows you the information you need to make your next oven cleaning a snap.
We've included instructions on how to clean both gas stoves and electric stoves, and you'll also get some unique DIY cleaning information that you can use as a way to clean glass top stove surfaces. You're sure to find the best way to clean a cooktop in our article, such as ways to get burnt milk off a glass stove top. Your top will shine, and your family will thank you.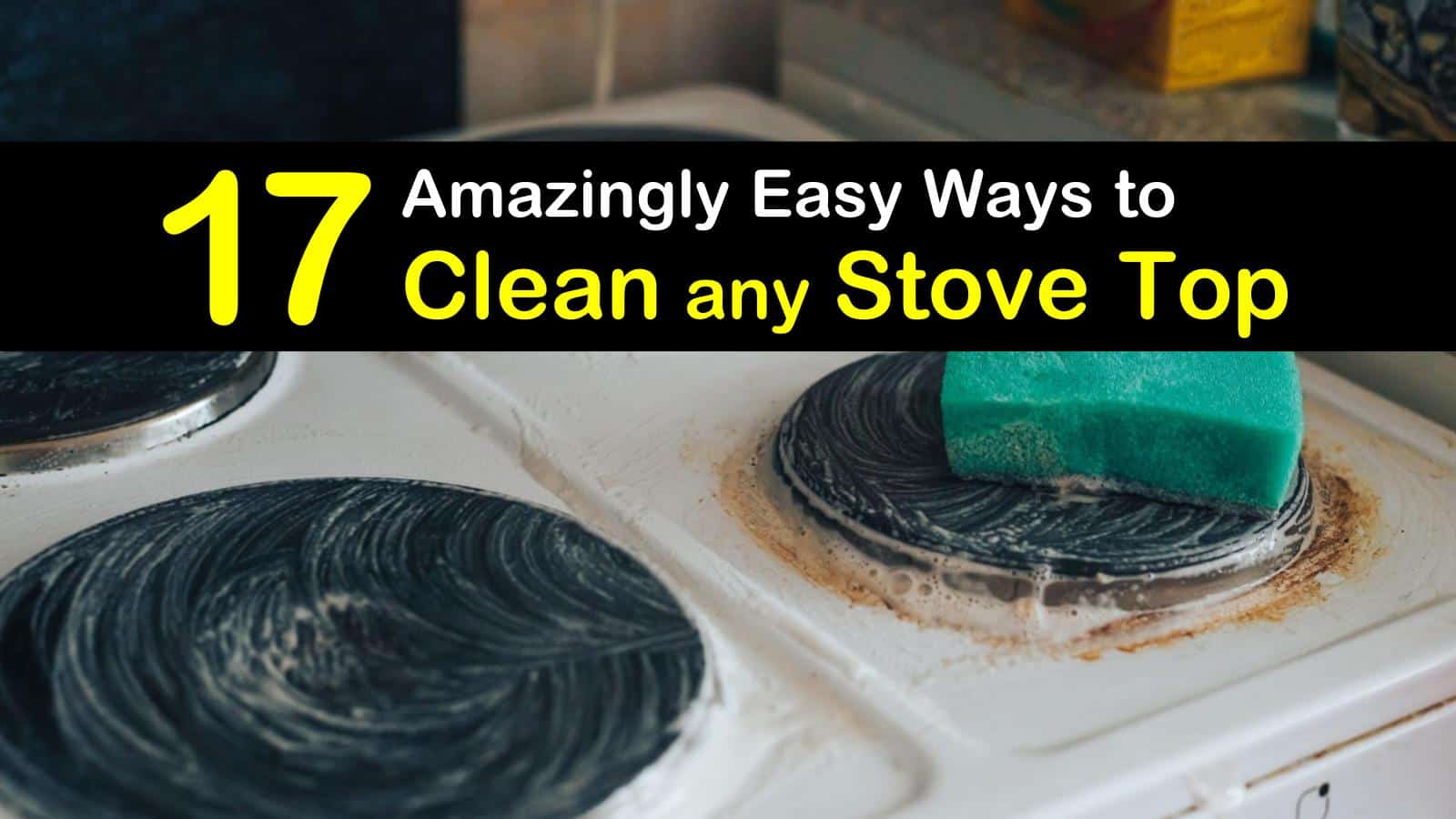 Effective Ways for Cleaning a Stove Top – Electric Stoves
Electric stoves are everywhere, so there's a good chance you live with one. Electric stoves have their quirks and unique qualities, and it's essential to understand the best cleaning methods for dealing with them. Having a reliable cleaning option ready to go will give you peace of mind and make your cleaning day go by more quickly.
This section examines the best ways to clean your electric stovetop. We look at cleaning methods that you can use to get your electric stove looking like new. You'll encounter some favorite household agents and get a tip for cleaning burners that could save you a ton of time.
Clean Your Electric Stove with Soapy Water
When you approach a cleaning task, you should always try to use the least amount of force needed to take care of the problem. Sticking to milder cleaning methods whenever possible reduces your chance of damaging your equipment.
And, although you can certainly buy a cleaner at the store, it is easy and less expensive to make your own DIY stove cleaning solution to take care of your stove cleaning needs. That's why soapy water is an excellent choice for cleaning your stove top. You can use this method to cleanse any stove, not just electric ones.
Don the gloves, and make sure the burners are turned off and cold. Mix the soap and water, and dampen a cloth in the mixture. Wipe down the stove surfaces, making sure to include drip pans and grates. Repeat every day to keep your stove at its best.
Use a Peroxide and Baking Soda Cleaning Option
If soapy water and a cloth aren't enough to get your electric stove looking like a showroom model, you'll have to step up your game.
Hydrogen peroxide and baking soda are an excellent second option and will get your stove top looking pristine. This cleaning solution is great for gas grills and cast iron elements, as well.
Don the gloves. Sprinkle the baking soda on any spots that need cleaning. Fill the spray bottle with peroxide, and spray the stains until the peroxide and baking soda form a fizzy paste.
Let the combination sit on the stains for a few minutes, and wipe the stove down with a cloth. Repeat as needed.
Use a Scraper and Razor Blade
Sometimes, your stove top is clean except for some stubborn, burnt-on food splatters. If you need to remove burn stains from a glass stove top, you can often take care of the problem using a scraper, a razor blade, and brute force. It's a great option when you've been trying cleaners but haven't had any luck.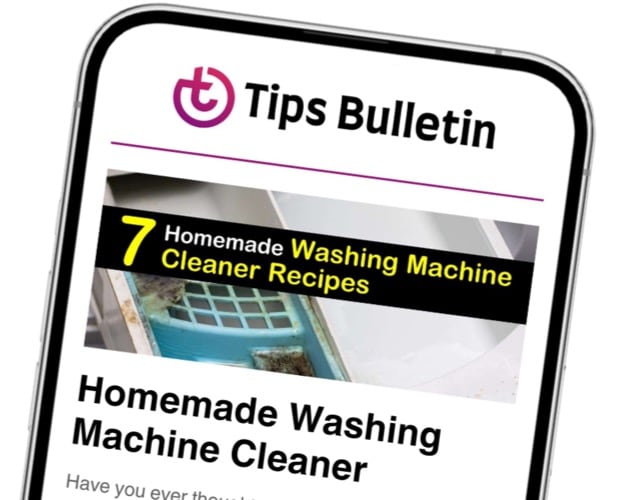 Finally, an email that Transforms Your Home.
Get the latest home and garden tips from our experts, delivered straight to your inbox.
Test this method on an inconspicuous area, because an overly enthusiastic scrape can damage to your oven's finish. Begin by using the blunt scraper to dislodge any large food particles from the stove top.
Use the razor blade to carefully scrape off smaller bits of stuck food and other burnt material. Wipe off any loosened debris with a microfiber cloth.
Get Your Electric Stove Clean with Vinegar
Vinegar is a modern wonder of cleaning and is useful for all kinds of cleaning tasks. It's just what you need to get your electric stove top back to factory condition. It's mild enough not to damage your stove, and its cleaning power makes it effective against stove top grime.
Fill the container with vinegar, spray down the stove top, and let it sit on the stove top surface for at least fifteen minutes. Use a cloth or sponge to scrub at the stove top until clean, and wipe off any residual crumbs or debris.
Use the Self-Cleaning Burners
One of the better aspects of having an electric stove is the fact that it's mostly self-cleaning. Electric ovens often have self-cleaning functions to burn off organic matter, and you can make your burners do the same thing. If you have burnt-on food or gunk on a burner, try cleaning it off with the stove's heat.
Turn on the affected burner to high, and let it cook for a few minutes until any food particles have turned to ash. Turn off the stove and let it cool completely before proceeding. Wipe the cleaned burners with a cloth to remove any lingering particles.
Give Baking Soda a Try
Self-cleaning stoves don't always do the job on food and grime, so you'll need to have other tools ready in your kit. Baking soda is an excellent cleaning option and will get your stove back to beautiful in no time.
Put on the gloves, and mix the baking soda and water to form a paste. Apply the paste to any area on the stove you wish to clean, including the burners. Let the paste sit for about fifteen minutes.
Clean the paste off using a clean cloth. Wring out the cloth frequently as you clean.
The Best Way to Clean a Cooktop – Gas Stoves
Gas stoves are amazing and provide instant cooking power, but they can get grimy if you let them go for too long. It's easy to find yourself with a filthy gas stove top and no idea how to take care of the problem.
That's why understanding the top ways to clean a stove top that runs on gas can mean the difference between a clean kitchen and a dirty one. This section looks at the different options available to clean a dirty gass stove top.
We show you some faithful home remedies with ingredients you probably already have, and you'll also get a rundown on ways to clean a stovetop using powerful commercial products. You'll be ready for any gas stove problem you encounter by the time we finish.
Soak the Grates and Drip Pans
A gas stove top tends to have areas that stay clean and areas that regularly get dirty. Any area around a burner, including the drip pans and stove grates, is likely to get covered with food whenever you cook.
You should have a reliable method of cleaning any equipment that experiences regular food spills or build up. Soapy water is a fantastic option for tough stains.
Add soap to the hot water, and place the burner grates and drip pans in the basin to soak. If needed, place especially dirty pieces in a plastic bag, fill it with soapy water, and seal it for extra cleaning action. Let the equipment soak for at least an hour.
Scrub any cast iron elements with steel wool and a plastic scrubber, and wipe down stainless steel or ceramic parts with a microfiber cloth. Use the toothbrush to clean difficult-to-reach spots. Rinse and dry the pieces when they are clean.
Take a Vacuum to the Stove
It might seem crazy to use a vacuum on your stove, but it makes sense. You want to remove every bit of debris from the burners and cooking surfaces, and that includes crevices and burner holes. Using a vacuum on your stove every once in a while is an excellent way to clean up large, dry debris without having to deal with liquid cleaners.
Always make sure you've turned off the gas before you try using this cleaning method. Attach the crevice cleaner tool to your vacuum, and run it along the top of your stove. Make sure to clean out all of the nooks and crannies, and don't forget to include the burners.
Use Rubbing Alcohol to Clean Stainless Steel Gas Stoves
Many gas stoves have a painted surface that works well with damp rags and gentle cleaning. However, you might wind up having to clean a fancier stove with a stainless-steel finish. That's good news for you because stainless steel resists oxidation and is easy to keep clean.
Isopropyl alcohol or rubbing alcohol is usually all you need to keep your stove looking like new. It's the best homemade glass cleaner you'll find.
Always turn off the gas before using this cleaning option. Fill the container with alcohol and spray down your stove top. Use a cloth to wipe down all surfaces carefully.
Make sure to wipe around the burners; pull them up one at a time to clean under them. Give one final wipedown to clean away lingering crumbs. You can also use rubbing alcohol to clean your stove's knobs and get them looking sharp.
Get Your Gas Stove Top Clean with Boiling Water
Great cleaning options never go out of style. That's certainly the case with boiling water, which is a go-to solution for everything from unclogging a toilet to getting rid of an ant colony.
Boiling water is the best way to clean without damaging most stove top surfaces, and it won't leave any potentially harmful chemicals in its wake. You can use this method for any stove type.
Don the gloves, and pour boiling water on the stove top. Use the sponge or cloth to scrub the surfaces until clean. Wipe down the stove with a towel to remove any lingering water. Repeat as needed.
Make a Vinegar and Baking Soda Paste
When you combine the cleaning power of vinegar and baking soda, you create a wonder cleaner that can tackle just about any surface and come out a winner. You can use it to get your oven looking perfect. It's a beautiful and safe cleaning option for cleaning a cooktop.
Pour the baking soda in a bowl, and slowly add the vinegar until it forms a thick paste. Apply the paste to any areas that need cleaning, and let it sit for about 15 minutes. Clean the surfaces with a cloth, and repeat as needed.
Make Your Stove Look Like New with Salt and Water
Salt makes a fantastic cleaning agent thanks to its abrasive power, and you can harness this power on your cooking gear. It's one of the best ways to clean a stove top. You'll need to make sure to completely clean your surfaces after using this method, especially if you have a stove that's prone to rust.
Test this method on an out-of-the-way spot before using it on large surfaces to determine whether you might scratch your stove finish. Combine the water and salt, and stir them to form a paste.
Apply the paste to any stains, and gently rub the areas with a cloth. Wipe up the paste, and rinse the area with a clean, wet cloth.
Get Your Stainless Steel Gas Stove Clean with Bar Keepers Friend
Stainless steel stoves are fantastic most of the time and can get by with simple alcohol wipedowns, but when they do get dirty, it can take some doing to get them clean again.
Fortunately, Bar Keepers Friend is just right for getting your stainless steel stovetop looking like a million bucks. Give this method a shot when you need some extra steel-cleaning power to get that stainless shiny once more.
Don all safety gear, and make sure you have adequate ventilation. Follow the manufacturer's directions. Sprinkle the powder on the stove top and then wet it down to create a paste.
Clean all areas, including under the burners. Your stove should shine when you finish your cleaning job.
Use an Oven Cleaner to Tackle the Worst Jobs
Unfortunately, not every oven cleaning job is going to be a simple one that you can take care of in a few minutes. You'll likely run into some stains and baked-on food that even the best home remedy can't resolve, and that's where commercial oven cleaners come in. Oven cleaners have active agents that eat away at organic compounds and clean up almost any mess in record time.
Always wear adequate safety gear, including a respirator, when you work with oven cleaner. Check the manufacturer's instructions and follow the directions thoroughly to ensure that the product works as intended. Let your stove air out completely before using it again.
The Top Way to Clean Glass Top Stove Surfaces
Glass is a wonderfully versatile substance and has tons of uses throughout the kitchen. You might even have a glass top stove. If so, you're in luck. We have a few ideas how to clean a glass top stove without scratching it and letting the surface shine like new.
Glass stove tops are a dream to keep clean, as long as you know what you're doing. With the right cleaning products, you can make sure your glass stays looking its best all year long. This section looks at cleaning glass top stoves.
We show you the way to clean glass top stove areas wholly and quickly. You'll get a recipe that includes lemon juice, and we also share one way to clean glass top stove surfaces using nothing more than everyday glass cleaner.
You'll be stunned with how easy it is to keep your glass cooktop looking tip-top and ready to go. Check out these glass top stove cleaning solutions and use one or more to keep your stove top clean between cooking sessions.
Use a Damp Cloth Every Day
Prevention is better than deep cleaning. Your glass-top stove is easy to clean every day, and doing so can save you a lot of time and anguish later on down the line. Best of all, it's dead simple to clean your stove top. Just use some elbow grease and a damp cloth.
Soak a cloth in the water, and rub the stove top surface. Clean every area of the stove, including corners. Dry the stove top surface using a clean towel. Repeat this every day, whether you use the stove or not. It'll keep everything looking and working great.
Attack Your Glass Stove with Lemon Juice
Lemon juice is in a close race with vinegar to see which is the better cleaner. Like vinegar, lemon juice contains a mild acid that you can use to eat at stains while leaving the glass surface unharmed. Always wipe down your stove with a damp cloth after cleaning with lemon juice to deactivate the acid.
Combine the liquid ingredients in the container, and shake to mix them. Spray the stove top, and let it sit for about a minute. Wipe the surfaces down with a microfiber cloth. Remove any lemon juice residue by wiping the stove down with a damp cloth.
Use Glass Cleaner on Your Stove
One of the lovely things about using a glass stove is that glass cleaner does a fantastic job of getting the surfaces clean. You can use this cleaning method on any stove top, though. It's a reliable way to clean glass top stove areas. Always check your stove manufacturer's care instructions before using a glass cleaner.
Don your safety gear, and spray the stove top. Let the cleaner sit on the surface for a minute, and then wipe it down with a cloth. Repeat as needed until you have a clean stove that looks like new again.
We hope you had a blast exploring our stove top cleaner guide. The modern stove is a beautiful thing and makes cooking more comfortable and more enjoyable, but we need to keep it clean. This article shows you the best way to clean a cooktop and gives you the information you need to keep your kitchen clean and beautiful.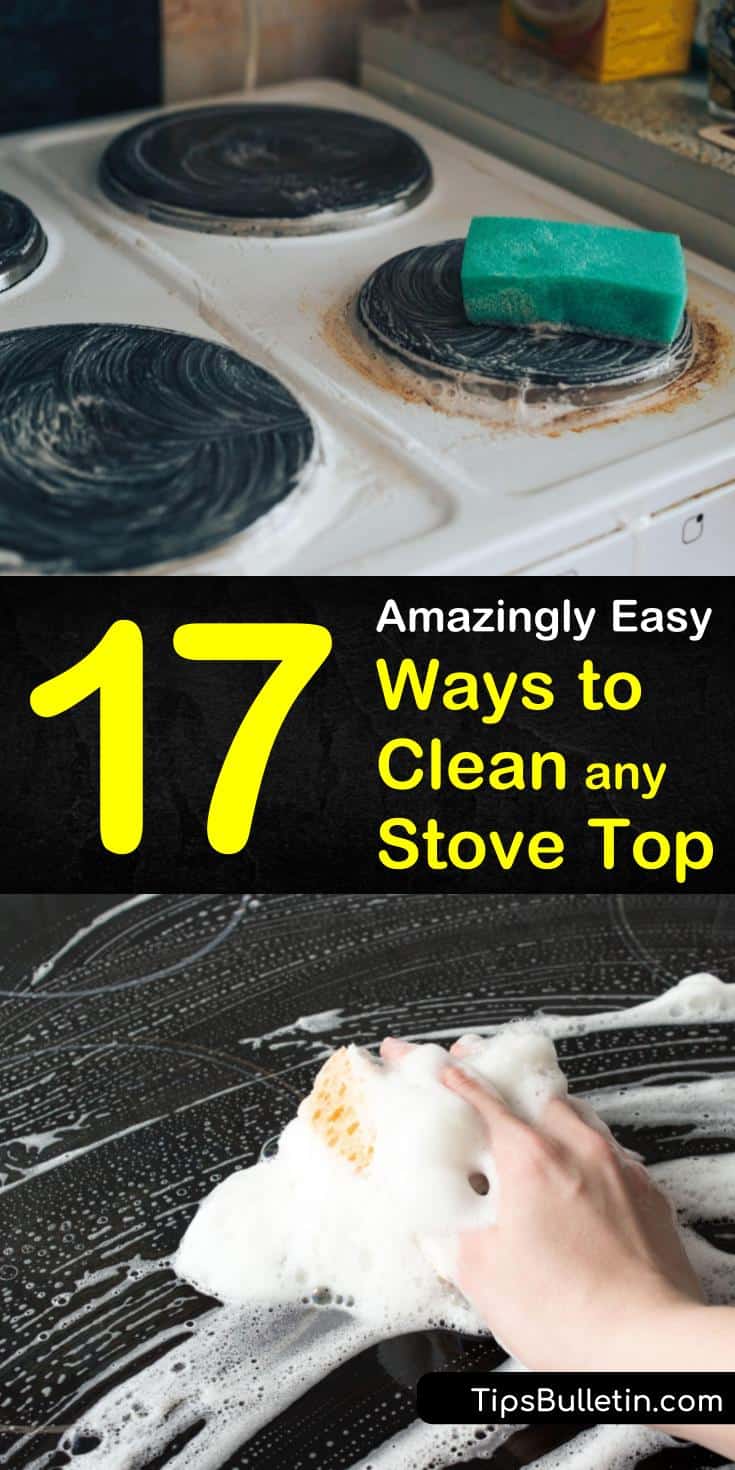 Thanks for reading this cleaning guide on the way to clean glass top stove surfaces and other stove tops. If you found our ways to clean a stove top helpful, please help us by sharing these stove-cleaning tips with family and friends on Pinterest and Facebook.