Your oven collects splatters of messy grime and food every time you use it. Even with the most careful cooks, dishes overflow, or pop greasy globs of gunk onto the bottom of your oven, which quickly gets baked on in the process. There are several ways to clean an oven, and all of them are relatively simple, which means fewer headaches for you, and a shinier, cleaner tomorrow.
While most ovens have a self-cleaning feature, that doesn't mean you shouldn't help the cleaning process along ahead of time with prep work. And if you go the traditional cleaning route instead, that's easily accomplished with minimal effort.
Many homeowners are too nervous about using the self-cleaning function since the high heat levels and horrible smells are enough to put anyone on edge. There are some easy ways to clean an oven, however. Each makes cleaning a breeze, no matter which option you choose.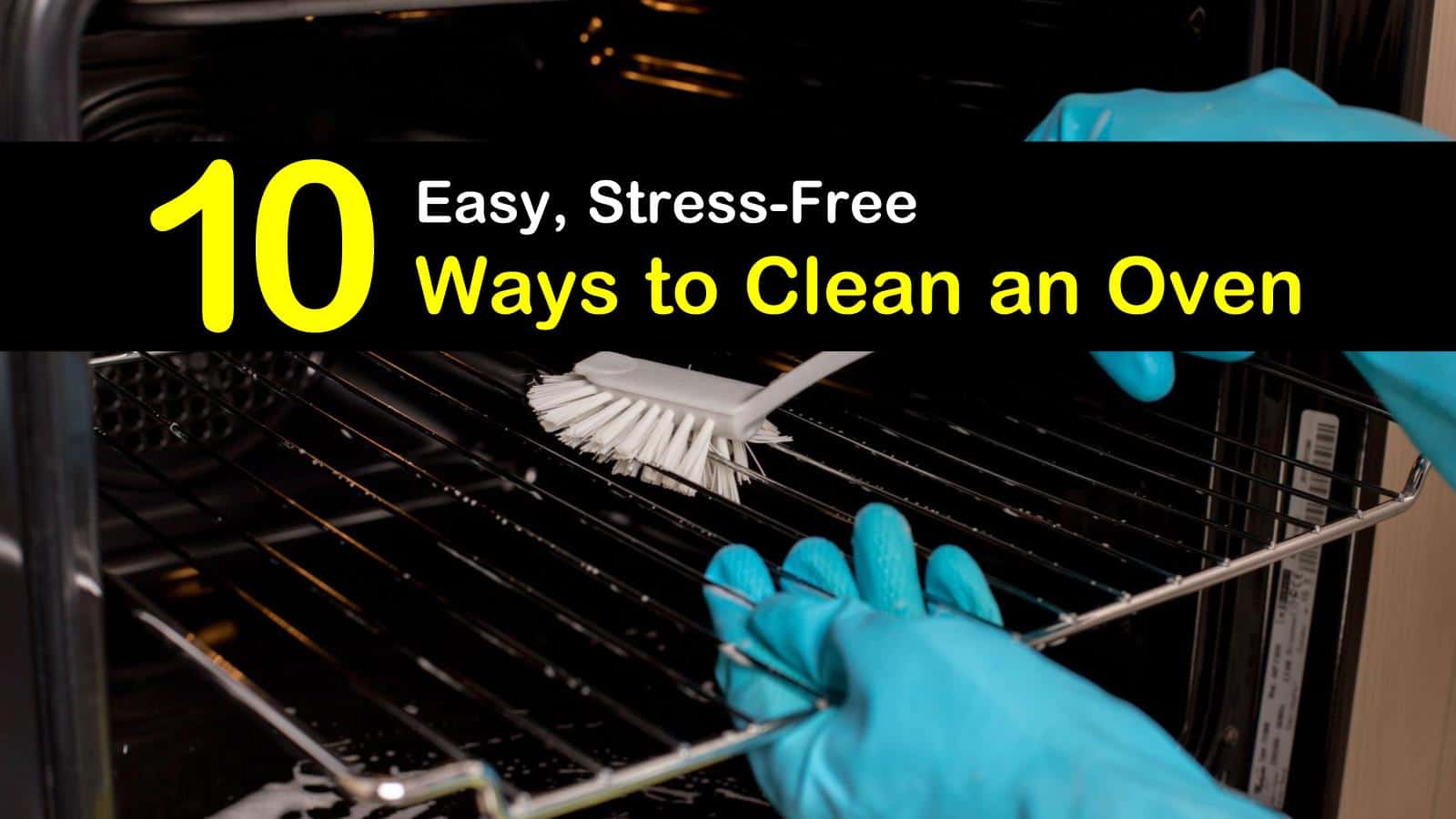 Common Household Supplies to Clean an Oven
Whether you need to clean a burnt baking sheet or are tackling your oven, you need the right supplies. Household ingredients like baking soda, vinegar, and dish soap are great places to start.
Remove and Clean the Oven Racks Before Starting
Your first step in the oven cleaning process is to remove the oven grates and wash them thoroughly with soapy water. The large width of oven racks makes it challenging to clean them in the sink or dishwasher, so many homeowners let them soak for a while in the bathtub.
Before starting, it is essential to lay down a layer of protection on the bottom of the tub to prevent scratching. Usually, a large towel does the trick.
Fill your bathtub with hot water to loosen up any stuck-on food and grime on your oven racks. The type of detergent you use is up to you.
Some prefer liquid detergent which is especially great at breaking down grease particles, but others prefer a powdered detergent for an added abrasive effect.
Before adding either, thoroughly shake 1 cup of the detergent in a large bucket of water to ensure it has adequately blended. Add it to the tub and let the grates sit for an hour or two. After they've had time to wear down the particles on the racks, scrub the grates using a soft bristle brush and dry them.
Remove Heating Elements for Easier Access
Another great way to clean your oven is by removing the heating elements at the bottom for easier access. Many of these elements are held in by screws that will quickly come unhooked before the cleaning process takes place.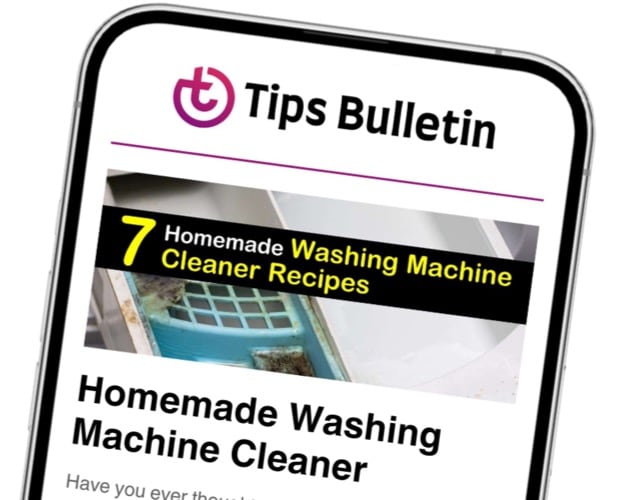 Finally, an email that Transforms Your Home.
Get the latest home and garden tips from our experts, delivered straight to your inbox.
If you remove the heating elements before cleaning, make sure that you turn off the oven first and ensure that the oven stays off during the entire cleaning process. You don't have to remove the elements, however.
Removing the heating elements makes it easier to get around the base of your oven, especially if you have severe, stuck-on foods that require extra elbow grease. The heating elements themselves are self-cleaning and don't need extra washing since the heat prevents food from sticking to them for long.
Create a Baking Soda Paste as the Best Way to Clean an Oven
You may be surprised to know that many of the solutions used to clean your oven do not require harsh chemicals and strong, overpowering cleaning products.
The best way to clean an oven or the ideal way to clean silicone bakeware is by using only two simple ingredients you probably don't even have to buy. Baking soda is an excellent abrasive used in cleaning solutions and has the added advantage of being a terrific stove top cleaner.
The most effective way for you to clean your oven is by creating a baking soda paste. Blend the two ingredients until they form a thick paste and layer them over the toughest grease stains or burnt-on foods in your oven. To clean bottom of an oven and sides, slather the paste across the surface.
Let the paste sit for 30 minutes before scrubbing the area clean with a nylon scrubbie or an old rag. Rinse with a damp cloth, then dry before using the oven again.
Add White Vinegar to the Cleaning Process for an Extra Kick
If you want to go for the ultimate clean, add white vinegar to your kitchen cleaning checklist. Vinegar is a natural disinfectant and is excellent for breaking down food particles. Generally used as an all purpose cleaner, the acetic acid in vinegar helps you achieve that deep clean inside your oven.
After letting your baking soda paste sit for 30 minutes, spritz some vinegar over the area using a spray bottle and wipe down the surface with a clean cloth. This spray degreaser for oven and stove areas works wonders.
You can also add the vinegar to a soft sponge and scrub away challenging messes, and clear away the baking soda instead of a wet cloth.
Hydrogen Peroxide: The Best Way to Clean an Oven Made of Stainless Steel
For a stainless steel oven, you want it to shine both inside and out. You can use a commercial stainless steel cleaner like Bar Keepers Friend to clean the outside of your oven, but it may not be your first choice for the inside of the oven.
One natural oven cleaner you can use combines hydrogen peroxide and baking soda to leave your oven with a clean and shiny finish.
Using a small bowl to hold everything, combine all of the ingredients, and blend them evenly. Soak a microfiber cloth with the cleaning solution and wipe down the dirty oven.
Rinse thoroughly afterward, and use paper towels to wipe away excess moisture. If any spots require additional attention, use a plastic spatula to scrape away stuck-on particles.
Use a Commercial Oven Cleaner for a Quick Way to Clean an Oven
While we would all love to clean our ovens without having to use a heavy duty commercial cleaner, sometimes it simply isn't possible. Commercial oven cleaners save you the time of having to create a DIY cleaning solution and are a great way to clean an oven quickly.
When using a store-bought oven cleaner, keep the air circulating in the room by opening a window or two and running the fan above the stove.
Cover any open areas of the oven, such as the heating element or light bulbs. If you plan to clean a gas oven, a store-bought cleaner is safe and perfectly fine to use. However, you don't want to get any of the product on the igniters when cleaning, so spray carefully.
Spray the surface of the oven with the cleaning spray and let it sit overnight. Rinse it thoroughly the following morning, ensuring you have removed all of the oven cleaner from the oven with warm water before using it again.
Add Lemon Juice for a Fantastic All-Over Cleaner
Lemon juice is another useful natural oven cleaner. Not only does it work in the same way as vinegar, but it smells ten times better. When mixed with other cleaning solutions, the cleaning power of lemon juice and the other cleaning products, is multiplied.
Mix the ingredients to form a thick, spreadable paste. Lay them out over the areas that need the most cleaning. You can even use this as a way to clean oven glass on the oven door. Leave the paste to sit for several hours, preferably overnight. Use warm water and a washcloth to rinse away the paste.
Use Essential Oils as a Natural Degreaser
Lemon or orange essential oils remove greasy food particles from almost any cooking surface because they are high in citric acid. Depending on your preference, you can change the scent in your natural degreaser and fill your home with your favorite smells.
Mix the ingredients in a small dish, adding a few tablespoons of water based on the consistency you want. Add the mixture to the oven and let it sit for several hours, preferably overnight, like you would for many of the other cleaning solutions.
Rinse the cleaner away with a damp cloth in the morning. This natural cleaning solution is non-toxic and won't leave any horrible smelling fumes in its wake.
Use a Damp Cloth on Self-Cleaning Ovens
Because your self-cleaning oven uses high temperatures to burn off grease and food particles, the only thing you need to clean it is a damp cloth. This cloth is used to wipe away ashes and loose particles that are left at the bottom of the oven after the cleaning process is complete. Before sweeping away the ashes at the bottom, however, remember to let the oven cool.
This option also works great to clean pizza stones. Pizza stones should not be cleaned using traditional cleaning products, or even soaps.
Instead, the best way to clean a pizza stone is by scraping away any excess baked-on foods and soaking it. If all else fails, then you can place the pizza stone in the oven and run the self-cleaning function to burn away any tough-to-remove foods.
Use a Razor as a Quick Way to Clean an Oven Window
If you are still having trouble removing some food particles, you can remove them using a razor. This is mainly useful on glass parts of the stove, such as the oven door window and the stovetop. Many glass stove tops already come with a tool to clean them, so if you have a glass stove, you can use that kind of razor.
If your stove doesn't come with a manufacturer-recommended razor, use a straight-edged blade very carefully. Remember, the point is to chip away the stuck-on dirt. Scraping the blade back in forth will scratch the surface of your glass, so use this only as a last resort.
How often should I clean my oven?
We tend to procrastinate, especially when it comes to our ovens, waiting until the last possible second to clean them. Sometimes we even avoid cleaning them altogether, unless there is a horrible spill of chicken juice or blueberry pie filling littering the bottom of the oven.
The best practice for cleaning your oven is to clean up any spills as they happen. This way, you spend less time hunched over cleaning your ovens and will suffer through fewer deep cleanings that require removing half of the oven's interior.
If you don't clean your oven regularly, a good rule of thumb for a thorough deep cleaning is every three to six months. This includes cleaning in between the window pane and in crevices on the sides of the oven.
Don't forget the dreaded black hole that is beneath your storage drawer and under the oven itself. You'd be amazed at all the fun and terrifying things you might find!
Your oven is one of the most crucial components in your kitchen. If it isn't kept clean, those greasy, grimy particles might make their way back onto your food.
Don't use harsh cleaning chemicals that will make you or your family sick or use some chemical spray that lingers for hours in your kitchen. These quick cleaning tips should help you along in the cleaning process by proving how easy it is to tackle those intimidating oven stains.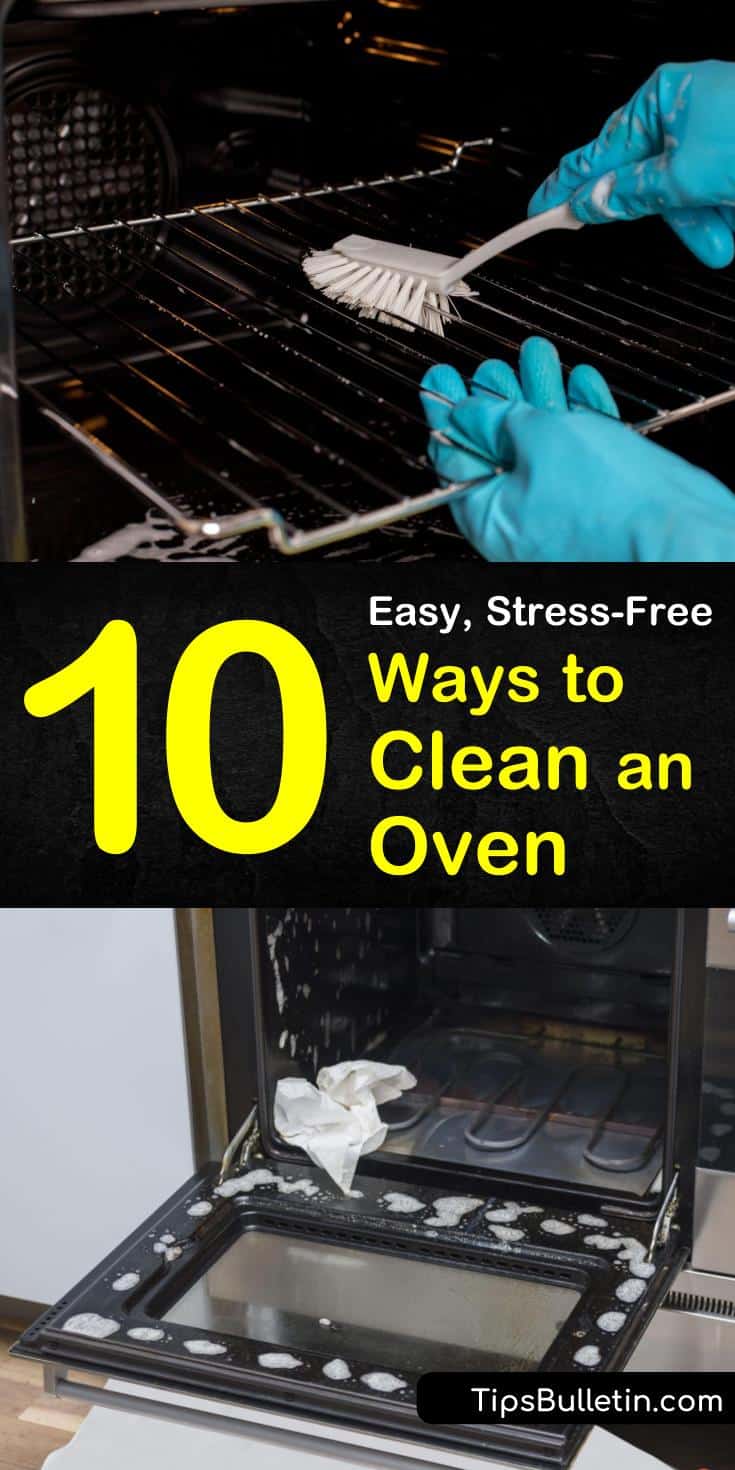 We hope you enjoyed our ten favorite solutions for oven cleaning. If so, remember to share these simple ways to clean an oven with friends and family on Facebook and Pinterest.