Have you found yourself asking, "What are banana peppers, and why should I eat them?" If so, this article has everything you are searching for. This guide to fresh banana peppers addresses the main questions about the food.
You may not realize there are several banana pepper varieties. One great thing about banana peppers is the number of ways to eat them. A sweet banana pepper tastes delicious raw, pickled, or cooked in a stir fry.
To preserve banana peppers for several months, learn how to pickle them. Pickling keeps banana peppers fresh when stored in the proper location. Incorporate sweet banana peppers into your flower beds.
The banana pepper is easy to grow compared to other fruits and vegetables. Whether you buy your banana peppers at a grocery store or grow them in a garden, we also provide the right way to store the crispy pepper, so it stays fresh.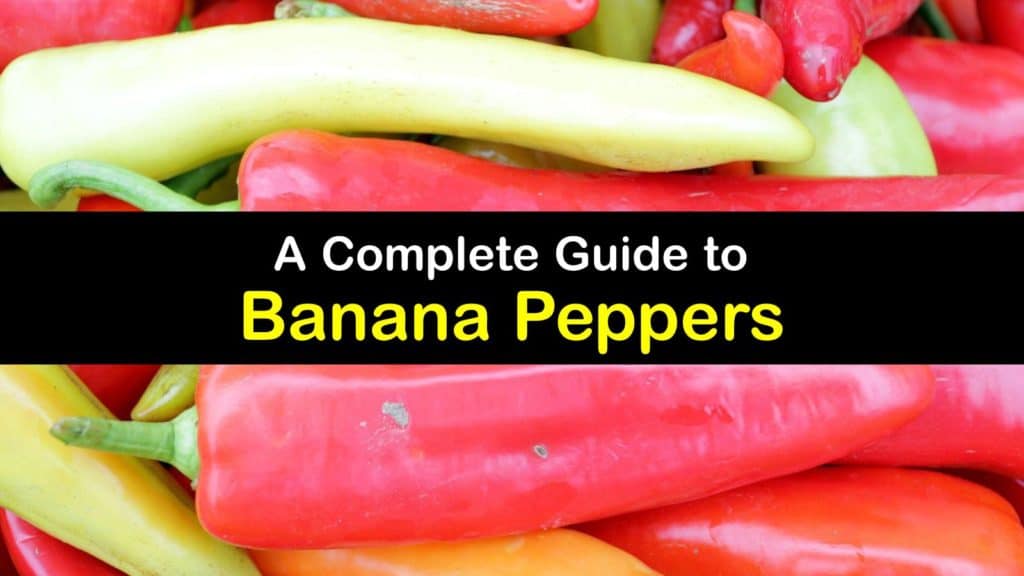 What do Banana Peppers Taste Like?
Each of the banana pepper varieties provides a fantastic flavor. Unlike extremely hot jalapeno peppers, banana peppers have a tangy and slightly sweet taste. Compared to bell peppers, banana peppers have a little more kick to them when eaten raw.
Another common pepper variety is a chili pepper. Chili and serrano peppers share more traits with jalapenos than they do with banana peppers, as they are pretty hot.
What are peppers of the banana variety? Banana peppers, also referred to as a yellow wax pepper, are technically a member of the chili pepper family.
What are Banana Peppers?
These tasty yellow wax peppers or banana chilies got their name because of their long, slightly curved shape, similar to the banana fruit. Note that when dealing with black vs white pepper, they are spices rather than the fruit of the pepper plant.
Even though banana pepper is part of the chili pepper family, it is not as hot as most other peppers.
The hotness of a pepper is measured on the Scoville scale. The higher amount of Scoville heat units a pepper has, the hotter it is.
What are banana peppers mistaken for? Because they look similar, banana peppers are commonly mistaken for pepperoncini peppers. When comparing pepperoncini vs. banana pepper, pepperoncini is a bit hotter than a banana pepper.
Common Types of Banana Peppers
Banana peppers are often compared to other types of peppers like Anaheim, cubanelle, and Hungarian wax peppers because of how the peppers look.
However, each of these pepper varieties is different. There are three common types of banana peppers to choose from at the store.
Sweet banana peppers are ideal for cooking because of their unique flavor, and they are often used as substitutes for green pepper. Hot varieties of banana peppers reach almost 15,000 Scoville heat units, or SHU, and have waxy skin.
Hot banana peppers are a lot milder than jalapeno and paprika peppers. Hybrid banana pepper is the most disease resistant and is juicier than other banana pepper types.
Banana Pepper Varieties for Gardening
Like other peppers categorized as Capsicum annuum, banana pepper varieties are pretty simple to grow successfully in your garden. There are a few different kinds of banana peppers, so it helps to understand which is most suitable.
No matter what type of banana pepper you grow in a garden, it is always possible to plant the pepper indoors.
The ideal banana pepper to plant is the sweet banana pepper. Hot banana peppers take considerably longer to mature, while sweet varieties mature in 70 days.
Most kinds of peppers thrive in warm temperatures. Plant banana peppers so they grow during the summer months and receive plenty of sunshine.
How to Plant Banana Peppers
Growing banana pepper plants indoors is an excellent way to access the delicious peppers all year long. Even though banana pepper varieties are relatively easy to grow, they still demand certain conditions that promote steady growth and development.
The way to plant banana peppers is to sow your banana pepper seeds indoors about 40 days before you wish to transplant them outdoors after the last frost passes.
What are banana peppers, and how do you grow them? Sow the seeds about ¼ of an inch into a container with well-draining soil and drainage holes at the base to prevent water build-up that may lead to diseases like root rot.
When you grow banana peppers in containers, ensure your plant gets at least eight hours of direct sun each day, whether the plant is indoors or outdoors. Throughout germination, continuously pull the weeds surrounding the plant if it is in the garden and keep the soil moist for your banana peppers.
To keep bugs away, learn what to plant with banana peppers. Companion planting is a simple and natural way to eliminate insects that want to eat your plants.
Know when to pick sweet banana peppers for the most delicious fruit. Different varieties come in varying colors and sizes.
Making Pickled Banana Peppers
Pickling banana pepper rings is an excellent way to preserve banana peppers for an extended period while also transforming the pepper into a delicious appetizer. Each of the common types of banana peppers tastes wonderfully pickled.
This is only one of the numerous recipes for canning banana peppers, but it's so easy. Other than the banana peppers, bring all of your ingredients to a boil in a large pot. As you wait for the brine to boil, spread out your banana pepper rings into multiple Mason jars.
When the brine boils, pour it in jars, leaving about a ½ inch free at the top. Wipe off the jar's rim with a paper towel and seal the pickled banana peppers.
Nutritional Benefits of Banana Peppers
What are banana peppers, and why should you eat them? You may not realize that banana peppers carry many health benefits that promote a well-balanced diet.
Whether you incorporate banana peppers in an Italian dish or eat them plain, there are many reasons to continue eating banana pepper varieties.
The capsaicin in banana peppers, which gives the pepper its heat, promotes healthy digestion and prevents stomach ulcers. Because banana peppers, like bell peppers, are low in calories and high in fiber, they make you feel full.
Storing Banana Peppers in the Proper Location
If you purchase banana peppers at a deli or cook them with Italian sausage, store them in an airtight container and set them in the fridge. Airtight containers block the outside environment and slow down spoilage.
If you harvest banana peppers from a garden, there are different steps to take before storing them.
After washing your banana peppers, let them dry at room temperature. Banana peppers continue to ripen even after they have been harvested.
Place the peppers in a paper bag and set them in the fridge's crisper drawer. Can banana peppers be frozen? Definitely! To keep banana peppers fresh for several months, give freezing a try. Airtight containers or freezer bags work best.
The common types of banana peppers are a diverse food. Not only do these peppers taste amazing alongside a wide array of dishes, but they are also extremely good for your health.
With the number of vitamins and nutrients banana peppers contain, they are a great way to add vegetables to your diet. Banana peppers are also one of the easiest kinds of food to grow in a garden so that you can have banana peppers all year long.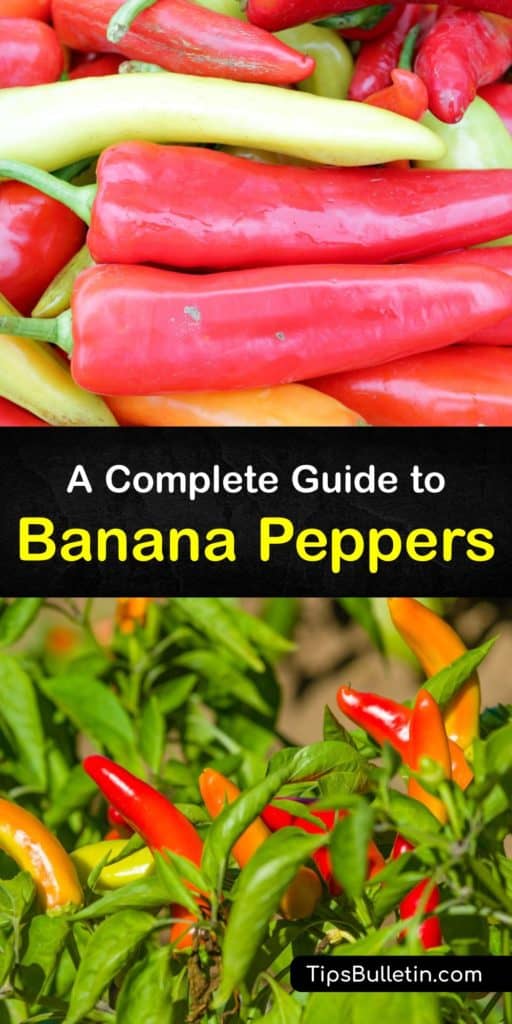 If we answered your question, "What are banana peppers?" share this article about banana pepper varieties with your gardening friends and neighbors on Pinterest and Facebook.