What are green onions, and what is the difference between green onions and scallions? Green onions are leafy herbs from the allium family of tunicate bulb vegetables, including onion, garlic, and shallots. Spring onion refers to the bulb and top greens of the Allium fistulosum (or Welsh onion) plant, a subspecies of the giant onion (allium) family growing primarily in the western United States.
Green bunching onions are another name for spring onions. Spring onions are immature plants harvested considerably sooner than mature onions, whose bulb grows larger.
Allium fistulosum is a perennial native to the Central Asian region and is now widely grown throughout Europe, the Americas, and Asia. Its leaves are spherical in cross-section, whereas other allium variants have semicircular tubules.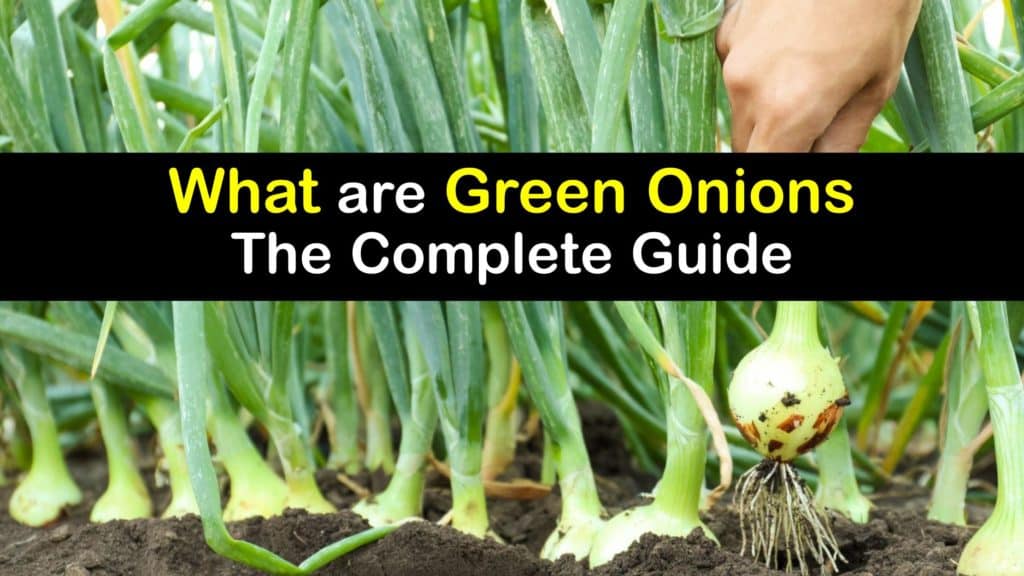 What is the Difference Between Chives and Green Onions and Scallions?
Where mature onions have a stronger flavor and are more oniony, green onions and cut scallions have a milder onion flavor. They are used as a topper for appetizers, potato salad, main meals, etc. Scallions have long, thin, erect stalks developing from a small, elongated root (bulb) to produce many straight, tubular leaves.
If you're still asking, what is the difference between chives and green onions and scallions? Keep reading while we break it down.
Green onions, scallions, and chives have long been a source of confusion. Popular questions from home chefs include, what are green onions, are spring onions green onions, what is the difference between green onions and scallions, and what is the difference between chives and green onions? Learning the answers to these questions enables cooks to use these ingredients appropriately.
What are Green Onions?
To learn how to use them, we must first answer, what is a green onion? The different types of green onions, garlic, leeks, and onions represent the allium family of plants. Green onions are known as scallions, shallots, bunching onions, or spring onions and may be found in nearly any grocery store and at farmers markets. They feature long, slender green stalks with a white bulb at the base.
What are green onions good for? Prepare green onions in different ways to complement the dish you're creating with little waste as the entire stem is edible. The onion flavor is stronger in the white bulbous roots than in the thin green leaves, which are milder. Green onion is used as a garnish and placed on a dish to enhance the flavor and add texture after it's cooked.
What is the Difference between Green Onions and Scallions?
Scallions and green onions are often interchangeable; however, there is a technical distinction between the two due to the green onion's species of origin (either a non-bulb-producing onion or a bulb-producing onion). However, the quick answer is they are the same thing.
Scallions belong to the Allium fistulosum genus and species known as the Japanese bunching onion. This onion does not form a bulb. On the other hand, green onions may be a scallion or an Allium cepa, the scientific term for bulb onions.
It simply indicates your green onion was collected before the onion bulb formed. Allium fistulosum is the most common type of green onion in supermarkets.
Green onions and scallions have the same appearance: long, hollow green stalks with little white stems. Both are milder in flavor than regular onions. However, if the green onion is an Allium cepa, it may have a stronger flavor than a scallion, which may be the only difference you detect while cooking.
What is the Difference between Chives and Green Onions?
On the grocery store shelf, chives, green onions, and scallions appear the same, but they have distinct features. You can substitute chives and green onions in some recipes, but they usually necessitate changes to the meal.
Green onions and scallions are both onion species; however, chives are herbs from a separate plant species. Chives are a popular topping for robust breakfasts like omelets or simple snacks like deviled eggs because of their bright, mild flavor.
Chives are more sensitive than onions, so cut them with fine scissors to minimize bruising. Chives are not precisely the same as green onions, but home cooks use them in many of the same recipes.
When substituting chives for green onions or scallions, you'll need to use more because they have a milder flavor. For a fresh chive recipe, skip the garnish and use green onions instead. It's better not to substitute chives if they've been baked into the meal.
Regrowing Green Onions from Scraps
All you need to regrow green onions from food scraps or for growing scallions in containers of water is the white part of the green onion with the roots intact after removing the green parts for eating. Grab a glass of water, and find a sunny window.
When cutting onions, leave about two inches of the white bulb intact. When you regrow green onions, ensure the root ends aren't harmed and handle the white roots with care.
After pruning the bulbs and roots, gently wash them under running water to remove any dirt. To plant green onion bulbs in water, fill your little pot with just enough water to cover three-quarters of the bulbs, leaving the remainder exposed.
Place the cup in direct sunlight like a sunny windowsill. Drain the old water from the pot and replace it with new every 2-3 days or when it becomes discolored. Green stalks regrow rapidly on the root ends of the young onions.
Green Onion Nutritional Benefits
Scallions have an extremely low-calorie count but are high in flavonoid antioxidants, plant fiber, and vitamins, all of which have health advantages. Vitamin A and other antioxidants, including carotenes, zeaxanthin, and lutein, are abundant in spring onions. These compounds protect the body from lung and mouth malignancies.
Although green onions are considered a garnish, they have considerable health benefits. An onion is full of vital vitamins such as vitamin C and vitamin K, and scallions are one of the best sources of vitamin K. This vitamin is found in roughly 172 percent of the daily recommended dose in just 100 grams of fresh green onions.
Vitamin K may help maintain bone health by increasing bone growth and strengthening. Vitamin K prevents neuronal damage in the brain and has a well-established role in treating Alzheimer's disease.
Storing Green Onions
Green onions typically arrive from the grocery store wrapped in a plastic bag with a rubber band around the bunch to hold them together. It's best to repack your onions to prolong the freshness of your veggies.
Remove the bag and rubber band, and cut off the white part of the onions to leave just the green leaves. Wrap the green tops in a damp paper towel to maintain freshness, seal them in a plastic bag, and keep them in the refrigerator's crisper drawer.
Green onions are a delicious and versatile little veggie with an array of uses. They're unique in how simple they are to regrow from scraps. Understanding the differences in green onions, shallots, and chives gives the home chef the confidence to cook with these ingredients or use them in substitutions.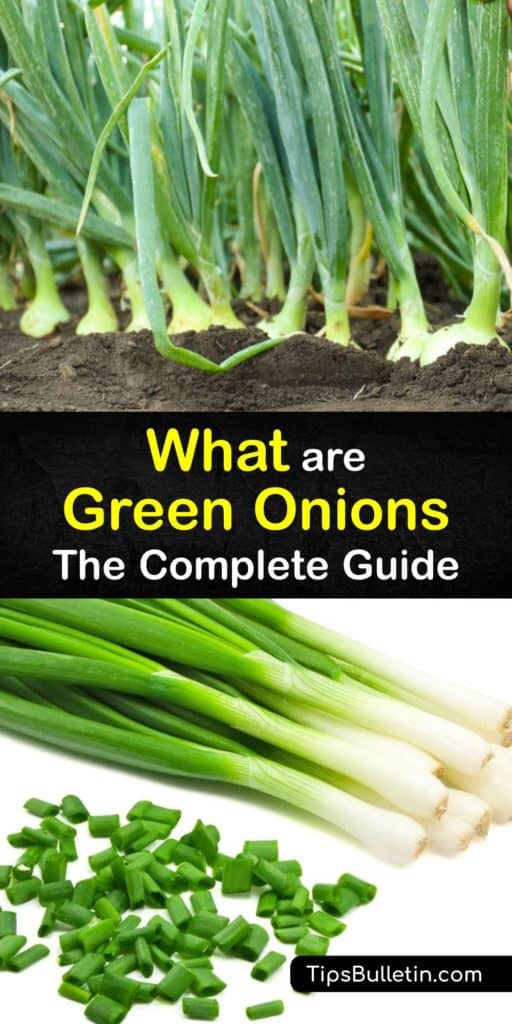 If you loved this article discussing what are green onions, please share this helpful information that answers what is the difference between green onions and scallions, with your friends and family on Pinterest and Facebook.