What are tomatoes? Believe it or not, there are several answers to this question. There are many varieties of tomatoes that are grown in backyard gardens and by farmers for mass production.
In this article, providing you with tomato varieties names is just one aspect of the well-known crop we describe in great detail. If you are curious about the many capabilities of fresh tomatoes, search no further.
Consider this your ultimate guide to understanding tomato plants. In addition to describing the differences between types of tomatoes, we also describe the long history tomatoes have in the United States.
Because of the diverse uses tomatoes have, they have remained incredibly popular for hundreds of years. Not only have tomatoes made a significant impact on history and farming, but they also carry a wide array of health benefits.
Learn the various ways in which tomatoes can help improve your health. What is a tomato? The answers to this question may surprise you.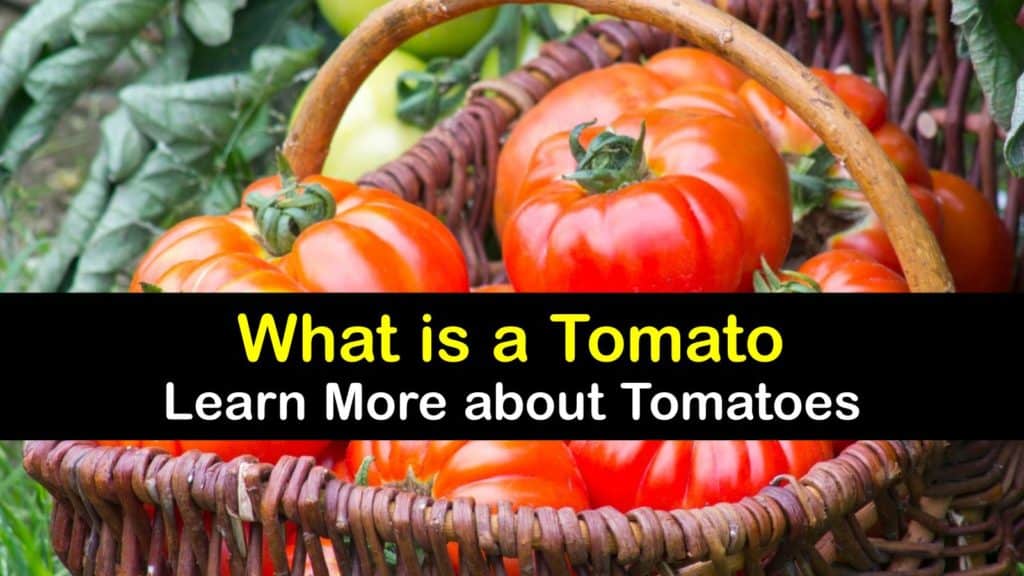 Are Tomatoes Simple to Grow?
One reason tomatoes are so popular across the world is the minimal effort to grow the plant in your garden. Tomatoes demand very little attention compared to other fruits and vegetables you may have in your planters.
Another benefit of including tomatoes in your garden is that you can grow them in pots and containers, whether you are planting cherry tomatoes or heirloom beefsteaks.
Container gardening allows you to save space in your garden, grow tomatoes all year long, and add a touch of bright red color to your patio or porch in the warmer months.
Whether you grow tomatoes in your garden or simply purchase them at a grocery store helps understand the health benefits.
What are the Tomato Varieties Names?
There are two main categories that raw tomatoes fall under. Determinate tomatoes grow in a bush and have sprawling vines that extend horizontally.
The tomato plants usually reach a height of three to four feet and have several flowers that blossom at the tips of the branches.
The one downside to determinate tomatoes is that they are more susceptible to diseases because the leaves are constantly touching the ground.
The second of the tomato varieties names is indeterminate tomato plants. Indeterminate plants grow upward, potentially reaching heights of nine feet.
When growing indeterminate tomato plants, the vines require a support system like a wooden stake. Indeterminate tomatoes need the vines supported so the plant can produce fruit during the growing season.
There are also many varieties of heirloom tomatoes as well as hybrids. Heirlooms keep their characteristics after many plantings. Hybrids are a combination of two or more types of tomatoes.
What are Tomatoes, and How are They Categorized?
Fruits and vegetables are broken down into specific categories based on the way they are planted and other qualities. Tomatoes are one of several members of the nightshade family.
Compared to other foods, nightshades are extremely easy to grow and are a staple food produced across the country.
Tubers like potatoes are considered a member of the nightshade because they contain chemical compounds called alkaloids.
Alkaloids and the solanine in tomatoes and other nightshades carry numerous nutritional benefits. What is a tomato? All types of tomatoes are nightshades, which are easy to grow and harvest.
What is a Tomato Good for?
The bright red color that tomatoes are well-known for is a result of lycopene and carotenoids. Just as carrots contain beta-carotene that gives the veggie its orange color, a tomato's red color protects it from the sun's rays.
Another great aspect of lycopene is that it protects human cells from unwanted damage. No matter what tomato varieties names you come across, they are packed with nutrition. Try planting beefsteak tomatoes and a few other types like grape or Roma for different tastes and uses.
Tomatoes are also high in antioxidants. An antioxidant helps prevent heart disease by protecting your cells against free radicals.
Before you eat tomatoes, always make sure you wash the food first. Outside elements like dirt, bacteria, algae, and disease may be on the skin of the tomato, and they are not safe for human consumption.
Where do you store tomatoes until you are ready to eat them? Keep tomatoes on the counter for a few days, the freezer for a few months, or can them for use over several years.
What are Tomatoes Used for?
Not only are there a wide variety of ways to cook tomatoes, like when you freeze tomatoes or can them, but there are several different dangerous diseases tomatoes are used to help eliminate in the human body.
The lycopene in tomatoes helps lower oxidative stress and reduces the odds of contracting different types of cancers.
Regarding recipes, tomatoes go alongside almost every food at any time of day. Usually, tomatoes pair nicely with vegetables in a tasty side dish for dinner.
However, tomatoes are always commonly found in different breakfast dishes like a topping for omelets. No matter what your favorite food is, there is a high chance that incorporating tomatoes is possible.
Tomato Companion Plants
If you are experienced botanically and want to include tomatoes in the garden, you must know what plants serve as companion plants. What are tomatoes, and how do they benefit from companion plants?
Companion planting promotes quicker germination, helps maintain healthy soil, fights off pests, and saves space in a garden. Because of the numerous advantages, growers love companion planting. You can also use this beneficial growing practice as a way to plant tomatoes in a container beside other beneficial plants.
Plants like marigolds and basil help fight off unwanted pests like aphids while also adding flavor to the tomatoes. If you want to help your garden's soil, what goes good with tomatoes are carrots, as they help loosen up the dirt. Looser soil allows more airflow for the roots.
Impact Tomatoes Have Across the Country
You may be wondering how a plant like a tomato bush could impact various states across the country. However, from the east to the west coast, tomatoes have a considerable impact on certain states.
For example, there is an city in Arkansas named Tomato. Additionally, in Ohio, the tomato is the official state fruit and the state vegetable in Tennessee.
Types of tomatoes like New Jersey tomatoes are used for several different recipes. Tomatoes are found in items like ketchup, tomato paste, tomato juice, soups, spaghetti tomato sauce, and salsa.
If a nutritionist recommends more antioxidants in your diet, add a form of tomatoes to your meals. There is no shortage of ways to turn tomatoes into a tasty side dish or meal.
The History of Tomato Classification
What are tomatoes classified as? Even today, there's still some confusion about whether tomatoes are fruits or vegetables.
In a Supreme Court case back in 1893, referred to as Nix v. Hedden, the Court ruled that the tomato is classified as a vegetable, not a fruit under U.S. customs regulations.
The case was brought to the Supreme Court's attention due to the Tariff Act of 1883, which taxed vegetables imported to New York.
The tariff did not apply to fruits, hence the confusion. In the common language of the people, a tomato's a delicious food eaten raw, mixed with spices and olive oil, or as a topping for a main dish.
Memorizing the seemingly never-ending list of tomato varieties names is unnecessary to learn how to grow tomato plants. These nightshade family plants are extremely easy to learn how to grow even if you have just started gardening.
What is a tomato? A tomato is a fantastic food to add to your diet that helps provide vitamins, antioxidants, and cancer-fighting agents.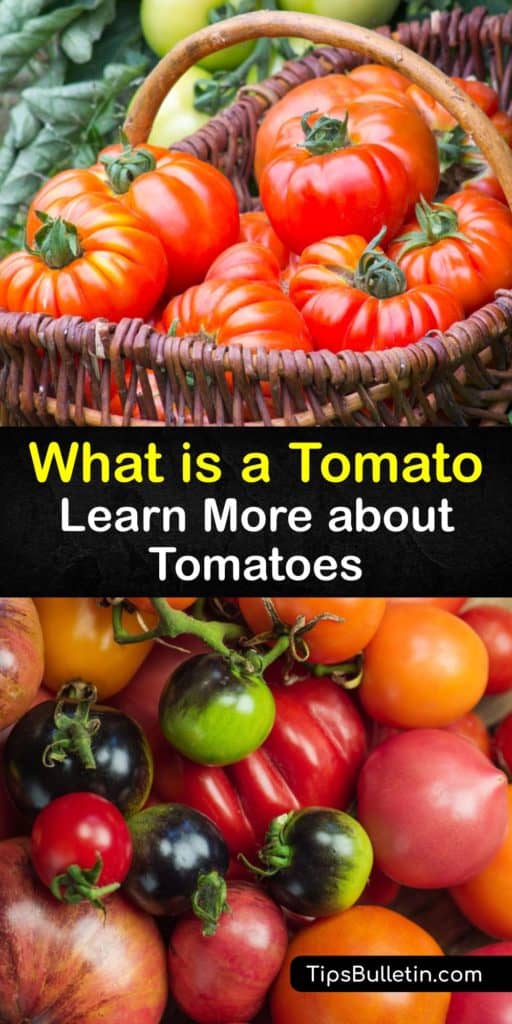 If we answered your question, "What are tomatoes?" share this article about tomato varieties with your gardening friends and neighbors on Pinterest and Facebook.