Knowing what attracts mealybugs helps gardeners avoid them. Mealybugs may resemble small cotton balls with limbs, but the harm they cause to indoor plants and outdoor gardens is severe. Mealybugs, a relative of garden enemies like scale and whiteflies, directly feed on and spread diseases to many blooming and ornamental plants, causing damage.
Mealybugs are tiny creatures approximately 1/8 inch long, but because of their color and clumping behavior, it is simple to spot them on garden plants. Common mealybug species have white bodies covered with filaments, giving them a fuzzy look. What are mealybugs attracted to? Mealybugs are attracted to plant juices and ingest sap by sticking their pointed mouthparts into leaves and stems.
Damaged leaves appear puckered or wrinkly. Mealybugs emit honeydew, which fosters black sooty mold and promotes the transmission of plant viruses, adding to the damage caused by their presence. Learning how to attract and kill mealybugs is vital to keep your crops safe from these destructive pests.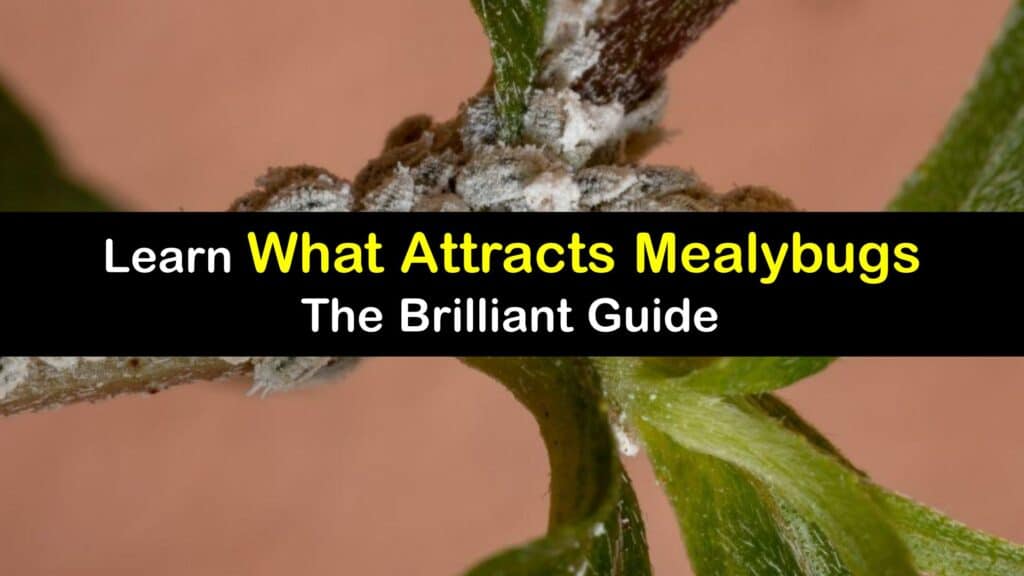 Find Out How to Attract and Kill Mealybugs
What attracts mealybugs? The mealybug is a prevalent nuisance insect known for decimating outdoor and indoor plants by feeding on their sap and excreting waxy secretions, which facilitate the development of sooty mold.
What are mealybugs attracted to? Discovering the factors luring mealybugs to your plants helps you minimize them to remove or prevent an infestation. Find out what mealybugs are drawn to, what they hate, and how killing mealybugs will ensure your plants thrive.
The Importance of Knowing What Attracts Mealybugs
Mealybugs are troublesome pests that like to feed on plant juice. These annoying insects feed on the sap from your plants, damaging them; their issues are twofold. They excrete a sticky honeydew substance that acts as a precursor to sooty mould development. Understanding what attracts mealybugs to your yard home is vital in prevention.
The male mealybug and female mealybug reproduce rapidly, and an infected plant is soon overrun with sap-sucking insects with sooty mold close on the horizon.
What are Mealybugs Attracted To?
Before you can control mealybugs, it pays to grasp what attracts them to your plant. The mealybug population searches for the ideal succulent plant leaf to sustain them as they reproduce and feast on food crops and ornamental plants.
These insect pests seek moisture, plants with high nitrogen content, and soft growth, meaning overwatered and over fertilized plants are particularly susceptible to invasion.
What Do Mealybugs Hate?
Mealybugs and the parasitic wasp or mealybug destroyer (Cryptolaemus montrouzieri) are natural enemies. Though their names sound off putting, parasitic wasps and the mealybug destroyer are beneficial insects for dealing with a plant pest like the mealybug.
Ordering parasitic wasps or mealybug destroyers from your local garden center is an organic method to drive away a mealybug infestation on plants or prevent mealybugs from targeting your garden in the first place.
Use a Mealybug Spray to Eliminate Insects
After you use a nitrogen-rich trap crop with soft growth and lots of moisture, it's time to eradicate the mealybugs drawn to it. Rubbing alcohol and insecticidal soap are safe and economical mealybug pest control options for mealybugs in the house. Clear all detectable mealybugs by dipping cotton balls and cotton swabs in rubbing alcohol and cleaning the affected plant of insects.
Spray the whole plant, not just the areas where mealybugs are. Spritz stems, top, and undersides of leaves well. Repeat the treatment once or twice a week until the problem is resolved. This is also a good hibiscus aphids treatment that works for many plant pests.
To prevent harm to any furniture or floors, cover the area where you are treating the plant. Before contacting other plants, remember to wash your hands and your tools after working on any plant that has a problem.
There's another answer to a mealybug problem. Use diatomaceous earth for mealybugs. Sprinkle the entire plant and the soil with DE and your bugs will soon be gone.
Other Pests to Watch Out For
The mealy bug is not the only plant pest eager to feast on your garden. Learning to be vigilant for common bugs helps growers stop an invasion before it becomes lethal.
Inspect your garden and houseplants regularly and act quickly with neem oil or another natural insecticide to halt a mealybug or other insect infestation. Watch for green bugs and aphids in lettuce, on fruit trees, and throughout the garden and tackle them fast to stop their spread.
Figuring out how to attract and kill mealybugs is vital to protecting your plants. The female and male mealybug reproduce rapidly and invite sooty mold thanks to their honeydew secretions. Use a moist, nitrogen-dense trap crop to draw mealybugs from your other plants and destroy the bugs with rubbing alcohol or insecticidal soap.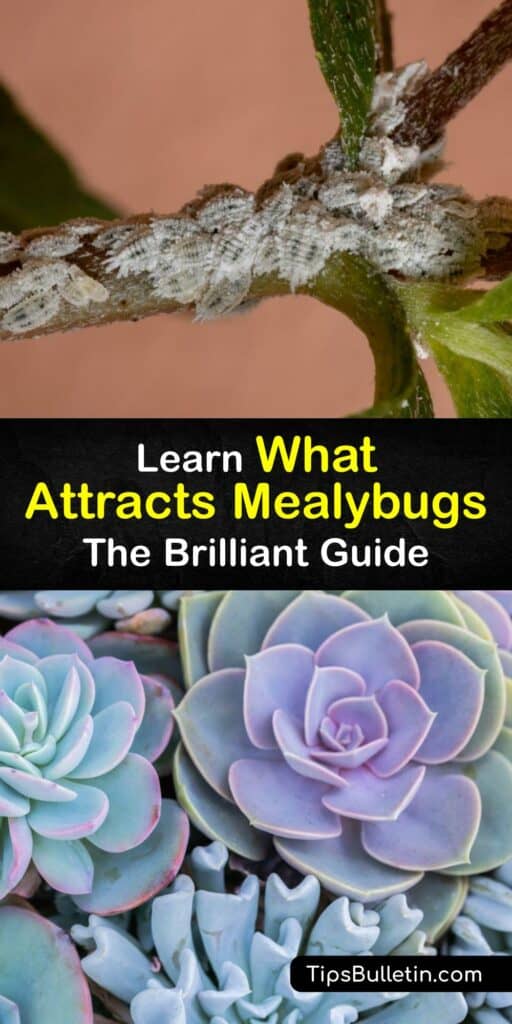 If you loved this article on what attracts mealybugs, please share this information on what are mealybugs attracted to with your friends and family who struggle with mealybugs on Pinterest and Facebook.