Like most creatures, mice look for a place with ideal conditions to make their home. Food attracts mice, and thanks to their keen sense of smell, they pick up the scent of a potential meal from a considerable distance and travel to find it. Many homeowners want to know what attracts mice to their homes and how to prevent their residence from becoming a rodent hotspot.
Mice are not picky eaters, and while pet food and dinner scraps are obvious lures, a cockroach or bed bug issue in your house also beckons them in as they feed on these pest insects. Food, shelter, and nesting materials attract mice in your house and take various forms, and entry points such as broken window seals and cracks in walls and subfloor permit mice to come inside.
Homeowners who recognize the factors bringing mice into proximity can fix them to avoid a rodent infestation. Find common mice attractants and remove them from your property to eliminate an infestation or prevent one.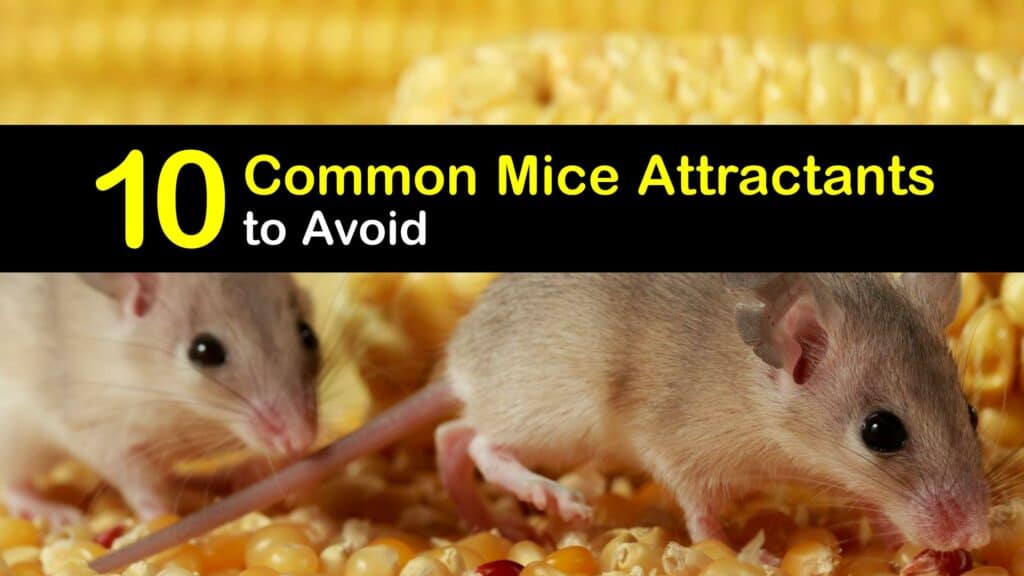 Factors that Attract Mice in Your House
What attracts mice to your home? House mice and field mice are always hunting for a great place to set up camp where they have the necessary things to survive.
Food attracts mice, as do shelter and nesting materials. Making sure you don't have these items on offer is an excellent step to reduce the likelihood of a mouse infestation or to help combat an ongoing one.
Understanding What Attracts Mice to Your Home
Like all animals, mice have basic living requirements and are likely to move into places where these demands are easily met. When your home has an abundance of these factors, it becomes an inviting target for a mouse or rat infestation.
Making your home less hospitable and inviting by cutting down on how many of these resources it provides helps lower the chances of a mouse issue or resolve an infestation faster if it happens. With a little effort, you can deter mice from your house and keep it safe for family and pets.
Signs of a Mouse Infestation
Other than spotting a live mouse running around your home, it might be tough to identify a mouse issue. Observing key signs allows homeowners to determine if they have a mouse or another rodent infestation.
If you see any rodent signs, begin mouse and rat control immediately to prevent further damage to your home and stop the mouse population from expanding.
Available Food Attracts Mice
Mice have a developed sense of smell and travel long distances to find sustenance. Leaving out easily accessible food acts as accidental mouse bait and draws any hungry mouse near your home. One of the natural methods to get mice out is to take away what they like.
Mice feed on many different things. Though keeping food in your home is unavoidable, reducing the scent of open food is crucial to avoid attracting rodents. By identifying possible food sources, homeowners may exclude them by placing them in an airtight container so the smell doesn't invite rodents.
Seal the food in rodent-proof containers and promptly clean up food scraps and trash to avoid mice targeting your home.
For additional security, take advantage of the smells that repel mice. Make a peppermint oil and water spray to spritz possible entry points, or leave cotton balls soaked in the oil in strategic locations.
An Accessible Entry Point Creates a Mouse Problem
Mice like quiet places with many areas to hide. Crawl spaces and basements are prime locations for a mouse invasion, though these rodents are just as likely to try to access your kitchen and other parts of your home if conditions are favorable. Sealing entry points means mice have no way to enter.
Cracks around windows and doors, ductwork, and pipes all provide routes indoors. Ensure cracks and crevices are sealed, and your lines are in good condition with appropriate protection in place to keep rodents out.
Your Bird Feeder May Increase Mouse Activity
A field mouse, house mouse, and most other rodents are drawn to bird seed. While intended for garden birds and other welcome visitors, bird seed frequently becomes a meal for mice, rats, squirrels, and other rodents that visit the garden.
Though having a mouse in the garden is less of an issue than indoors, bringing them into proximity to your home is inviting trouble, and it may be a matter of time before they begin to look for a way to shelter inside.
Though most people with a bird feeder don't want to practice bird control, there are other ways to reduce the likelihood of your bird food becoming rodent food. A rodent-proof bird feeder is one method to resolve this issue. Store your bird seed in a sealed container and purchase a feeder to avoid waste and drop grain onto the ground where rodents can eat it.
A Pest Problem Brings Mice to Your House
Whether you're struggling with cockroach control, can't beat bed bugs, or have wasp control issues, pests garner the attention of mice and other rodents. House mice, in particular, feast on cockroaches and other bugs commonly invading your home when you have a pest control problem.
Similar to limiting available food, reducing the number of bugs by employing proper control measures makes your space less attractive to mice and other rodents who eat insects.
Mice Look for Nesting Material
Nesting material is one of the items mice search for to make their home. These materials are typically soft and light enough to transport. Several different items work well; if mice find these in your home, they gather them and make a nest.
Clear away any of these items lying around. A clean and clutter-free space is less enticing to mice as there are fewer hiding places, and an absence of readily available nesting materials helps make the room less inviting.
Mow Tall Grass to Discourage Mice
Mice are prey animals and prefer to stay hidden. Tall grass is a perfect place for mice to hide while remaining close to your home and the potential food sources you inadvertently provide.
An overgrown lawn lets a mouse move through your yard undetected and is more desirable than crossing an open path or short-cropped grass where they are visible to predators.
Tall grass allows mice to cross your backyard to reach your house. Set a schedule and mow your yard regularly to keep grass short and make it more difficult for rodents to approach and enter your home.
A Bait Station May Attract More Mice
Bait stations are a standard method of mouse control. These boxes have a small hole to prevent children and pets from access while allowing mice inside. Bait is mixed with poison in the box. Some homeowners are upset after they install bait stations as they suddenly begin to observe more mice and rats around their homes.
Though it may seem counterintuitive, bait stations attract more mice before killing them. A practical bait station entices mice to enter and take the poison-laced food. Mice in the area catch the scent of the bait and head into your yard and around your house to find it, resulting in more activity.
Though this might be distressing, don't panic. Over time you'll see fewer mice as the bait station reduces the population in your local area.
Cleaning Habits that Attract Mice
Poor cleaning habits reduce the hygiene of your home and draw in rodents. Try implementing a basic cleaning schedule to avoid inviting mice into your space. Failure to clean dishes, vacuum, and keep your indoor areas clutter-free leads to becoming a coveted mouse hangout.
Taking simple measures to reduce insect populations and remove food and bedding sources makes your home less appealing to rodents.
Eliminate a Mouse Population from Your Home
If you have many mouse attractants and a mouse infestation, it's essential to address the factors inviting the mice to your home and deal with those already there. While you think you may prefer household products that kill mice immediately, live mouse traps are a humane way to capture and relocate mice. Begin mouse control ASAP to stop mice from breeding in your home and doing more damage.
Use one or a combination of these rodent control ideas based on the scale of the issue and your preferences.
Exploring items known to attract mice in your house helps keep your home from being visited by rodents. A mouse infestation is unsanitary and distressing. Mouse feces and damage to your home are costly and inconvenient. Implement a cleaning regimen, store food in airtight containers, and consider other things bringing mice indoors to prevent a rodent infestation.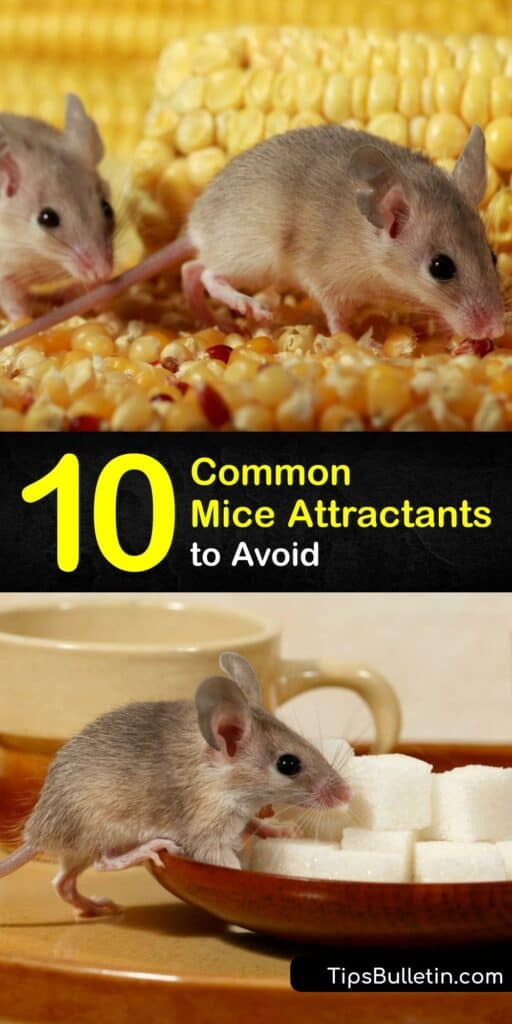 If you loved this article on what attracts mice, please share this brilliant information on factors that attract mice in your house with your friends and family on Pinterest and Facebook.