Millipedes are arthropods commonly found outside in damp environments, but you may find a millipede inside your home occasionally. Unlike centipedes, millipedes do not bite, so they're not dangerous to humans, but their appearance may still be unwelcome in your house. Find out what attracts millipedes and how to control their appearance.
Millipedes are best known for the number of legs on their segmented bodies. Although their name means "a thousand legs," only one millipede species has at least 1,000 legs. The number of legs on a single millipede varies by species, although most have around 300 legs.
Unless forced from their hiding places, it's not common to spot a millipede outside. But as temperatures rise or get too cold, these insects make their way inside your home for a more stable environment.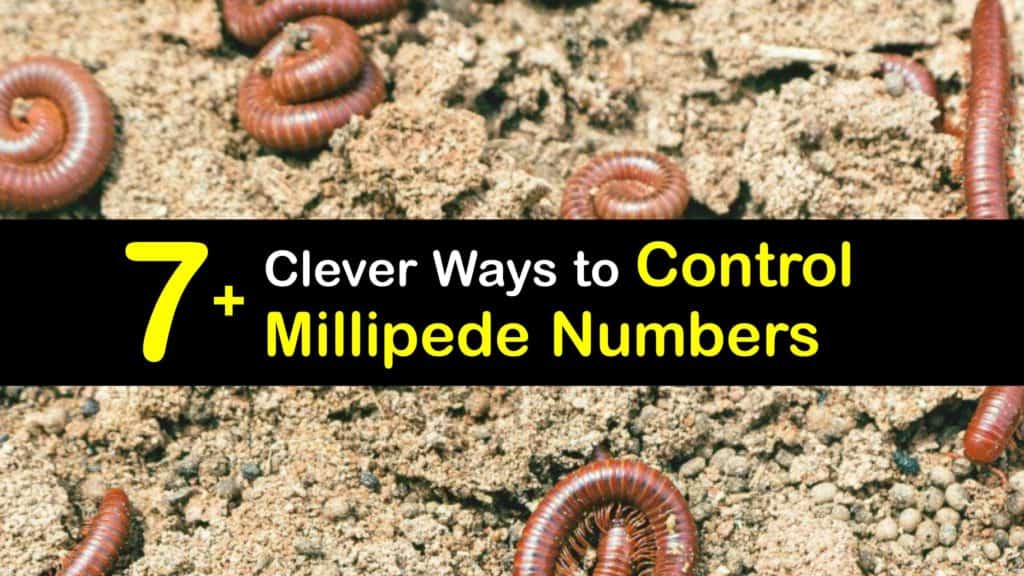 What are Millipedes Attracted to Around Your Home?
To prevent millipedes from seeking shelter at your house, learn about what kind of environment they prefer and ways to control their access.
Millipedes enjoy damp, humid conditions that shelter them from natural predators where they can feed on decaying material. If their usual location becomes water-logged due to heavy rainfall, millipedes may come out of the ground and seek shelter elsewhere, usually around or inside your home.
Decaying Matter
Millipedes are detritivores, meaning they consume decomposing organic matter for nutrients. Most species feed on plant matter, while some eat fungus and a small number of millipede species are predatory.
Because they eat dead plants, millipedes play an essential role in decomposing plant litter like leaves. After consuming leaves, millipedes excrete bits of the leaf and fungi, algae, and bacteria which further aids in decomposition.
Through their habit of consuming organic material, some gardeners view millipedes as beneficial for their garden; however, millipedes can become a nuisance pest.
Although millipedes usually leave mature plants alone, millipedes do target young seedlings. If you often add decaying plant material to your compost pile, it may not provide enough food sources for a millipede infestation in the garden.
Debris Around the House
Because millipedes live outdoors, focus attention on keeping these insects out of the home. Millipedes thrive in soil with adequate moisture, but if the ground becomes too damp or the weather becomes too hot, they may relocate to new hiding places.
During their active months, millipedes require a source of food to live; they are likely to seek shelter in other damp areas outside. If you have various items near your home's foundation like wooden pallets or boxes, these items provide perfect shelter from the sun and predators for millipedes.
Because millipedes are not dangerous to humans, you don't have to permanently remove them from the yard if you're using any of these items for storage. One of the ways to stop millipedes is by moving these items further away from your home to lessen the chance of a millipede invasion and acts as a simple form of millipede control.
Millipede Control through Lawn Care
Moisture and shelter, two things millipedes enjoy, are found in unkempt lawns. If your lawn grows too tall, morning dew and moisture from heavy rain take longer to dry, and depending on the amount of sun, the grass may remain wet.
This excess moisture is perfect for millipedes, so to minimize their appearance in your lawn, keep your grass regularly trimmed to avoid a millipede problem.
While tending to your lawn, rake up grass clippings to prevent them from gathering near the foundation walls. Remove excess leaf litter, and if you have trees that are dying and constantly dropping leaves, consider pruning them back to avoid extra yard work.
Dense Thatch in the Yard
There's more to your yard than just grass and dirt. The top layer is the grass blades that we tend to during regular lawn care, on the bottom is the soil that grass grows from, and between them is the thatch.
Thatch is the organic matter between soil and grass, consisting of living and dead plant matter. Grass clippings do not contribute to the accumulation of thatch because organisms in the yard break down clippings that are left behind, but thatch contains a polymer that resists decomposition.
If left unchecked, these layers build up, creating an ideal environment for millipedes as the dead material in the thatch accumulates. Additionally, the bacteria build up in thatch affects the health of your growing grass.
Dethatch your lawn by using a rake. The most significant difference is that to successfully dethatch your lawn, dig the rake teeth deep into the yard before pulling back to pull the thatch up.
Mulch Near Your Home
If you have landscaping around your home, your mulching habit may contribute to the appearance of millipedes. Although millipedes enjoy feeding on plant matter, plants or grass that receive too much fertilizer also attract millipedes. Wet mulch is something else to be mindful of when asking what are millipedes attracted to.
To add flowers or plants near your home, leave at least three feet of space between your flower beds and the foundation. While millipedes are still capable of finding their way inside, most millipedes come indoors by accident. Creating distance between their habitat and your home lessens this chance.
Pooling Rainfall Around the House
If there is excess moisture around your home, it could be creating the perfect soil conditions for millipedes. If you live in a rainy section of the country and rainfall commonly pools around your house, sloping or contouring the ground is one way to redirect water.
Regularly clean your gutters and downspouts to keep them free of debris to ensure water flows correctly. To avoid water damage or allowing your basement walls to fill with water, consider adding splash guards to your gutters to redirect water flow.
What Attracts Millipedes? Moisture
Other than water created from environmental causes, artificial factors contribute to millipedes finding a place to live around your home, too. Since humans create these problems, they are often easy to fix to reduce the appearance of millipedes.
Air conditioner units that drip water and water spouts are two common examples of leaking or dripping water that creates an ideal living environment for millipedes. Consider adding gravel around your home as a form of "mulch" that drains water easier than regular organic matter.
Damp or Humid Spaces in the Winter
Depending on your climate, millipedes may start to migrate in search of a place to overwinter in the fall. If millipedes live near your home, they are likely to make their way into spots like crawl spaces and basements by using cracks or crevices in the foundation.
Other entry points for millipedes include windows and exterior doors because, like most bugs, millipedes are small enough to fit through gaps. Some millipedes even have flat bodies, making it easier to burrow into soil or your home in search of damp places to hide.
Managing Millipedes
If you're looking for a cockroach control method, those pests share a trait with millipedes in that they both require moisture. Once millipedes make it inside, they usually die in a day or two if they fail to find a place to hide.
By keeping the humidity in check with a dehumidifier and ensuring damp places in the house are properly ventilated, you eliminate places for millipedes to live.
If you frequently find millipedes in your home, they likely are breeding outside, and young millipedes are finding access inside. As temperatures warm up in the spring, if millipedes have gone unnoticed in your home, you might be surprised to see them active in the spring with house centipedes.
If you are dealing with an infestation, many pest control companies offer a free inspection to determine the source. We provide a few options for dealing with millipedes in the house for less severe forms of bug treatment.
Adding Diatomaceous Earth Around Your Home
Diatomaceous earth (DE) is a natural powder that contains sharp fragments capable of cutting soft bodies and piercing the exoskeletons of insects to kill them. Purchase 100% pure food grade diatomaceous earth from a gardening center or department store and add it to areas visited by millipedes.
To kill house centipedes and eliminate a millipede problem, wear a mask and dust prime locations with diatomaceous earth. Diatomaceous earth kill bugs after they walk across it. DE is a popular home remedy for killing a variety of insects, including spiders and ants.
Sprinkle Cayenne Pepper to Repel Millipedes
The spice in cayenne pepper makes it a surprising deterrent for millipedes and various other pests. If you prefer, buy the pepper and grind it up to create a powder, or buy the powder.
The way to repel centipedes and millipedes is to sprinkle the pepper near entry points and around the foundations to keep millipedes and other bugs out. To reduce the number of millipedes outside your house, add the powder to any area where you notice millipede activity.
Using Essential Oils to Keep Millipedes Away
Essential oils are excellent repellents for millipedes and pests like mosquitoes. Most essential oils also keep spiders away. Tea tree and peppermint oil are the most common essential oils to keep millipedes away. Mix your oil with water to dilute it first to create a handy spray.
To make a homemade millipede spray that will also take care of a variety of other bugs, fill your bottle with filtered water before adding either peppermint or tea tree oil and shake to combine. Get rid of millipedes in your house by spraying this mixture around windowsills, doorways, vents, cracks in the foundation walls, and around your basement to create a barrier against millipedes.
Place sticky traps in certain locations in your home to eliminate millipedes. They also work as homemade pincher bug traps, capture all kinds of other insects, and are easy to dispose of.
Human Interaction with Millipedes
Millipedes do not possess any features to harm humans like claws or teeth, but as self-defense, millipedes secrete a compound that harms potential predators. These secretions are not potent enough to harm humans, though direct contact may cause skin irritation.
Portuguese millipedes (Ommatoiulus moreleti) produce a fluid that stains fabric and irritates human eyes. These millipedes are attracted to low-light and commonly enter homes at night, where they are swept up and disposed of the following morning.
This species is native to the Iberian Peninsula and has since spread to many other countries, though not North America yet.
An essential step in millipede prevention is figuring out what are millipedes attracted to, managing debris items around your home, and sealing entries into your house. If you're dealing with birds damaging fruit trees around your home, a simple form of bird control is to take away their food source, including millipedes.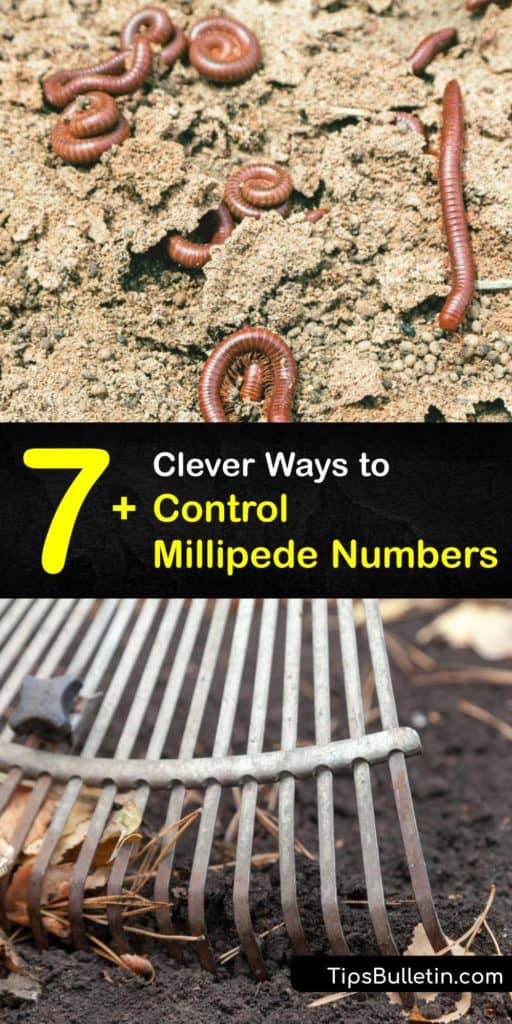 If you learned what attracts millipedes with help from our guide, please share our tips on millipede control with other homeowners on Facebook and Pinterest.