Weevils, commonly known as long-snout bugs or flour bugs, infest a pantry's rice, flour, cornmeal, and other dry items. Adult rice weevils quickly proliferate and spread through your pantry and kitchen, so it's critical to take action to control them as soon as you notice them. Understanding what attracts weevils helps you avoid or destroy them.
Though weevils don't technically make your food inedible, most people find it off-putting to eat bug-infested products. Explore questions like, what are weevils attracted to, and how to safeguard your food to ensure you can deal with weevils.
Because they can fly, crawl, or enter your home on packed foods, these insect pests are a common problem for homeowners. If the pests are not eliminated once they find their way inside, a colony can increase and spread to surrounding food storage. Explore ideas for how to attract and kill weevils and remove these unwanted visitors from your pantry.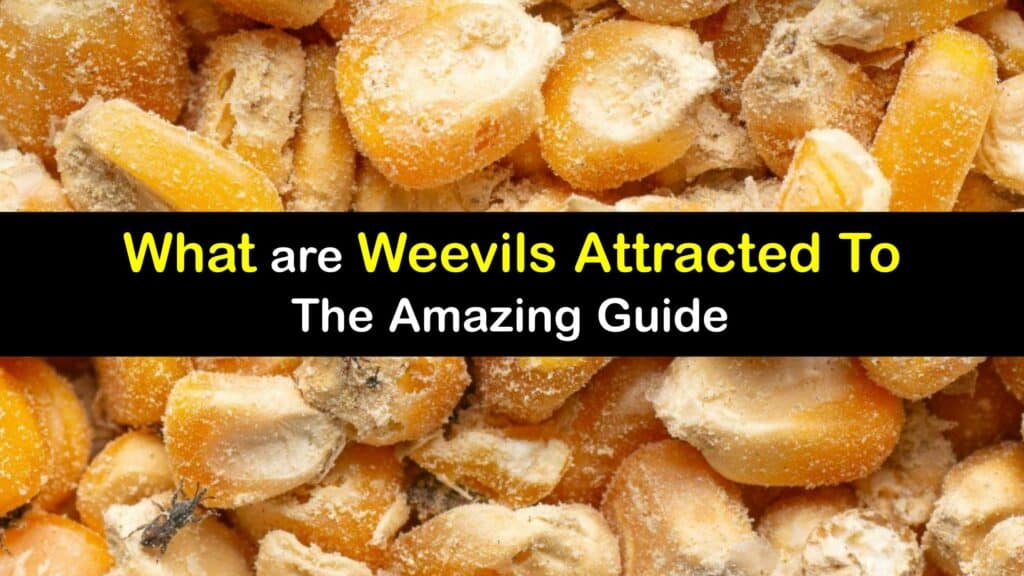 How to Attract and Kill Weevils at Home
Knowing what attracts weevils ensures you don't accidentally make your kitchen inviting to this pantry pest. Unlike other bugs, the adult weevil reproduces and feeds inside grain particles. Fruit flies, weevils, and roaches quickly make your kitchen unpleasant.
Although we often see weevils indoors, some live outdoors. Grow plants that deter weevils, like lavender and scented geraniums, to get rid of weevils outside your house. Explore how to attract and kill weevils to cross one insect issue off your list.
Grain Weevils – What are They?
Sitophilus oryzae, or the rice weevil, goes by many names. You most likely find these tiny black bugs and their eggs laid by the female weevils in dry food, such as flour or another grain product.
Like many weevil species, including the clothes moth, pantry moth, and garden insects like the black vine weevil and boll weevil, grain weevils begin as small beetles and develop into moths if they survive.
Finding insects like flour mites crawling in your flour or rice is disgusting and leaves you curious to know their impact on your food and if they're a danger to your ornamental plants or food crops. Learning natural ways to kill weevils keeps you and your food safe.
What are Weevils Attracted to in Your Home?
The grain weevil is always searching for a food source and residence, which is why you primarily encounter weevils in the flour or rice. Weevils infest and eat grains, nuts, beans, seeds, and other items, just like other pantry pests.
Weevils, however, dwell and feed inside the food item, unlike beetles, which live and feed on foods. An egg is laid inside a seed or grain kernel after the female bites a hole in it.
She leaves the egg behind and closes the gap. The larva feeds on the food inside the grain until it fully develops, then the adult weevil gnaws its way out of the grain particle to continue the life cycle.
What Attracts Weevils to Traps?
A DIY weevil trap is a clever technique to handle a bug infestation, as using insecticide around the areas you store your food is unsafe. If you're targeting weevil infestations with a trap, having the correct bait is essential to success.
Sprinkle food-grade diatomaceous earth in a ring around your bait as a natural safe way to kill weevils or as simple ant traps for tiny ants. Use open, easily accessible grain products such as rice and flour. Set your trap in a dark, quiet place, and only check it once every few days so you don't accidentally deter insects from engaging with it.
After you get rid of the pests, clean cabinets after roaches as well as your pantry. Completely empty the space, wash the shelves and walls with a vinegar solution, let it dry, and replace your items.
What Do Weevils Hate?
Like several insect pests, weevils dislike strong aromatic odors because they upset their sensitive sense of smell. Cloves and bay leaves naturally repel weevils. When keeping weevils away, put a few whole bay leaves in your dry food containers, and scatter a few garlic cloves throughout your kitchen and pantry to stop them from living there. It also gets rid of pantry moths and keeps them away from your dry goods.
Tips to Prevent Weevils in Your Pantry
Weevils most often make their way into your home in products you purchase. Stored grain and other items that tempt weevils should be kept in sealed containers, and any weevil-infested grain must be disposed of promptly. Inspect every grain before leaving it in your pantry.
If the worst happens and you get weevils, remove them by cleaning out the cupboards where you find them with a vacuum before re-storing food. The vacuum cleaner is ideal for sucking up eggs, larvae, and adult weevils.
What are weevils attracted to? Knowing the answer helps you understand how to deter them. Like an annoying fruit fly around your plant, pesky grain weevils in your flour are a headache. Start pest control measures as soon as you find weevils to stop them from taking over your pantry and infesting your dry goods.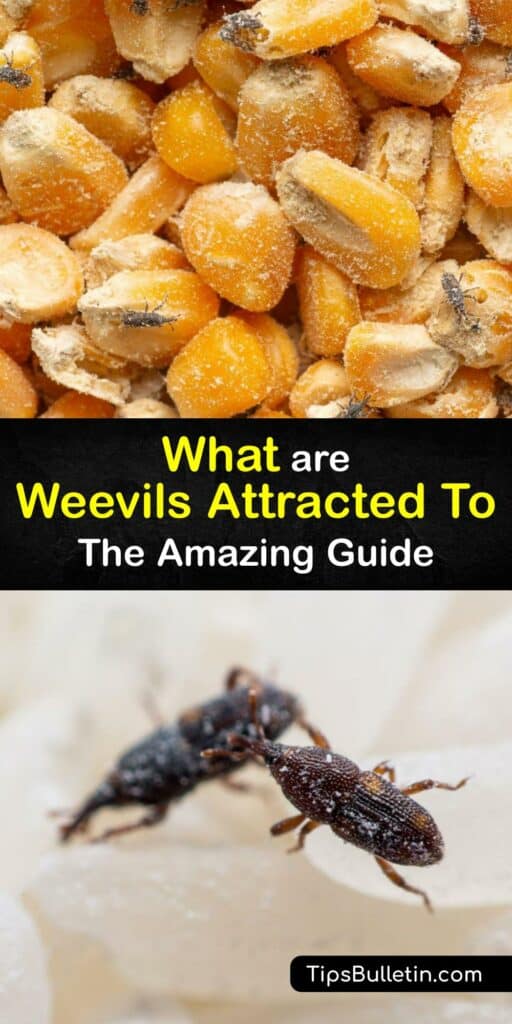 If you loved this article on what attracts weevils, please share this brilliant advice on how to attract and kill weevils with your friends and family on Pinterest and Facebook.