Whether you eat onions deep-fried as onion rings or diced into chunks and sauteed, onions are a popular vegetable to include in many meals. Onions are easily recognizable; however, when shopping for onions at the grocery store, there are onions of different colors in varying textured skins. Although the taste of these onions is somewhat similar, there are many differences between these onions, so what is an onion exactly?
Onions (Allium cepa) are the most widely grown herbaceous species in the Allium genus. Within the Amaryllidaceae family, onions are closely related to vegetables like leeks, chives, and scallions or Welsh onions. Although shallots are a separate species from onions, they are closely associated with the common onion.
Onions are grown worldwide and utilized in culinary dishes, typically cooked, but sometimes onions are eaten raw in salads or sandwiches. The most significant distinguishing features of onions are the pungency of their flavor and the release of enzymes that break down amino acid sulfoxides once cut. These compounds create a gas that causes tears when they reach the human eye.
What are Onions?
Cepa, Latin for onion, is the species given to the common bulb onion. The history of onions is not well known; however, documentation shows domestication started in Central Asia or Iran.
Between the 15th and 17th centuries, European settlers brought onion bulbs to North America, and the bulb onion was one of the essential crops planted by the Pilgrims.
What is an Onion?
Onions are biennial or perennial plants that start as bulbs at the base of leaves, and as the plant grows, energy builds in the leaf bases, and the bulb expands. We categorize onion varieties by color, both yellow and red onion, but there are numerous types of onions, like spring onions with small bulbs after being harvested immaturely.
In the Allium family, not every plant produces edible bulbs; some wild onion plants like Allium canadense grow white flowers. These plants become culinary herbs instead of a food source. Green onions are one type of onion typically used as a garnish.
Yellow onions are the type of onion many select by default when grocery shopping. Yellow onions are all-purpose onions that find themselves in various dishes and are used to make onion powder. Spanish onions are yellow onions with a sweeter taste than regular yellow onions.
Sweet onions grow larger than yellow onions with fragile, papery skin. Popular sweet onions include Bermuda onions and Vidalia onions from Georgia. These onions do not have the signature pungent taste of other onions.
White onions have a more potent flavor than yellow ones and grow with thin skins surrounding edible bulbs. White onions have high water content, making them perfect for eating raw in salads.
When using raw onions in a recipe, red onions are a good substitute for white onions. As well, if a recipe calls for a shallot and you don't have any, a small red onion is a great substitute for shallot. These onions have purple skin with white-pink flesh inside.
What are Onions Good for?
Vegetables are well-known for their health benefits; however, we don't consider onions beneficial to our health when thinking about healthy and nutritious veggies. Despite this misconception, onions and other Allium genus members have vitamins and plant compounds that promote good health.
Be careful to store onions properly before cooking them. You will know that one has gone bad when an onion is slimy. Be sure to store in a cool, dry place before using in cooking.
What are the health benefits of onions? Onions are a source of B vitamins which help your metabolism, nerve function, and the production of red blood cells. Onions are low in calories, high in minerals and vitamins, and amino acids and vitamin C, which help the body regulate the immune health system, repair tissue, and absorb iron.
Consuming onions helps fight inflammation and reduce cholesterol levels thanks to the flavonoids and antioxidants like quercetin found in onions. Eating onions may help heart health by lowering the risk of heart disease and reducing high blood pressure.
Studies show that consuming high amounts of onions reduces the risk of stomach and colorectal cancers. The cancer-fighting properties of Allium vegetables come from the sulfur compounds in these vegetables.
People with diabetes may control their blood sugar by eating onions, as chemical compounds in onion plants possess antidiabetic effects. Additionally, onions are a rich source of fiber and prebiotics, which are essential for digestive health.
After eating onions, the bacteria within the human body break down prebiotics and create fatty acids. These acids strengthen digestive health, reduce inflammation, and enhance digestion.
Growing Onions
Before growing onions, it's essential to ask, "What are onions' growing conditions?" Onions thrive when grown in specific soil and the right weather to germinate and sprout successfully. Start seeds indoors if the growing season in your area is too cold, or plant seeds directly in your garden as temperatures warm.
Use a seed starting tray and pack the trays with potting soil before adding onion seeds to the trays. Cover the seeds with potting soil, pressing them into the soil, before thoroughly watering the seeds.
Cover your seed tray with plastic wrap and place the tray on a windowsill to help your seeds germinate. Onion seeds require temperatures of at least 70°F for germination.
After your seeds sprout, remove the plastic and begin hardening off your seedlings by leaving them outside daily for one hour, gradually adding more time until they remain outside for at least six hours.
Once you're ready to transplant, dig holes in the garden with at least five inches of space between each hole. Allow a foot of space between each row to leave yourself room for watering and to harvest your onions.
Harvesting and Using Onions
As onions grow, the leaves on top of the onion bulb emerge from the soil. When your onion reaches maturity, the leaves begin to fall limp and turn yellow. Pull your onion bulbs from the ground and remove excess dirt. After harvesting, onions must cure at room temperature for at least a week.
Leave your onion harvest out in a warm and airy location to cure, and use scissors to snip the tops and roots off your onions. Leave your onions in a cool and dry place to avoid sprouting again.
If you do not use your onions before they start sprouting, remove the skins and the bulk of your onion and replant the bulb to start growing onions again from the bulb. The onion scraps are still good to eat once chopped up and cooked.
To make onion soup, warm butter in a saucepan and chop your onions to add to the warm butter. Stir until caramelized before adding the flour, and stir until it browns. Add wine to the pan and continue to mix until the wine evaporates. Add beef broth and pepper before bringing the pan to a boil. Reduce the temperature and simmer until the soup thickens.
What are onions good for? Onions have a unique taste and texture that adds crunch and flavor to any dish. After learning more about these vegetables, we hope our article answered your questions about "What are onions?" and that you're inspired to start using more onions in the kitchen.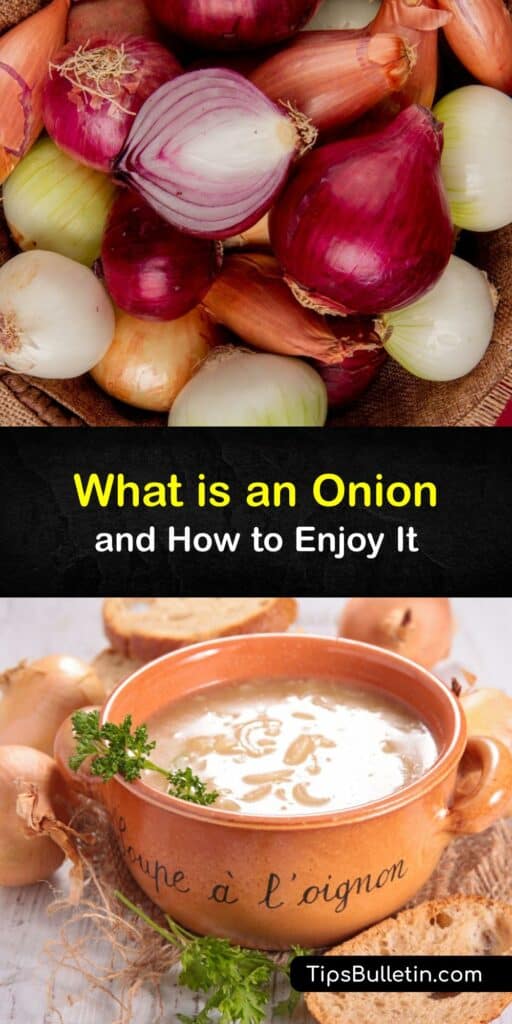 If our guide helped answer your question, "What is an onion?" please share our article about what are onions good for with your friends and family on Facebook and Pinterest.