Roaches are tenacious pests, and research shows that German cockroaches are developing a resistance to insecticides and commercial roach repellents. Although roaches may resist certain forms of pest control, some natural scents work well to deter cockroach activity. To discover natural methods for dealing with roaches, you need to know what smells repel cockroaches.
While we usually find the oriental cockroach outside, American cockroaches are the most common pest in the United States. Roaches are challenging to eradicate because they're small, climb just about any surface, and build nests indoors after finding a source of food. Roaches also mate and multiply quickly – a few roaches could lead to a cockroach infestation in no time.
To deal with roaches, you need diligent cleaning and home remedies to repel cockroaches. On top of knowing what smells roaches hate, it's essential to understand how and where to use these scents around your home.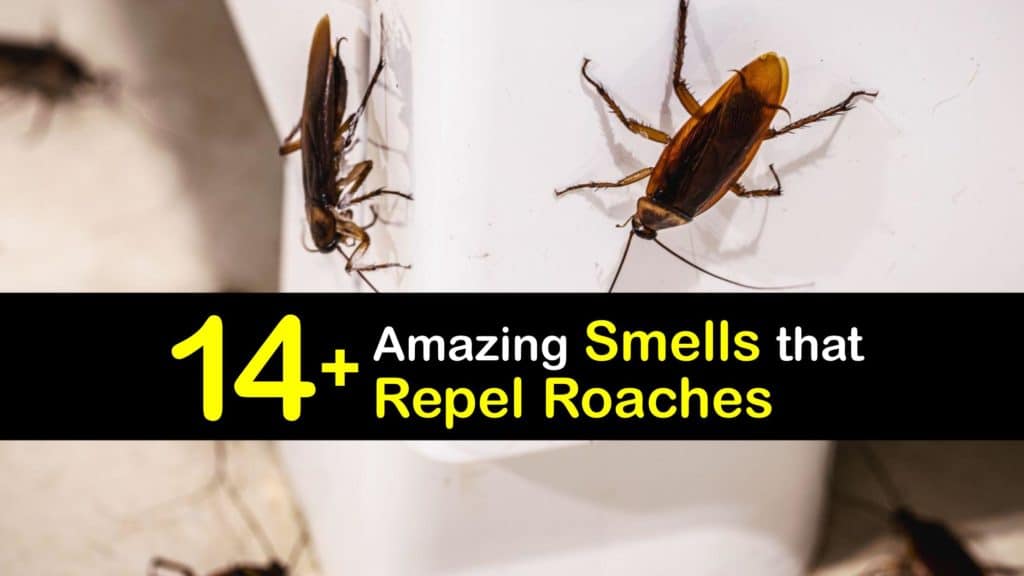 Natural Ways to Repel Roaches
Commercial cockroach repellents tend to have a strong smell, and commercial pest control may not resolve your issue due to roaches' resistance to the ingredients in many pest products. Using natural cockroach repellent is an excellent way to control the activity of roaches while keeping your home smelling fresh.
Using Mint to Repel Cockroaches
We love the smell of mint and its taste in candy, drinks, and desserts. As with many insect-repellent scents, when humans love it, insects hate it. Various types of mint, from peppermint to corn mint oil, excel at repelling roaches while smelling fine to humans.
To use peppermint essential oil against roaches, add a dozen drops of oil to an eight-ounce spray bottle filled with water. Use the essential oil spray to treat areas around your home where you notice roach activity or spaces where you find roach waste. Using peppermint oil spray for bed bugs is also remarkably effective.
Catnip as a Repellent
Catnip is an effective cockroach repellent if you don't own cats and aren't concerned about sending your pets into a frenzy. Purchase catnip essential oils from pet stores or use dry catnip to repel roaches thanks to a chemical compound called nepetalactone.
If you've discovered where roaches are active around your home, sprinkle dry catnip to repel cockroaches. Another option for using catnip is to mix it with water to create a spray or add dry catnip to breathable sachets around the house.
Repel Roaches with Citronella Oil
The power of citronella candles is well known for repelling mosquitoes; however, lighting citronella candles around your home won't do much for a roach problem. Citronella candles are most effective against mosquitoes because they are flying insects; however, since immature roaches don't fly, these candles aren't the optimal choice for dealing with cockroaches.
Although candles won't help you with a roach problem, citronella oil is effective at keeping roaches away. To efficiently use citronella oil, add a few drops of oil to cotton balls and leave them in areas of roach activity.
Repelling Cockroaches with Cedar Oil
Cedar and its essential oil are pleasant scents that deter roaches. Use the smell of cedar in one of two ways to tackle cockroaches. The first method is to use cedar chips in areas where roaches live. These spots include under kitchen sinks, pet beds, and cabinets. To use cedar oil as a repellent, combine it with rubbing alcohol to stretch the use of the oil.
Mix rubbing alcohol and cedar oil in a spray bottle to create an effective roach repellent. Due to cedar oil's chemicals, roaches won't want to visit areas you treat with this spray.
Thyme as a Roach Repellent
Thyme plants are a member of the mint family, so it should be no surprise that roaches hate the smell of thyme. Thyme contains a chemical called carvacrol that is toxic to cockroaches and may reduce their lifespan.
Use thyme essential oil in a water-based spray to treat areas for roaches. If you're worried about roaches finding their way inside, one prevention method is to grow plants that repel cockroaches like thyme plants outside in pots or the garden.
Using the Smell of Basil to Repel Cockroaches
Basil has a distinct odor that is perfect for keeping roaches out of your house. Basil contains a chemical called linalool which repels roaches.
Mix basil oil with water and spray around your home. Another option is to crush basil leaves and sprinkle them in traffic areas for roaches. For a preventative method for keeping roaches out, start growing basil plants around your home's foundation.
Repel and Kill Roaches with Rosemary
Among essential oils, rosemary oil is one of the most effective in dealing with roaches. After mixing it with water, spraying rosemary is one way to deal with roaches; however, rosemary oil is fatal to roaches in the right concentration.
Create a spray of rosemary oil and water to make a killer spray that eradicates pests like the brown-banded cockroach. Rosemary has a smell that roaches hate, but the only way to ensure they die from it is to spray them directly.
Repel Roaches Around the Home with Lavender
Although it is similar to other plants whose essential oils repel roaches, lavender on its own is not effective at deterring roaches. If you have lavender essential oil in your house, combine it with other oils like peppermint to repel roaches.
Add drops of lavender and peppermint oil to a sponge and wipe down countertops and cabinets to keep cockroaches out. Since cockroaches look for moisture and food sources, cleaning your kitchen with these oils is crucial to keep roaches away from areas where you cook and eat.
Using Citrus at Home
Citrus smells aren't known for their effectiveness at keeping roaches away, and while the scent of citrus fruits does repel roaches, it is not ideal. One option for using citrus is to leave rinds of oranges, lemons, and limes around the house, replacing them weekly to maintain their freshness. An alternative is to combine citrus oil with lavender oil to create a spray.
Combine your ingredients into a sprayer to treat the outside of your house. Regular treatment of your house's exterior is an excellent way to create a barrier for keeping roaches out.
Can Cinnamon Repel Roaches?
Although cinnamon is a beloved scent, and we use it in various desserts, the smell itself is overwhelming to insects like roaches. Cinnamon is not toxic to cockroaches, so spreading cinnamon around problem areas won't eliminate your roach problem.
Dust cinnamon in areas roaches often visit, like cabinets and under sinks where moisture gathers. The biggest issue with repelling roaches is that forcing them from one nest may cause them to reform in another area.
Repelling Roaches with Bay Leaf
Bay leaves are well known for their use in the kitchen and are helpful as a form of pest control. The aroma that bay leaves produce isn't enough to kill roaches; however, the scent does deter them from living or nesting in areas with the smell of bay leaves.
Place individual bay leaves strategically, including areas of food preparation. You can also fill a bowl with bay leaves and leave them in rooms where cockroaches are active.
Using the Smell of Pine as Pest Control
Beta-pinene is a compound of pinene and is a component of the essential oils found inside many plants. Beta-pinene is available as an oil and smells like cypress oil or basil.
Mix the oil with water to create a fresh and natural smelling cockroach deterrent. An alternative method is to spray paper towels or cotton balls with the mix and leave them lying about.
Note: Alpha-pinene is another compound that is less effective against cockroaches.
Protect Your Home with Tea Tree Oil
Tea tree oil is unique among most essential oils because, besides being effective at repelling roaches, it is also toxic to them. However, the odds of your tea tree oil applications killing a roach infestation are slim. To manage cockroach activity and get rid of German roaches without an exterminator, combine the oil with vinegar and salt, and create a spray roaches won't go near.
Combine your ingredients in a bottle and shake well to dissolve the salt before spraying target areas. To kill roaches, directly spray them with tea tree oil until they're saturated, and they eventually slow their movements and die. It's also a great remedy to repel centipedes, spiders, and other creepy crawlies that find their way indoors.
Note: Use eucalyptus oil and tea tree oil to create a simpler version of this spray with vinegar or salt.
Use Oregano to Force Roaches Out of Hiding
The usefulness of oregano goes far beyond using the herb in the kitchen. Oregano oil is an effective secondary plant compound against roaches.
If you find signs of cockroaches and want to target them before the numbers get out of hand, spray a mix of oregano oil and water to bring them out of their hiding spots. Use this spray and roach traps to cause the cockroaches to seek new shelter and food sources.
What Smells Repel Cockroaches in the Kitchen?
Generally, the stronger the smell, the more roaches hate it, which also applies to the spice rack. Cayenne pepper is a favorite choice when dealing with other tiny pests, and it prevents roaches from hiding around your home.
Garlic and onion powder smell fine to us, but the smell of all these powders is too much for roaches. Mix the three powders in a bowl and generously apply it behind appliances, in cabinets, and under your sink to force roaches out.
How to Find Roaches
Spraying your home with smells that roaches hate isn't difficult, but it's essential to know that you're using sprays in the right places. Blindly spraying your floors and countertops is ineffective as roaches do not nest in the open. To prevent roaches from getting inside, it's always a good idea to spray cracks in the foundation, around pipes, and entryways.
Another method for pinpointing roach activity in your home is to draw them out with traps. Professionals use bait traps to determine the central nest of roaches before doing any treatments, and the same applies to any natural ways to repel roaches. Mix boric acid and sugar to create a trap that draws roaches and kills them.
To make a powerful roach killer, combine your ingredients in a bowl and distribute a small amount of the powder in places behind appliances and under sinks. While you can permanently get rid of roaches with this solution, note that boric acid can upset your pet's stomach, so choose your testing area carefully.
No one wants to deal with roaches, and if you find a couple in your home, it's only a matter of time before the problem becomes overwhelming. Take action with a natural roach repellent and treat known areas of roach activity to draw out and eliminate the issue before it becomes severe.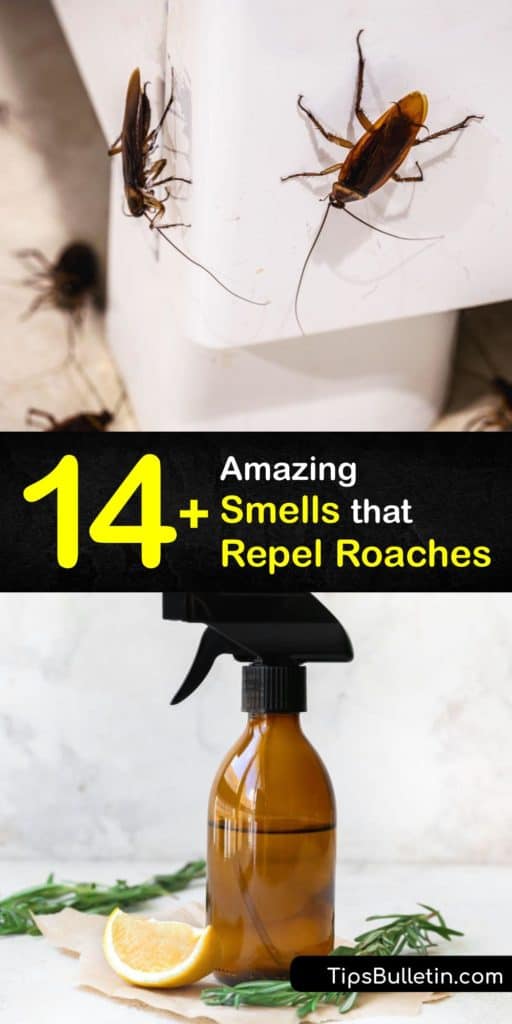 We hope you learned what smells repel cockroaches and will share our article on Facebook and Pinterest with your friends who need advice on natural ways to repel roaches.