Although apples may be one of the longest-lasting fruits that we regularly bring home, they do reach a point where they are either unripe and too tough to eat or overripe and rotting. When are apples ripe, and what are some strategies for how to tell if apples are ripe enough to eat?
Most of us probably haven't been taught the signs of unripe apples versus overripe apples. Before we teach you how to tell if apples are bad, some background information helps you appreciate where this fruit comes from.
Apples are closely related to roses. There are red, green, and yellow apple colors and thousands of varieties.
Although the only apple native to North America is the crabapple, some of our favorites apple varieties here include Honeycrisp, Red Delicious, Granny Smith, McIntosh, Fuji, Gala, and more. About 7,500 apples are grown worldwide.
Each is packed with roughly 100 calories and bursting with fiber, vitamins, and minerals. Some are sweet, others are sour, and each type has a specific harvest time that enhances their perfect ripeness, although most people pick apples from their apple tree in late July or late summer.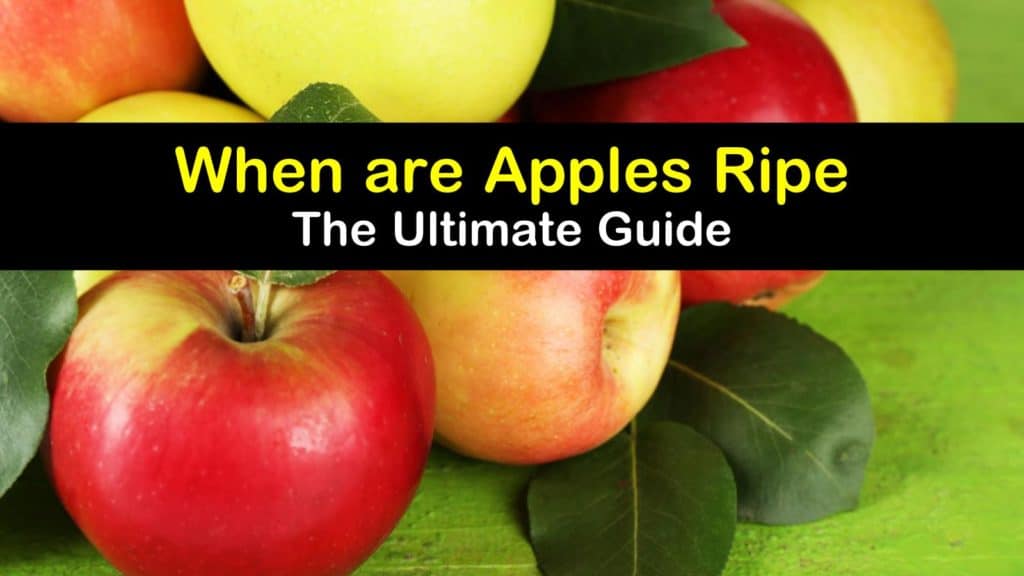 How to Tell if Apples are Ripe
It's so easy to grow apple trees that it's surprising that everyone is not doing it. Growing fruit trees in pots outdoors is just as simple as growing them in an orchard.
Once you pick apples from an apple tree, they start emitting ethylene gas, which speeds up the ripening process. Although this gas is released, some apples last for months if left untreated.
The gas is so effective that placing unripe fruits in a bag with an apple helps ripen the other fruit. The problem with knowing how to tell if apples are ripe is that knowing what to look for isn't often taught.
We usually buy ripe red apples at the grocery store and assume they're ready for eating. There are several signs to look for when learning how to tell if apples are rotten.
When are Apples Ripe?
There are some critical factors that all tell if an apple is ripe, just like learning when are peaches ripe, as well as other fruits. Walk yourself through each step whenever you're unsure about an apple's ripeness.
Check Skin Color for Overripe Apples
Color is the first significant indication of an apple's readiness. Mature apples usually change from their original color to another, meaning they're overripe.
Green apples turn yellow, reds turn green or yellow, and yellows turn to white. This color change means they are on the verge of being old, so eat them as soon as possible.
When do apples go bad? Avoid all apples that are dark brown or covered in bruises or marks. These marks signal that the apple has gone bad or been damaged and won't be very satisfying to eat.
Pay Attention when Picking
Mature apples usually fall from the tree and indicate that they're too old to eat. Ripe apples are easy to pluck from a branch with a simple twisting motion. Apples that give you trouble are likely underripe.
Check the Seed Color
Cut an apple in half and examine the seeds if you're unsure about the ripeness. Ripe apples have dark brown seeds. However, some varieties like the Fuji and Gala are safe to eat before the seeds turn brown.
Give Apples a Taste Test
When all else fails, a taste test is always an easy way to determine ripeness. Ripe apples are slightly soft, sweet, and juicy, while unripe apples are starchy and stiff.
How to Store Apples
Now that you know how to tell if apples are ripe, learning how to store fresh apples is equally important. Storing apples in the fridge is one of the best ways to keep them tasting fresh for long periods.
Apples like cold temperatures that remain above freezing. How long do apples last in fridge? Setting the apples directly in the crisper drawer of your fridge keeps them sweet for up to six months.
There are also a variety of ways to freeze apples to eat later. Frozen apples work best in recipes rather than eating after thawing.
Turn Overripe Apples into Applesauce
If your apples are on the verge of going bad, try this recipe for canning apples by turning them into applesauce. It's a fun and tasty way to store them without them going to waste.
Combine all the ingredients for the sauce into a saucepan and cook over medium-high heat for about 20 minutes. Mash the cooked apples and sugars with a potato masher and fill canning jars with the sauce, leaving an inch of headspace at the top.
Place the lids and seals on the jars and process them in a boiling water bath for 15 minutes. Remove the jars from the water and let them cool overnight. Check the seals and store in a cool, dry place for up to a year.
Stop asking when are apples ripe and take the time to learn the difference between underripe and overripe apples. It helps you out in the future every time you go apple picking or shopping.
Apples are a wonderful fruit that makes a healthy snack or get turned into a delectable dessert. Once you know how to tell if apples are ripe, you'll feel like an expert in the kitchen.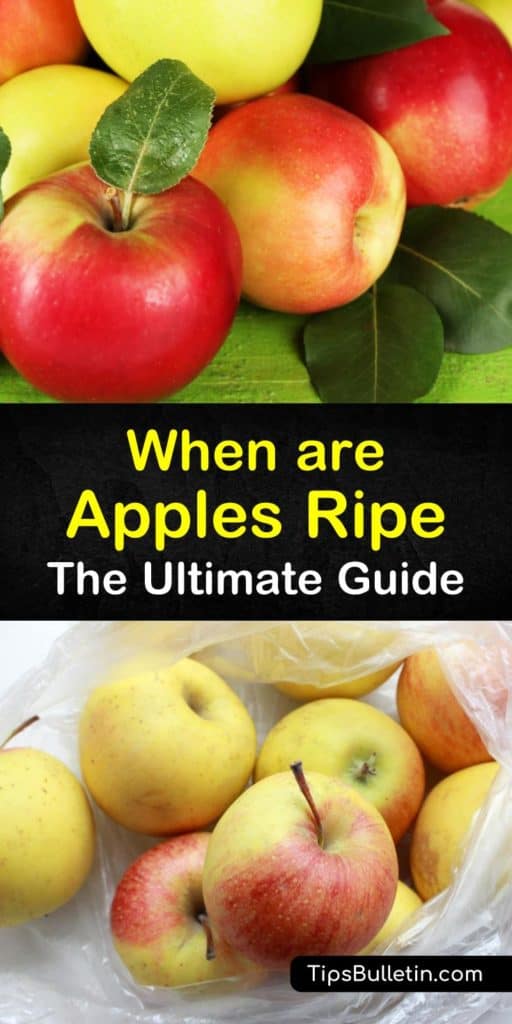 If these tips for telling when apples are ripe helped save you time and money at the store, share this article about perfectly ripe apples on Facebook and Pinterest.