Potatoes are one of the longest-lasting veggies in our pantry, but even they leave us scratching our heads from time to time. With an often questionable expiration date that seems to shift from one season to the next, it's difficult to determine just when do potatoes go bad, and when are they okay to eat.
No matter what type of potato you're dealing with, you want to ensure you're serving up only good quality, fresh potatoes for your family meals. So, what is the shelf life of potatoes, and how can you tell whether your potatoes gone bad or not? The time your potatoes will last depends on how you store them and what the climate is like in your area.
The longevity of these starchy foods revolves around maintaining an ideal temperature, which is not easy to achieve under normal circumstances. Luckily, raw potatoes are still pretty hearty and will last for weeks in most households. Using this ultimate guide to rotten tubers, you'll learn how to tell if a sweet potato is bad and what to do when your white potatoes sprout little shoots.
Signs to Check for Potatoes Gone Bad
To clarify a common misconception about sweet potatoes, they are not actual potatoes. They aren't even tubers, though they are considered a tuberous root crop. While different in makeup, many of these same qualities for white potatoes still apply to sweet potatoes, too.
1. Assess a Wrinkly or Soft Appearance
The first thing to look out for when determining when do potatoes go bad is their general appearance. Similar to humans, the skin on a potato slowly ages, revealing a saggy, wrinkly exterior.
Wrinkling is one good indication that your vegetables are ready to hit the dirt and not in an appealing way. If the potatoes are mushy, this is another sign of spoilage. Tubers with these attributes should be quickly disposed of as you come across them.
Can you freeze fresh broccoli that is wrinkled or mushy? We don't recommend using any veggies that have these characteristics.
2. Check for Moldy Smell or Spots
Another significant indicator of spoiling is a distinct moldy smell or mold growth. When fresh, potatoes give off a pungent earthy aroma easily recognizable when you first purchase them. This scent is acceptable and signifies a healthy vegetable. But if the potato gives off a musty smell like mildew, and you will know, it's time to toss the potato in the trash.
When it comes to mold spots, if there is a small patch of mold on the potato, it doesn't mean the vegetable's time is up. As long as the area with the moldy spot is easy to cut off and takes up only a small portion of the potato, the food is still salvageable. Just remove the mold piece and cook the rest.
3. What Do Green Spots on Potatoes Mean?
Discoloration of bad potatoes is a severe problem to look out for since critical factors often contribute to your green potatoes. If potatoes are turning green, this is usually due to increased amounts of a toxin known as solanine.
Exposure to sunlight speeds up the natural process of creating green spots, producing a higher concentration of solanine in greening potatoes.Why is this important? Solanine is toxic, especially when introduced at high levels like those found in green potatoes.
Eating these potatoes may cause gastrointestinal issues like nausea and stomach cramps, as well as neurological concerns such as dizziness and paralysis. If your tubers have started to turn green, it's best to throw them out rather than trying to salvage any part of the potato.
4. Prevent Potatoes from Sprouting too Fast
Another common factor for determining whether your spuds are still good to eat or not is whether they have started to sprout little shoots. While the shoots themselves are toxic when consumed and should always be tossed out due to a high concentration of solanine, they do not indicate that the potato is a lost cause.
They do signal, however, that the potato is slowly expiring and needs cooking as quickly as possible. As long as the shoots aren't attached to mushy, soft potatoes, remove the shoots, and cook the remainder.
One way to prevent these potatoes from sprouting too fast is keeping them in the dark place, away from heat and sunlight. A dry closet is the perfect dark area to store potatoes to prevent sprouting. Place them in a breathable bag that allows for air to flow freely to increase their shelf life.
5. How to Tell if a Sweet Potato is Bad
When maintaining proper food safety procedures, it's essential to look out for the variations between when sweet potatoes go bad and when regular potatoes do. Soft, mushy potatoes work for both as indicators of rotten food.
However, when it comes to discoloration, the shades differ. Where green is the key signifier in white potatoes, black or brown spots are crucial to check for when determining whether your sweet potatoes are still acceptable to eat.
Another difference to check is whether the sweet potato is leaking moisture. Sweet potatoes have higher amounts of water content than potatoes, so leaking water is a huge sign they are ready to be tossed out.
Ways to Store Potatoes and How Long They Last
So you have fresh, new potatoes that you know for a fact are still good to eat. What do you do with them? How long do potatoes last? Store potatoes for as long as possible using any of these four techniques.
Depending on how long you need them, and what you plan on using them for, you'll be able to determine which potato storage strategy works best for you. You may even use more than one avenue to keep your potatoes for later use.
1. Storing Potatoes in the Pantry
Room temperature is one of the easiest ways to store your potatoes and the best way for how to make onions last longer. Tubers and onions both thrive at 50° temperatures, which doesn't make storing them in cold fridges or the higher temperature of most households a natural choice.
In most cases, you can still store your potatoes in your pantry for up to five weeks without issue. However, separate your onions from your potatoes as a storage precaution.
As long as there is enough air circulation for your vegetables to breathe, and they are kept dry, and away from sunlight, the potatoes will do fine. Most potatoes come in aerated bags. But if you happen to purchase a bag without holes, add a few before storing them in your pantry.
Avoid rinsing off your potatoes with warm or cold water once you bring them home. Brushing the dirt off them is fine, but water will cause the potatoes to spoil faster.
2. When Do Potatoes Go Bad in the Fridge?
Refrigerating your potatoes is another excellent option that increases the shelf life of your fresh potatoes to approximately two to four months. Cooked spuds, such as mashed potatoes, French fries, or fingerlings need to be refrigerated. These cooked spuds will only last about five days once cooked.
For fresh potatoes, the longer life comes at the price of taste. White potatoes often become sweeter after sitting in the fridge too long, while the opposite happens to sweet potatoes. They lose their delicious sweet taste.
The best advice is to test a few potatoes first to determine how they will fare in the fridge. Place them in the crisper or a paper bag for secure storage.
3. How Long Do Potatoes Last in the Freezer?
Freezing potatoes is a great way to increase the life of your veggies while still retaining most of that marvelous taste. Potatoes placed in the freezer need blanching first, which requires boiling them for several minutes before tossing them in ice water.
Most potatoes freeze best when cut into smaller pieces before blanching, though some smaller ones may be frozen whole. Store potatoes in the freezer using an airtight container or vacuum-sealed plastic bag. This process allows you to enjoy your spuds for up to ten months.
4. Canning Potatoes for Longer Shelf Life
If you are looking to store potatoes long term, canning is one option you might enjoy. While significantly more invasive than other options, canning allows you to enjoy your starchy food for as long as five years.
This storage step requires a pressure canner and some glass canning jars to store your potatoes properly. If you want to go this route, use the recipe below for the best way to preserve your vegetables.
When canning, squeeze the lemon juice out of the lemon and into the water. Fill the potatoes into small pint jars and evenly distribute the seven teaspoons of salt among the jars. Pour the lemon water into the jars with the cut vegetables, leaving about a half an inch of headspace, then proceed with the pressure canning process.
Now you have a few new tips to help you determine when it's time to salvage your potatoes and when it's time to say your goodbyes. You also have some great new guidelines to follow that show you how long you have before your starchy tubers expire based on the ways you choose to store them.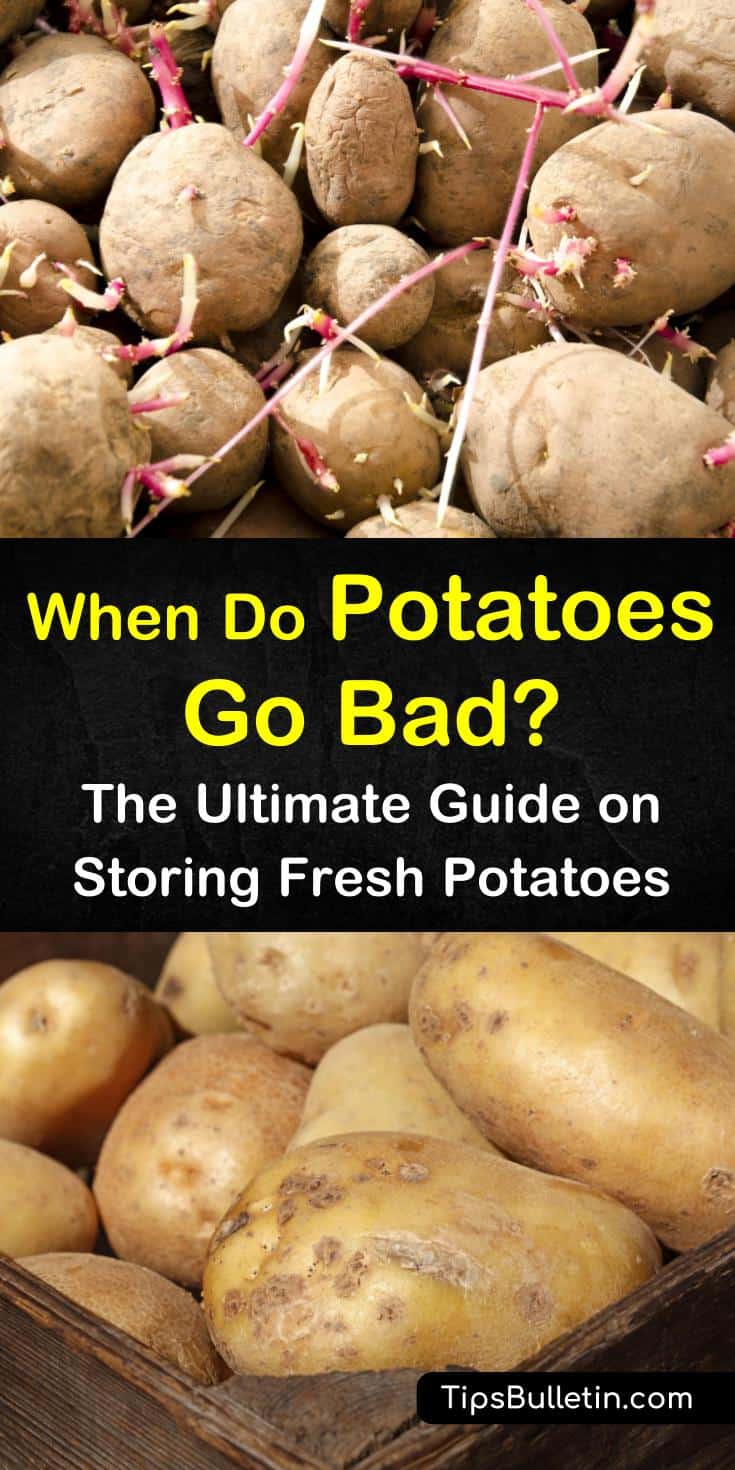 If you enjoyed these tips for distinguishing your expiring potatoes from good ones, then don't forget to answer when do potatoes go bad for all your friends on Facebook and Pinterest.