Corn is a perennial crop producing white, yellow, or bi-colored kernels on the ears. Many gardeners struggle to figure out when to fertilize corn or what the best fertilizer for corn plants is. Corn prefers a long, frost-free growing season and plenty of fertilizer to yield a large grain crop.
Corn is one of the staple crops (with beans and squash), and it has been cultivated around the world for thousands of years. Corn is assumed to have been domesticated in central Mexico before migrating to the rest of the world through ethnic groupings across North and South America.
Though corn is now grown mainly on an industrial scale, numerous varieties are suitable for residential gardens. This article explains when to fertilize sweet corn to ensure you get the largest yield from your plants and how to ascertain which fertilizer product to use.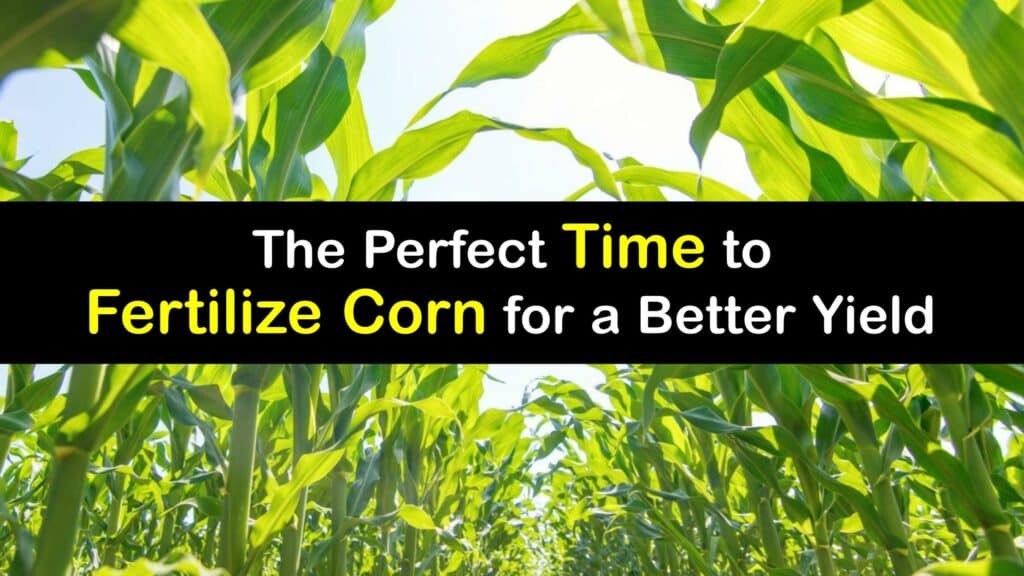 Fertilizing Corn for Bountiful Harvests
Sweet corn is a tasty summer treat – anything from corn on the cob to creamed corn meals. While it's crucial to discover the best time to plant corn, it's also necessary to learn when to fertilize sweet corn in your home garden for a massive harvest of delicious fresh produce. Have your questions answered about when to fertilize corn and how to select the best fertilizer for corn plants.
Understanding Fertilizers
The numbers on fertilizer packages represent the product's nitrogen, phosphorous, and potassium ratios, or NPK values. These nutrient blends vary, and each mixture is intended for different situations.
A 16-16-8 fertilizer, unlike typical all-purpose fertilizers like 15-15-15 for lawns, has a higher N content and phosphorus content than potassium. The NPK value of most vegetable garden fertilizers is around 4-3-3.
Taking a soil sample for a soil test is the best way to determine precisely what fertilizer rate is ideal for fertilizing corn in a given location. Growers select a corn fertilizer based on their preferences.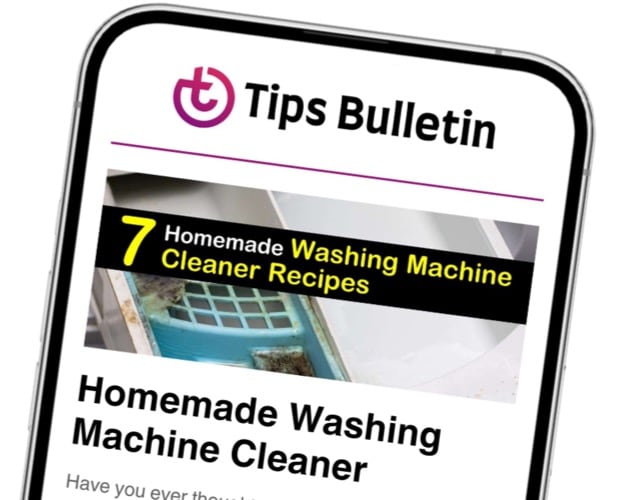 Finally, an email that Transforms Your Home.
Get the latest home and garden tips from our experts, delivered straight to your inbox.
Some prefer a liquid fertilizer over a granular or an organic fertilizer such as organic matter or manure over a chemical mixture like Urea Ammonium Nitrate or UAN solution.
If these fertilizers don't seem like a good fit for you, consider creating your own homemade fertilizer for corn by following our best tips and tricks for home fertilizing.
The Best Time to Nourish Your Corn

Crop

You're not alone if you've been unsure when to fertilize corn with nitrogen or another compound. Corn flourishes in a nitrogen-rich, phosphorus-sufficient soil environment, producing long, robust stalks.

Cover the corn plot with a 2-inch layer of compost before planting your seed, as compost provides nitrogen and a variety of micronutrients while improving drainage and soil structure. Sprinkle a little organic nitrogen fertilizer over the compost layer.

Fish, cottonseed, and blood meals are examples of organic nitrogen additions. Mix compost and fertilizer into the soil with a garden spade or a hoe about four to six inches below the soil surface.

When the corn approaches four inches tall, add a couple of inches of organic mulch. Mulch conserves soil moisture levels, invites earthworms, and provides nutrients to the soil when the organic waste decomposes and is absorbed. Before the crop reaches eight inches, fertilize it again with a 16-16-8 liquid fertilizer.

When the plants are ten inches tall, fertilize them again. Instead of applying fertilizer directly to the young plants, this is best accomplished by side-dressing. Use an all nitrogen fertilizer for this application.

Once the sweet corn ears begin to produce silk, use nitrogen fertilizer per the product application guidelines one last time. Spread the nitrogen powder in a line 6 inches from the cornrow on the soil surface. To assist in delivering the nitrogen to the root systems, water the corn as usual.
The Best Fertilizer for Corn Plants
There are many different options for corn fertilizer depending on the needs of the crop and the preferences of the grower. Corn varieties like Sierra Mixe or sweet corn may have other nutritional demands, and these may change as their life cycle continues.
Many corn fertilizer options are available if you prefer to acquire a commercial treatment or like to make your own fertilizer.
For natural pest control, learn what grows well with corn in addition to legumes. Repel bugs without having to do anything more than grow a few extra plants.
If you have animals like cows, horses, chickens, or rabbits, it's easy to make your own fertilizer for potatoes and other vegetables in your garden like corn with water and manure.
Planting Corn for the Growing Season
If you intend to soak your corn seed and plant it in warmer soil, look for untreated seed when purchasing sweet corn plants. When growing corn in less-than-ideal conditions, a treated seed is best to sow directly without soaking. The fungicide on the treated seed keeps it from decomposing in cold, moist soils.
Wrap the corn seeds in moist paper towels and store them in a sealed plastic bag for a day to speed germination. Plant corn seeds in rows approximately two inches below the soil surface and 4-6 inches apart. Each row should be around 36 inches apart.
You don't have to grow a big garden to enjoy your own fresh corn. Growing corn in buckets is easy. Pick smaller varieties and put the containers on your porch or patio in the sun.
Corn Care for Maximum Production
After planting your corn seed, caring for your crop correctly is vital when growing corn. Supporting immature corn plants until you have a whole crop is one of the most critical components of cultivating sweet corn.
Thin the baby corn plants to keep them about 8-12 inches apart when they reach three to four inches high. Carefully weed around each sweet corn plant to avoid harming the roots.
Corn has a shallow root and is easily stressed by drought, so ensure it gets enough water. If the weather is dry and hot or you have sandy soil, you may need to water your corn more often. Mulch reduces evaporation, allowing your sweet corn plants to retain moisture.
Corn stalks may require help during high winds to avoid bowing and snapping; pack heaps of earth at the base of each taller corn stalk to provide support and keep it stranding during severe storms.
You may notice tillers later in the season, also called suckers, secondary shoots appearing low down on the corn stalk. Tillers have little effect on the main stem and cause no problems when growing sweet corn.
Pests to Avoid When Growing Corn
All sweet corn varieties are susceptible to several pests and diseases. If your corn plants are exposed to insects or illness, it may drastically reduce your sweet corn yield.
Pests are inconvenient and can hurt or even destroy your prized corn crop. Learn about the typical issues that sweet corn growers face and how to avoid them in your own garden to protect your grain yield.
If you're interested in producing homegrown local food, corn is a fantastic place to start. This crop is successful with little care and produces well despite having low maintenance requirements. Once you learn when to fertilize sweet corn, providing your plants with all the nutrients to build a massive harvest is easy.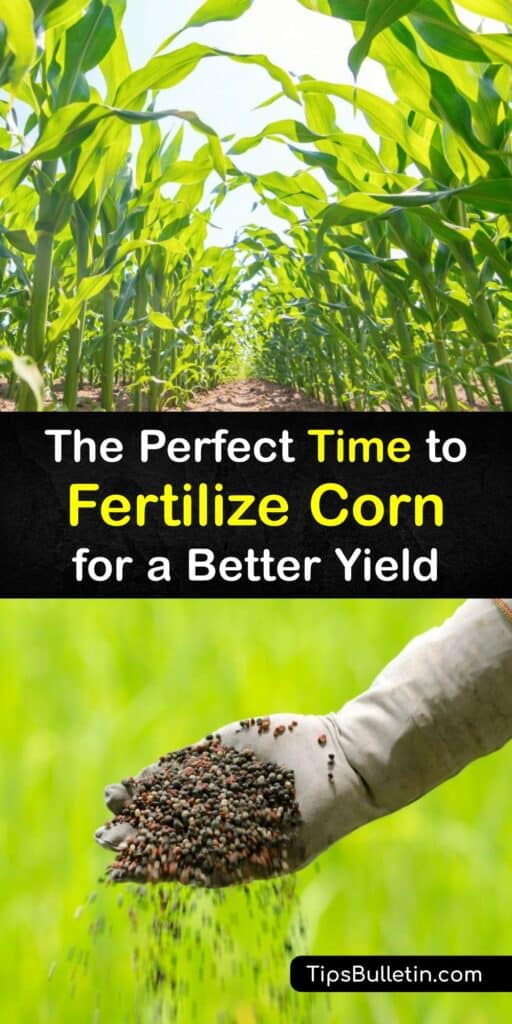 If you liked this article on when to fertilize corn, please share this helpful information on the best fertilizer for corn plants with your family and friends on Pinterest and Facebook.